Having been away for a few days this week it will be a short blog but with a fair bit of content. We returned to the 'Back to Back' houses in Birmingham where last year we stayed in a 'Victorian cottage' and this year we jumped forward 30 years to a 1930's one. If you've not been they are well worth a visit even if not staying but if you do it is ideal for getting to almost everywhere in the centre of Birmingham with the Hippodrome Theatre literally across the road. We went to see the musical 'Billy Elliot' which was very entertaining.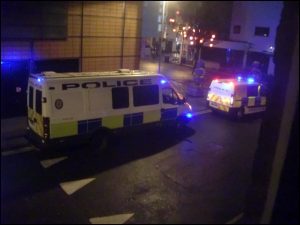 Mind you it wasn't all peace and quiet, this is the view from our window after being woken up at 3:11 am by the 'blues and twos' No idea what was going on, got bored looking so went back to bed.
I was looking at 'Learning to Cook' by Marguerite Patten when a bookmark fell out. One side had conversion tables, the other a list of PAN cookery titles. I've found them all but the next challenge is to find the editions contemporary with the card as mine are all over the timescale. Looking in some of the books there are at lot longer lists of titles available on line from a few pence to a couple of pounds but why are sellers asking so much for 'The Times Cookery Book' some wanting three figure amounts!