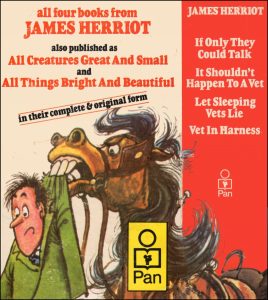 For a long time I've been trying to find a set of four James Herriot titles in a sleeve but the only place I'd seen it was on a Canadian site. I've tried to order it several times with the following scenario. The seller says they've mislaid it, it then gets taken off their site only to reappear a few months later so I'd try and order again with the seller saying they'd mislaid …. you get the idea. So I was really pleased when another one appeared on a different Canadian site and I was so carried away I even paid the extortionate postage costs. The books inside are interesting in that they are printed in Canada and have something I've never seen before on the back namely the words 'Litho'd in Canada' Click HERE to see them.
Sorry for the short blog again but other things have taken priority over PAN books. I know that's hard to believe but we've had great news this week. We have been campaigning for several years to get a disused railway opened up as a leisure greenway and after a meeting yesterday we've been given the go ahead subject to forming a 'Friends of' type of group with a proper plan for the future. If anyone is interested you can find us at 'Back The Track' All 'likes' on Facebook gratefully received.
…. and finally I've managed to appear on TV reading the weather forecast at last. OK it's not for real just a bit of fun at the BBC Studios but it's certainly not as easy as it appears. The chart was definitely not from that day as a coat was still needed inside and out.