In July 1949, during one of my regular visits to Pan's offices In Headfort Place, having completed 24 round trips between London and Paris over the previous 2 years, I had my usual interview with the Managing Director, Aubrey David Forshaw (ADF). These interviews usually were just brief chats about the latest trip to Paris and details of anything I should know about for the next trip. However, this time was different!
ADF explained that production was being transferred to UK printers as paper was now available and It was no longer necessary to use French printers. 'Laloun' was to be sold and the remaining contracts would be completed and brought to London by a chartered vessel. So, I was out of a job!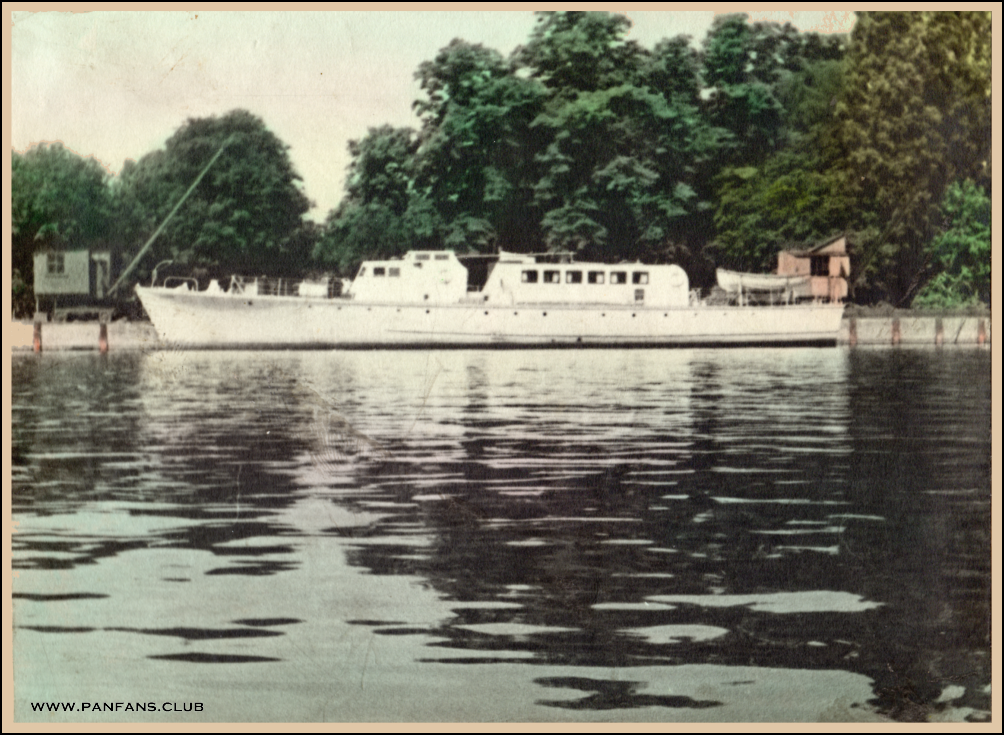 The 'Laloun' moored up at Kingston Upon Thames
ADF had always taken a great personal interest in the 'LaIoun' project, travelled' with us to Paris, whenever he could get away from the office and he knew I had joined Pan, as First Mate of 'Laloun' in 1946 having just being demobilised from the Royal Navy, as a Sub Lieutenant RNVR after 4 years service from 1942 straight from school. I had realised for some time that, sooner or later, production would be transferred to UK printers, but I had not given any serious thought to my future. I was content doing the job as First Mate of 'Laloun' ADF told me to take some leave and come back in 10 days time and "He would see what he could do!"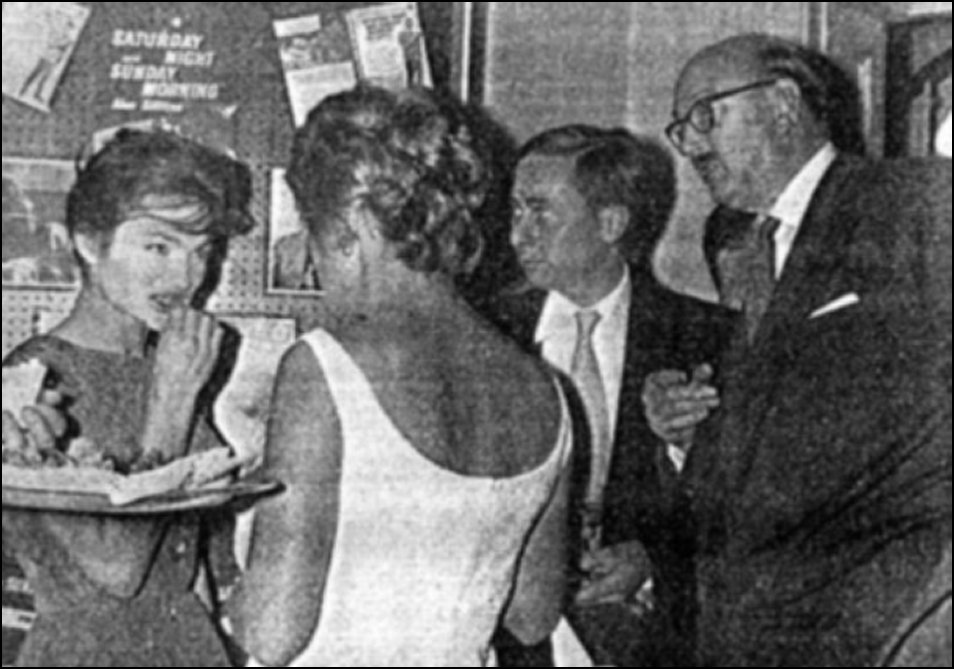 Aubrey Forshaw (ADF) on the right
On my return, after 10 days wondering what was going to happen, I met ADF in his office and was immediately informed I was to be Pan's Export Sales Manager starting immediately. Wow! I had a job that turned out to be even more exciting than my previous 2 years.
However I was a new boy In the Company although I knew everyone from my regular visits to the office after each trip and I had to get used to the idea of a 9-5 job in busy office. In those early months I came to learn how the office worked and in particular where I fitted in to the organisation.
Never having done any selling, ADF thought it would be good experience for me and sent me out with a bag of samples to visit the W H Smith kiosks on the London Underground but I received short shrift from every call and returned to the office empty handed fully expecting to get 'a flea in my ear' from the boss. But no, ADF was very understanding and I left his office with a smile on my face.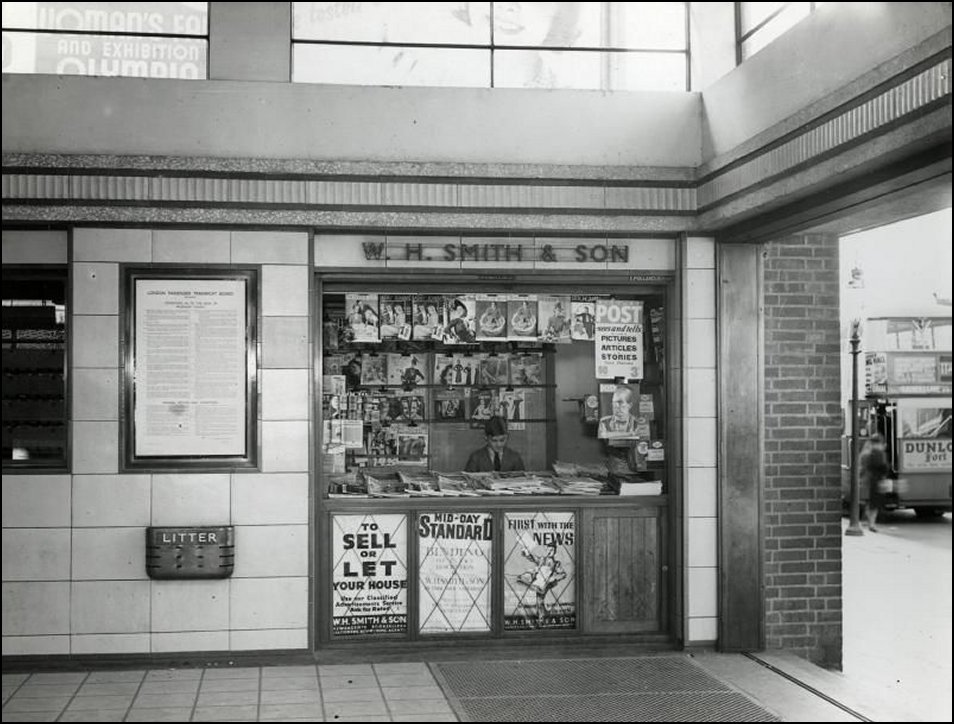 South Harrow Underground Station with a few Penguins and Collins White Circles on the right.
When Pan first started by using French printers, there was a requirement to export 50% of production to obtain export credit to pay them and I quickly learnt that the overseas offices of Collins were handling the sales. Before Ralph Vernon Hunt joined the Company, Ray Hardingham who had been Collins' representative in India and was waiting to go out to South Africa, had been seconded to Pan as temporary sales manager and he had been keeping In touch with the Collins' Overseas Office. So there was a steady flow of export orders from Australia and New Zealand, South Africa, Central Africa, East Africa and West Africa, the Caribbean Islands and the Continent.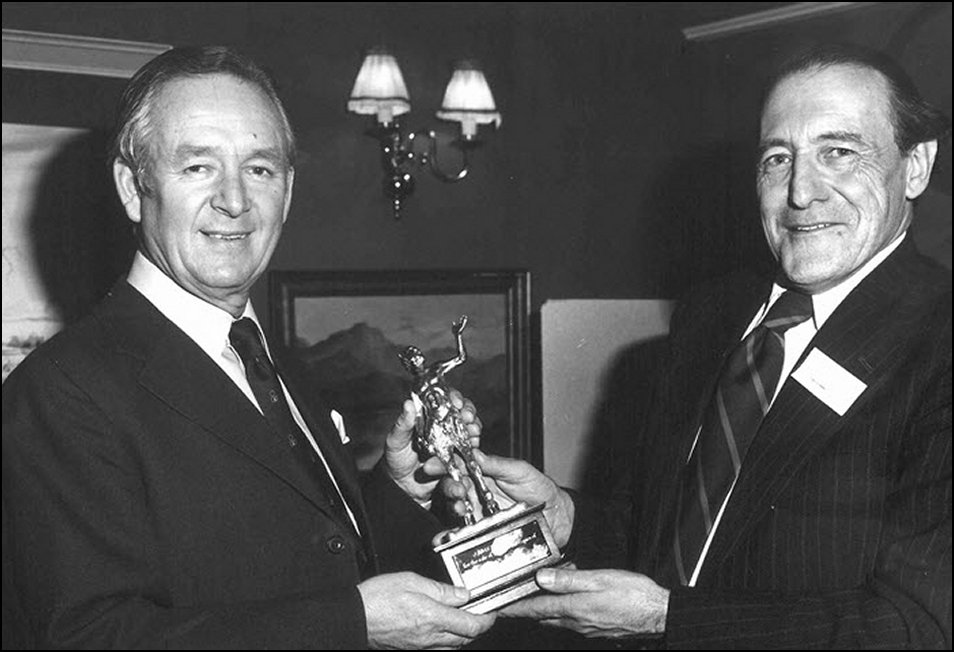 Ralph Holmes Vernon Hunt (RVH) on the right
By the time I joined PAN, and became part of the sales team, Ralph Vernon Hunt had come out of the RAF and became our Sales Director. He was mainly occupied in building up our sales force and increasing our home trade while I made it made it my business to learn who were the key players representing Pan overseas.
Although my first responsibility was to get to know the principal reps around the world, many of our overseas customers had London agents who would confirm orders, give us shipping instructions and pay our invoices. So I made contact with these firms which I like to think proved very useful later on, when I started travelling.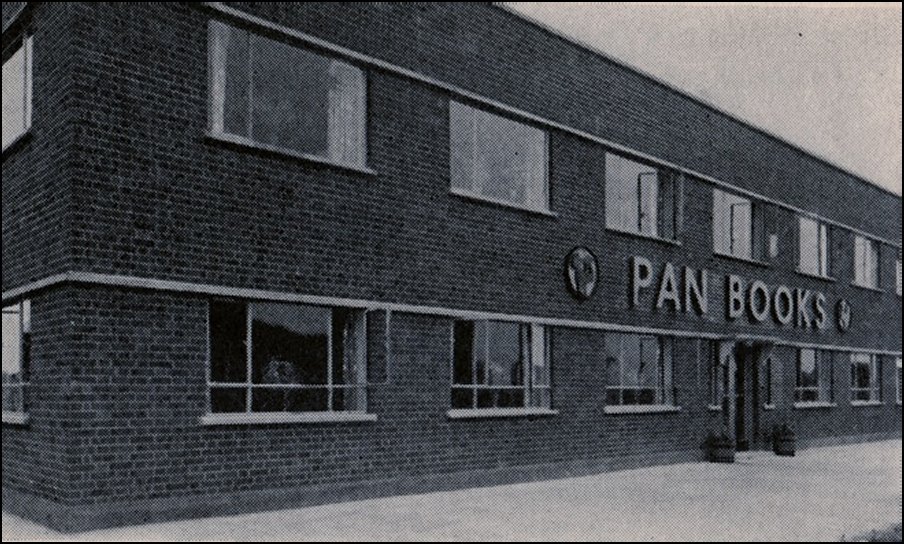 East Molesey Despatch Centre
So, from 1950 my time was spent corresponding with all the overseas representatives and major companies and creating a very useful 'visiting list' But I was also involved with Pan's Trade Manager, Hugh Green, firstly at the warehouse at Molesey and later at Edenbridge.

Edenbridge Despatch Centre

Life was never dull at Pan! For the first six months 'Laloun' was laid up on the Thames at Teddington alongside a river side pub and I was asked to visit her regularly to ensure she was OK. This gave me a break from the office, with the use of the office car and a drink at the pub before returning to the office. This continued on a weekly basis for about six months when she was sold.


There was also an occasion when I was called into Alan Botts office to be told he was thinking of borrowing A.P. Herbert's cabin cruiser and could I 'drive' it for him? The cabin cruiser named 'Water Gypsy' was lying on the Thames at Sonning and we were to go out to inspect her. So, another day out from the office in the company of Alan Bott and his wife Josephine and A.P.Herbert came along too. Sadly, nothing came of what would have been a very enjoyable outing.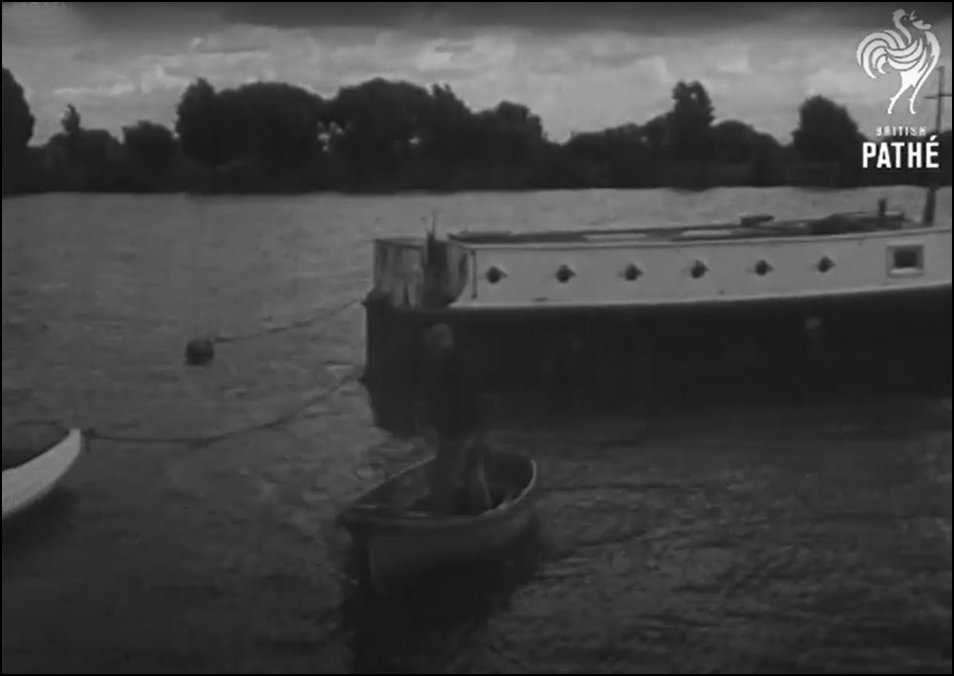 A. P. Herbert and 'Water Gypsy' Click HERE to watch the film clip.
Another welcome diversion which I thoroughly enjoyed was a day out with ADF who was a great motor racing fan. He and friend raced an Austin Healey at private race meetings at Silverstone and one day he asked me if I would like to go with him to one of these race meetings and lap score for hm. Naturally, I said "Yes" as these were always on a weekend. I lived in North London at the time and ADF arranged to pick me up at 5am and off we would go tearing up the A5, stopping enroute at one or other of the many transport cafes for a hearty breakfast and arriving at Silverstone around 8am for the practice laps before the first of several races. It was all very exciting and during thc course of the day, apart from lap scoring, I got to know a little of ADF's early life and his love of old Bentleys. He always had 2 or 3 in various stages of restoration. I have to admit that I looked upon ADF as a father figure and later he was at my wedding and later still, provided references when my wife and I decided to adopt, first a daughter and then a son. At this point in my story I should mention that my Sales Director (RVH) never forgave me for marrying his Secretary.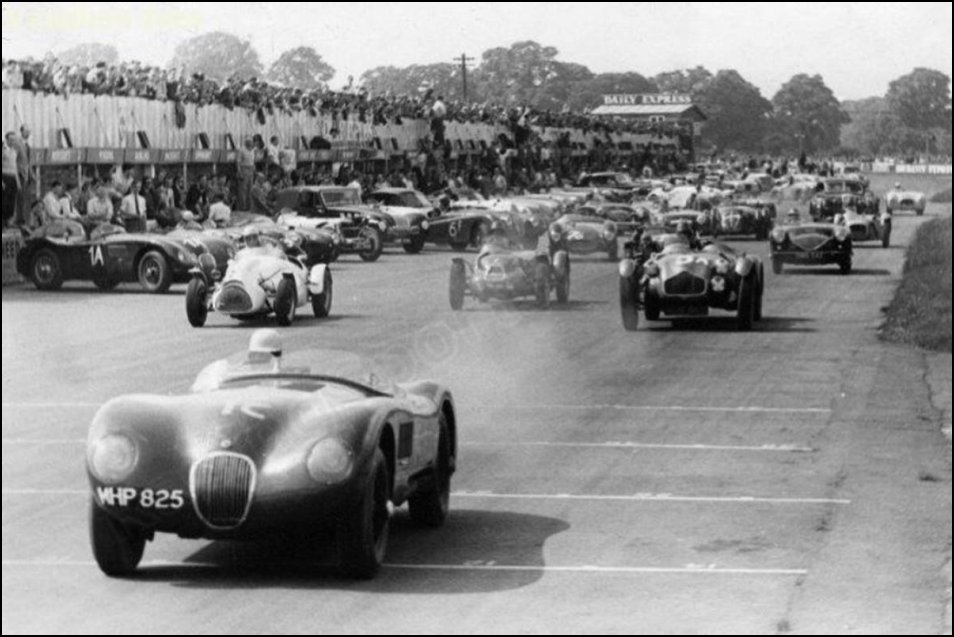 Austin Healey's racing at Silverstone in 1953
During the early 1950's my time was largely spent becoming familiar with our overseas sales and establishing links with the Collins overseas offices and the various agents on the Continent. I was spending one day a week at the warehouse with the Trade Manager Hugh Green and we devised a system of grouping orders for our major overseas customers and shipping in bulk. These would be consigned to, say Sydney or Auckland where orders would be passed on to local booksellers.
This arrangement also entailed working with some at the London exporters such as Gordon & Gotch who represented a major chain of booksellers in Central and South Africa. All very interesting.
Another helpful source of information about overseas booksellers was the Export Sales Manager of Penguin who shared his extensive knowledge as he had travelled to these overseas markets and he provided many an introduction. In time, I was able to return the compliment and tell him who I had met on my travels.
In 1954, I was given the opportunity to travel overseas. Well not really - it was only to the Channel Islands but sales to the bookseller on Jersey and Guernsey was considered export So a 3 day visit turned into a week, as my wife- to- be had family on Jersey and ADF agreed she could travel with me and have a short break. All the people I met were very enthusiastic about Pan and I took many orders from the booksellers on these incredible islands that not long before had been under German occupation.
So I returned to London feeling rather proud of my efforts.
In June 1955 I married Pauline and was pleased that ADF and RVH agreed to be present. Pauline and I were together for 48 years until 2003 when she lost her battle with cancer of the liver.
The years from 1956 until I left the Company in 1963 were taken up with frequent travels overseas - two 10 week tours through East, Central and South Africa: regular visits to the Continental agents with an Annual visit to the Frankfurt International Bookfair where one would meet most of our agents at Pan's Stand. During this period I made a coast-to coast trip across Canada visiting every major city. Pan did not have the North American Rights for the majority of its titles but there were enough to make the visit worthwhile followed immediately with a 'whistle stop' tour of New York with several bookshops on Times Square open at midnight and giving me a great welcome. Then on to the Caribbean starting with Jamaica and finishing on Trinidad — it seemed that every Island in the West Indies had its bookshop and I always received a great welcome.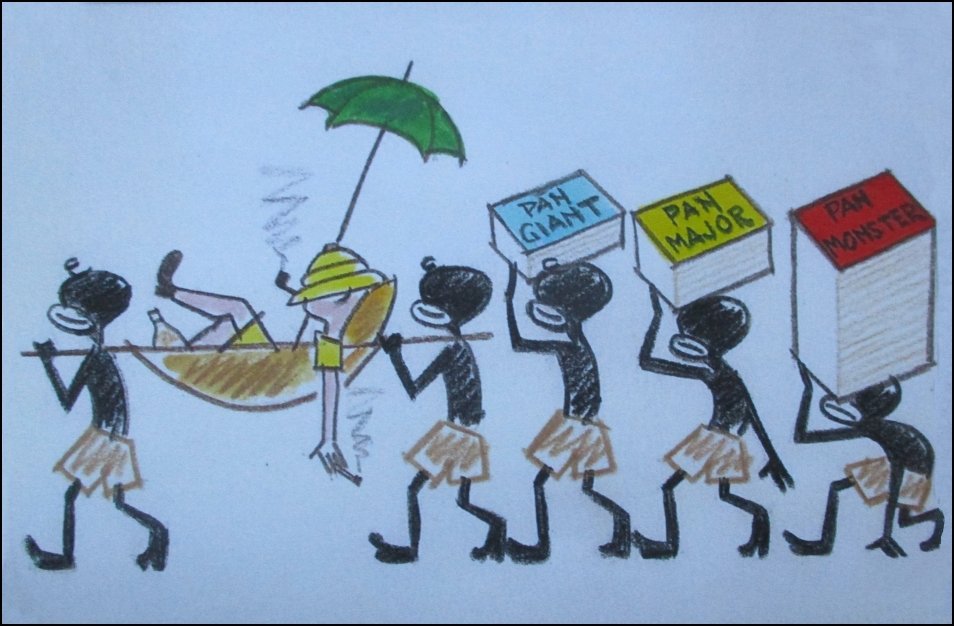 Gordon in Africa as imagined by Charles Clixby Watson

However, things were changing at home that made me wonder about my future.
During 1958, I made a second long trip through Africa, meeting up with the resident Collins Reps and very quickly sensed they were under pressure from their London office to push for Fontana sales which could affect Pan's sales. There was also the expectation of competition from two more paperback series coming out from other of Pans supporting publishers. This I reported to AIM on my return. I remember his comment was ... "I am not surprised!"
About this time Ralph Vernon Hunt and our Editor Clarence Paget made a mystery visit to New York. I drove them to Southampton to board the Queen Mary – met them on their return and learnt something about their visit with talk of a takeover by an American publisher. Of course, nothing came of that but the idea did shake up the supporting Publishers in London. Also about this time too, RVH disappeared from the scene and we heard he had joined up with Paul Hamlin but within months was back with Pan (my timing ot these two events is rather vague after all these years) but I did wonder whether my future lay elsewhere.
I was rescued by my Father-In-Law who in 1963 suggested I joined him in the family business and after much thought I agreed and gave in my notice to leave Pan after 18 exciting years.
Postscript:
Compiling my story of 'Life after Laloun' and recounting my many travels for Pan has brought back so many memories of those days and every trip had its excitement. I was so lucky to be given the opportunity to travel and hopefully helped to put PAN on the map of the world.