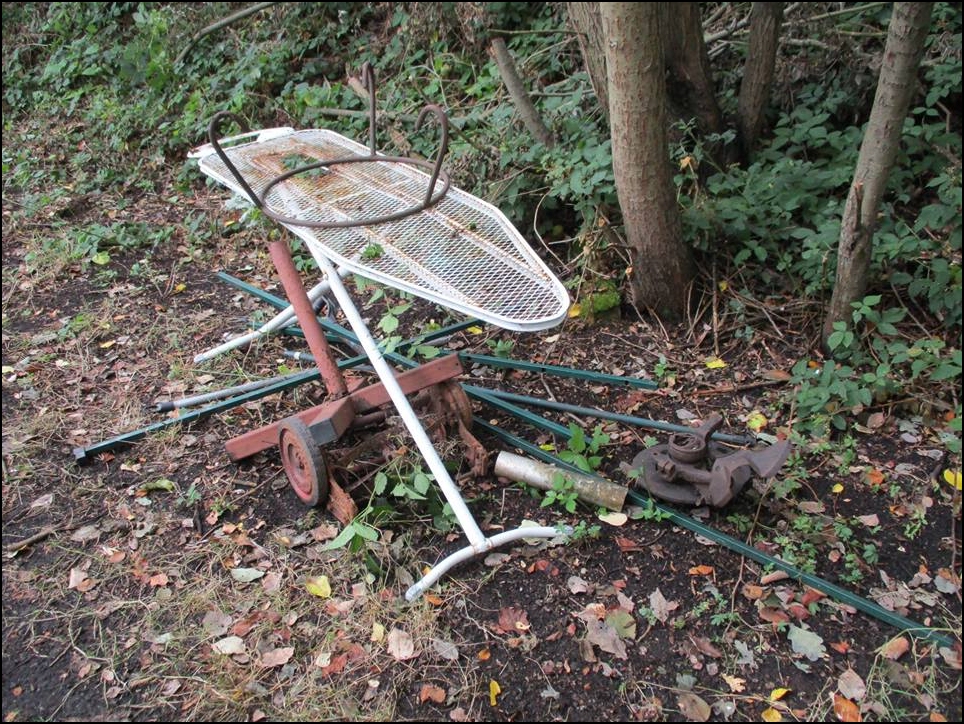 Thanks to Donna and Paul donating a skip we started work on filling it with all the rubbish in the undergrowth. The junk was pulled out to the side of the track, a team of two with barrows collected it to take to the trailer which was then was emptied into the skip. What organisation.
JULY 2018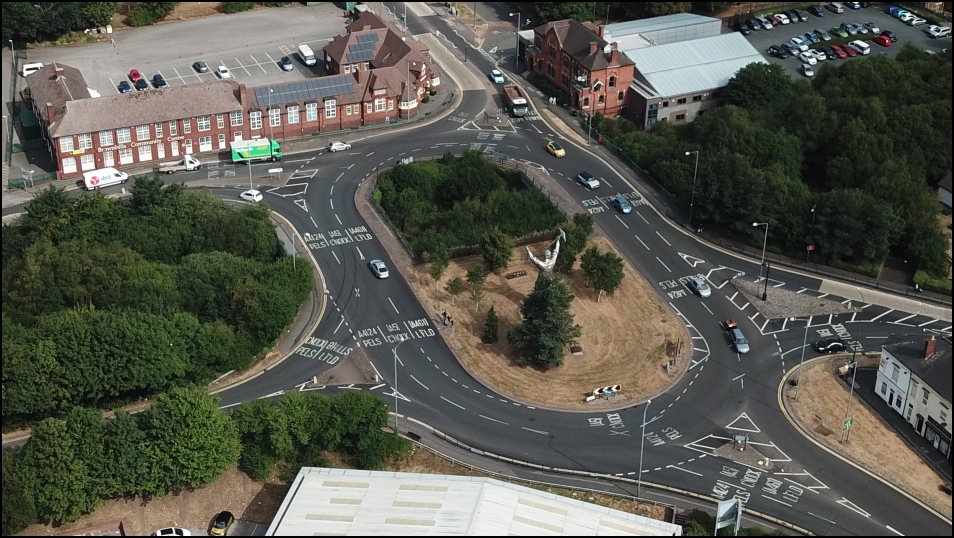 Very interesting morning on Wednesday (25th) looking at the police drones on Tesco's car park in Brownhills. PC Chafe kindly sent us a shot of the miner. Looking at the 'McClean Way' you can certainly see why it is a Greenway.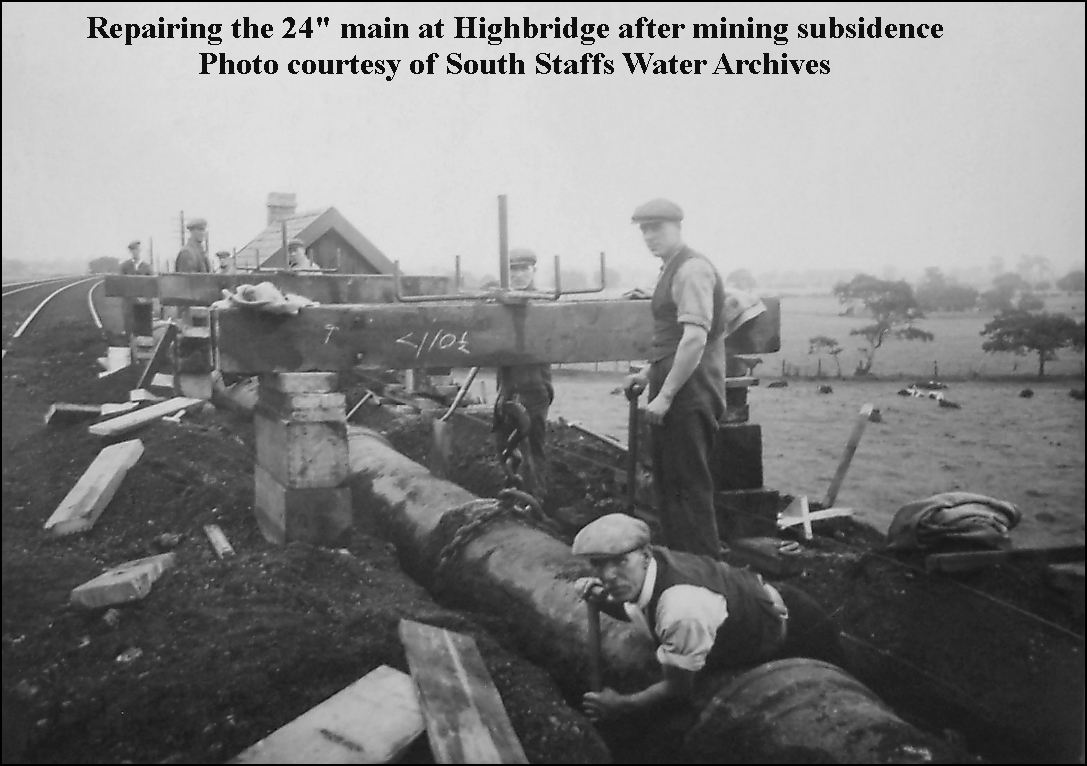 Denis met up with Andy from South Staffs Water yesterday. Andy had an electronic map where the 24" water main built by John Robinson McClean is shown even though it fell out of use about 1972. The position of the pipe through the station area is on the side of the doctors and then comes across towards B&M with a small section missing. Andy thought the water coming up between the bridges was more or less where the pipe was. We need to investigate further but interesting to speculate that a 165 year old pipe may still be carrying water albeit not to where it's wanted.





It was a

red letter

day today with our first informal 'walk through'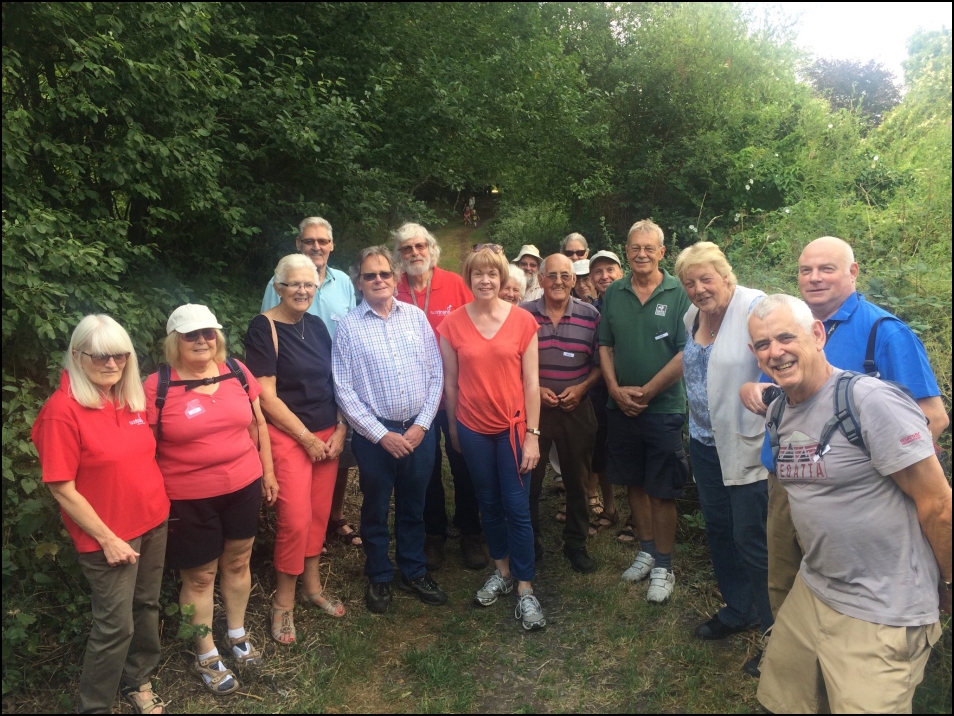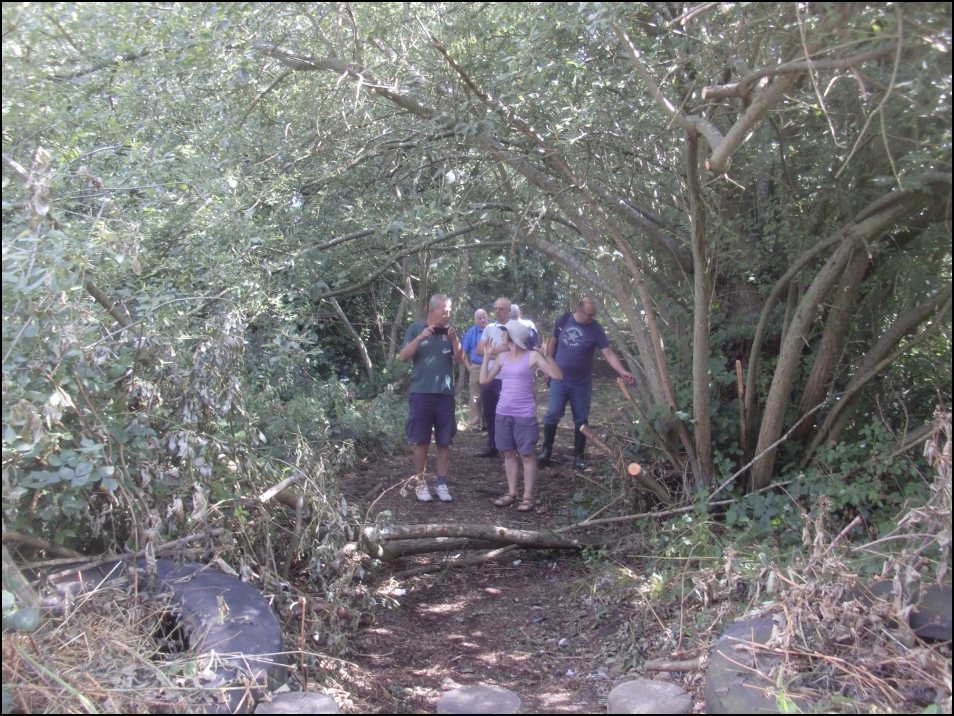 We were not sure how many people had seen Brian's comment about the path now being walkable but quite a few did and joined us on the track this morning when it was looking at it's best. We were very pleased that Wendy Morton managed to juggle her diary and fit us in before dashing off back to London.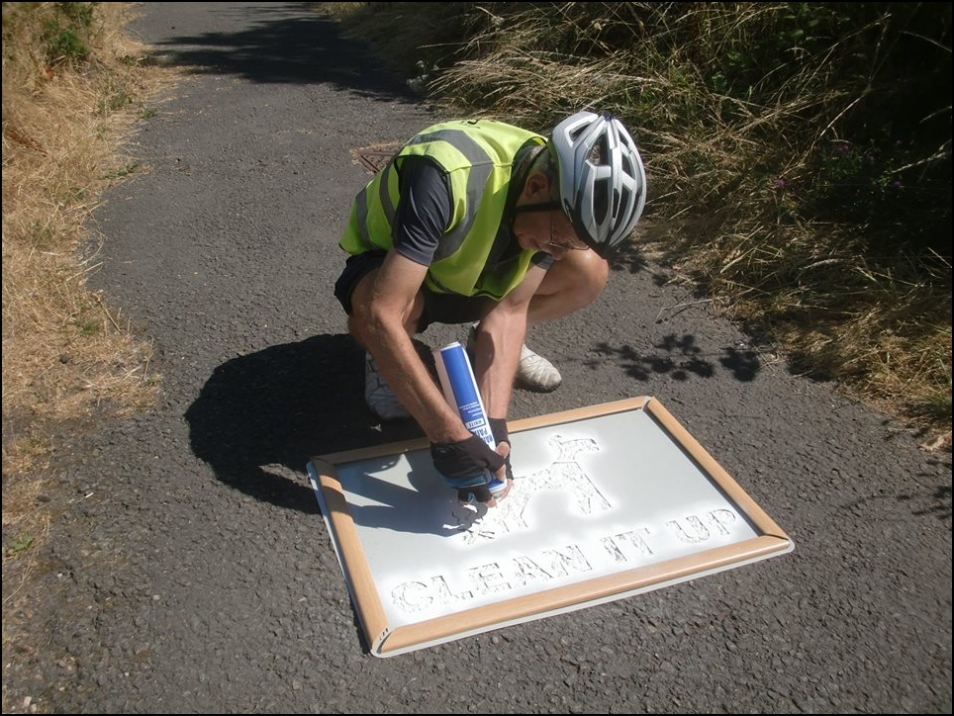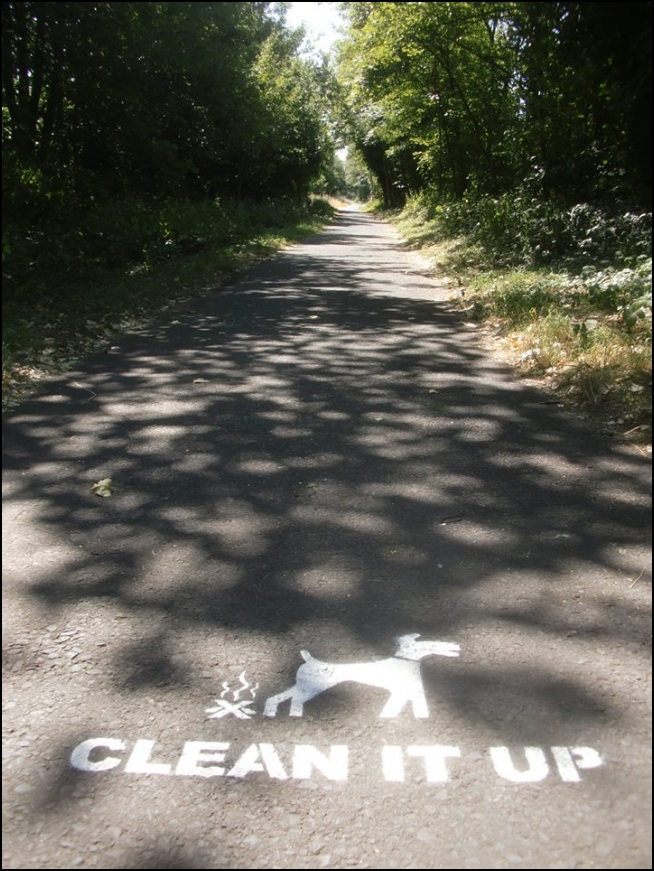 The track, the 'McClean Way', is a safe and valuable environmental resource for schools to use and we were really pleased when Sim, the SUSTRANS ecologist, organised a session with a local school. They all had a great time apart from one thing, the amount of dog pooh in the grass. To try and remind owners of their responsibility to 'Clean it up' we were given a stencil by SUSTRANS which we used seven times yesterday. If you follow them up from Rushall you'll see it was a learning curve with Bob's a

t Pelsall
nearly perfect.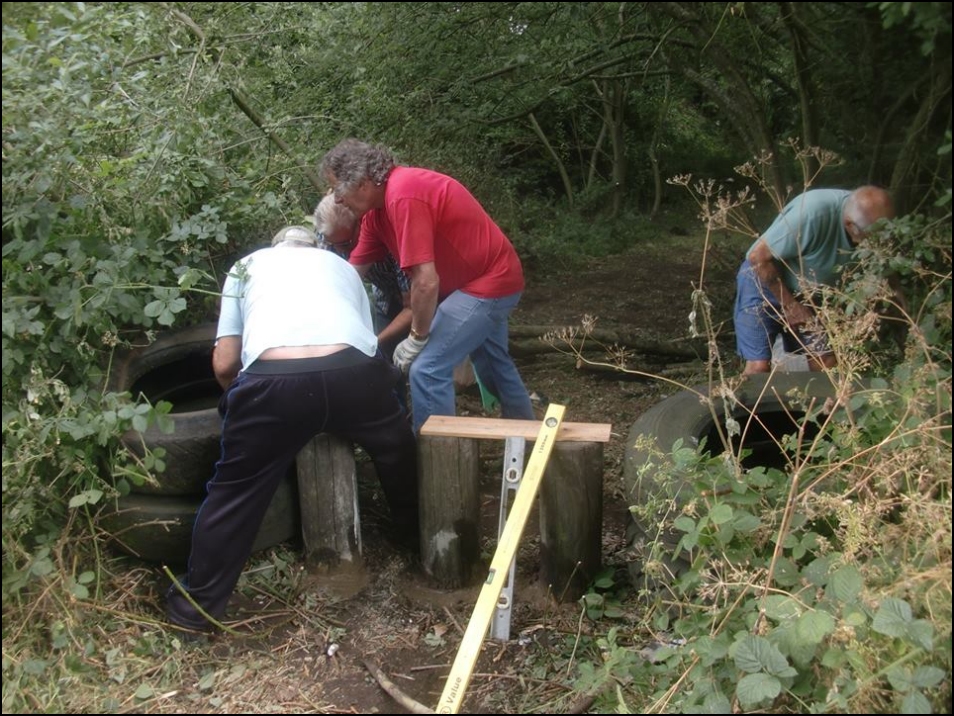 Putting in the barriers at the 'Swan' pub end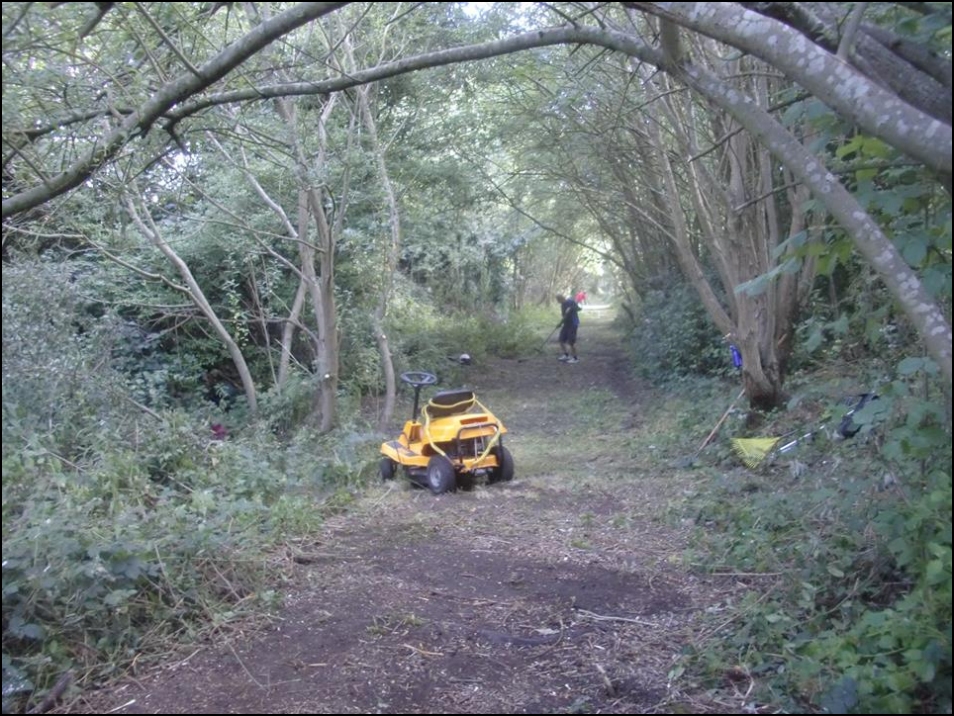 Mowing the grass towards 'Smithy's'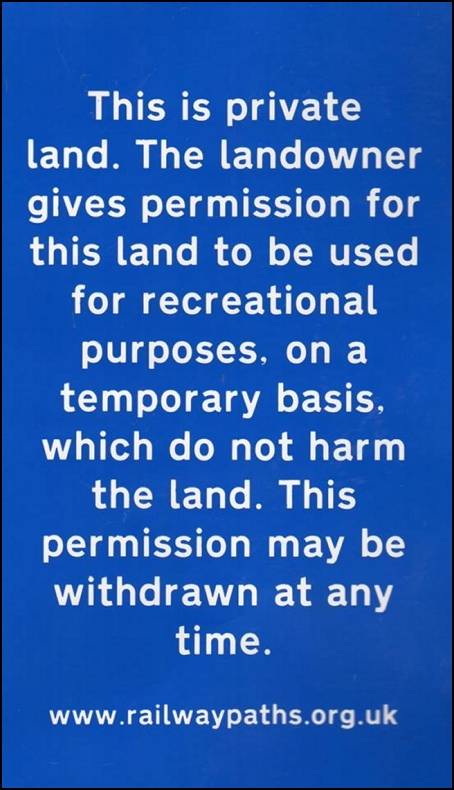 The sign we are putting up at points along the track which goes someway to explaining why we can only do so much at this time.
JUNE 2018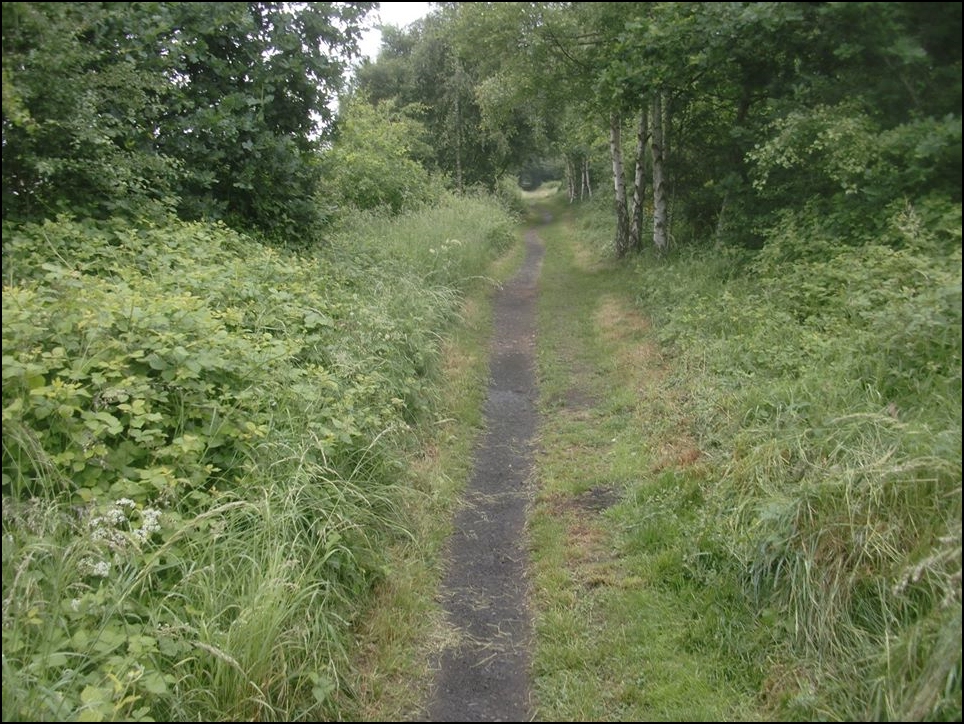 After a few mentions from active users of how long the nettles and brambles were getting on the section between the canal bridge and Bullows Road a group went out and trimmed back just enough without disturbing the wildlife.


MAY 2018

After Ian visited from Canada a few weeks ago when gave us an excellent talk with photos from his soon to be published book he has very kindly sent us a few 'preview' images.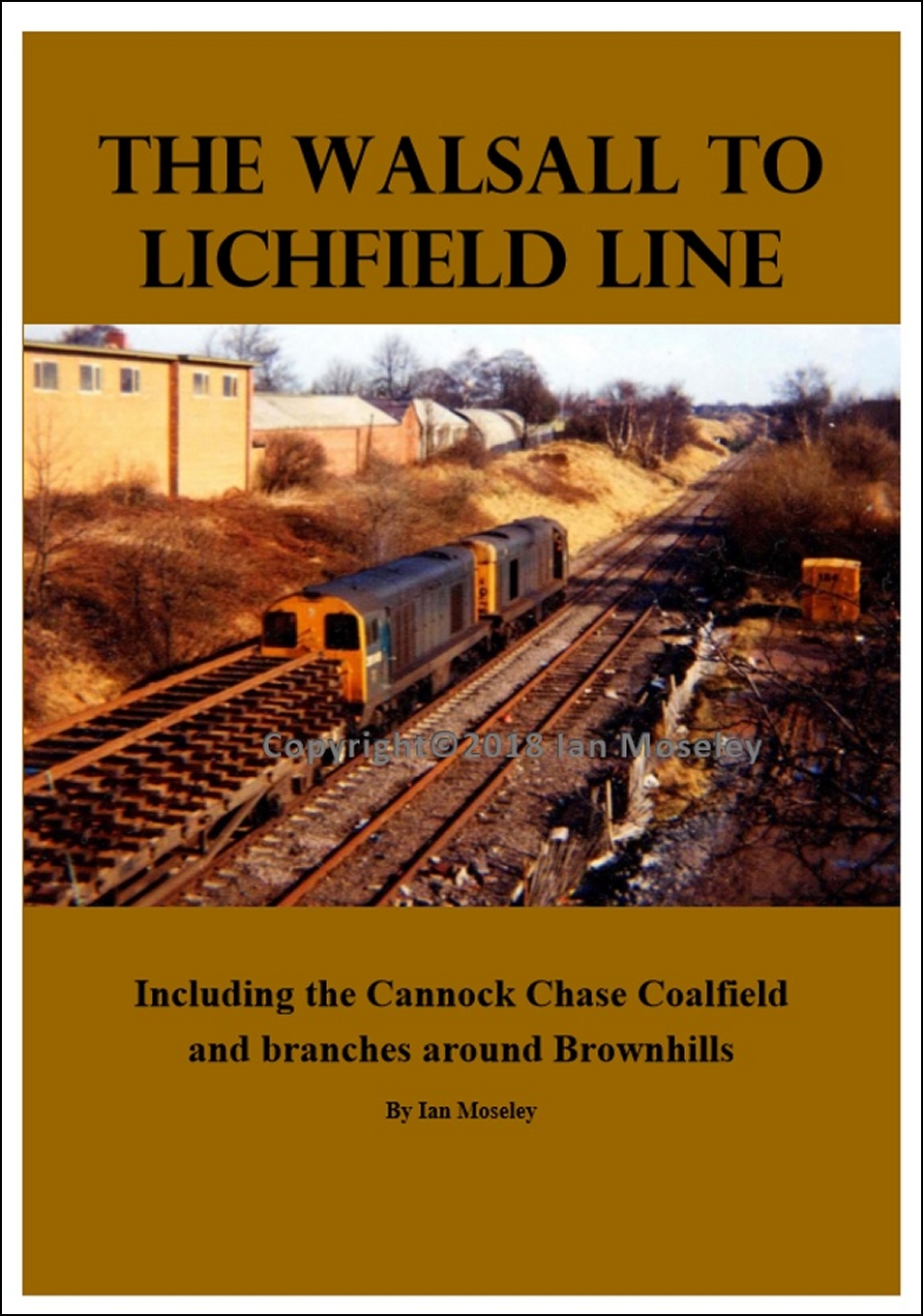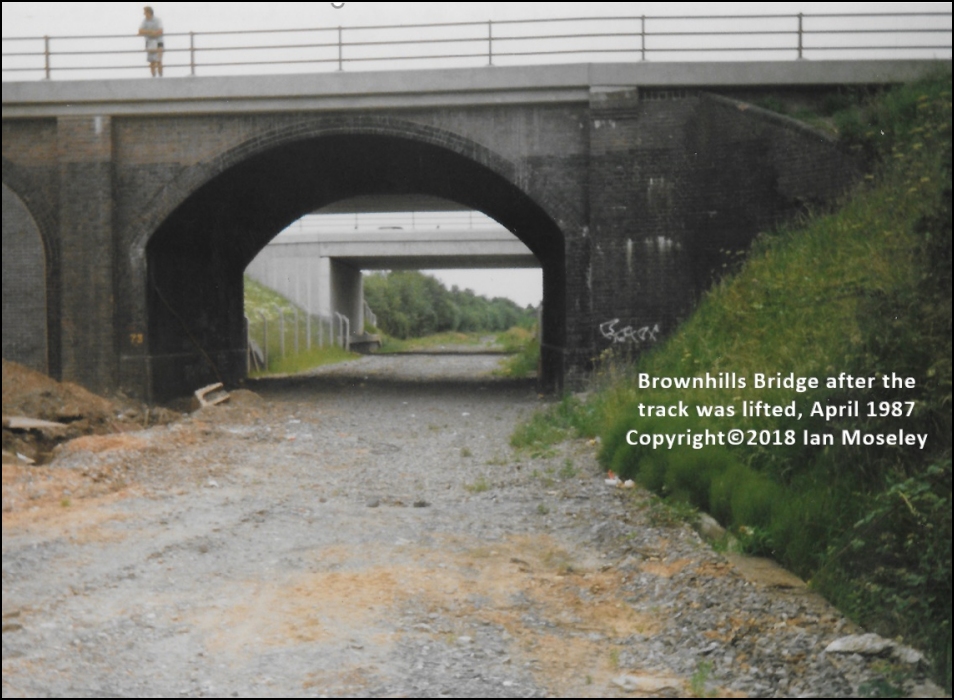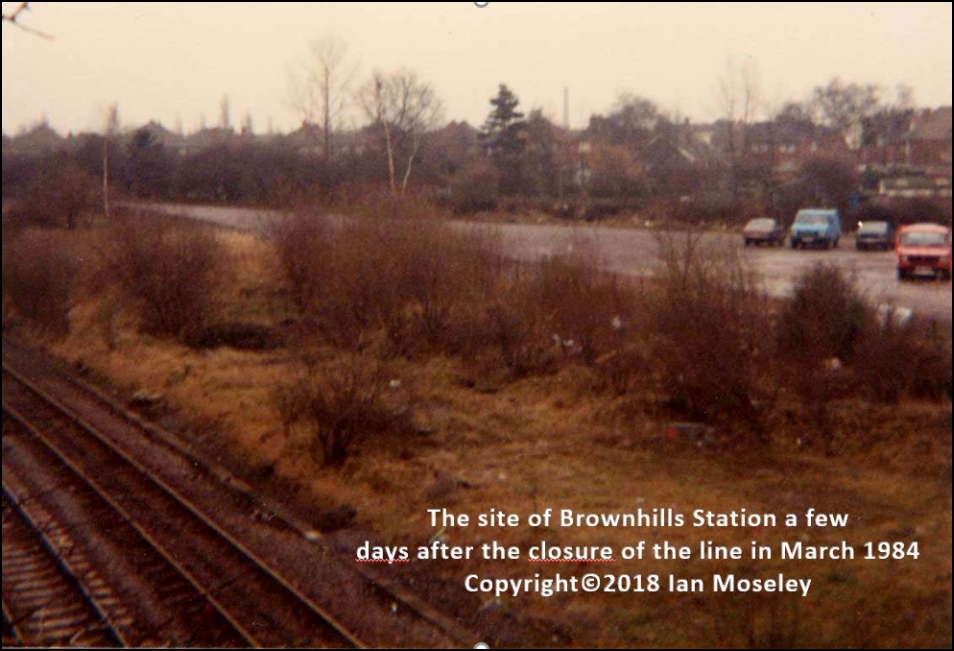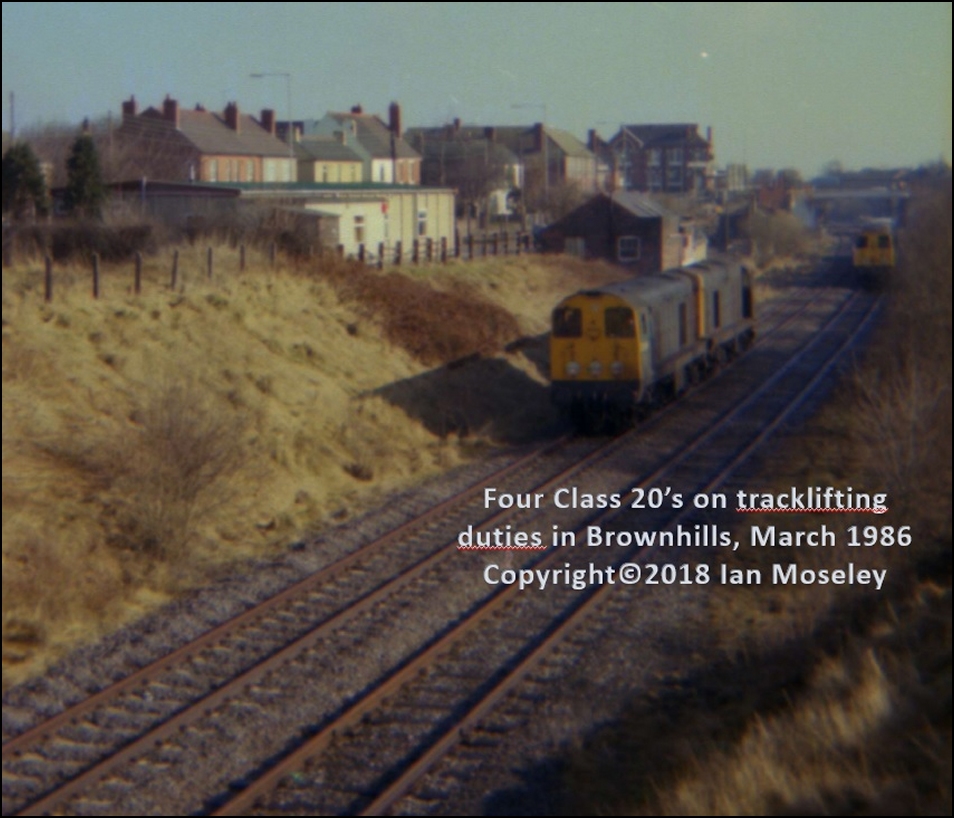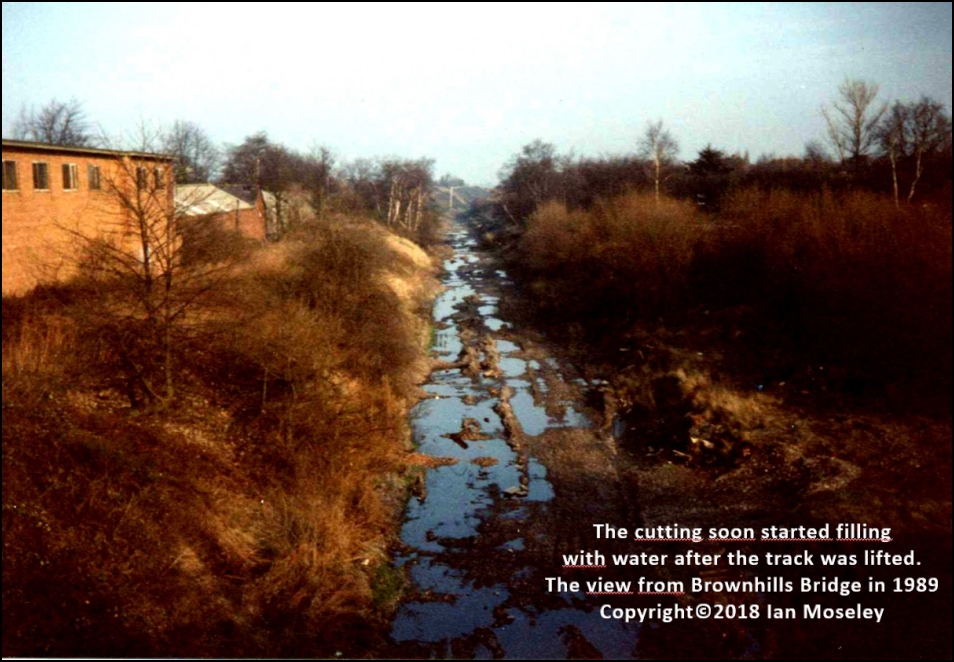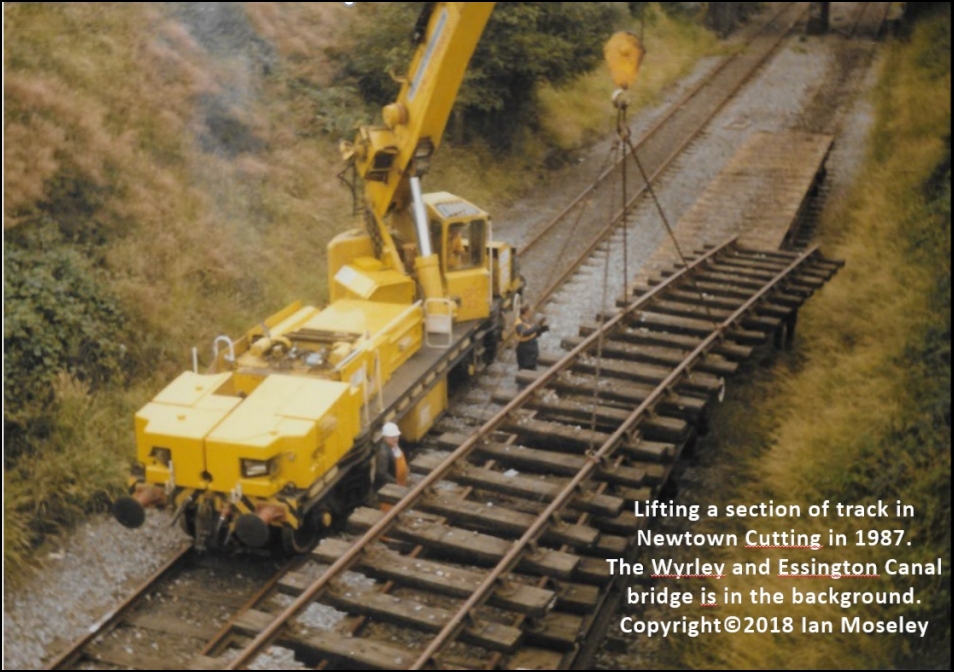 We'll keep you posted as to when the book will be available which should be fascinating with so many never seen before views of the track.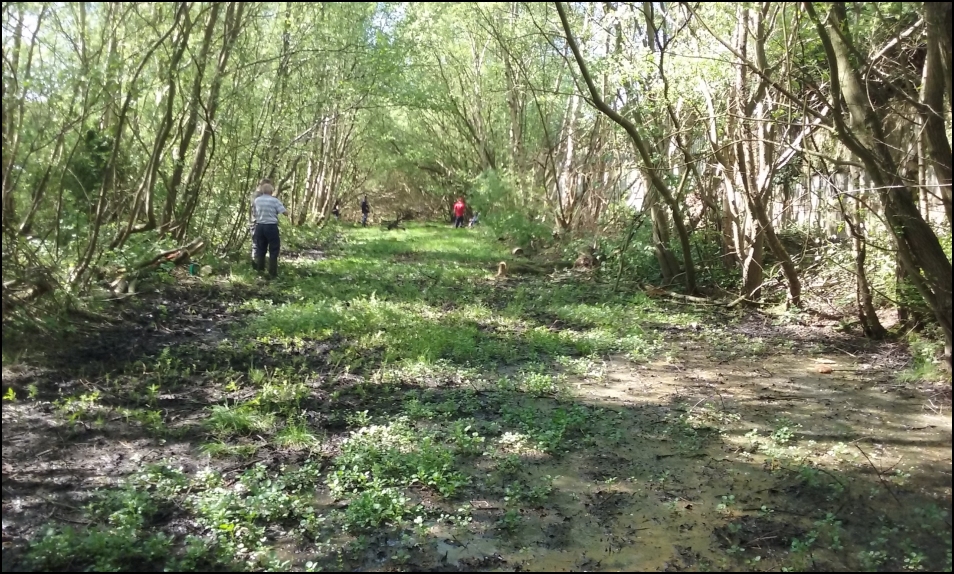 Last week opened up a whole new vista, a fairy glade which wasn't wet! The sunny aspect was much appreciated by group members. This week we are starting to clear the ramp up to Smithy's Forge gate which will provide the missing link.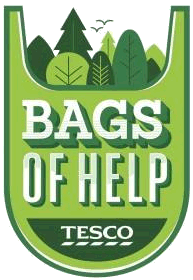 We are very pleased to find we are included as a choice in the TESCO's blue token charity scheme in the Brownhills store. So if you feel you would like to support our local community project, as they say, "Every little helps. The winner will be announced at the end of June.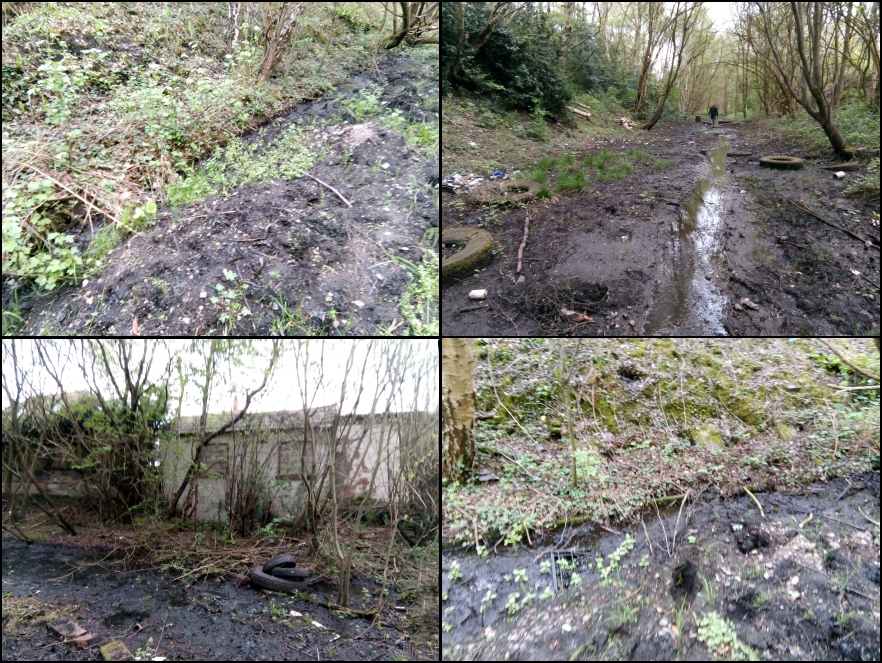 Before he left to go back to Canada we met up with Ian on the track so he could point out all the bits and pieces he remembered from 30 years ago. We managed to locate the edges of the concrete channelling which may have acted as drainage but unfortunately most of it has been destroyed or has been lifted and is lying around in piles. Ian also pointed out the plate layers hut. We'll make sure he gets an invite to the official opening.

We had a great meeting with Ian (on left) yesterday, May 2nd. He currently resides in Montreal but is in Brownhills visiting his Mother. He had heard of our drainage problems even in the colonies and emailed to say he had some photos of the track and drainage channels, were we interested? Ian is writing a book about the line from the mid 80's and showed us some fantastic pictures he has in the book and has promised us ones we can use when he gets back to Canada. They must be unique as he took them when was he was a schoolboy and show a detailed account of the track being lifted and the bridges being built.

APRIL 2018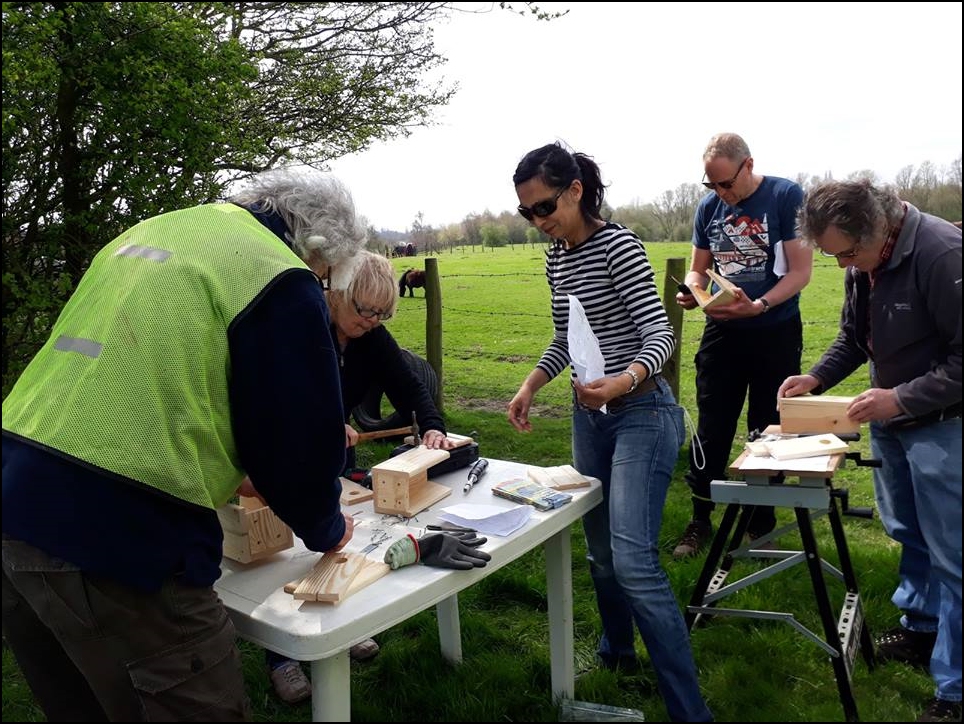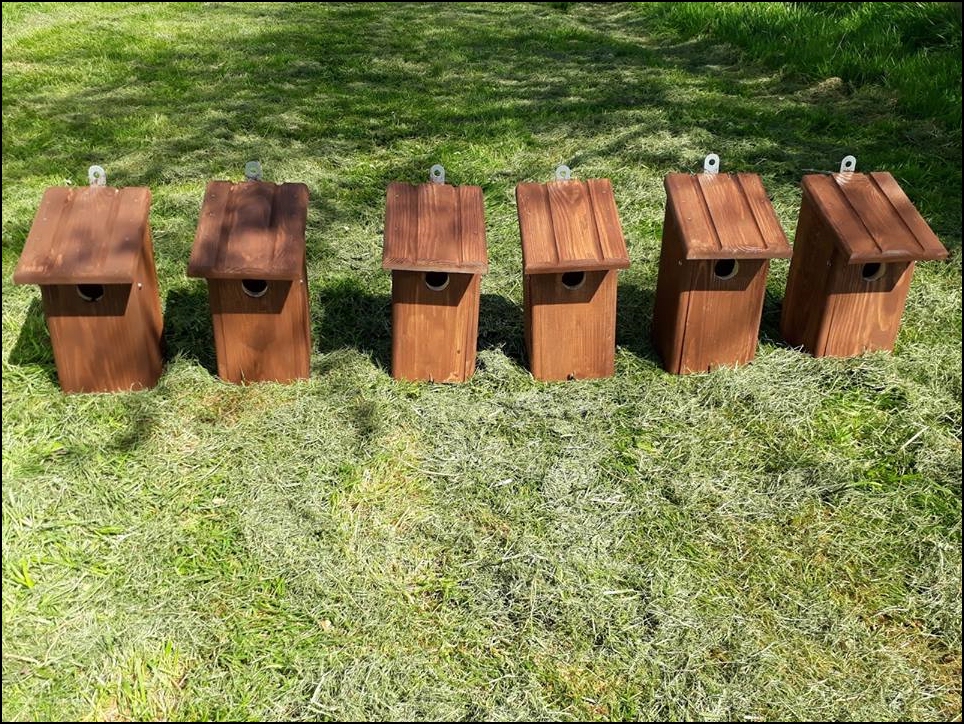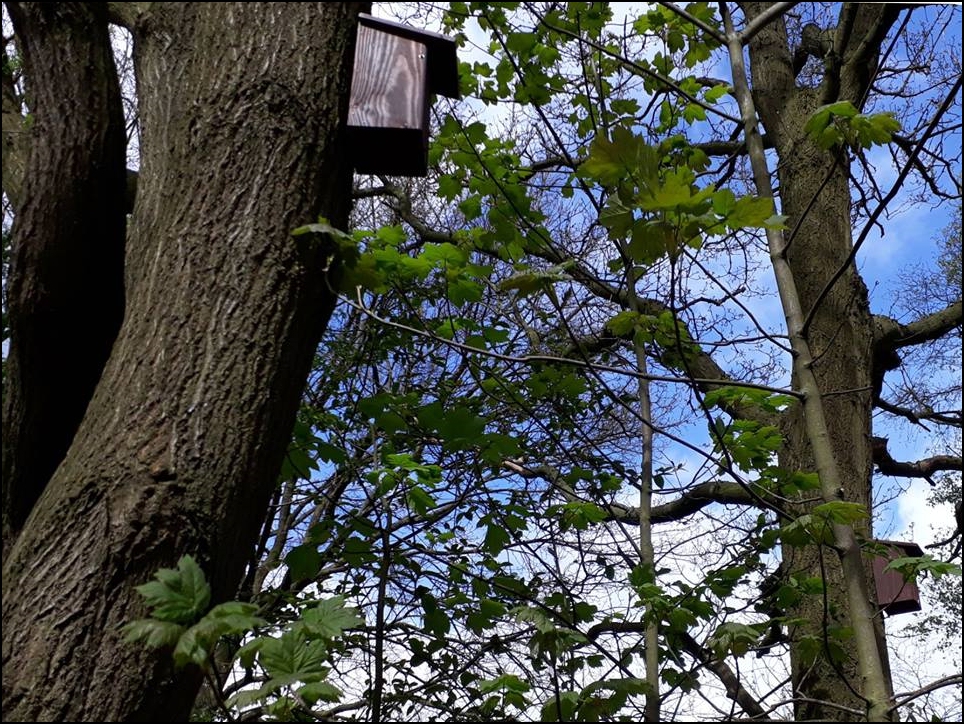 Sim and Martyn from SUSTRANS came along and we made bird boxes to go on the Greenway



As part of their 'Helping Hands' Scheme Wilko's kindly gave us some seed for the track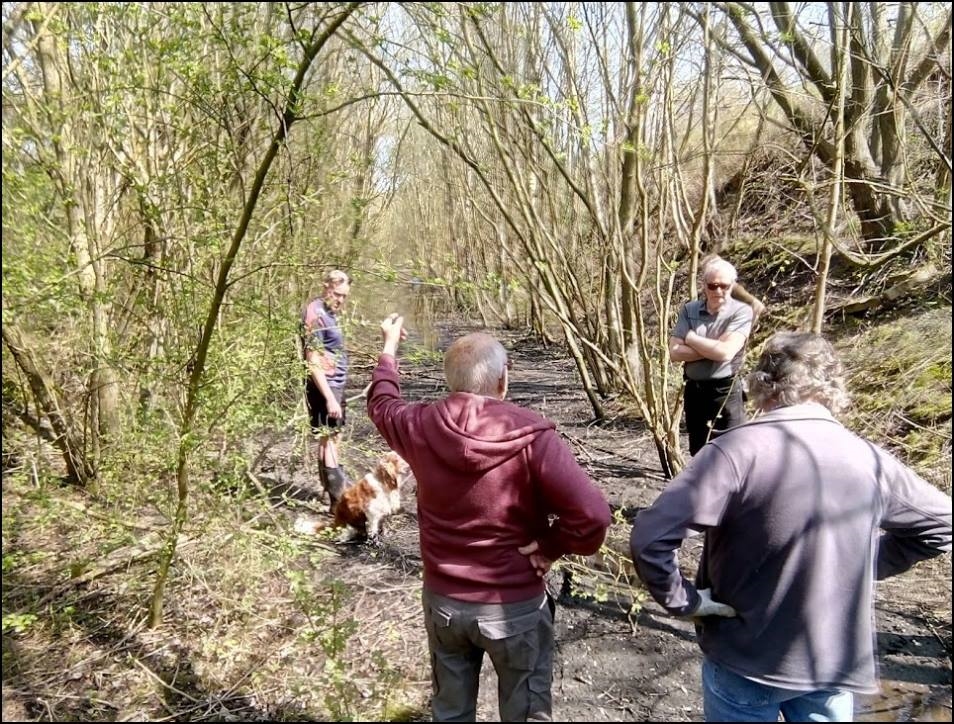 Down by the access ramp built to help with the track removal which blocks the drainage through to Cranebrook. We're deciding if we can break through and stop the lake forming.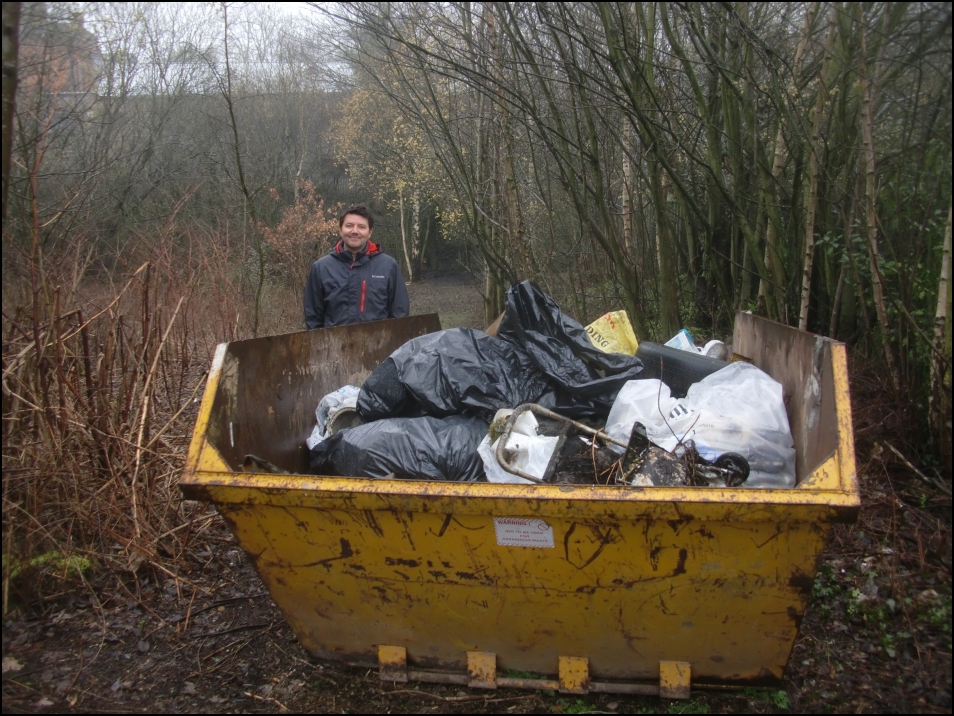 Meeting up with Vic and Simon from the Burntwood Action Group on a cold damp morning yesterday. They are as enthusiastic as we are in getting the track accessible especially in their area north of the A5. We also got the skip, kindly donated by Donna and Paul at Abcell Ltd , collected.
MARCH 2018

After abandoning the litter pick in Silver Street, Brownhills on the 19th because of snow we couldn't have asked for better weather on the 26th. We collected 27 bags which were kindly collected by 'Clean and Green'

| | |
| --- | --- |
| | |
While we've been working on the Brownhills end SUSTRANS have got in contractors to tidy up and prune down the Pelsall to Rushall section which is all part of the 'McClean way'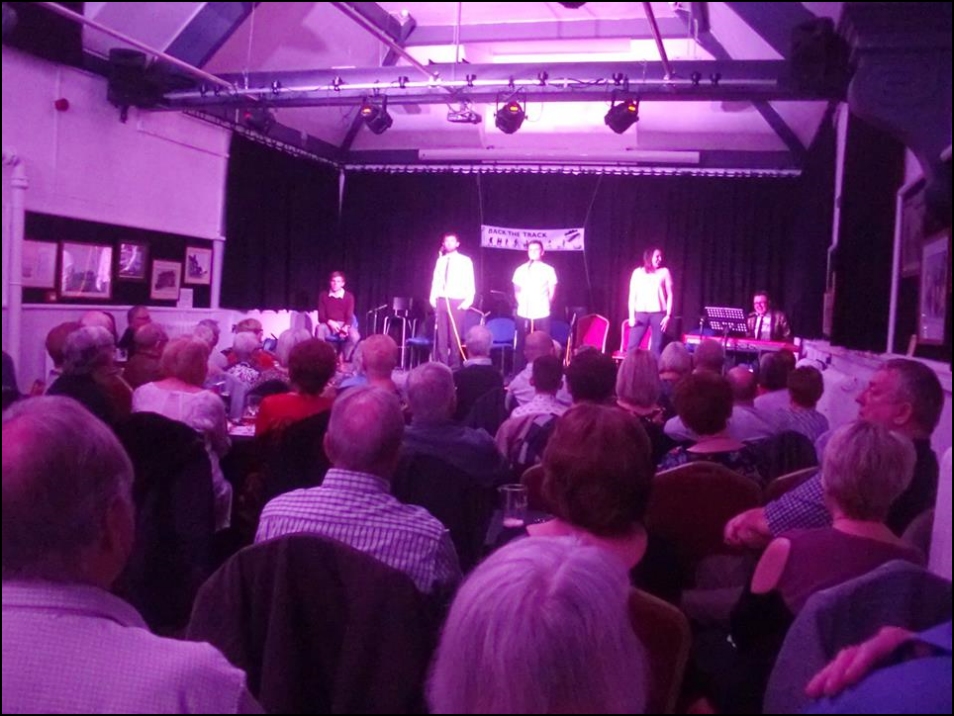 The charity event for 'Back The Track' at The Lamp Theatre in Brownhills on Saturday 10th March at 7:30 pm was a sell out and enjoyed by everyone there. Thanks to the Aldridge Ukulele Band, Follow Spot Productions and The Lamp Theatre for the generous donation of their time and the venue. We raised over £400 towards materials to enhance the area under the bridges.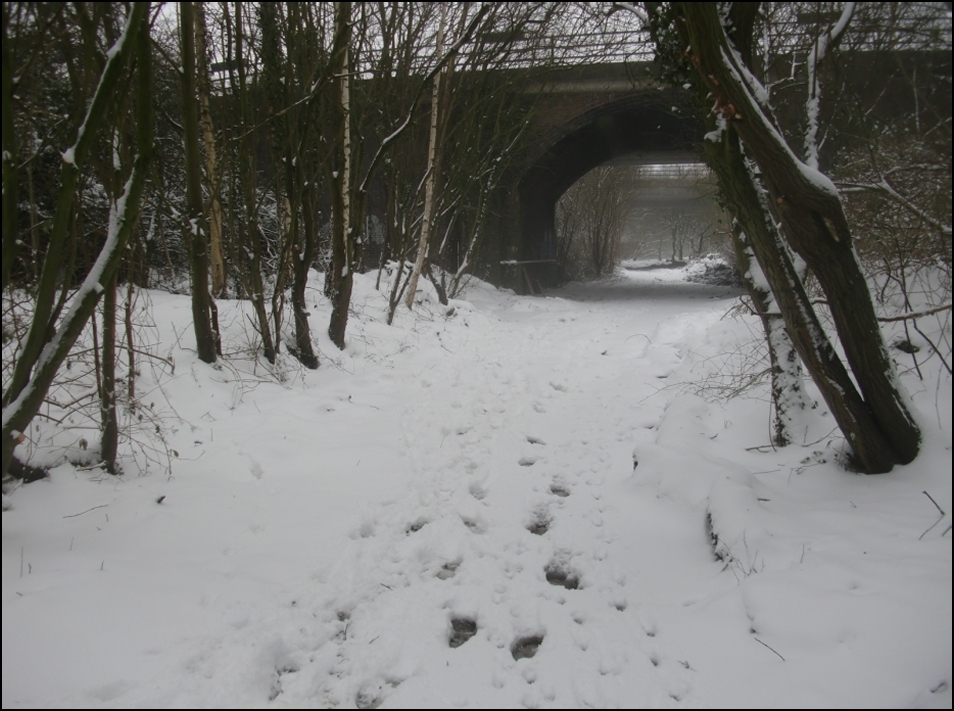 Under the island where we see we are not the first to go down today 03/03/2018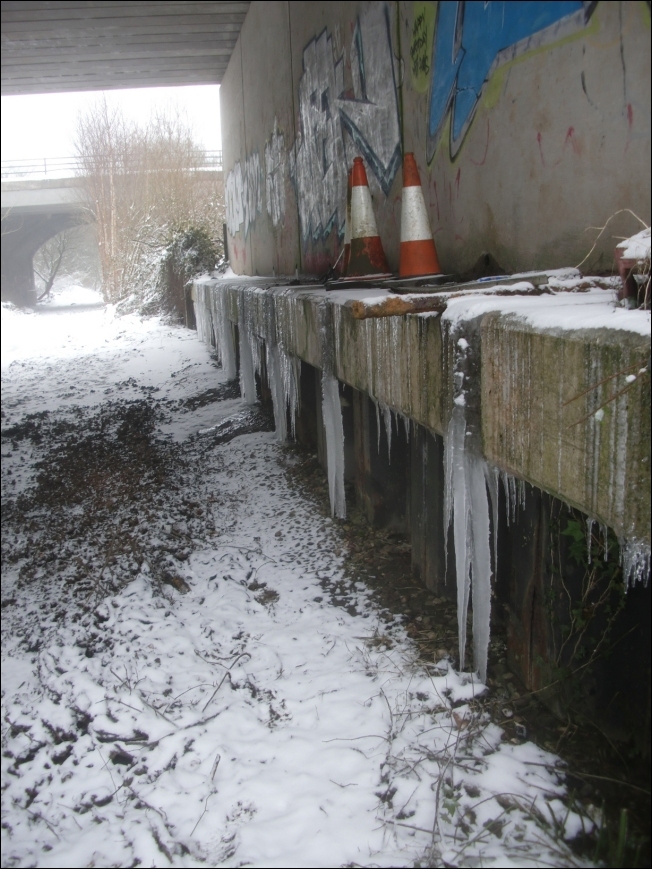 One source of the water, drainage holes in the bridge!



FEBRUARY 2018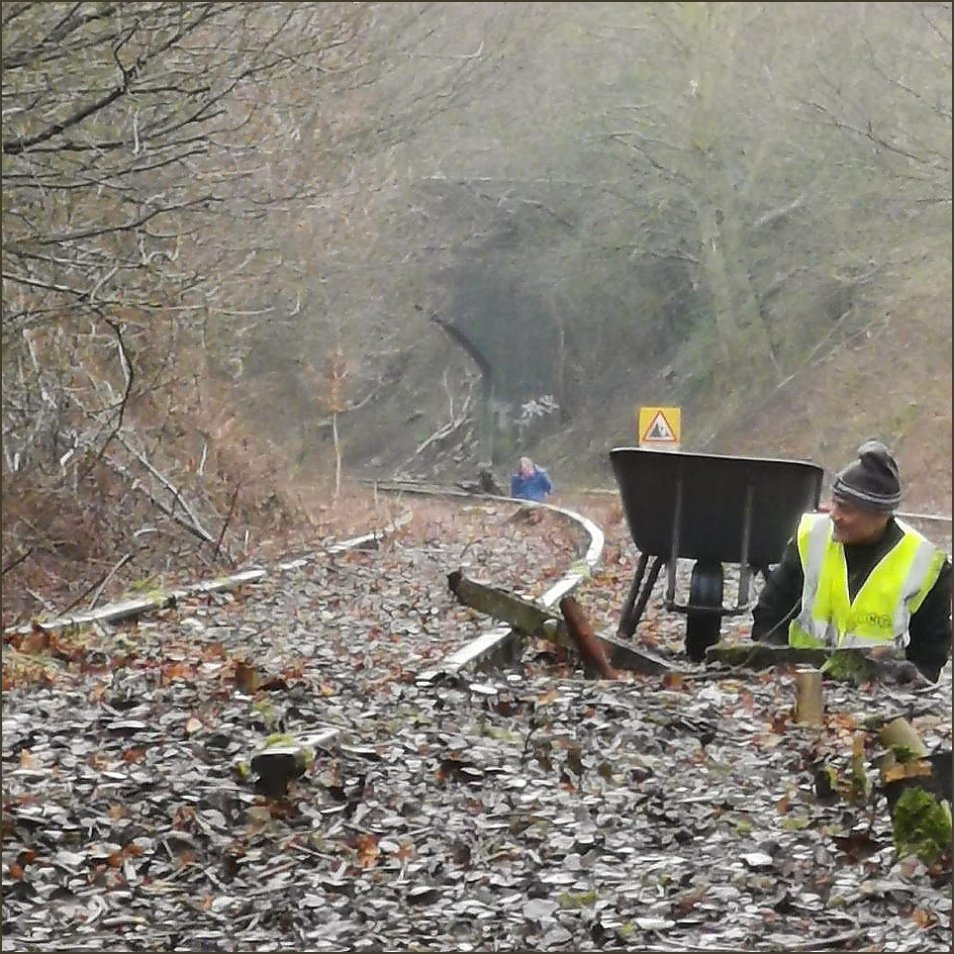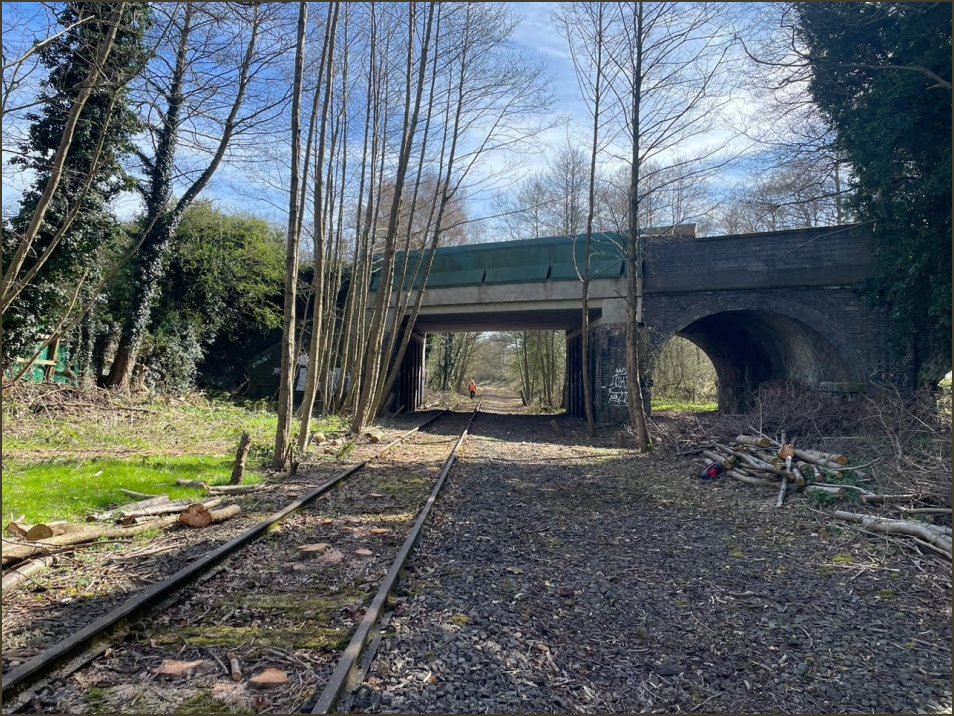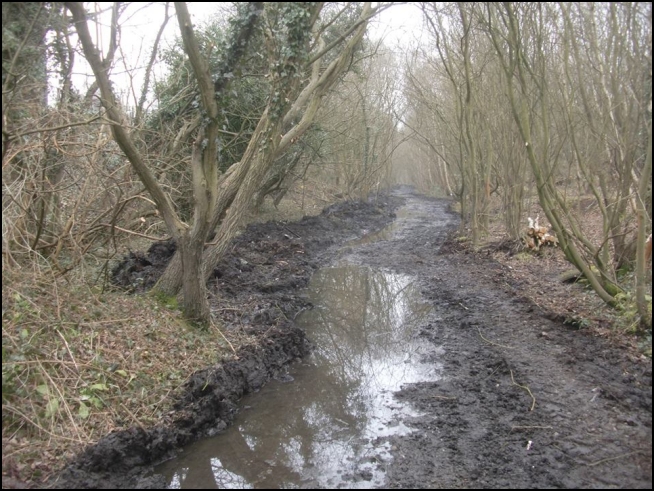 After the digger had been at work, just a pity there is still quite a lot of water to deal with.

We have managed to get a digger down on the track and as can be seen in the video what a fantastic difference this has made.




JANUARY 2018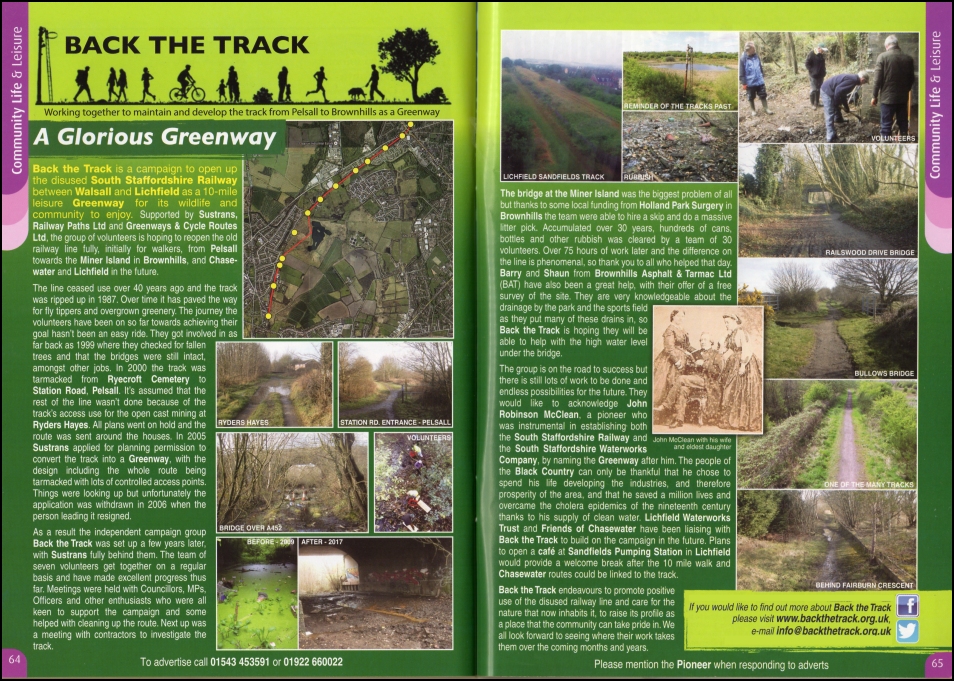 We've started off the New Year with an excellent article in the January edition of 'The Pioneer' magazine. Many thanks to Emma for the write up.

Intrepid members started the New Year by clearing out the existing water channel and then set about extending it well past the point where the ramp behind the library is going to be. They lopped branches off trees that have fallen across the track. which allowed the water to flow better and will make cutting the trees up much easier. They also did another mini litter pick and collected a few more bags of rubbish. The good news is that the water is flowing freely now to about 50 yards past where the ramp will be so it seems there is a continuous gradient right through the station and no level bits which was feared might be the case.


DECEMBER 2017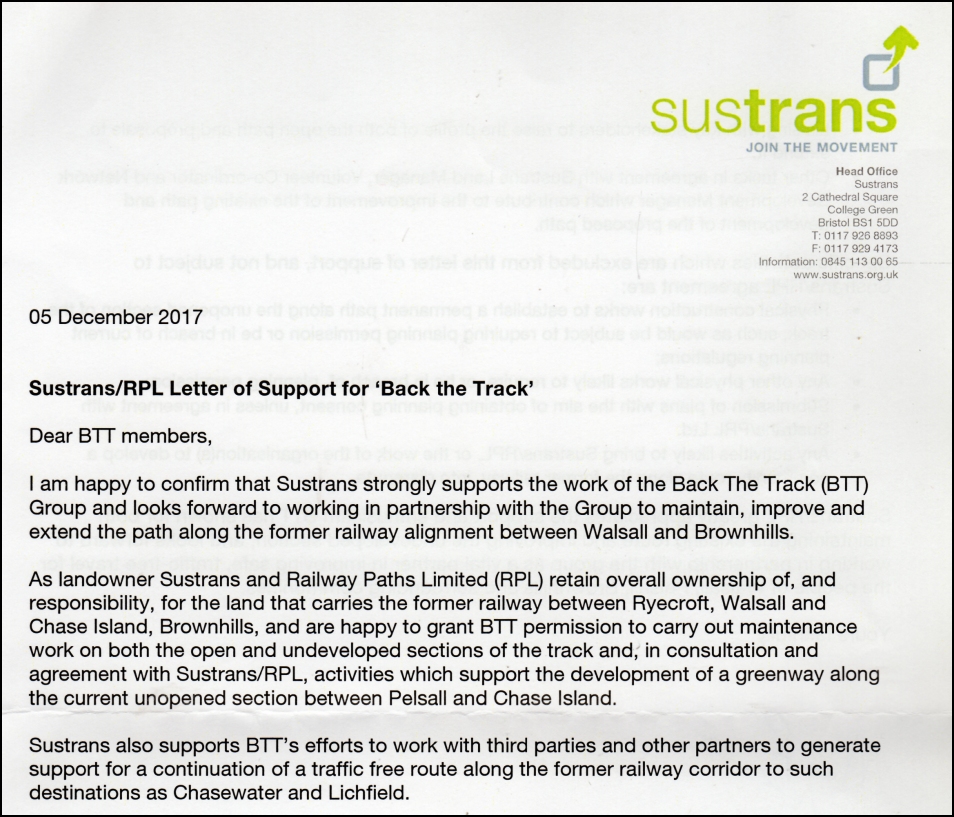 Having spent a couple of hours clearing leaves off the track in Pelsall this morning (6th) we went, rather appropriately, to The Railway Inn for a most pleasant lunch very kindly paid for by Sim and Martyn from SUSTRANS. It was while we were there Martyn gave us our excellent early Christmas present in the form of this letter at long last making us officially 'official' It states exactly what we are aiming for plus we like the reference to working with third parties, something we've tried to do all along.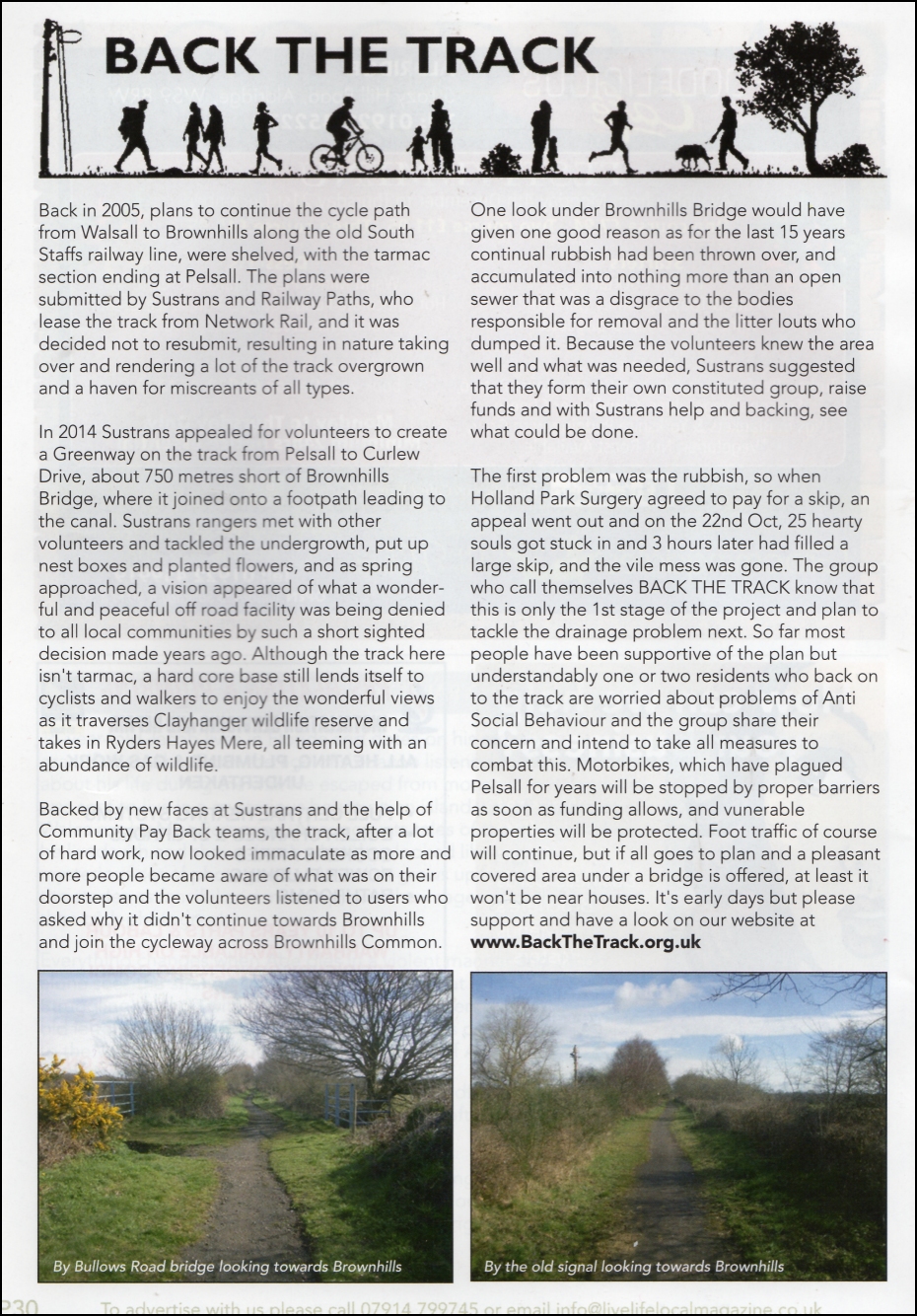 We were surprised to find we featured in this months edition of 'Live Life Local' We hope they don't mind us reproducing the page here.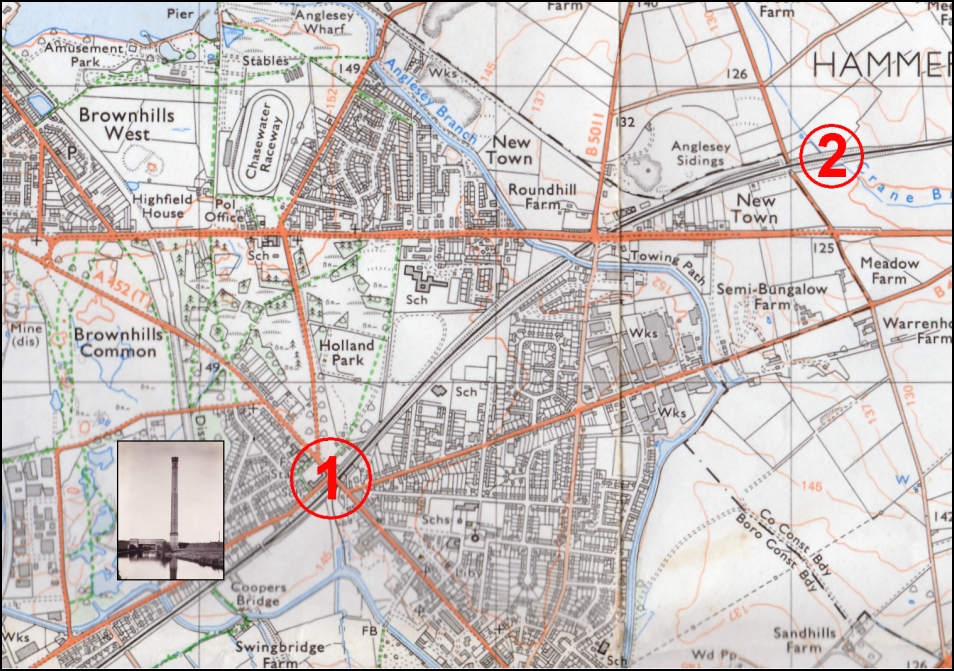 It's always useful when we come across people with local knowledge especially when it comes to matters of drainage. We know the track falls towards Lichfield from the highest point where the surge stack used to be next to the canal in Clayhanger. We've been told from the Miner roundabout (1) water drained by gravity into the Crane Brook (2) If we can move the years of silt then, hopefully, nature will take over.


NOVEMBER 2017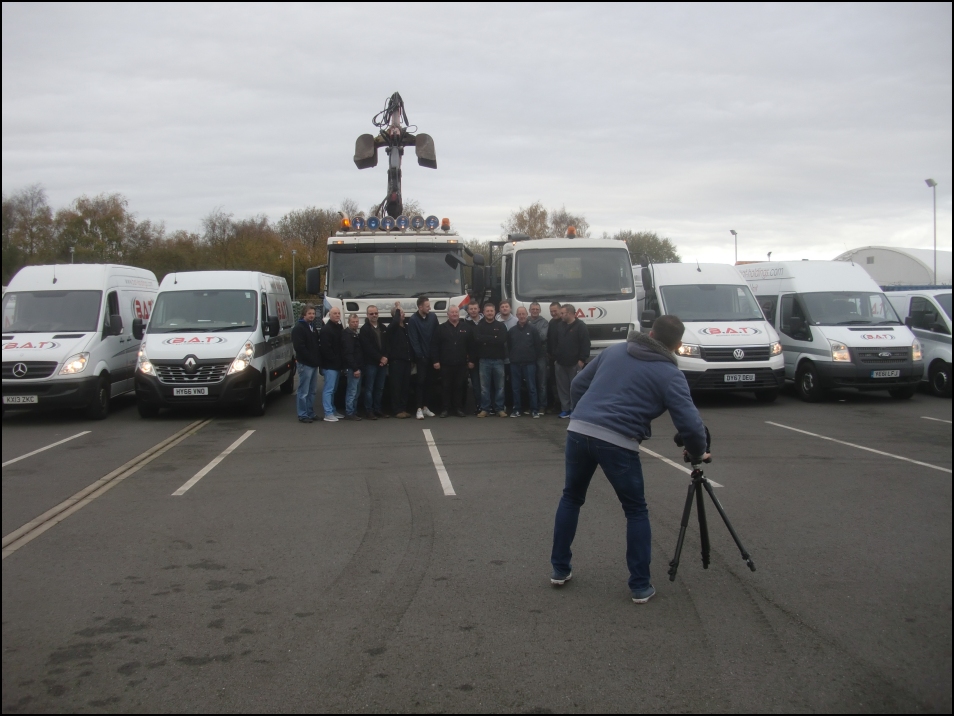 SPOILER ALERT If you don't want a sneaky preview of Brownhills Asphalt & Tarmac's Christmas card don't look at this photo. We met up with Barry and Shaun from BAT who were having a photo shoot but then took time out to chat to us. They are very knowledgeable about the drainage by the park and sports field as they put a lot of the drains in. They've offered to do a survey for us but then had to dash off for an emergency leak (in a pipe I hope) but we'll arrange to meet up under the bridge ASAP.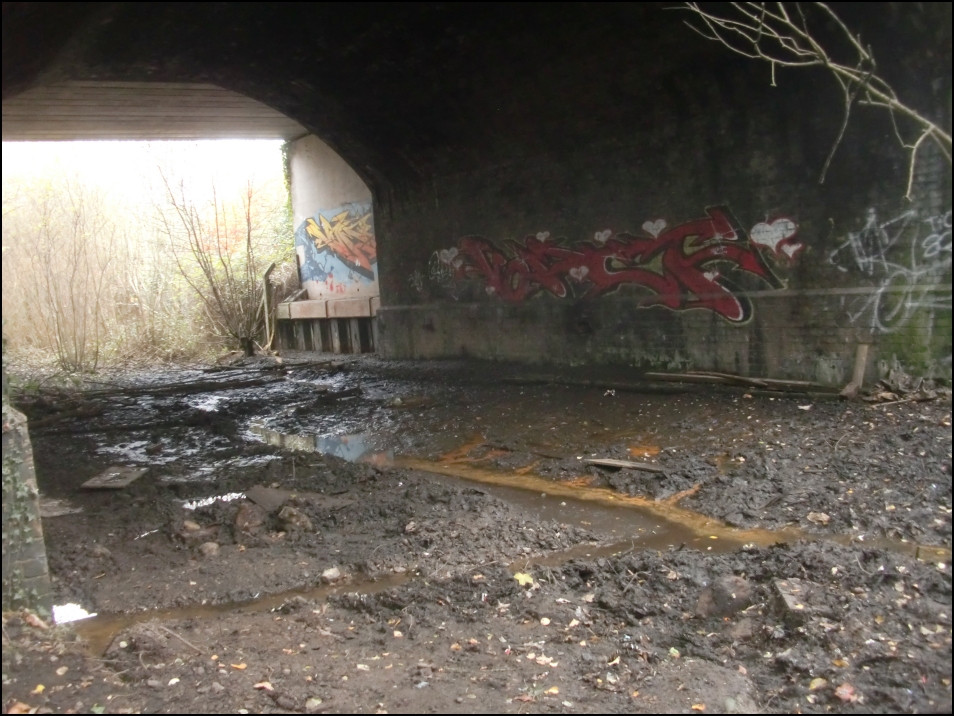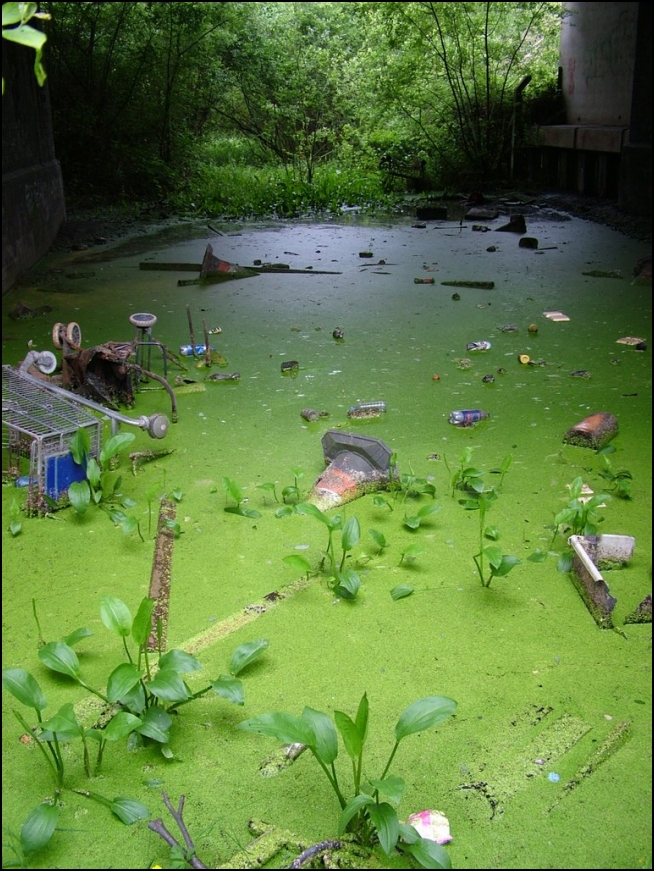 What a difference there is between these two photos. The top one is from November 18th 2017, the one below taken by 'Dawntreader' from August 2009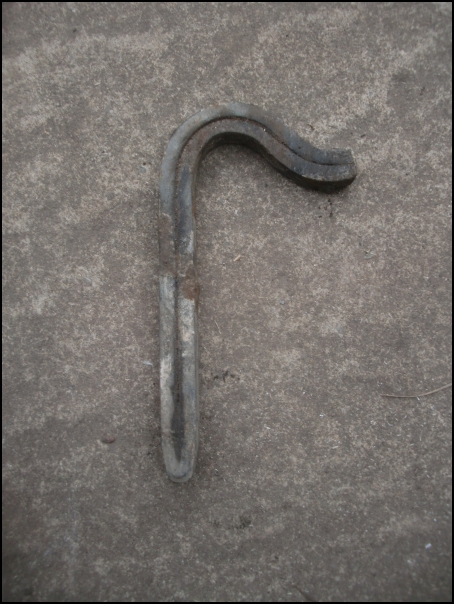 A souvenir of the railway, a rail anchor.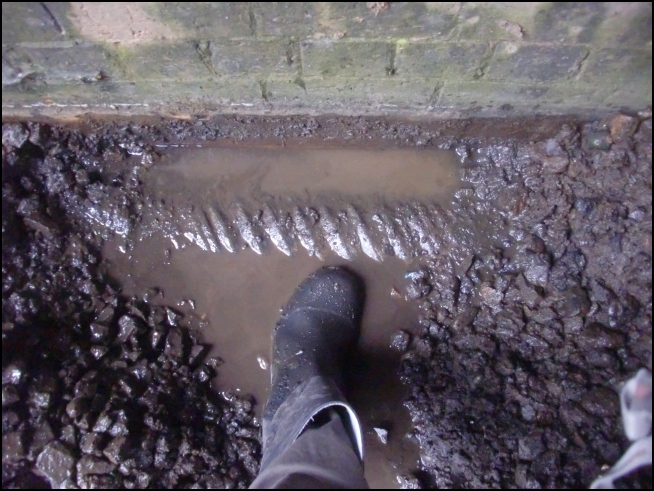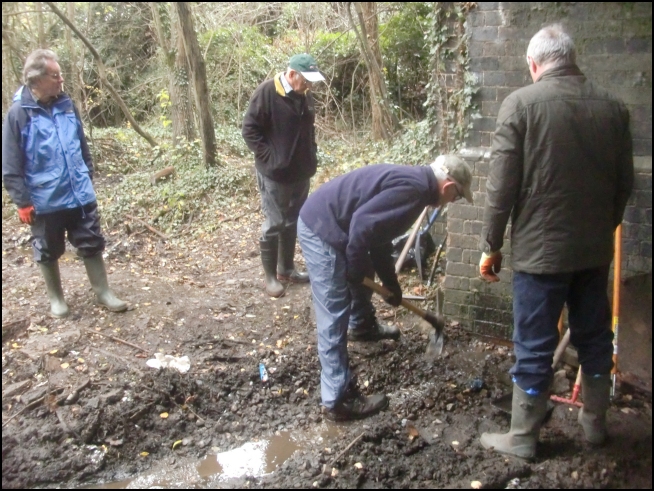 At work on November 13th trying to uncover one source of the water flow, a vintage cast iron pipe which seems to be a bit of a mystery. Does anyone recognise it?


OCTOBER 2017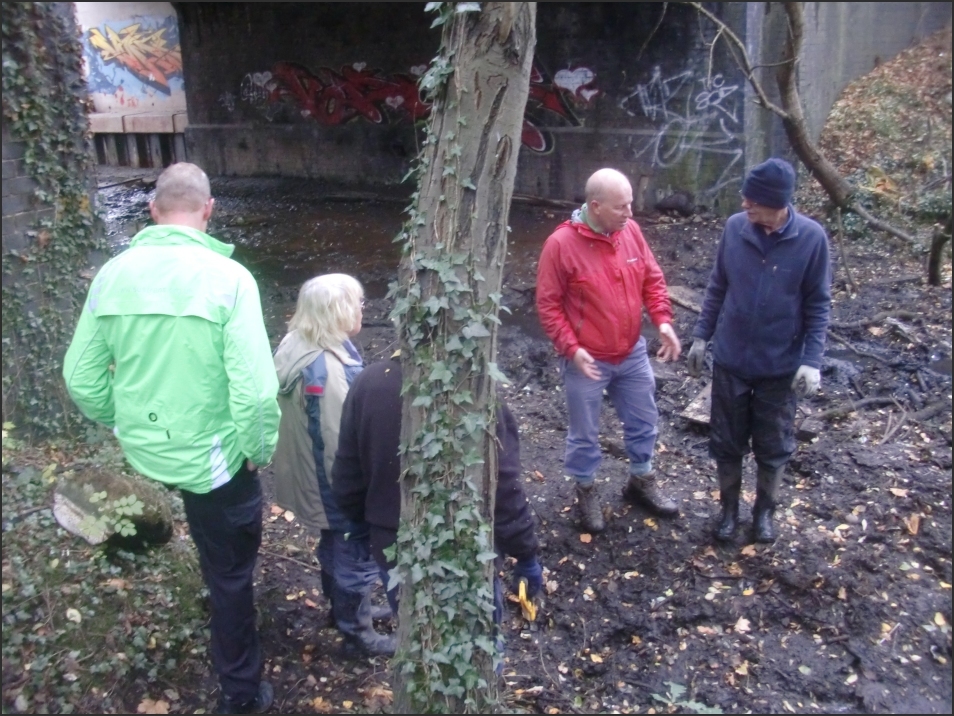 Under the Miner Island in Brownhills, Monday 30th. We had all the 'big guns' with us namely Martyn Brunt, Midlands Land Manager for SUSTRANS and Railway Paths Ltd and Huw Davies, National Cycle Network Director for SUSTRANS and Chief Executive of Railway Paths Ltd. Huw was previously a Consultant Railway Civil Engineer for 5 years so he is ideally placed to give us advice on the flooding. Having said that the tranches dug last week have made an amazing difference under the bridges as can be seen, just glistening mud.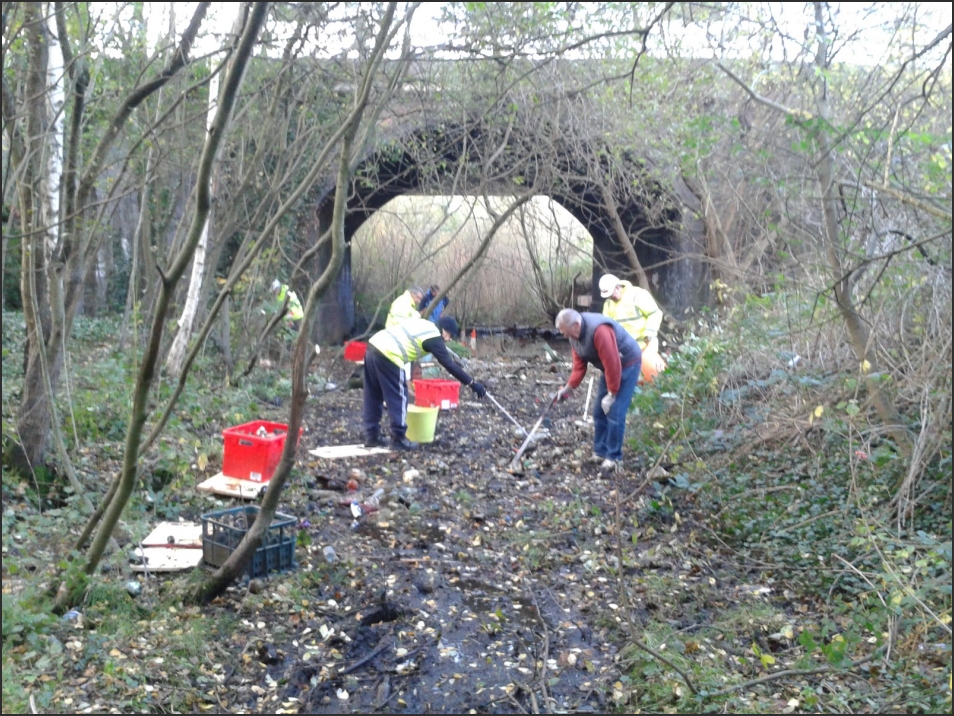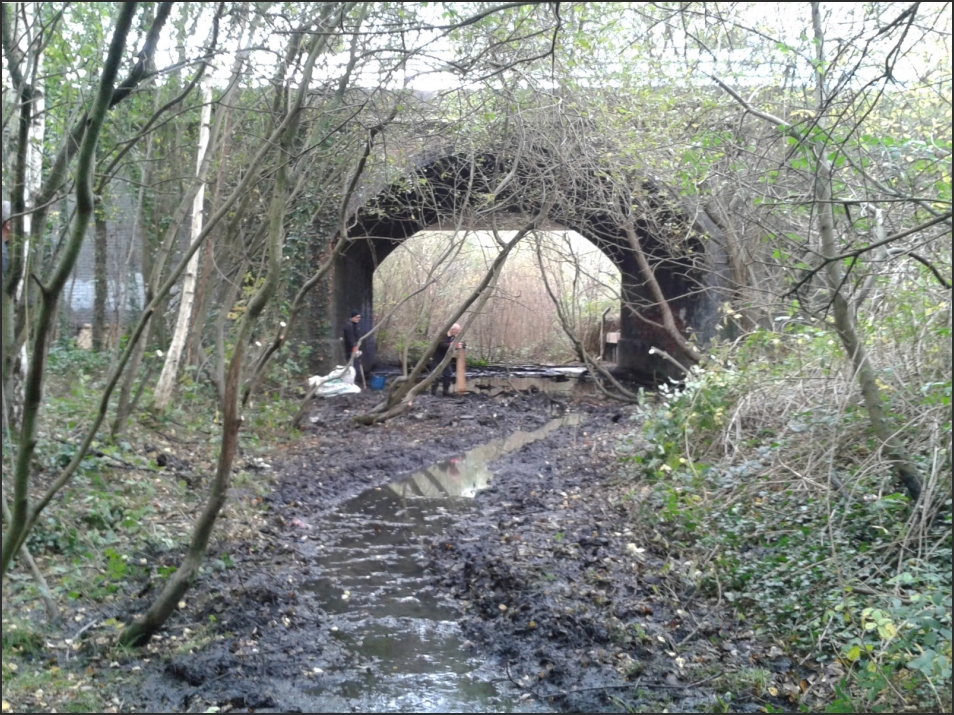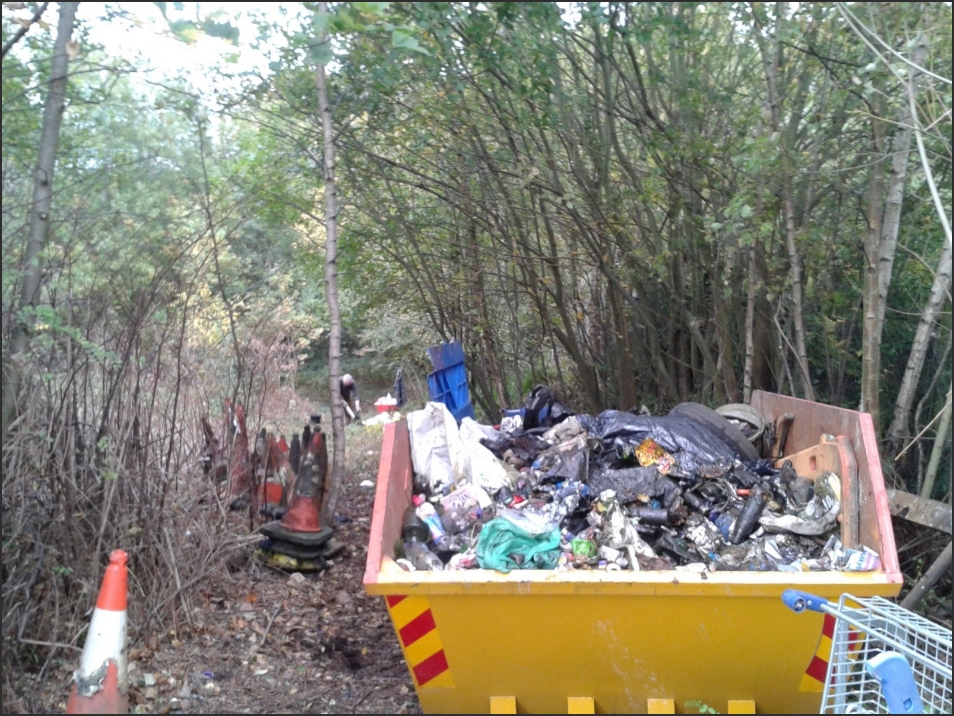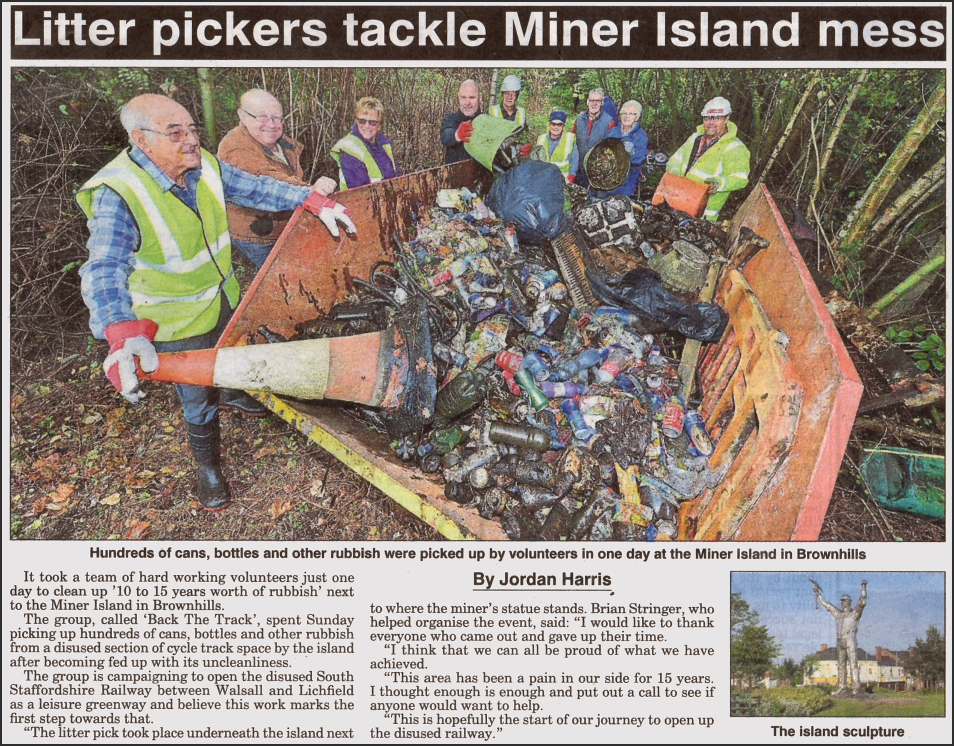 It was a 'red letter day', Sunday 22nd, with the litter pick under the Miner Island in Brownhills happening at last and what a difference a day makes! We had nearly 30 volunteers starting just before 10:00 with some stalwarts still working away at 3:00 and in total we probably had around 75 work hours. The idea of digging drainage channels has really paid off with the water level under the bridge dropping substantially. Just look at the photos to see what an outstanding achievement so it's a great big 'Thank You' to all the volunteers of all ages and Holland Park Surgery for paying for the skip, we couldn't have done it without you. The press came and we made the front page of the Express and Star - again!