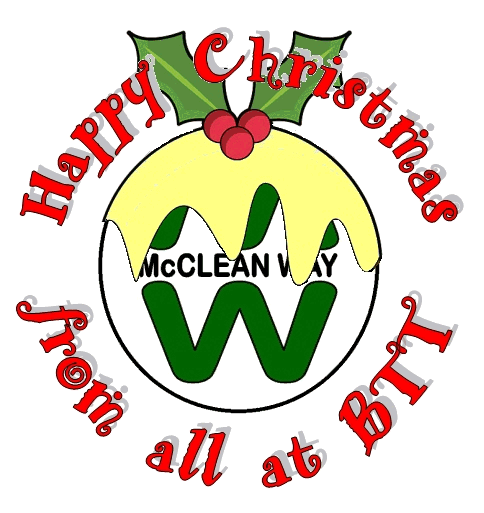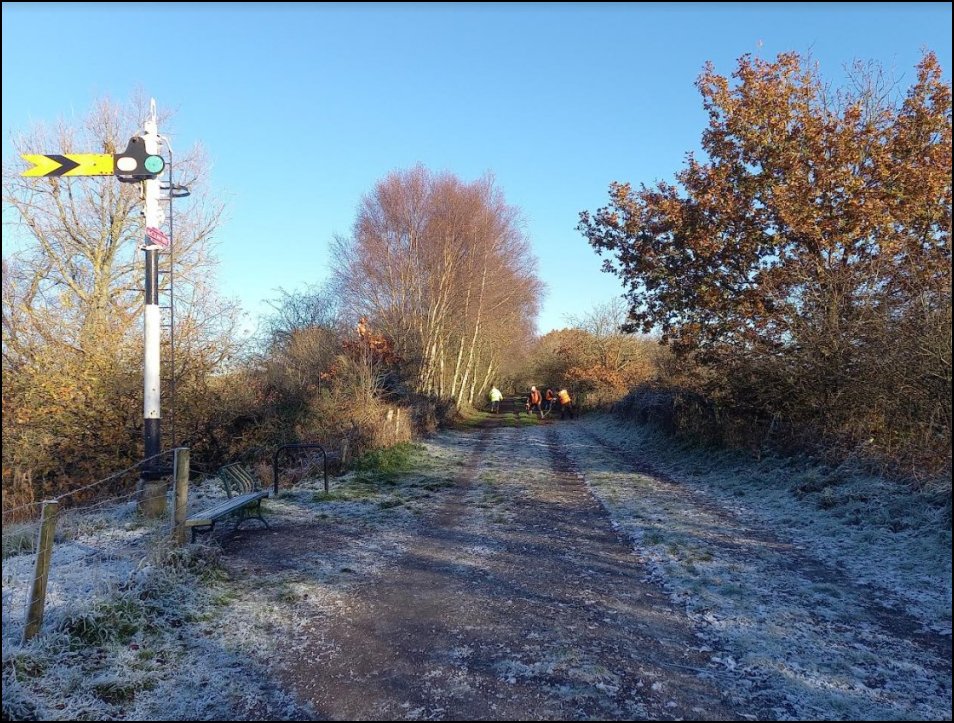 The signal looking good on a cold bright December day.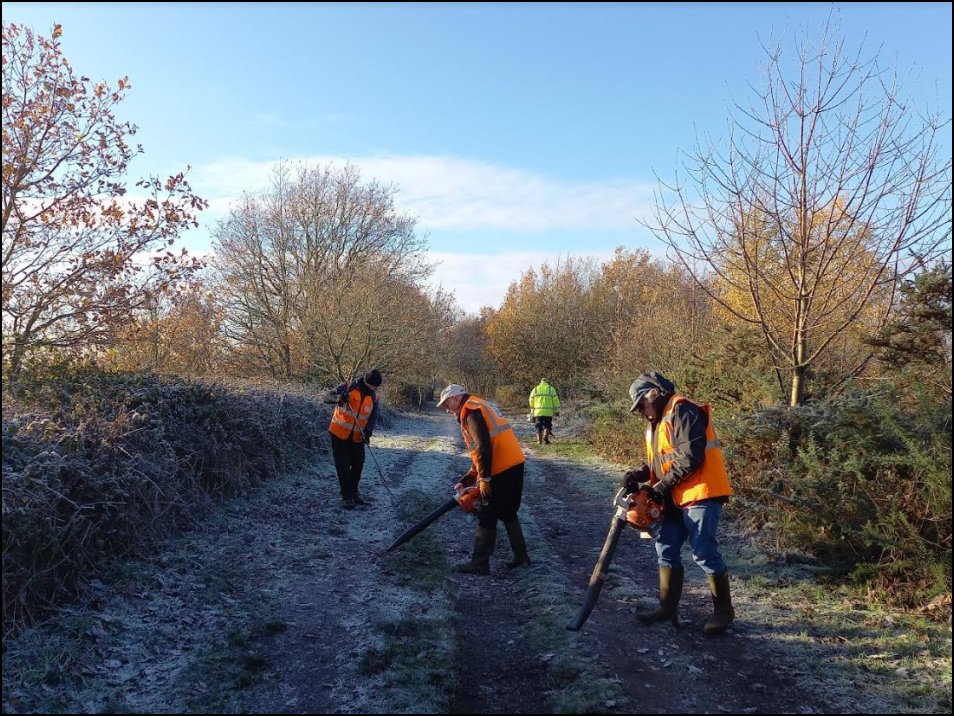 Clearing leaves off the track on a wintry morning.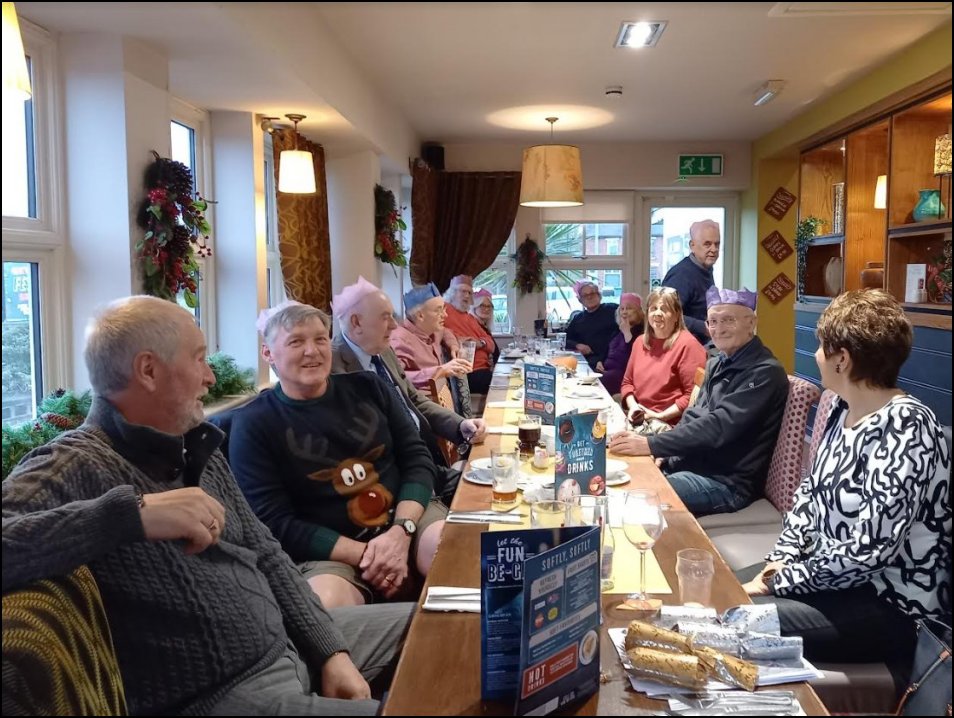 We had an early Christmas Meal at The Crown on the 5th which was enjoyed by all.


NOVEMBER 2022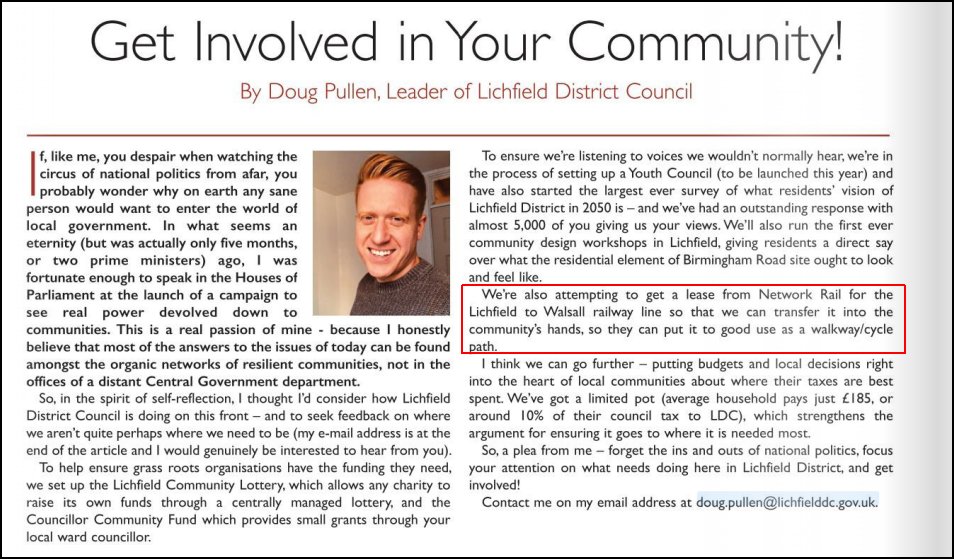 From the November edition of Lichfield City Life magazine. They are hoping to complete within six months.


OCTOBER 2022

It has been 5 years first started working on the track on the 22nd October 2017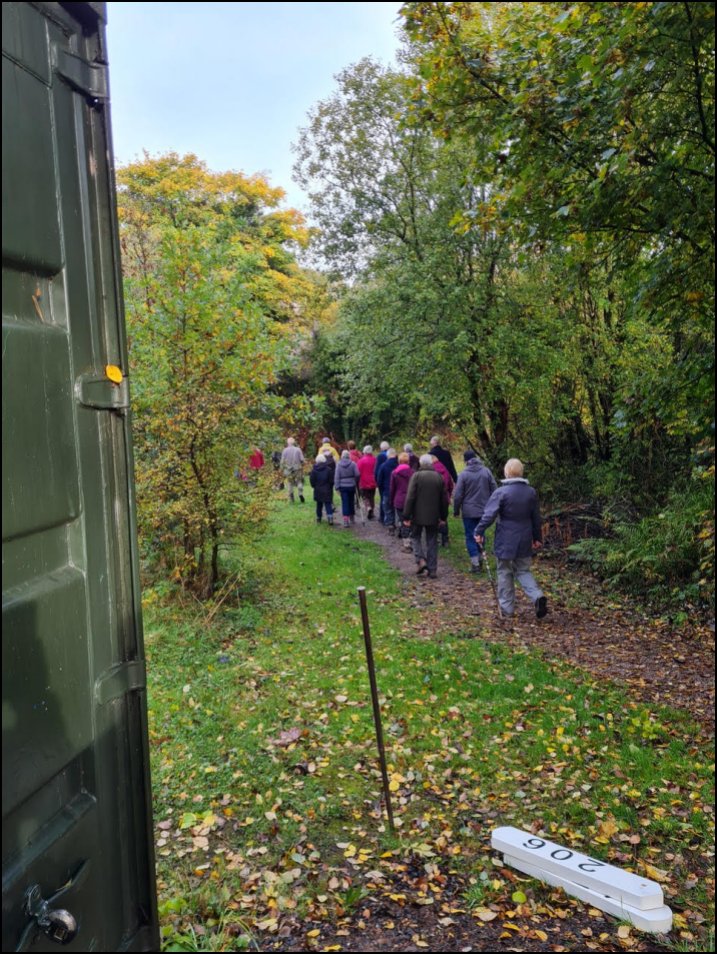 Good to welcome the Phoenix walking group from Rugeley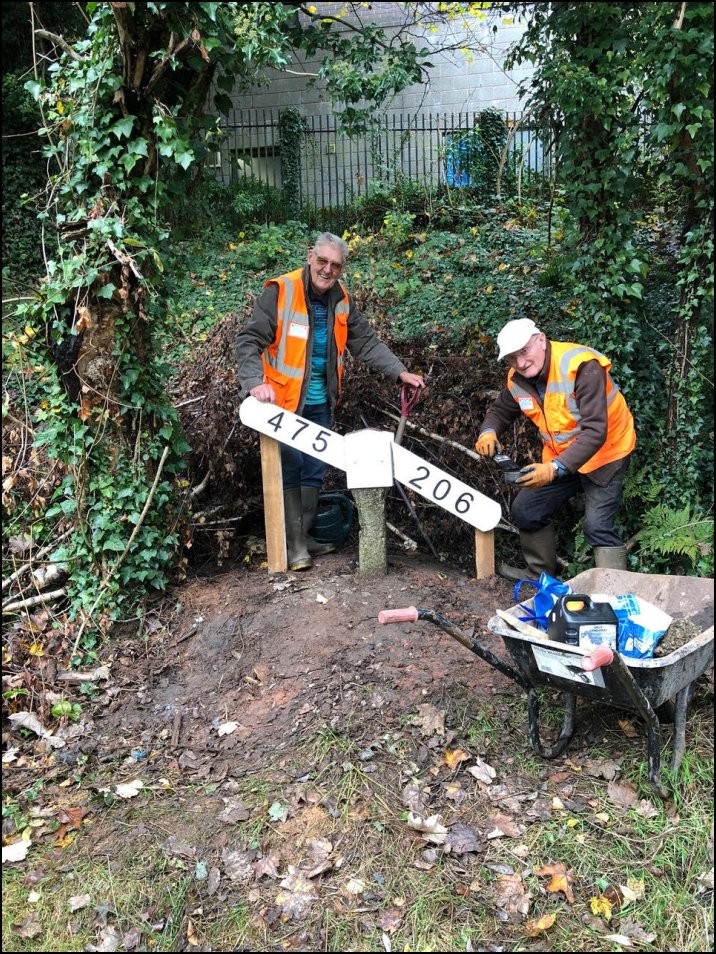 Another gradient marker going in.


SEPTEMBER 2022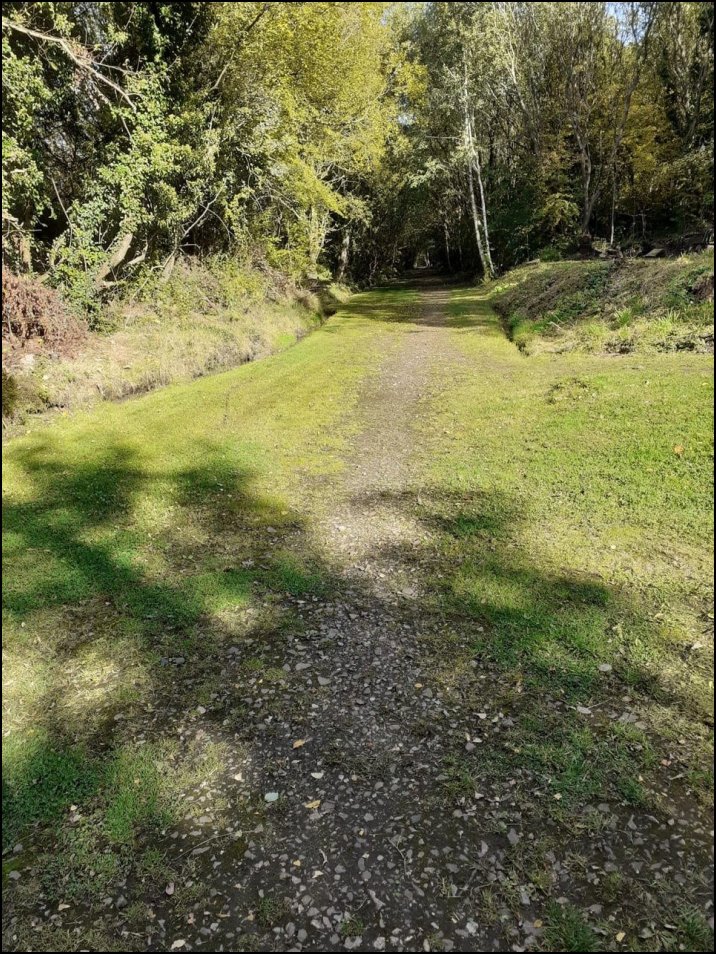 All the work to drain the track and seed it is really beginning to pay off.
AUGUST 2022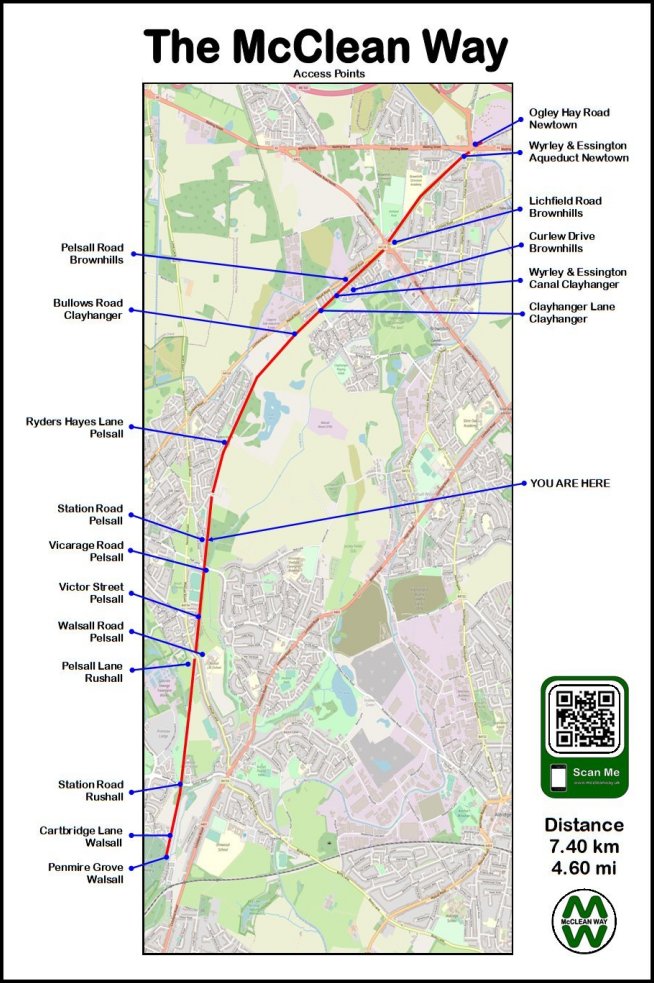 Our
new route map at Station Road, Pelsall, the second of several we hope to will install along the track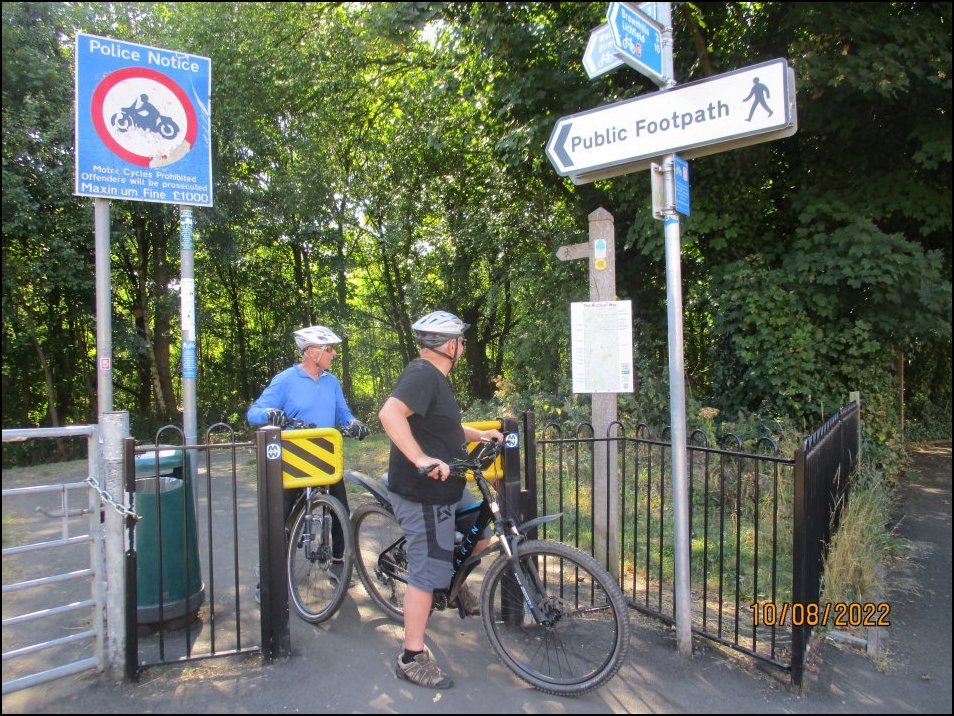 Our newly installed route map in Pelsall already attraction attention.
JULY 2022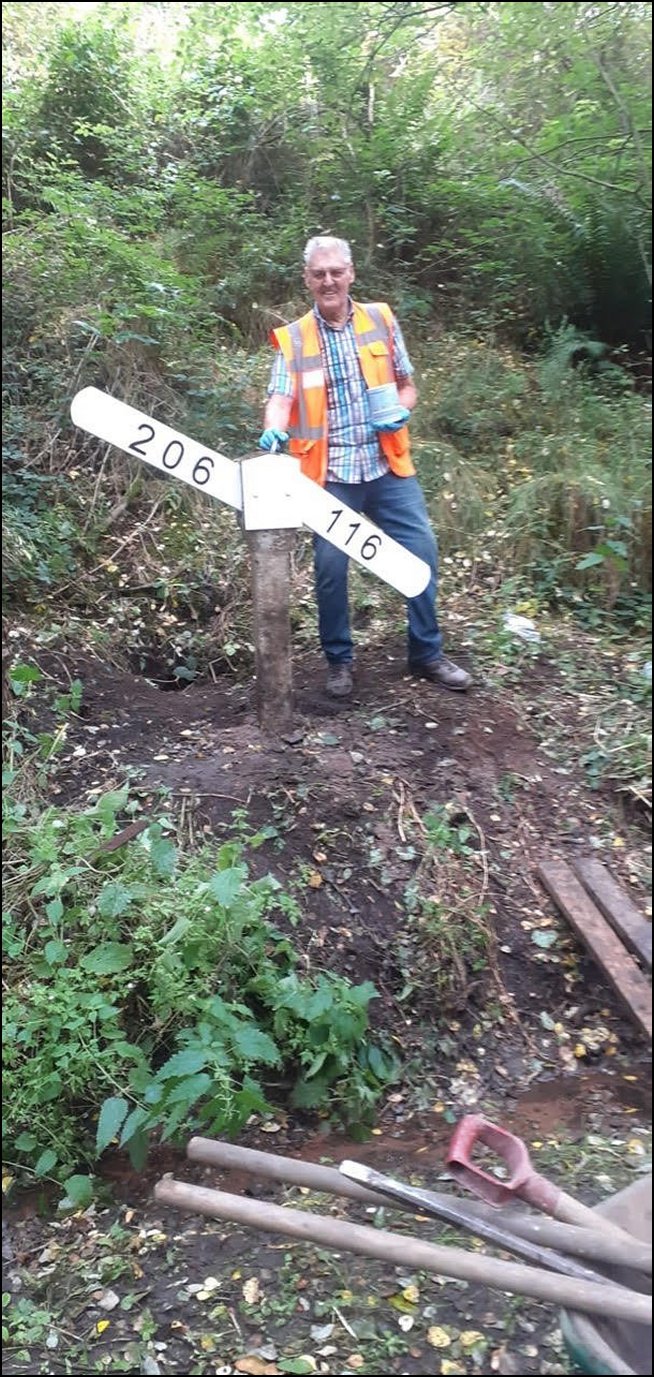 Barry installing the first of several replacement gradient markers.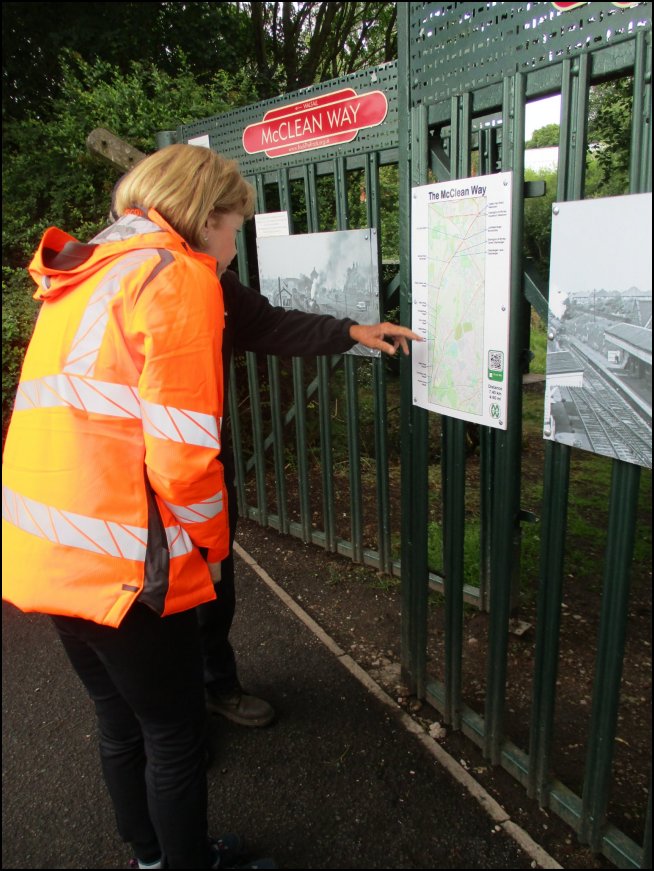 Pleased to welcome MP Wendy Morton (Rail Minister) to look at progress and see our new route map.
JUNE 2022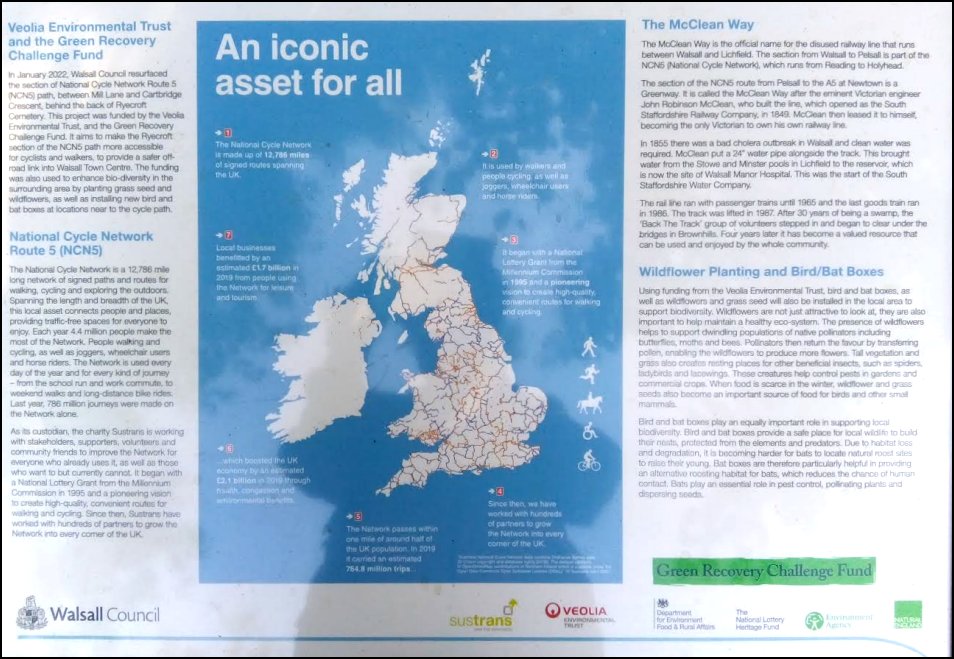 Nice to see we get a mention on the new information boards by Mill Lane nature reserve.



MAY 2022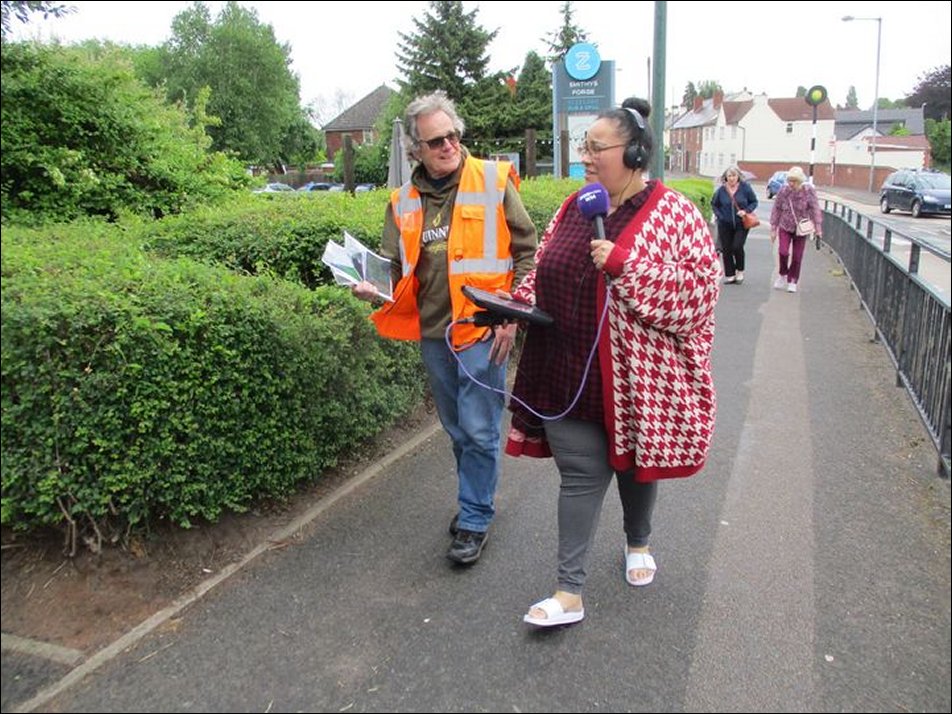 We were pleased to welcome Letitia George, presenter of the midday show on Radio WM, onto the track. She certainly seemed impressed with what she saw.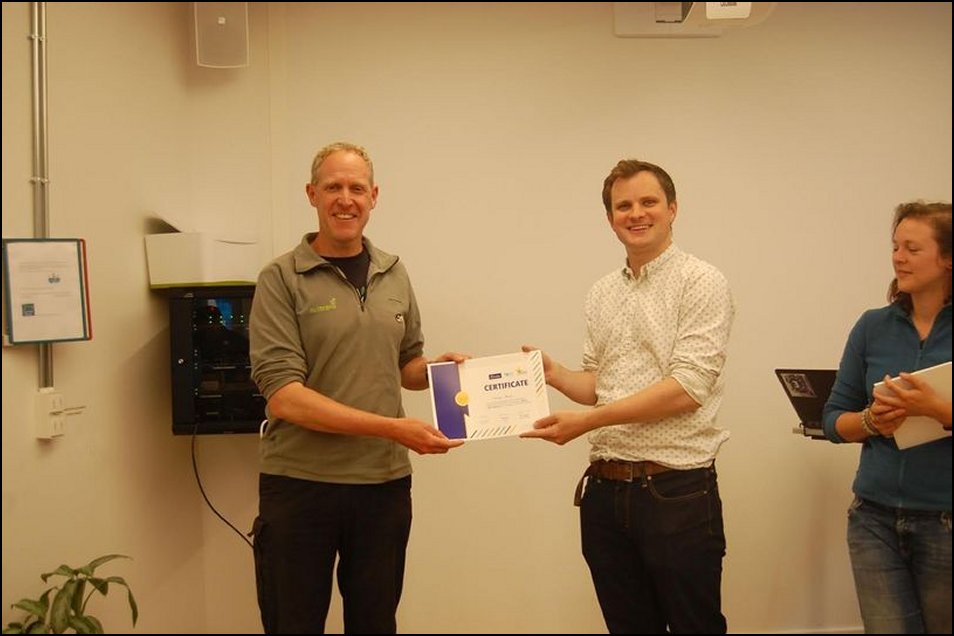 We would like to congratulate Martyn Brunt, Land Manager for the track owners SUSTRANS and Railway Paths Ltd as he is now a European Cycling Federation (ECF) qualified route inspector, which is about the highest qualification he can get in his chosen profession.
APRIL 2022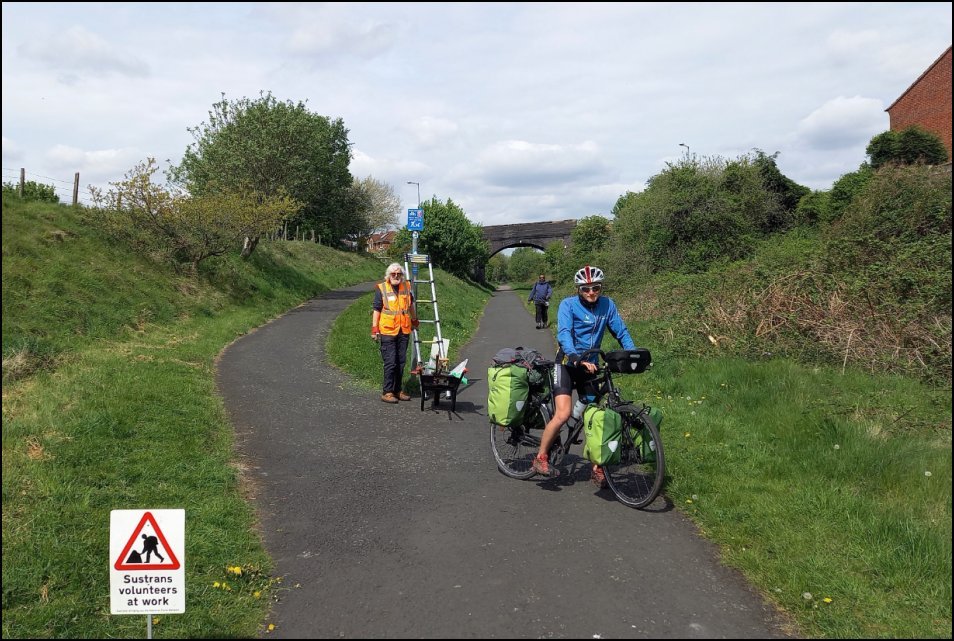 While working on tidying up the sign we chatted to Victor who was cycling from France to Scotland.

MARCH 2022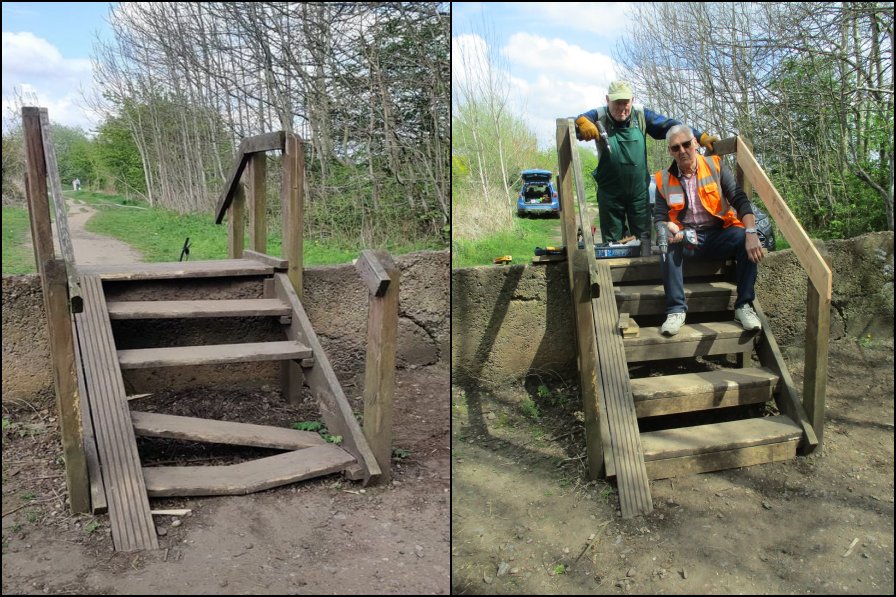 After a call out about the steps being broken Barry and Colin got busy and made a excellent repair.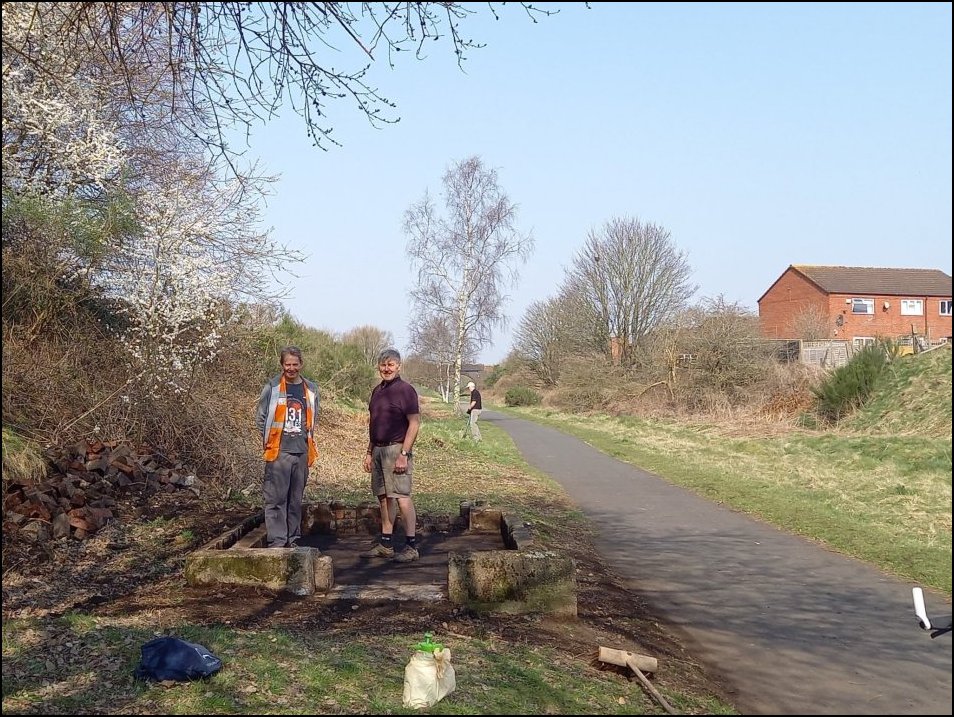 Excavating the platelayers hut south of Heath End Bridge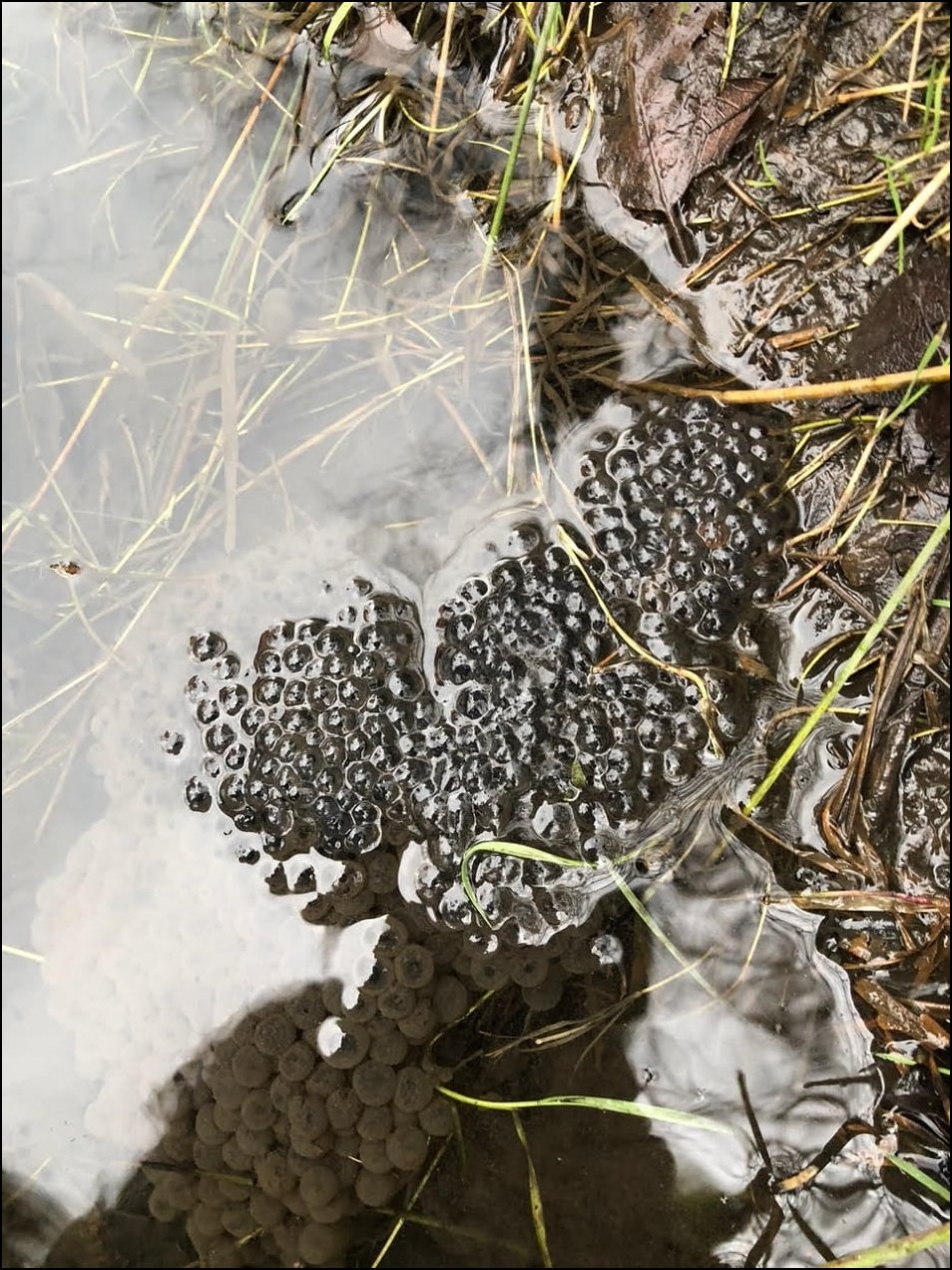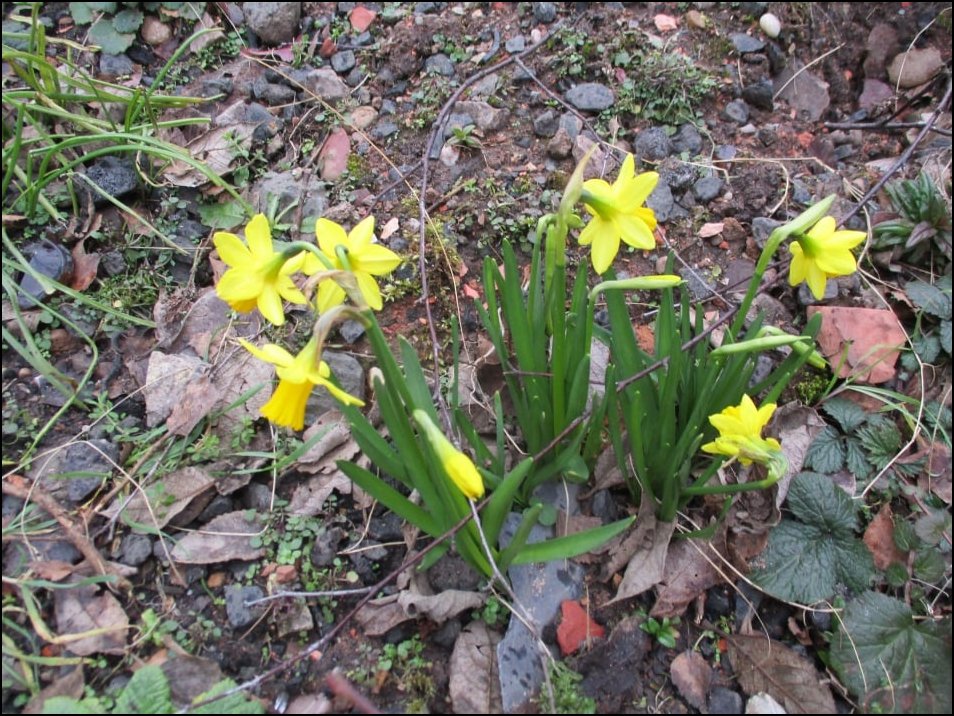 Spring has arrived on the track.
FEBRUARY 2022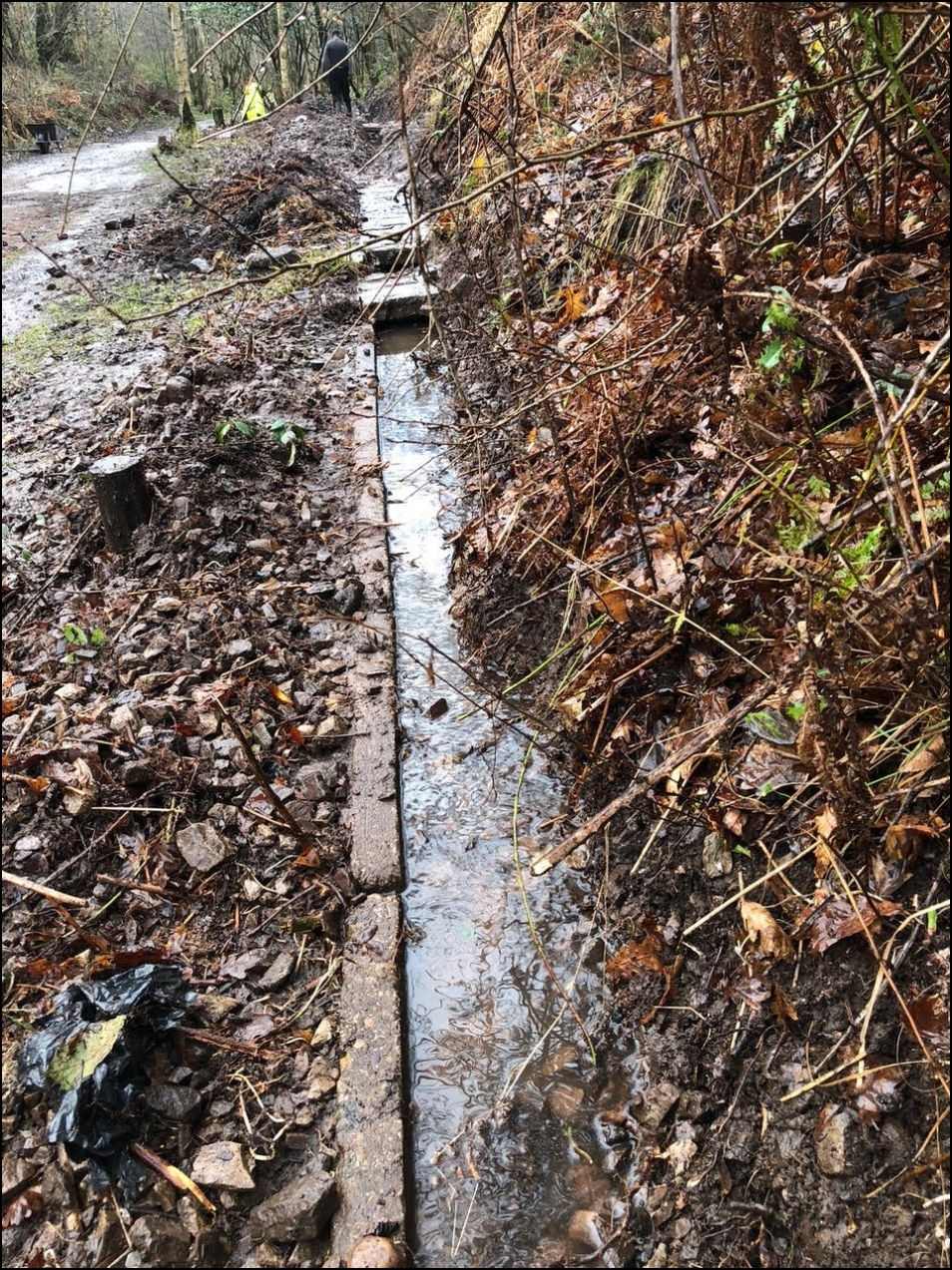 The drainage channels are working really well as we uncover more each work day.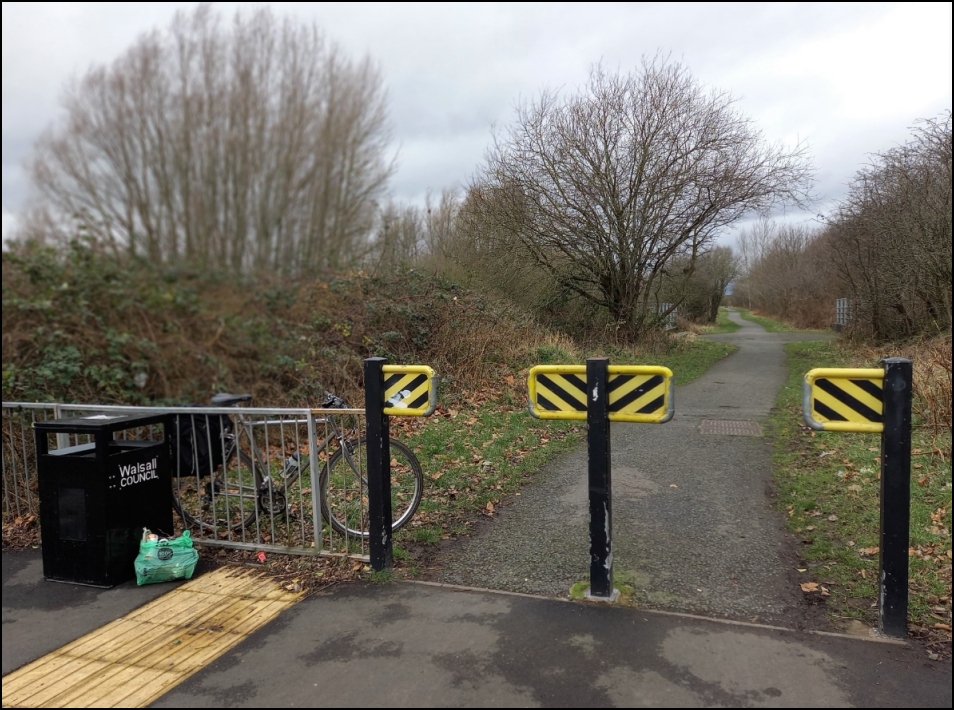 Thanks to Resilient Communities and C&G for helping us get a bin at Station Road, Rushall


JANUARY 2020

HAPPY NEW YEAR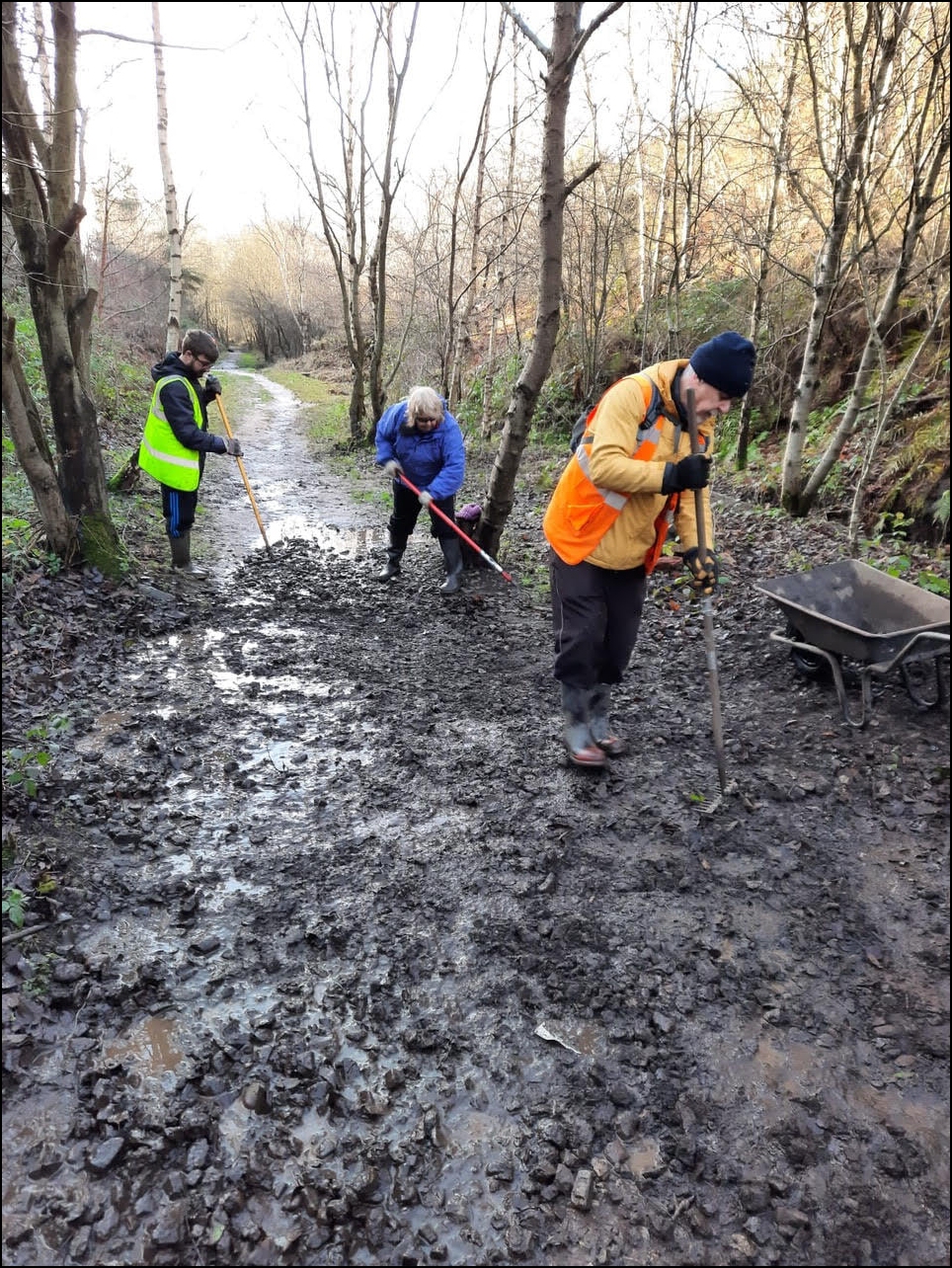 Work continues to raise the track above the water level using ballast left behind when the track was lifted.


DECEMBER 2021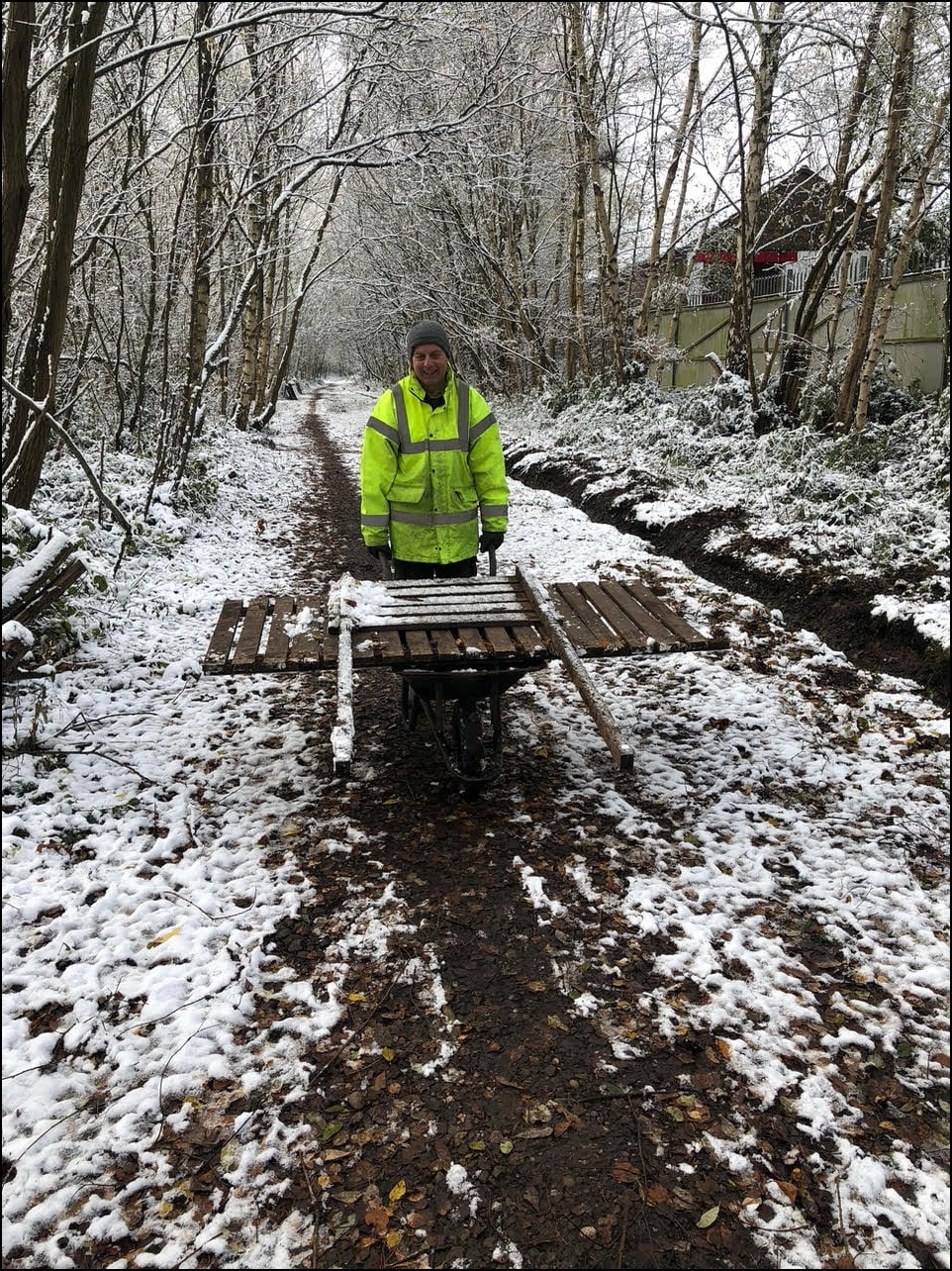 Removing the temporary boardwalk and replacing it with ballast, a real improvement.


NOVEMBER 2021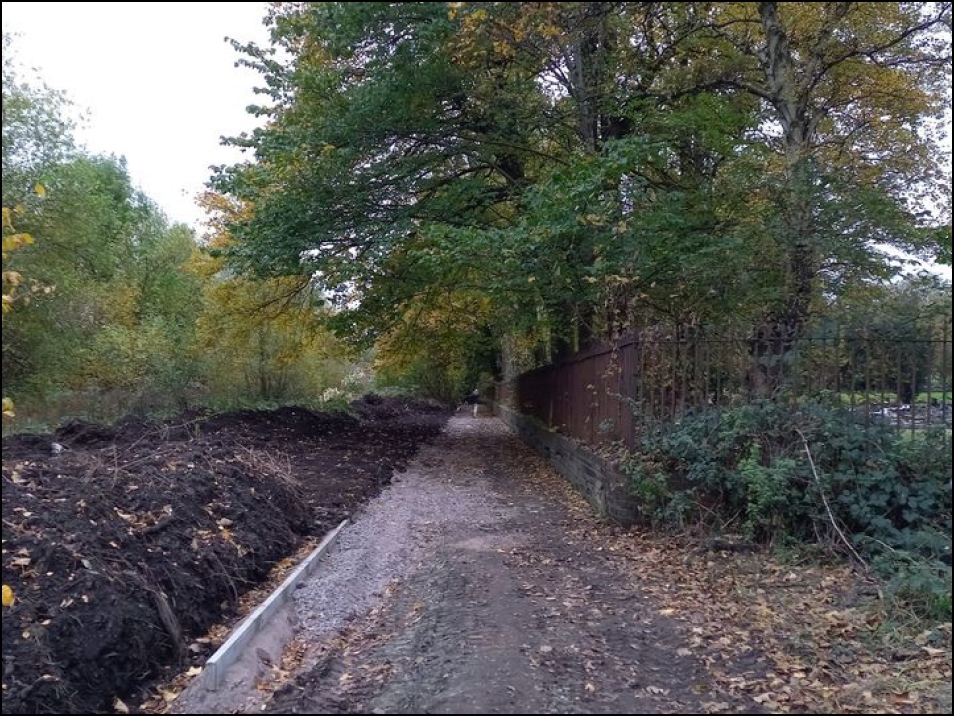 Resurfacing work by Ryecroft Cemetery at the southern end of the McClean Way (point A on the map)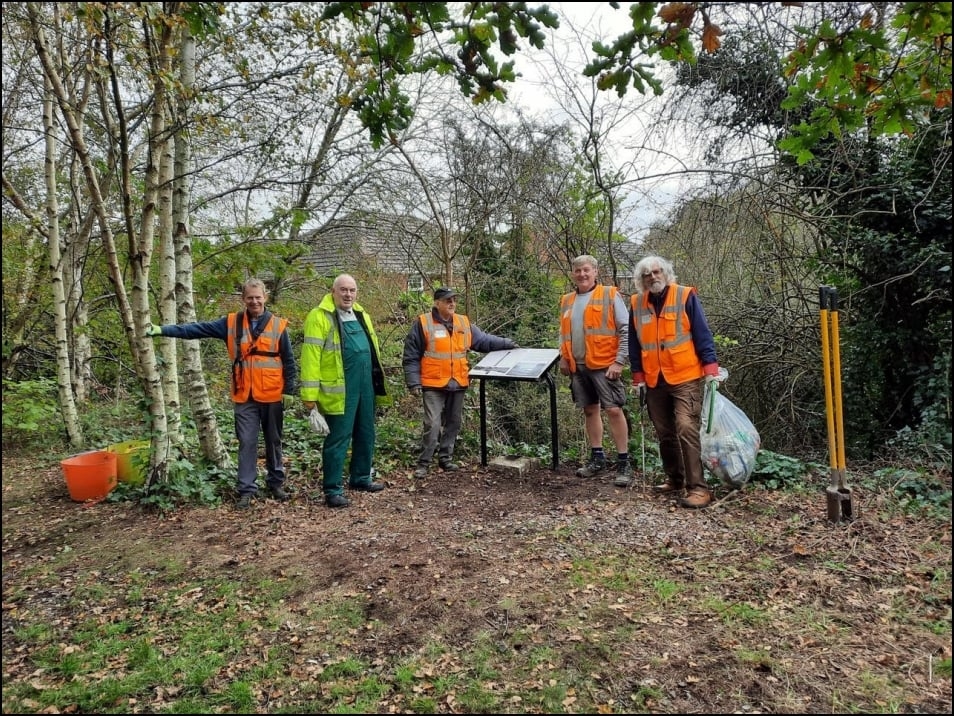 The installation of the first information board (point R on the map)


OCTOBER 2021

The Mclean Way is four years old!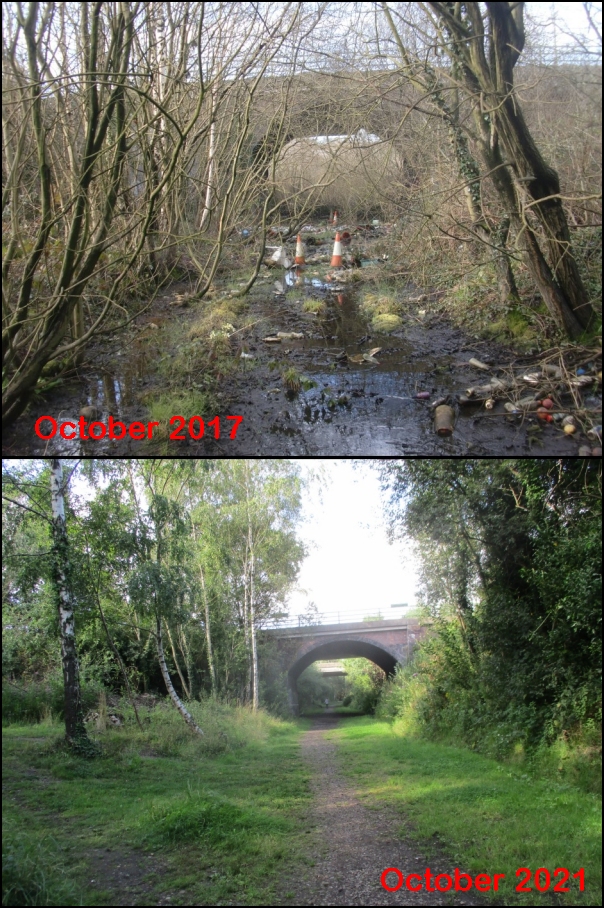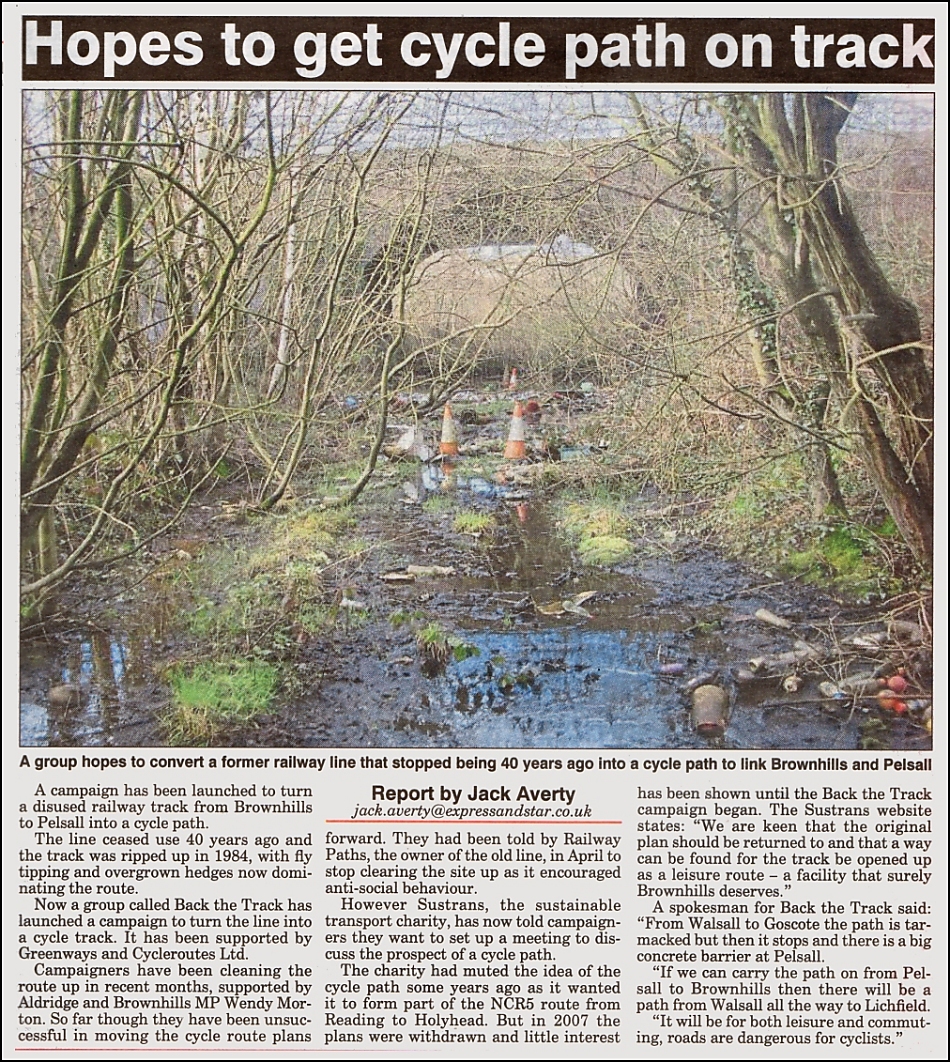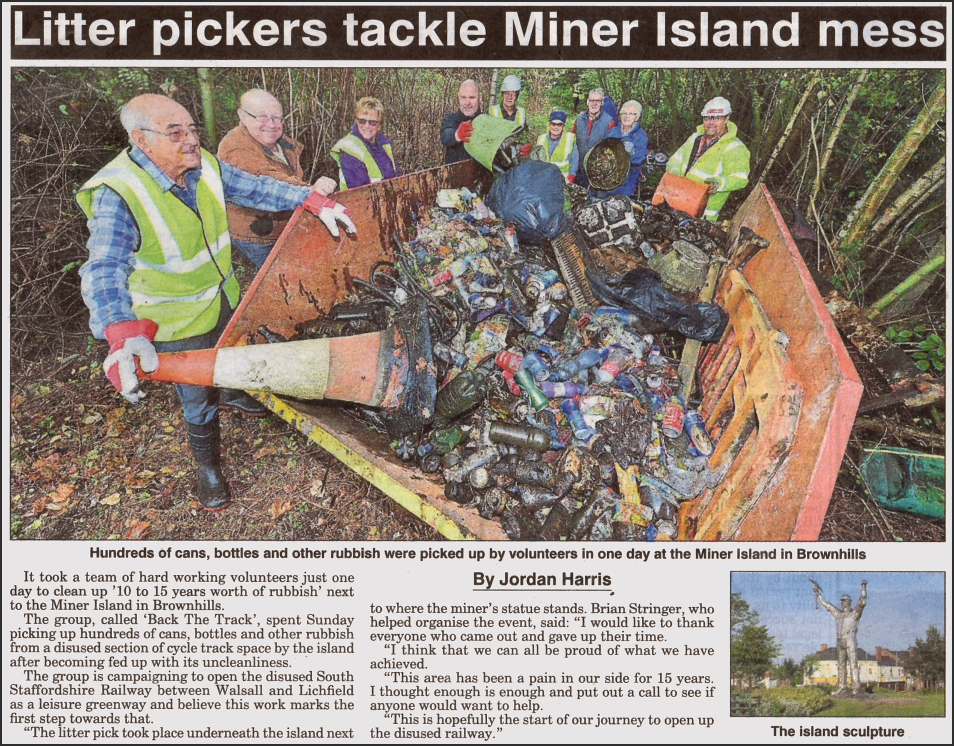 It's hard to believe so much has happened in the last four years since the 22nd October 2017 when we got our first skip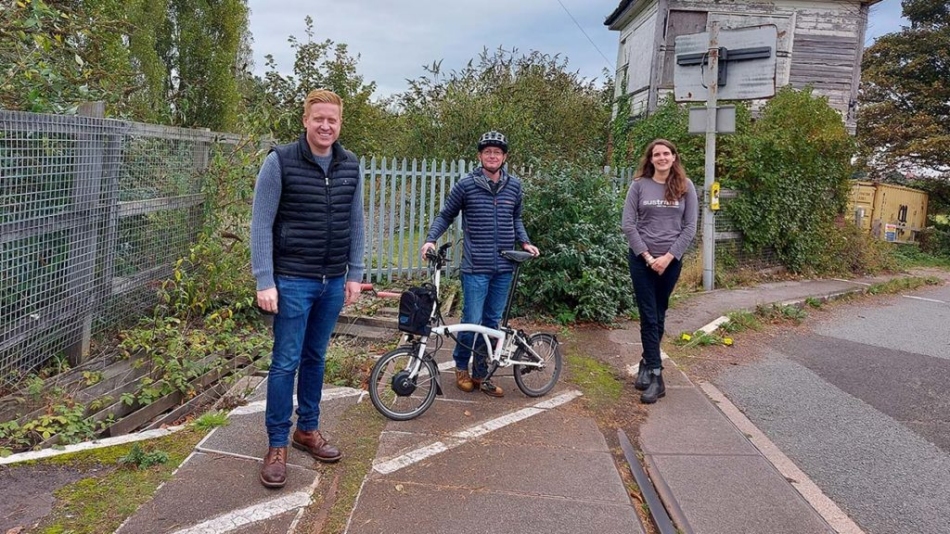 Click on the photo for fantastic news from the Lichfield end.


SEPTEMBER 2021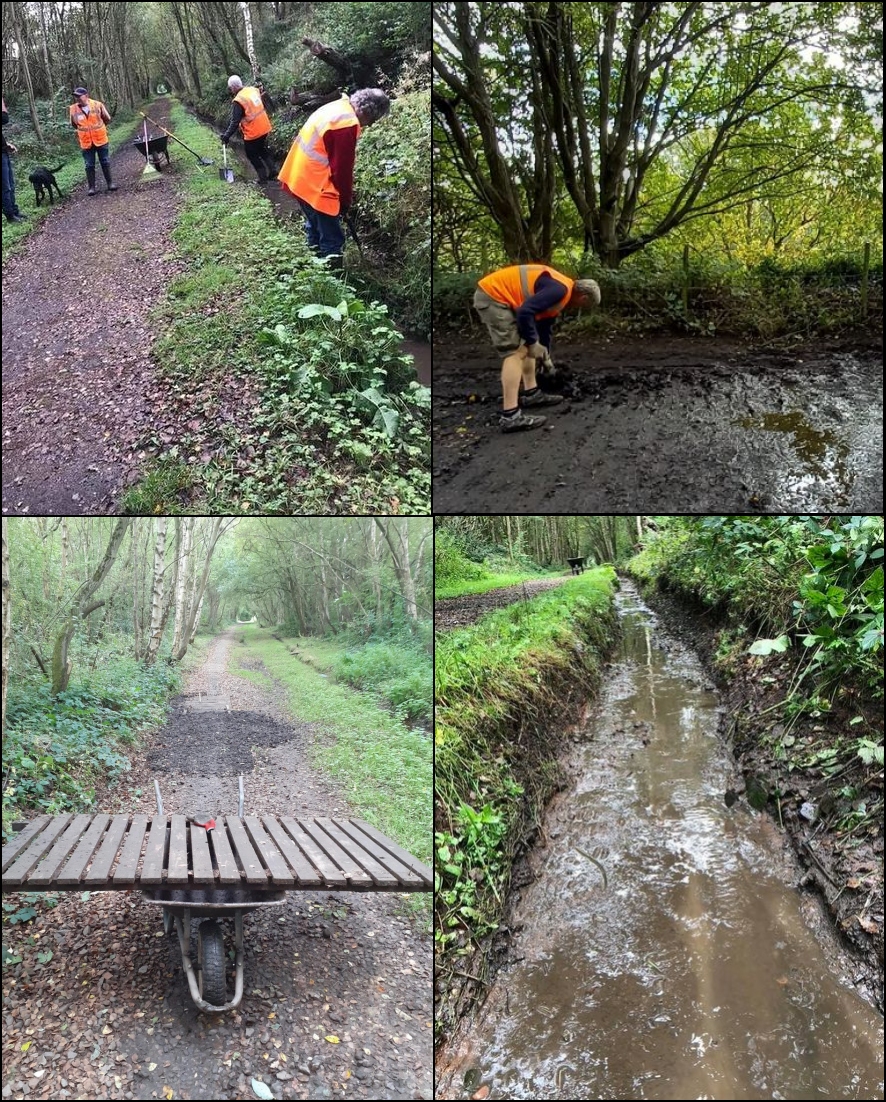 Drainage is now the number one priority with the winter approaching and we are winning.


AUGUST 2021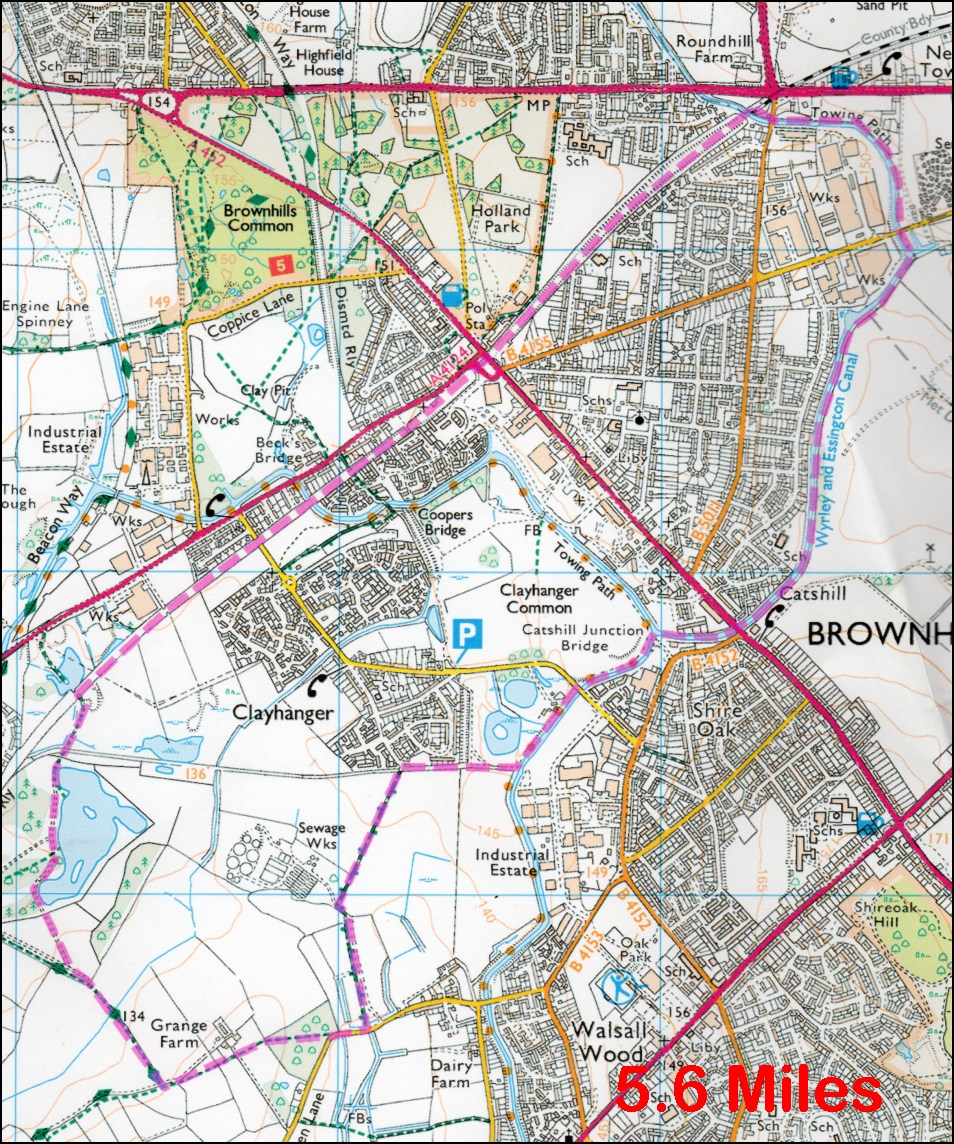 A circular 5.6 mile route thanks to Andy.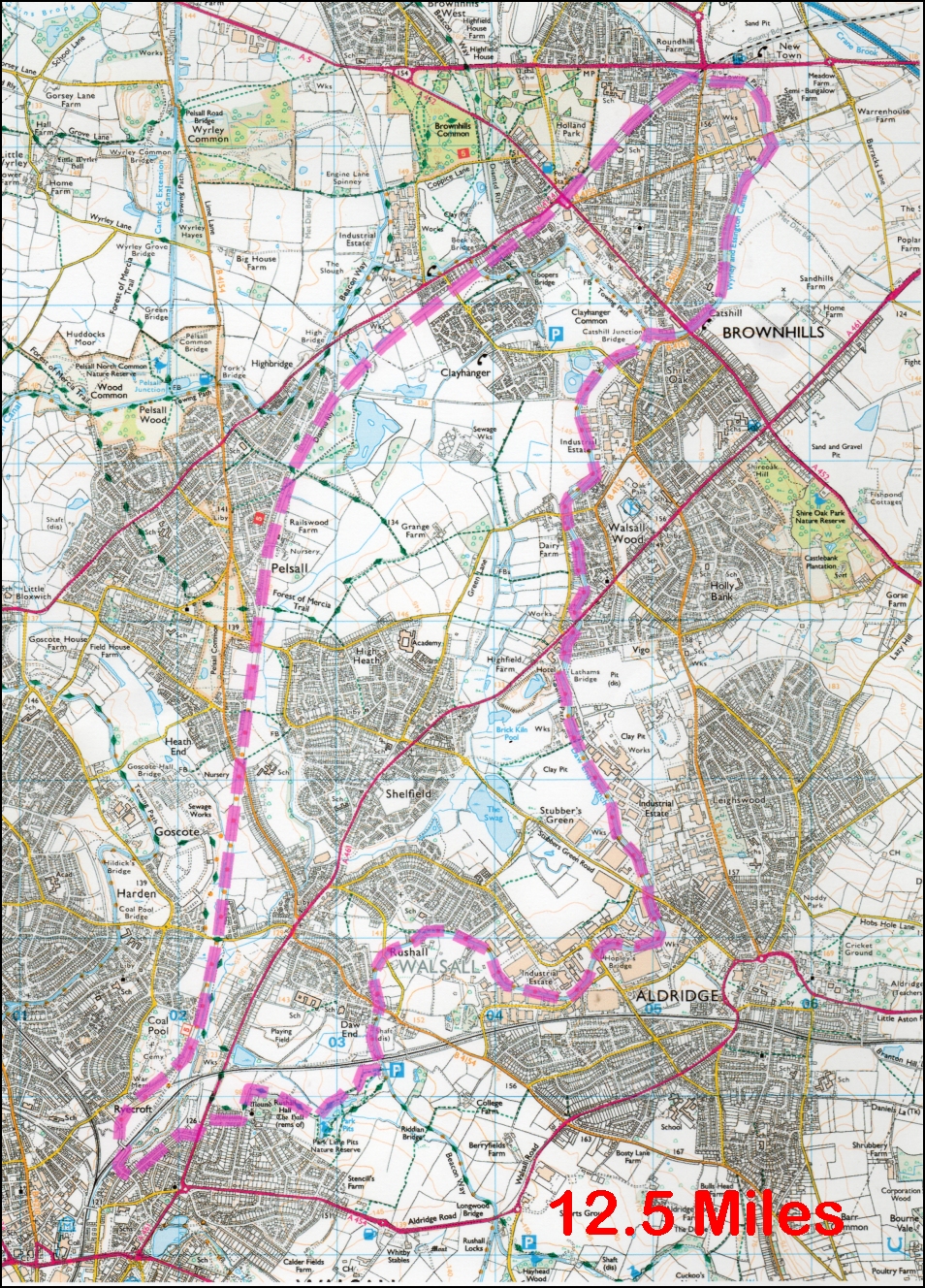 A circular 12.5 mile route thanks to Andy.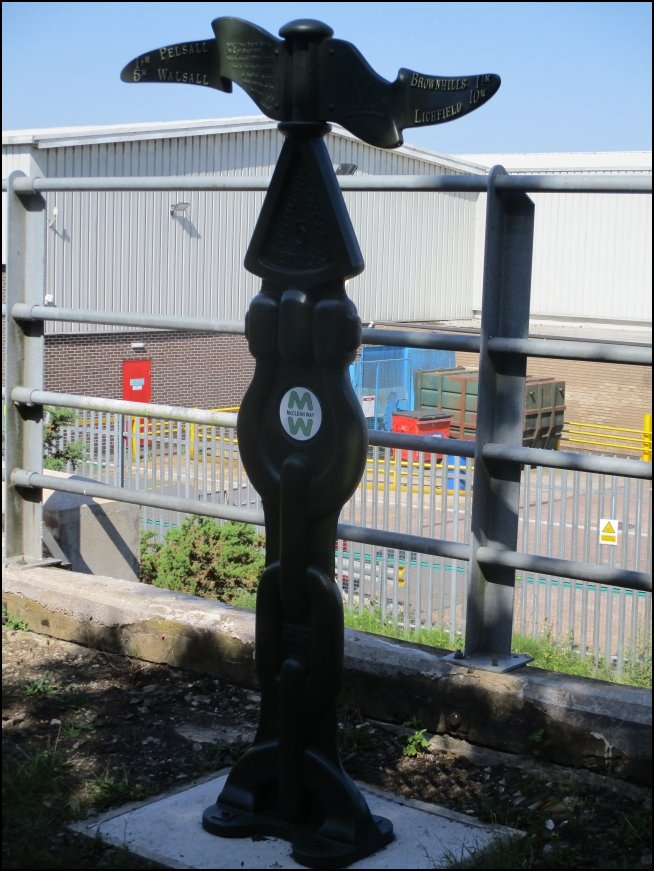 Looking better with a coat of paint.

JUNE 2021





The Millenium Milepost, installed in the wrong place in 2002, has now been moved to a better home on Bullows Road Bridge thanks to Martyn from SUSTRANS. Although it's not on part of NCN5 it wasn't before!

MAY 2021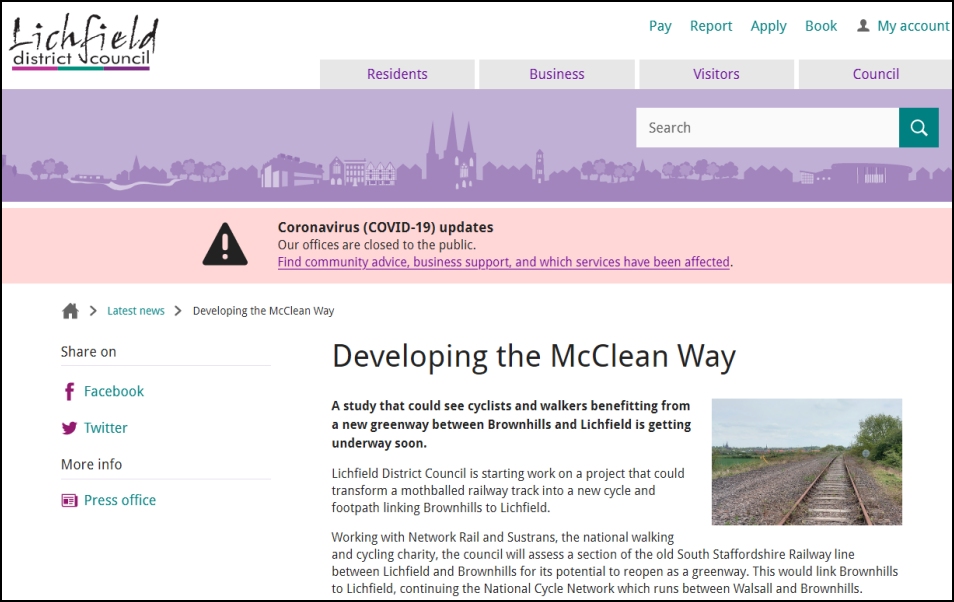 This sounds like really good news, fingers crossed.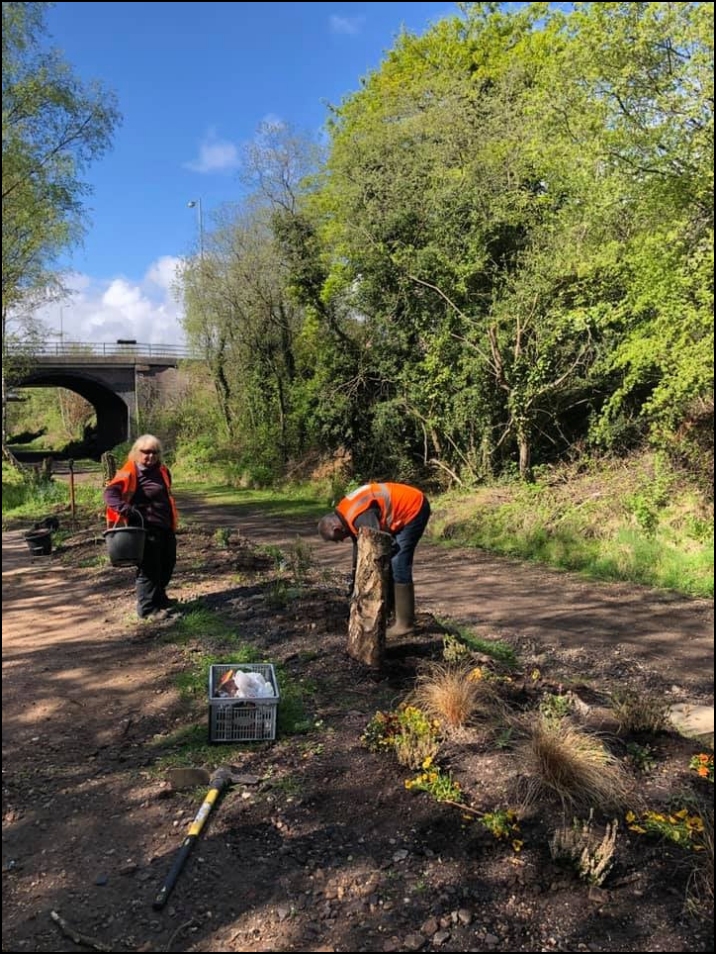 Planting to enhance the platform at Brownhills Station.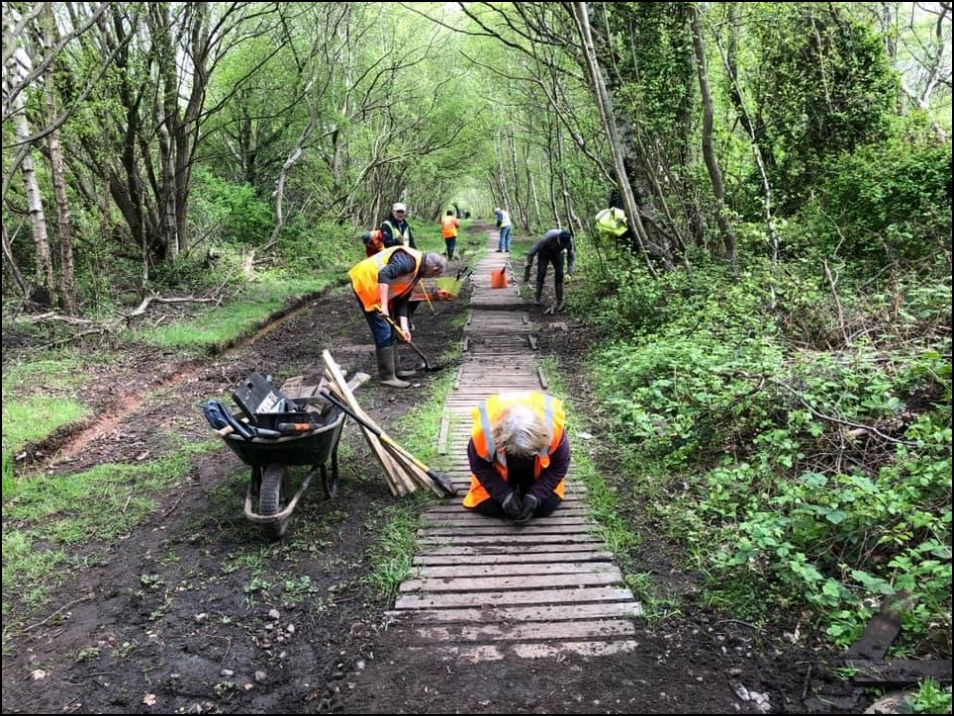 Hard at work repairing the boardwalk.
APRIL 2021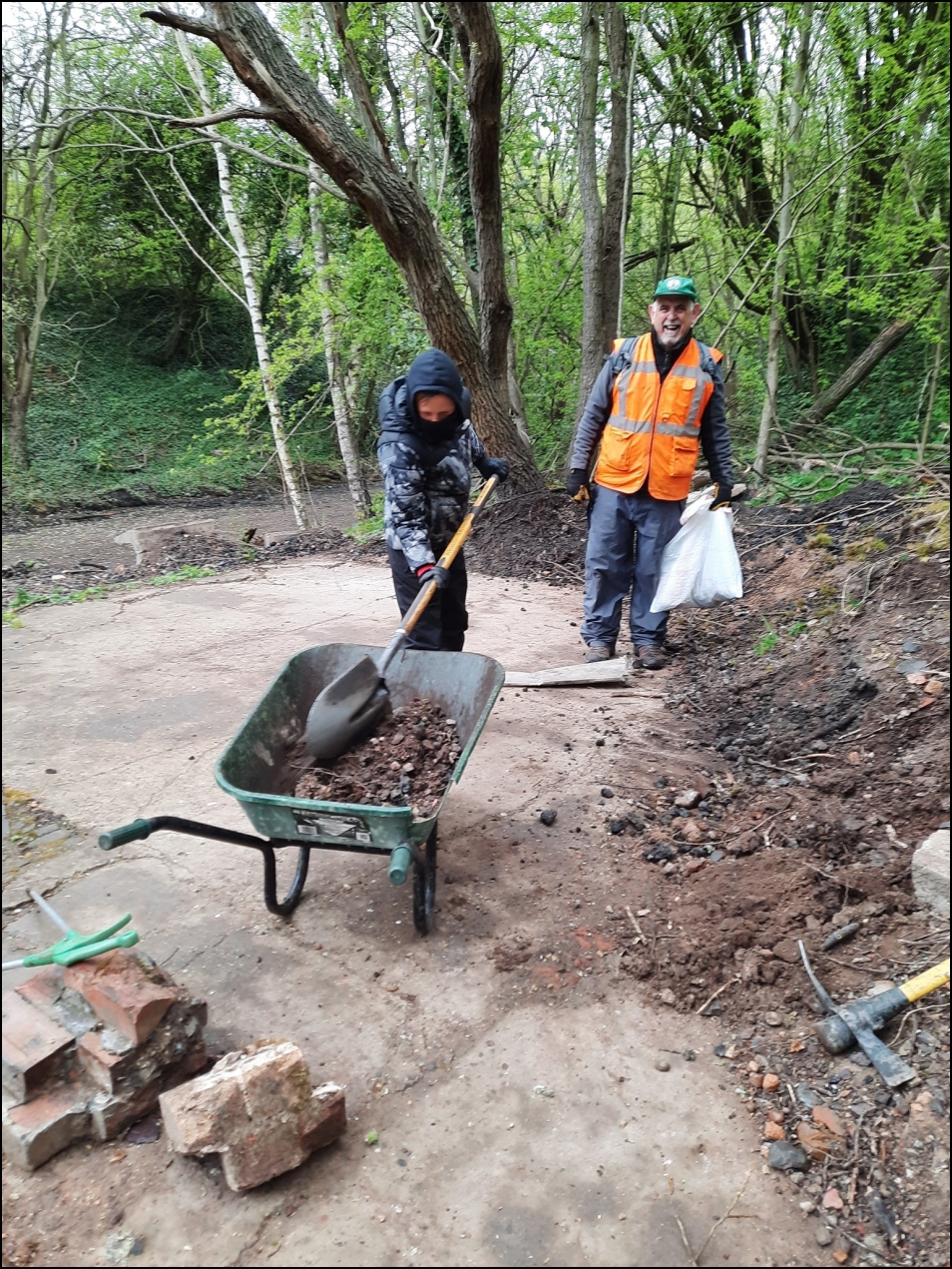 William in 'Time Team' mode uncovering the station remains at Brownhills.
MARCH 2021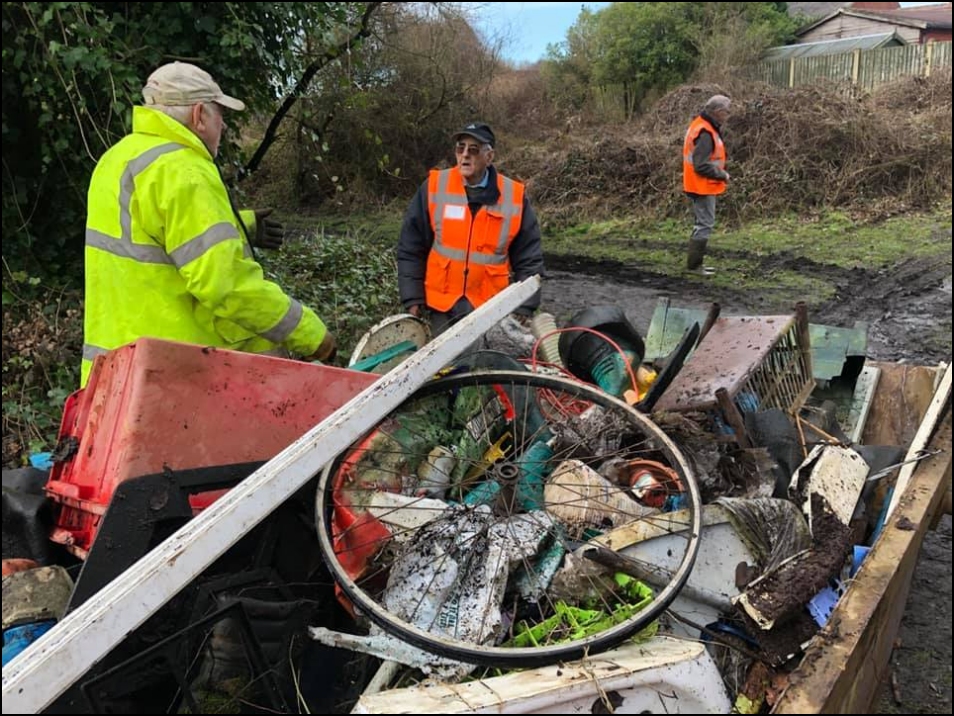 T
he results from fly tipping on the embankment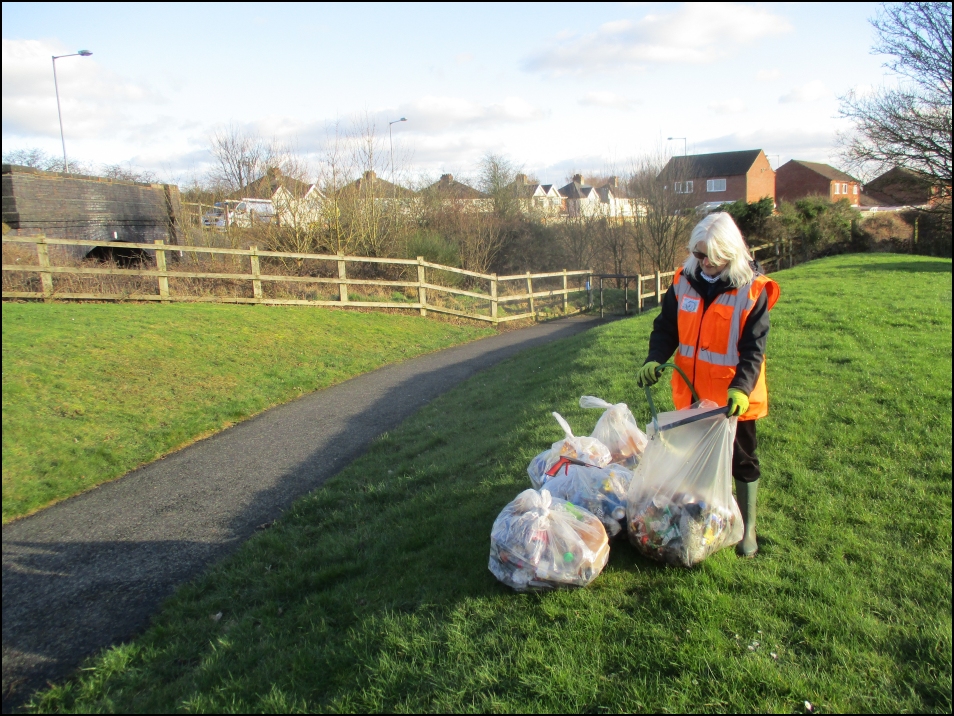 After a litter pick to Rushall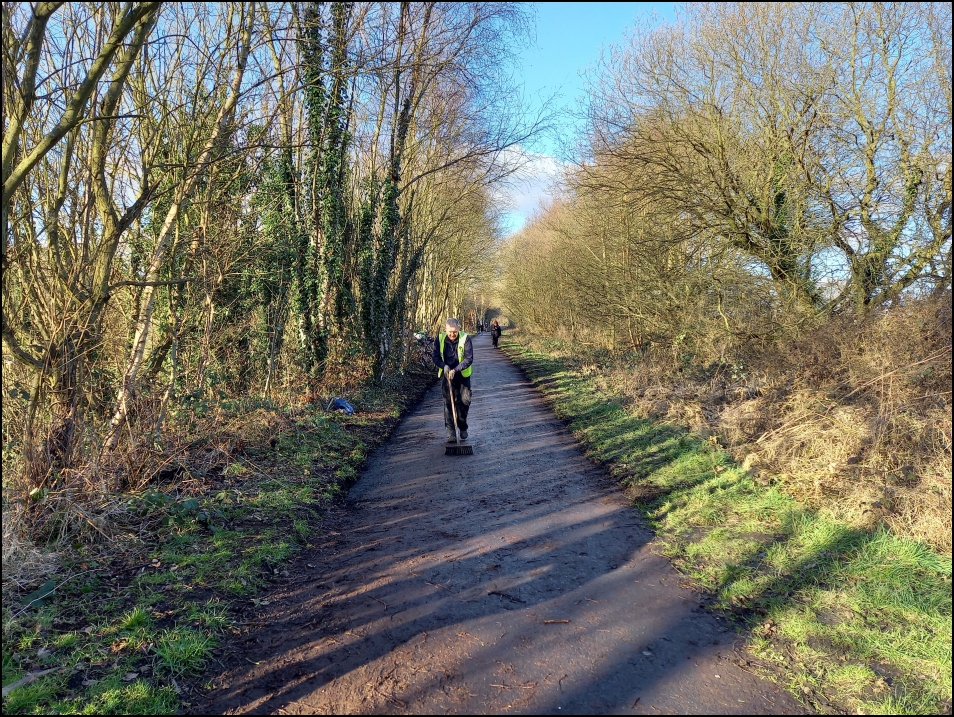 We continue to 'exercise' as one plus one at a social distance leaf clearing, litter picking, cutting back overgrown vegetation and clearing the drainage channels. We are heartened to see how many users there are on the track and all with positive comments.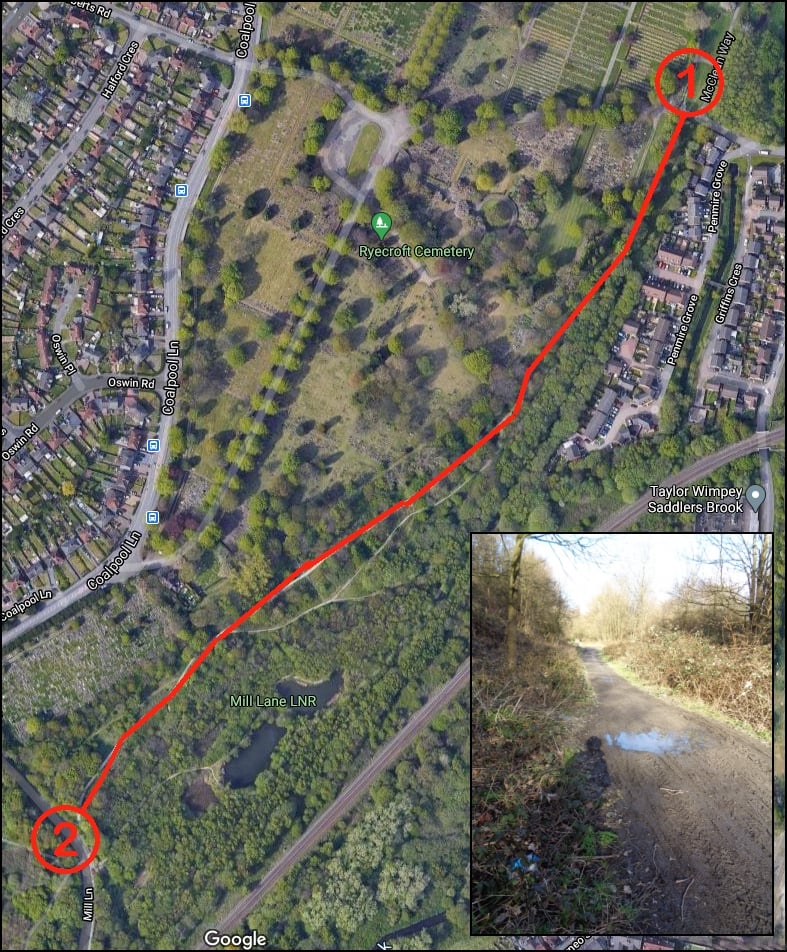 WMBC are making a bid for funding money in order to improve the section of path between the end of the McClean Way at Ryecroft Cemetery (1) and Mill Lane (2) If you have been along here you'll know how bad it is especially in the wet. What WMBC needs to do is show strong community support for this and all you need to do is like this comment on Facebook or Twitter We know we can count on you as in the past. The deadline is almost on us so time is of the essence.
FEBRUARY2021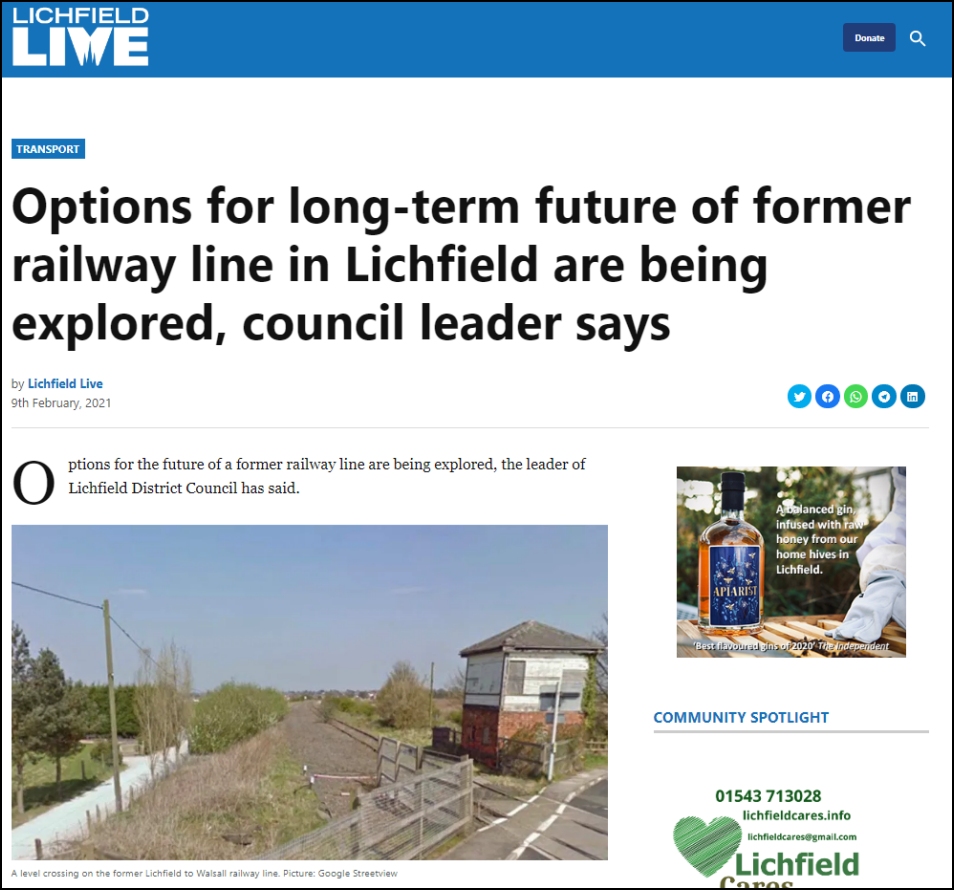 JANUARY 2021

HAPPY NEW YEAR!

With the current situation regarding COVID we are very much restricted as to what we can do so for the moment we will be following the SUSTRANS guidance as individuals or as one + one socially distanced.

Route and signage checks - reporting on any issues.
Small litter picks - collecting only as much as you can safely carry and dispose of at home.
Use a litter picker and your own carrier bags to collect the litter, do NOT use your hands.


(In Walsall you can leave a bag of rubbish by any council bin and they say it will be picked up)


Vegetation snip backs- focusing on light vegetation e.g. with secateurs.
Temporary signage updates- there may be restrictions on signage orders due to office closures.
Graffiti removal.
Wildlife monitoring

Hopefully with the vaccine roll out things can get back to 'normal' soon.

In the meantime feel free to use it to 'exercise locally' although wellies are probably best at the moment.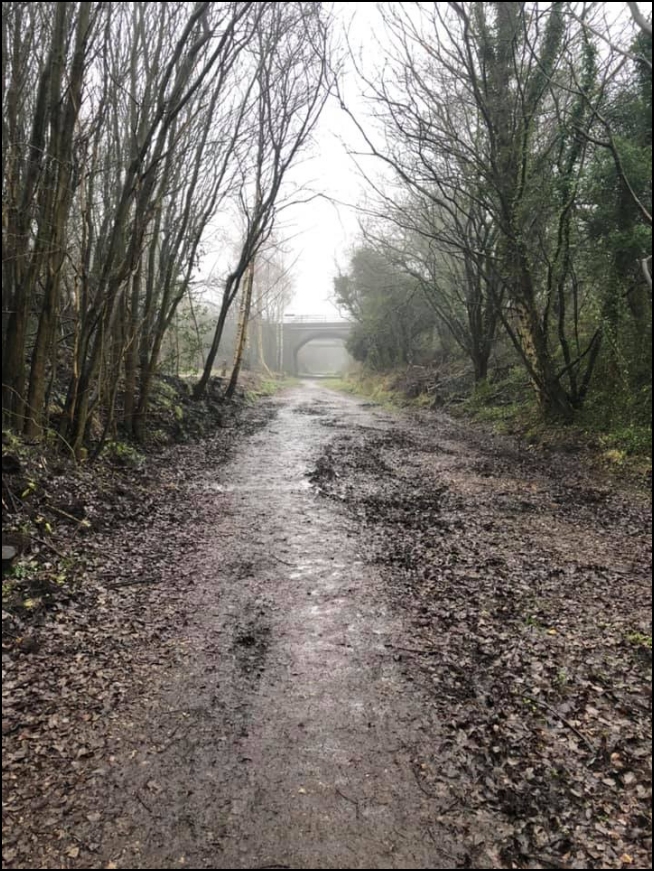 Be sure to let us know if anything is amiss

at

info@backthetrack.org.uk

DECEMBER 2020





On behalf of the BTT Team we would like to wish you all the best for the season.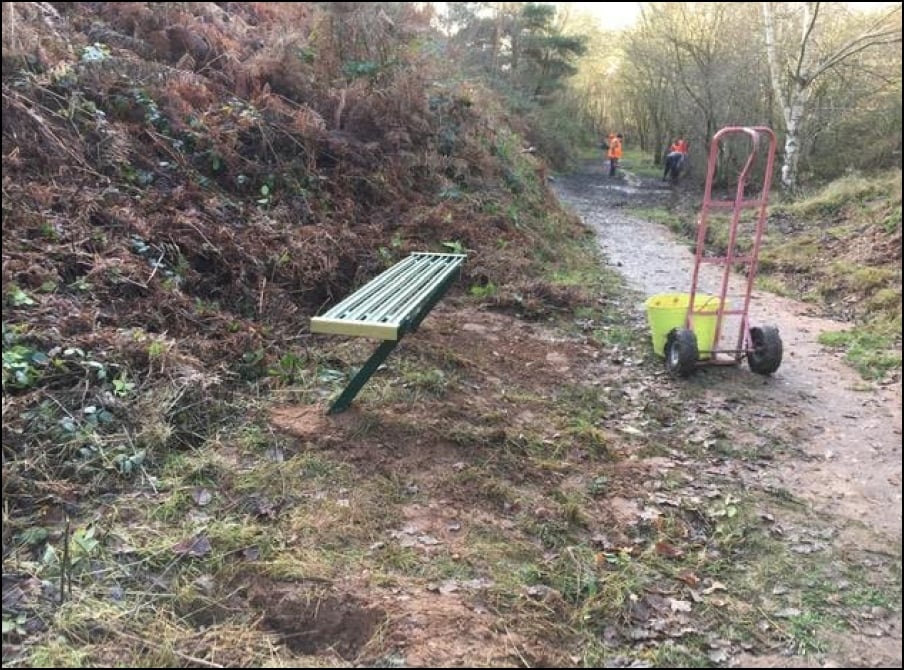 Installing bench number 5 between Smithy's and the A5.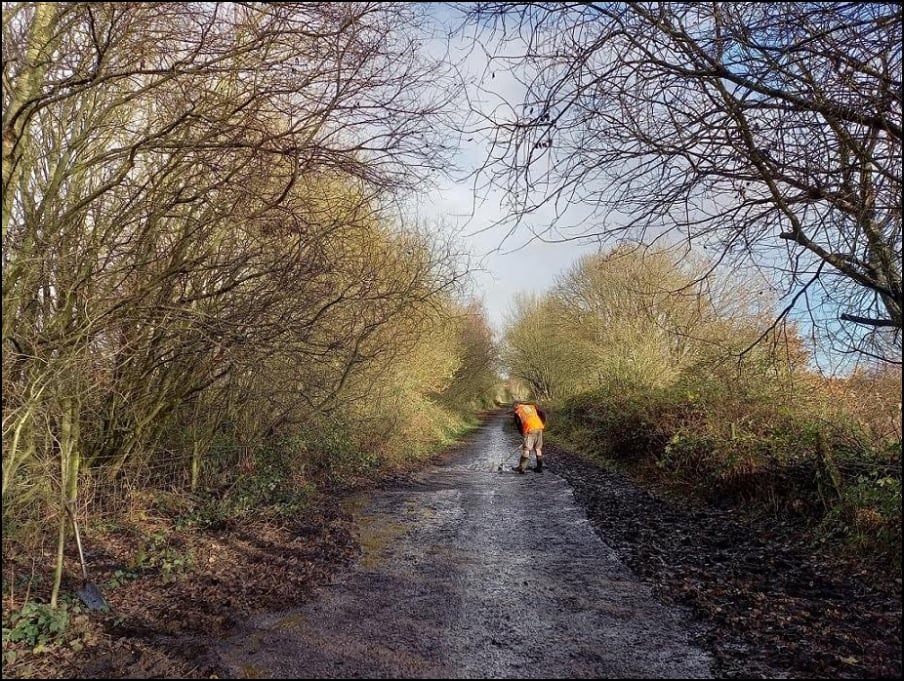 Scrapping of the mud and making drainage channels south of the signal.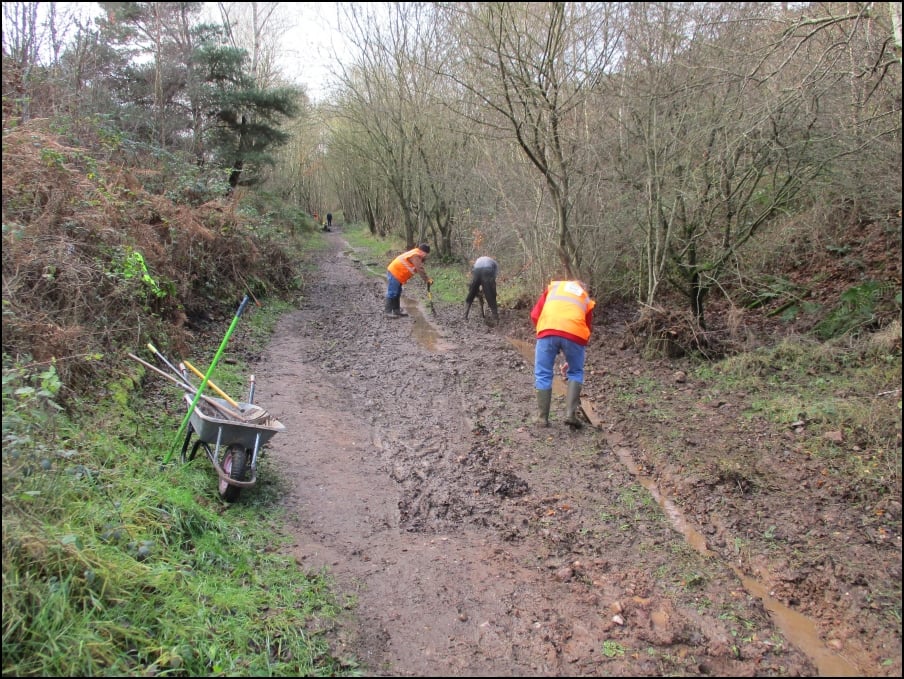 Clearing out the drainage channels which seem to be working.

NOVEMBER 2020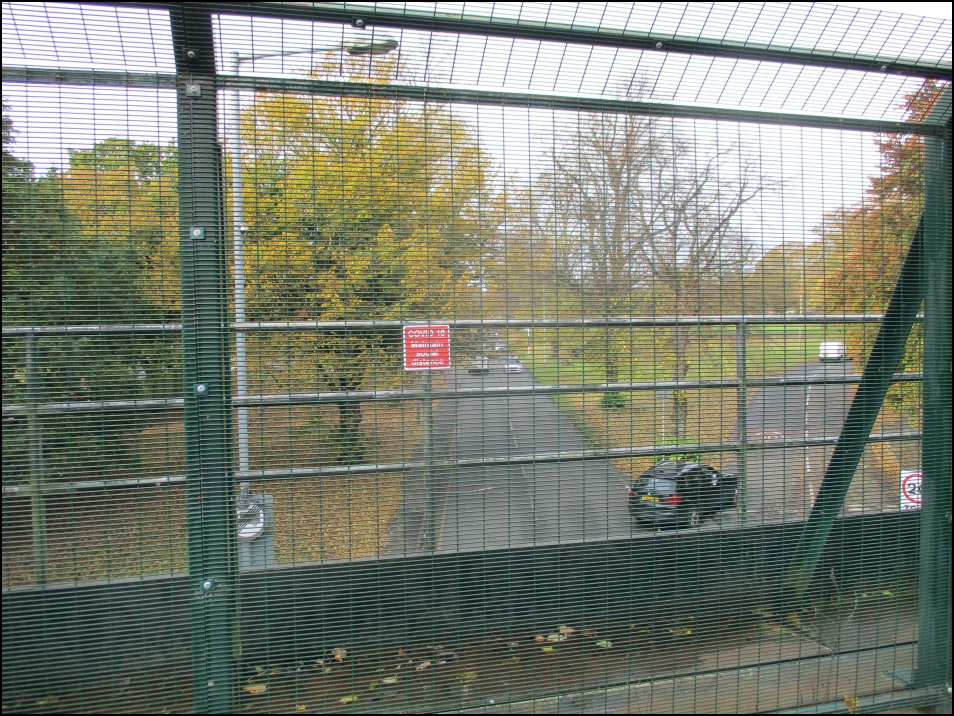 Due to the forthcoming lockdown restrictions we will have to curtail our workdays on the track. Rest assured you will find us there taking up the option to 'exercise' as individuals and if we just happen to have a litter picker or secateurs with us we so much the better. If you are out and about and want to litter pick feel free and please let us know if anything is amiss such as fallen branches, we'll still be watching out for all your comments. Stay safe, remember to social distance and hopefully we'll be back soon.


OCTOBER 2020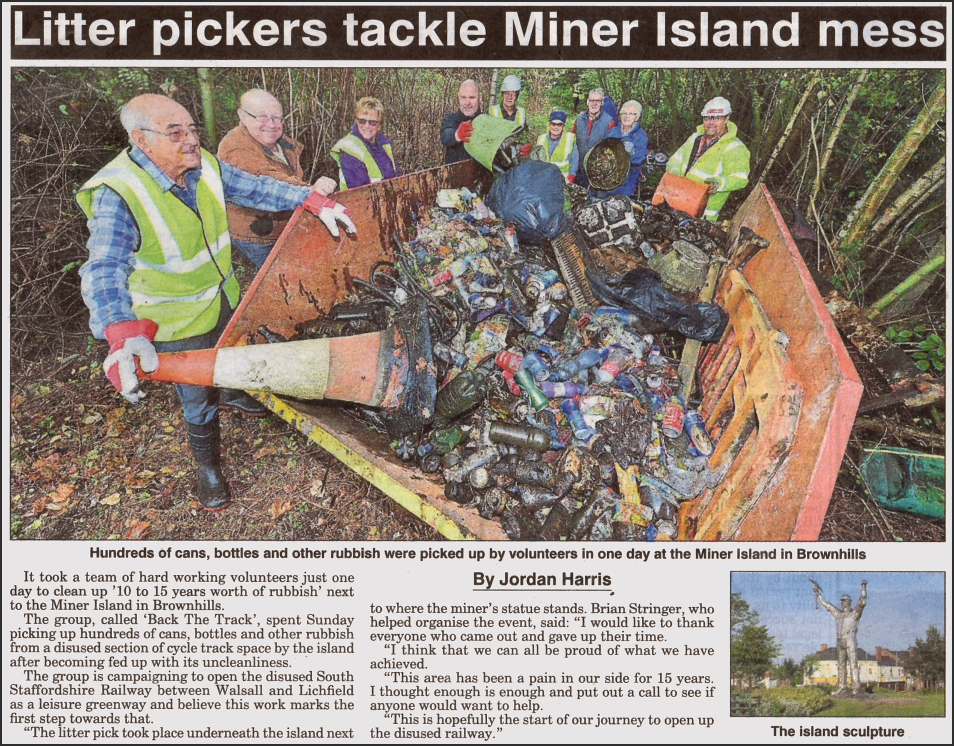 ***

Today is exactly three years since we filled our first skip (22nd October)

***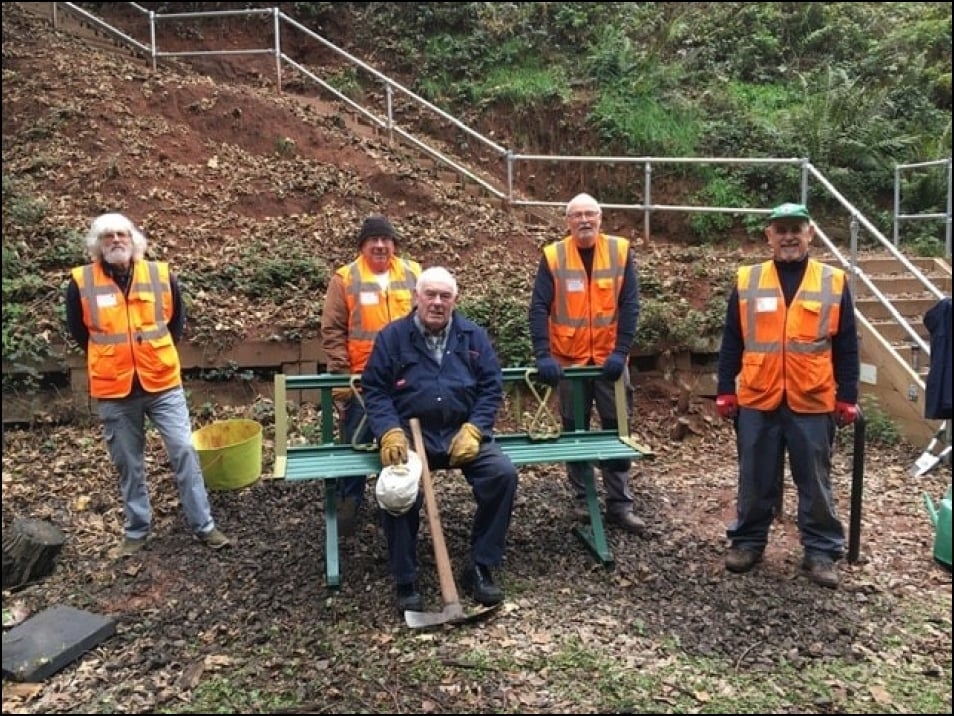 Bench number 4 installed and tested by the aqueduct.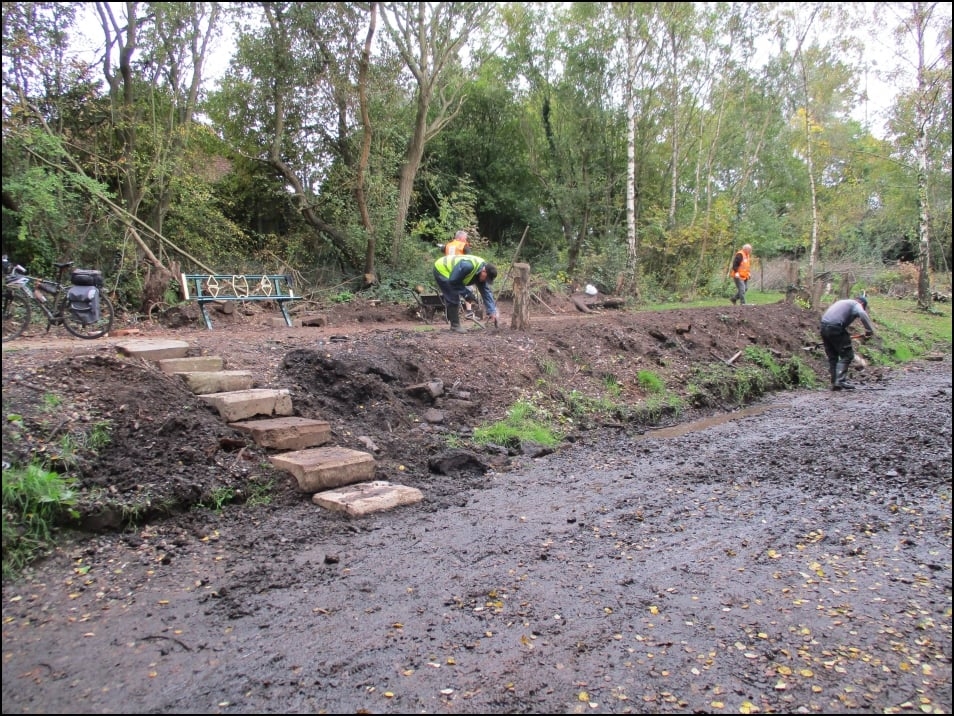 Bench number 3 and steps now in place on the station platform.


SEPTEMBER 2020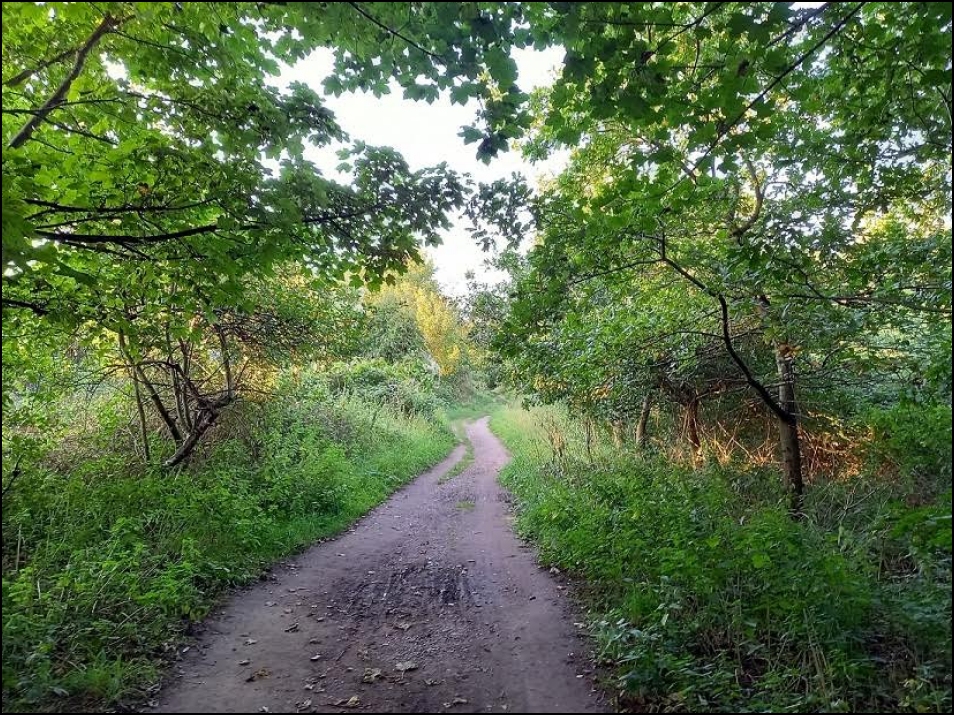 (23/09/2020)

Pelsall end before it got a trim.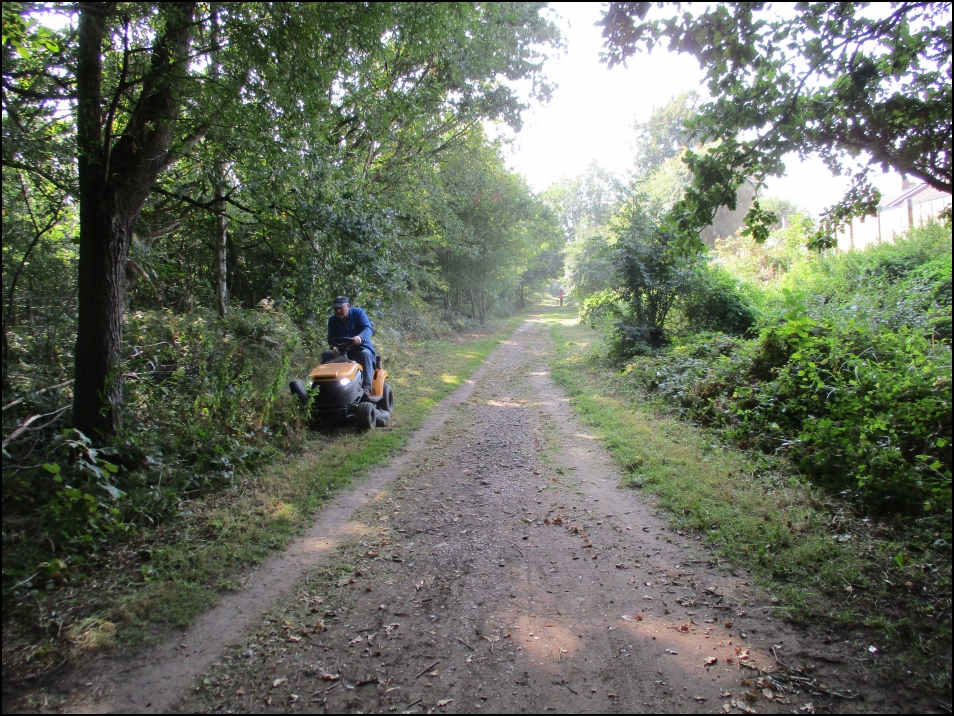 (23/09/2020) Colin hard at work on the mower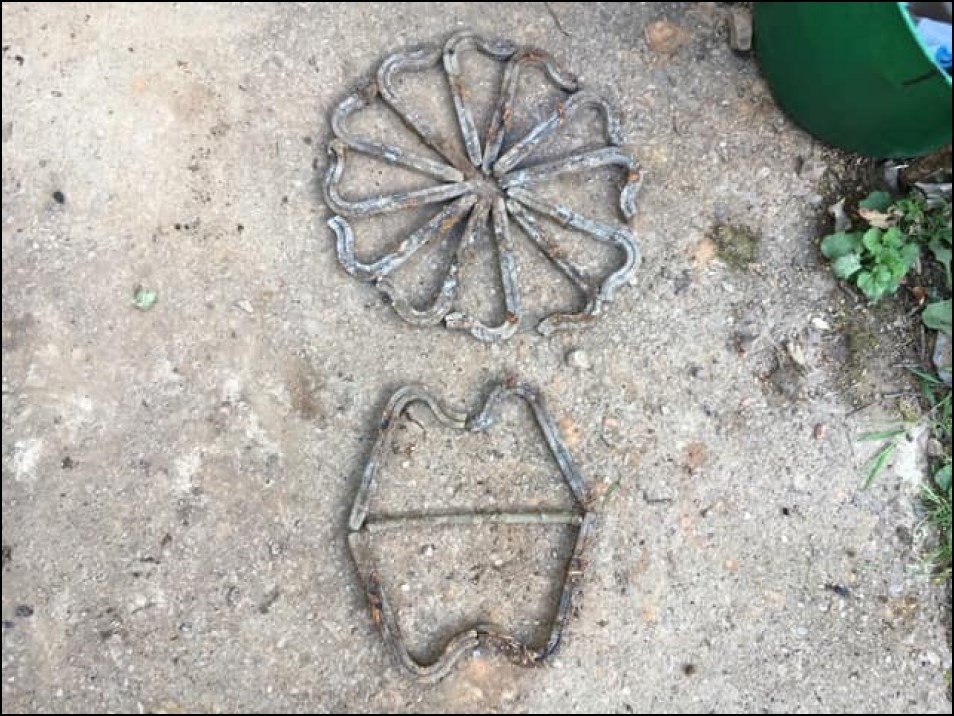 Looks like we have enough rail ties for several more bench backs!

Barry and Mike being inventive with some of the concrete ducting left lying around.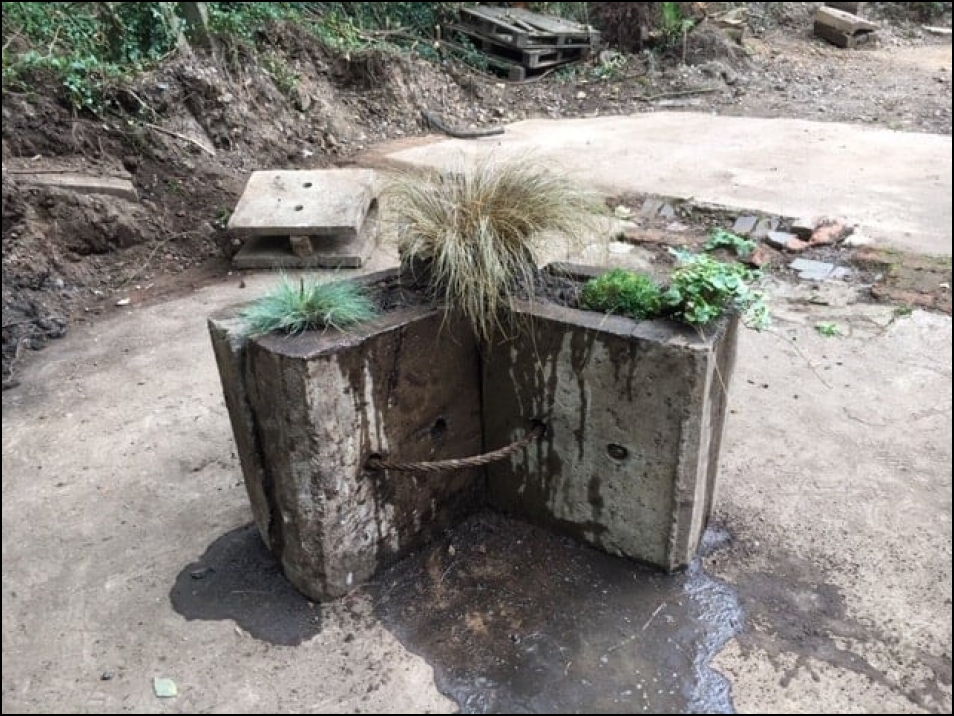 They hope to make many more planters like this.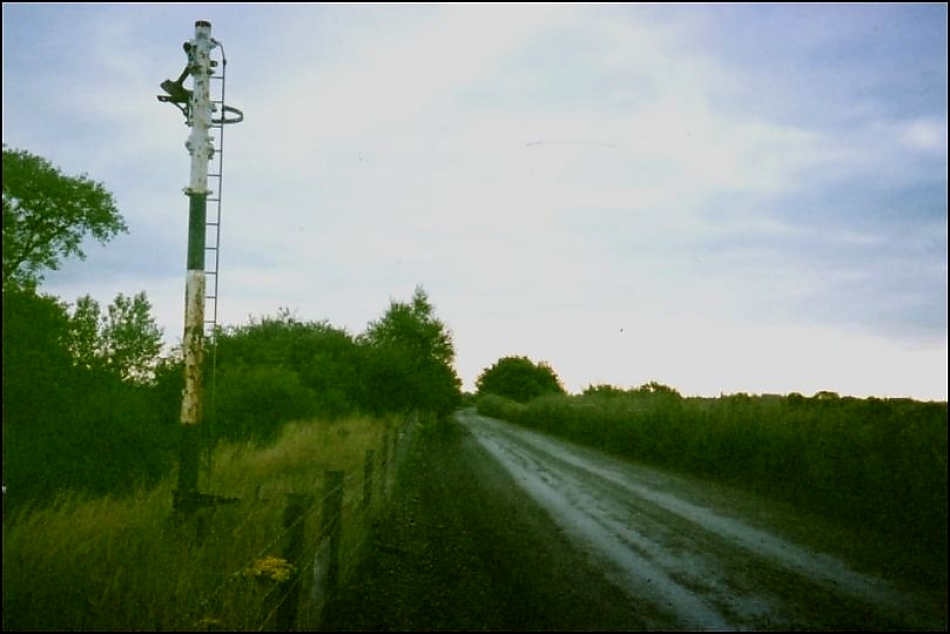 A photo from H&A Bailey showing the track when it was used as access to the open cast mining (2006)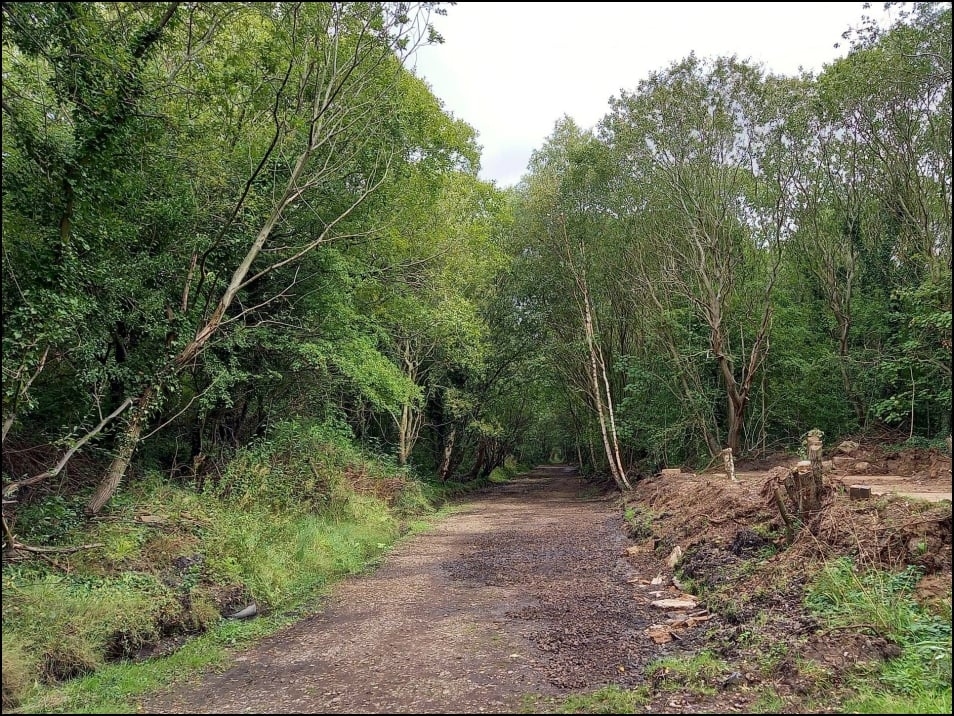 Looking towards the A5 with the station on the right after levelling the track.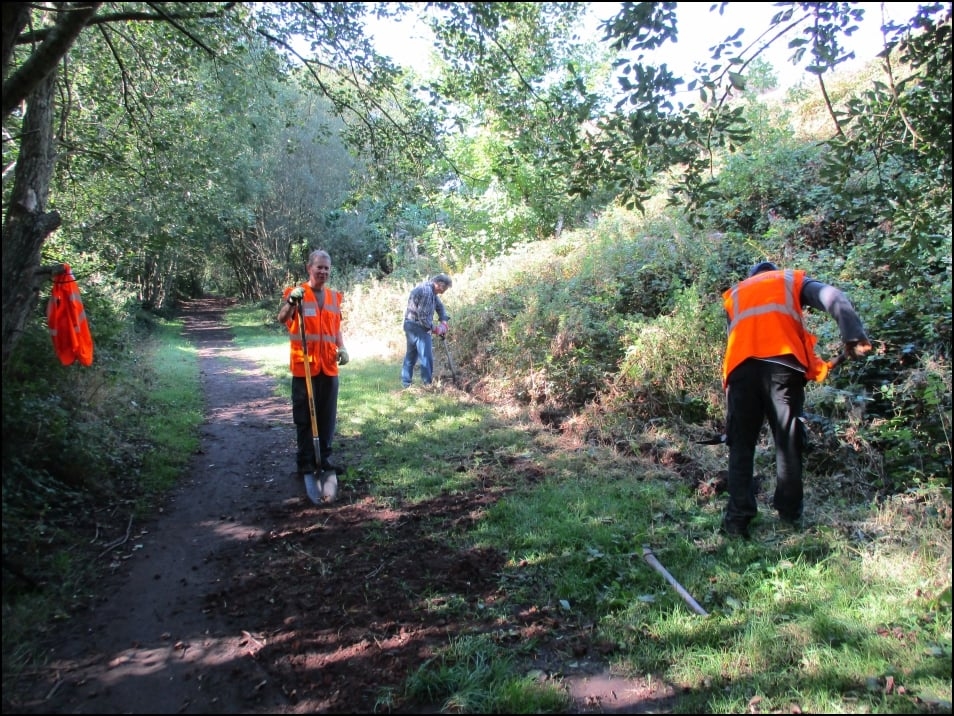 Digging new drainage channels towards Curlew Drive.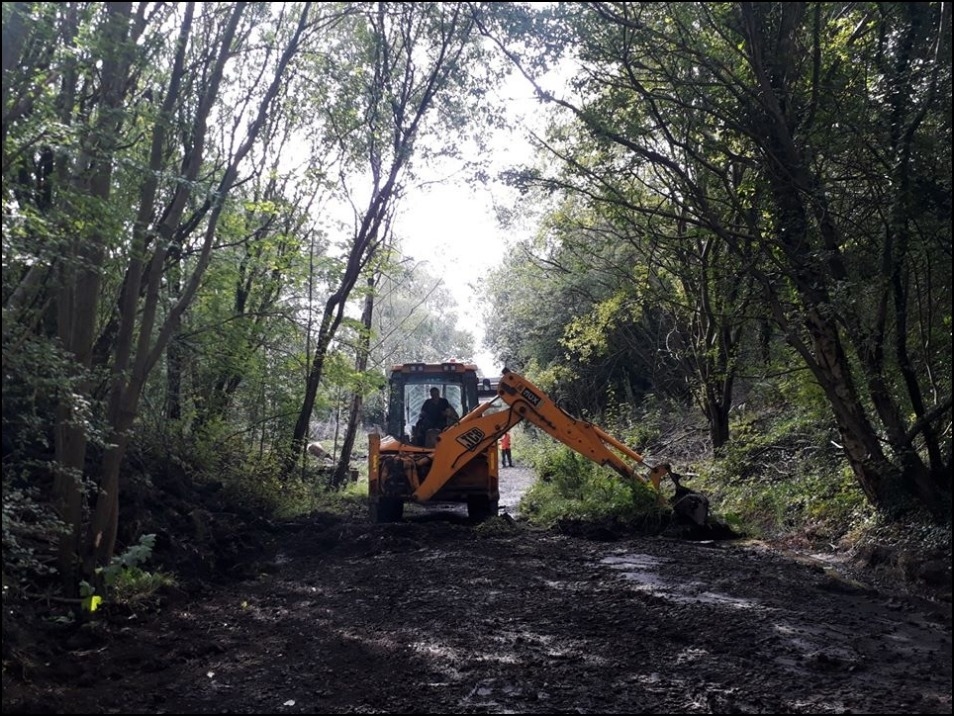 Carl at work removing the barrier that stopped the water draining away.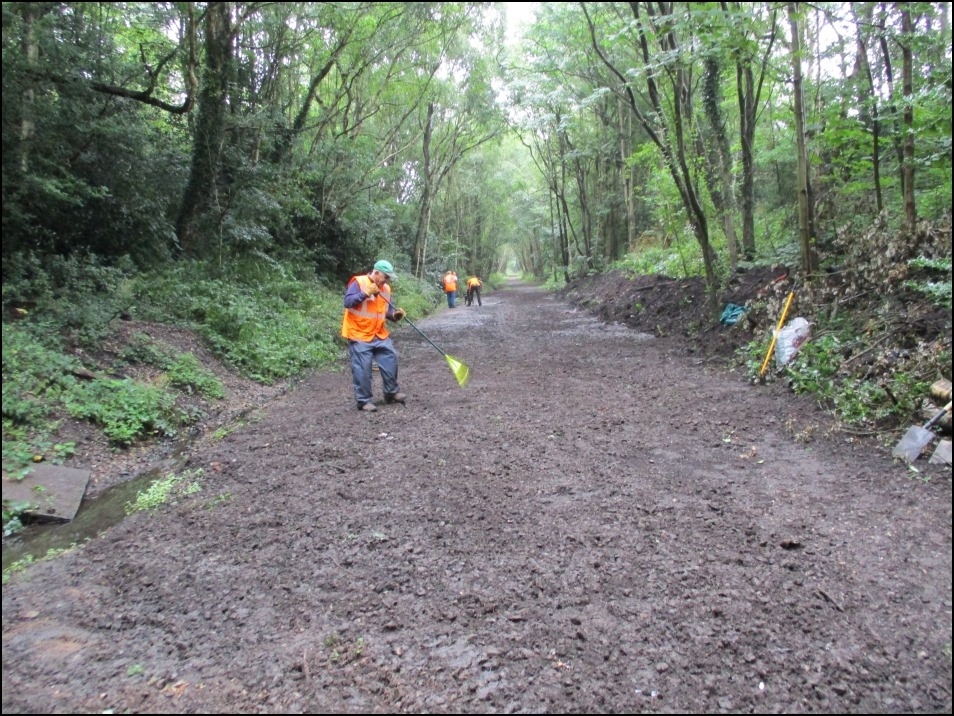 Levelling out the track following Carl.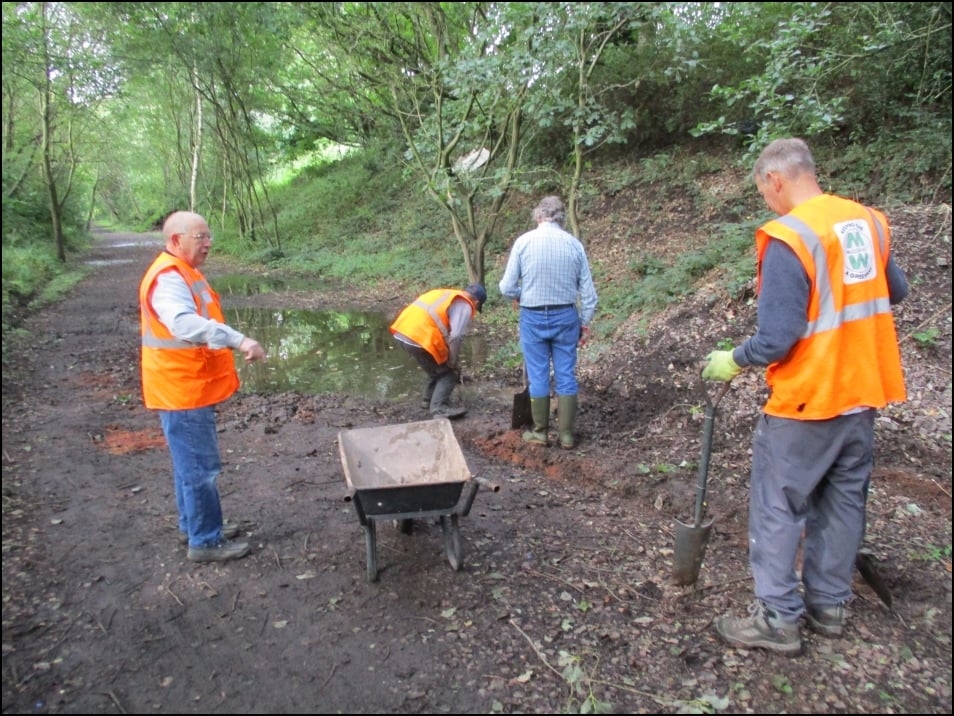 Working on the drainage channels.
AUGUST 2020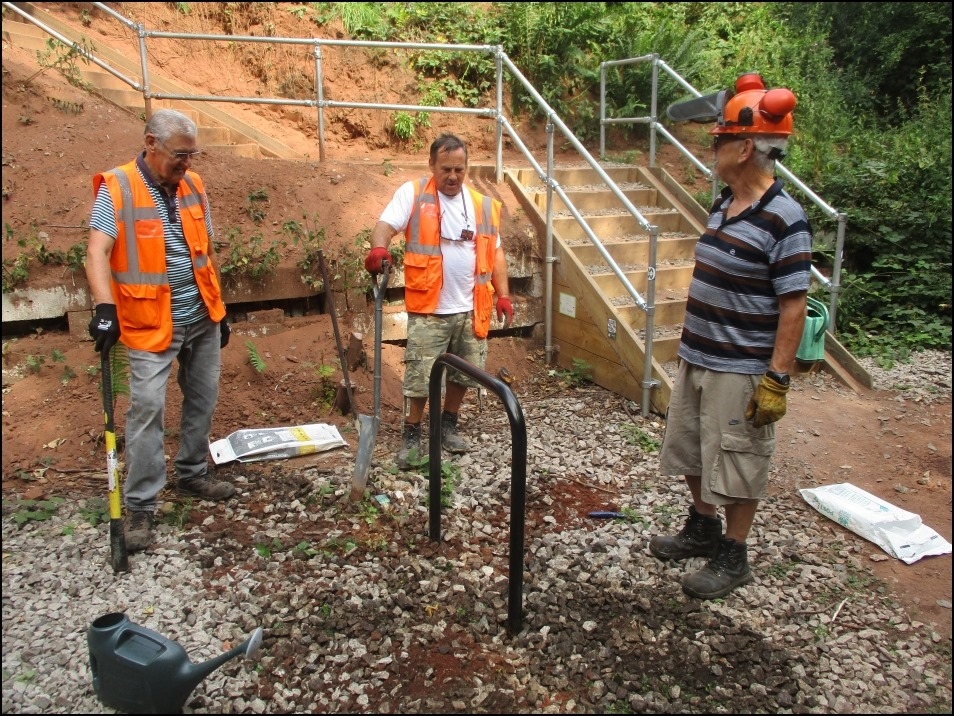 Putting in the first of the four bike racks we were given.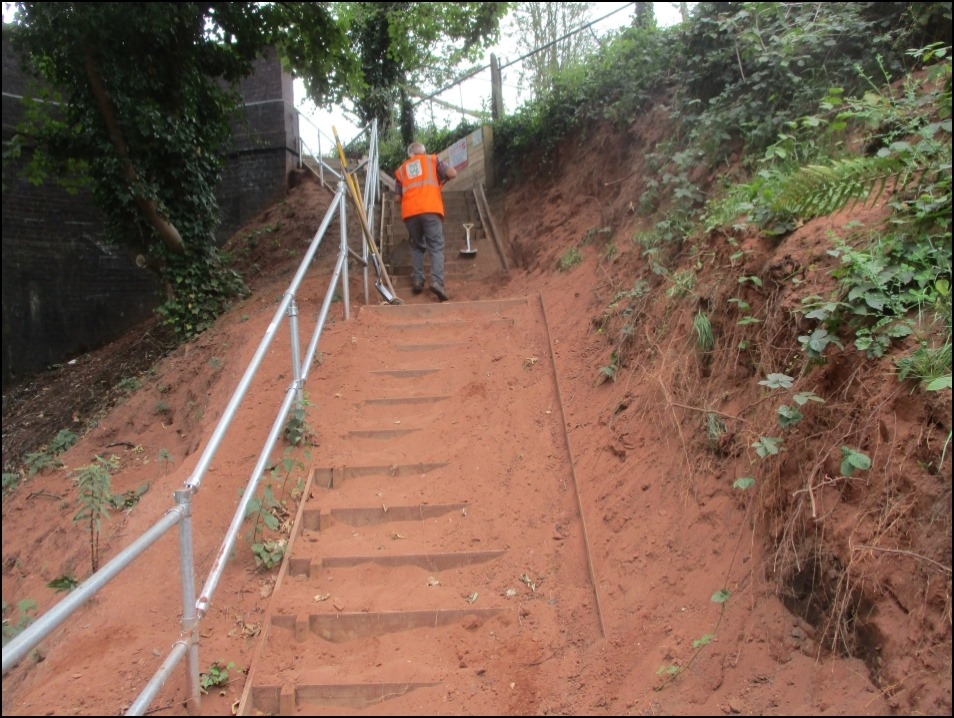 The steps after some children thought it would be a good idea to make a slide!

JULY 2020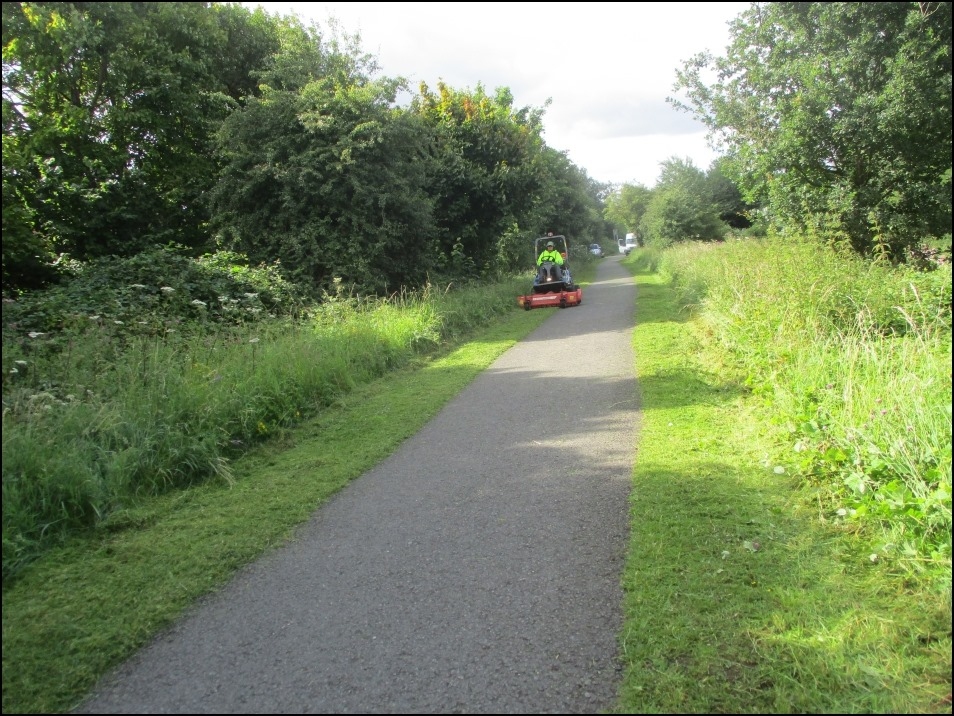 Rob and Barry from SUSTRANS at work cutting back the verges.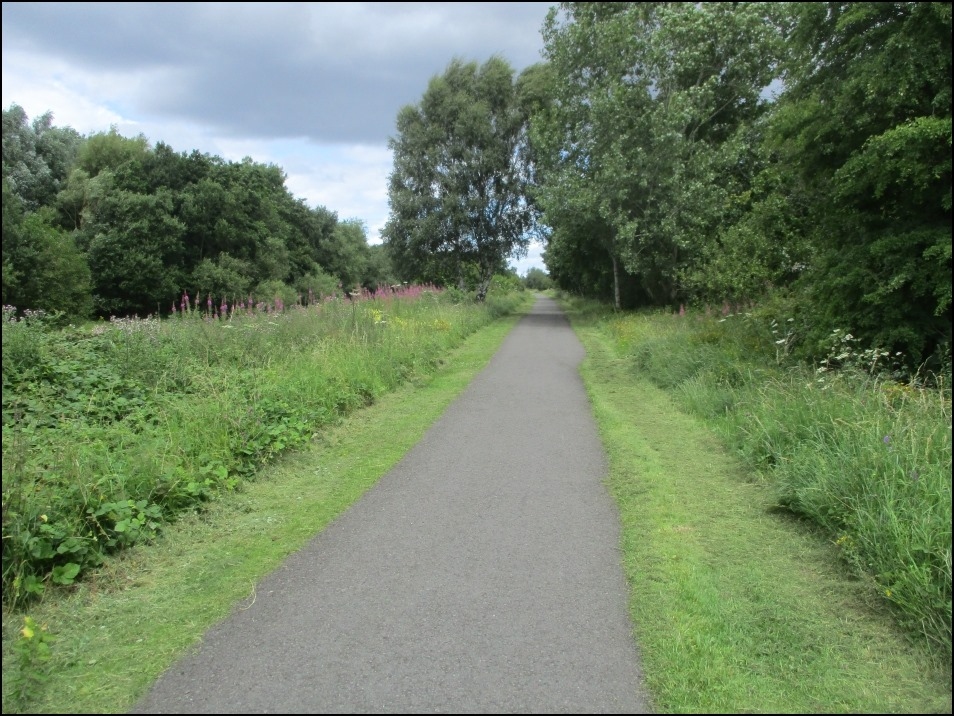 The track between Rushall and Pelsall after the mower went down.



JUNE 2020





Great News Update



After a couple of months of enforced lockdown we have now been told by Railway Paths Ltd we can return as long as we are in small groups and still observe social distancing.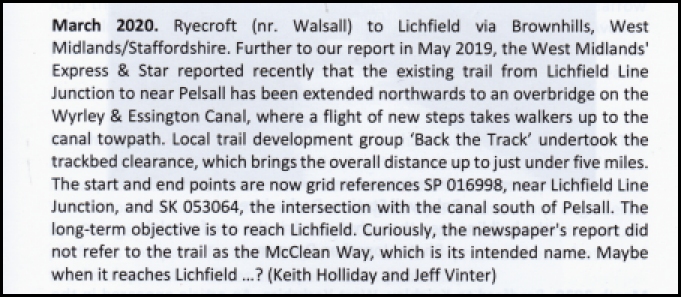 We were pleased to see us as a news update in the Summer edition of 'Railway Ramblings'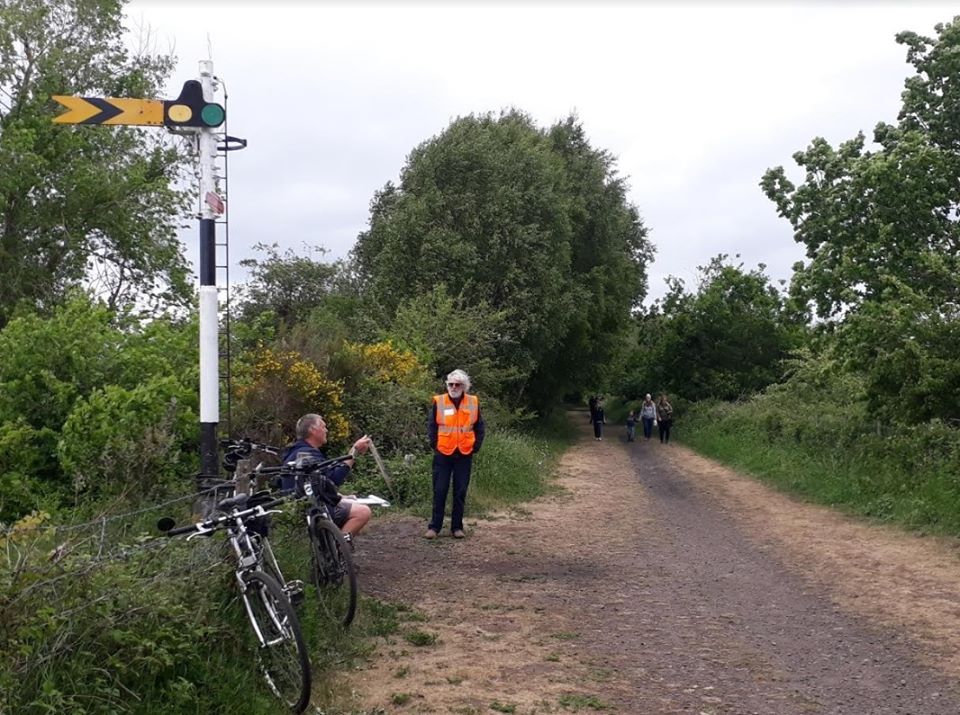 We undertook a quick survey for a few hours on what turned out to be a dull and overcast Sunday during which time we counted nearly 350 users walking, cycling or on horseback.
MARCH 2020

Following current health advice we have, as several of us are now classed as 'vulnerable', reluctantly decided to suspend our group activities for the duration. We will now be 'Lone Rangers' keeping an eye on the track, litter picking, trimming back etc. Please keep using it.


FEBRUARY 2020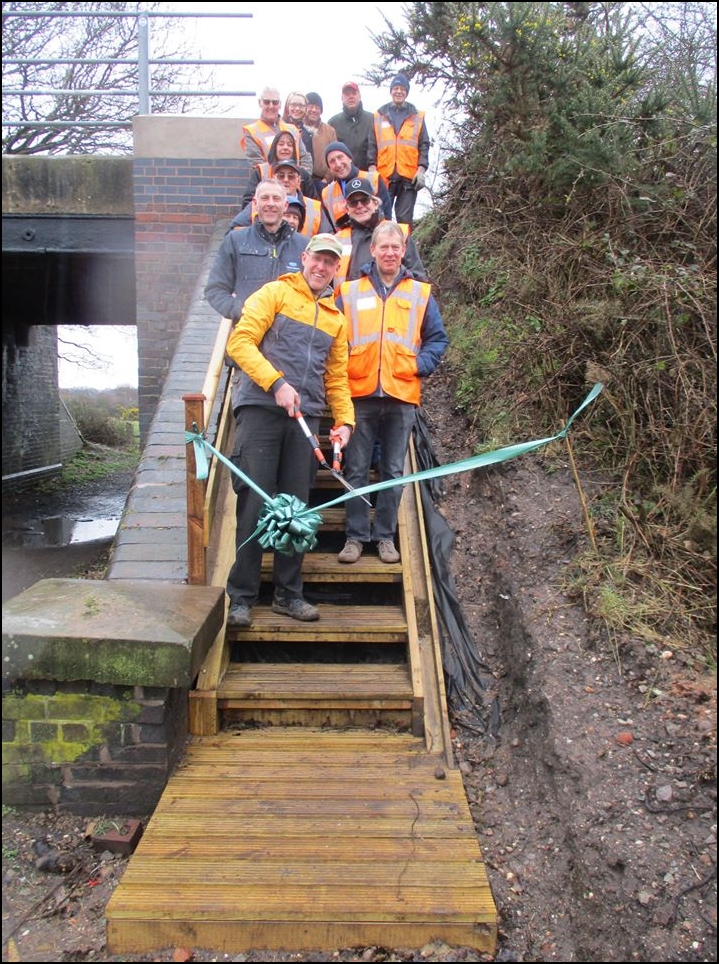 Martyn officially opening the Bullows Road steps on behalf of Railway Paths Ltd. owners of the railway track. Also present on a very cold wet day was Dave the builder who has done a fantastic job, Steve and Dana from 'One Stop' and Beth from 'Clean and Green'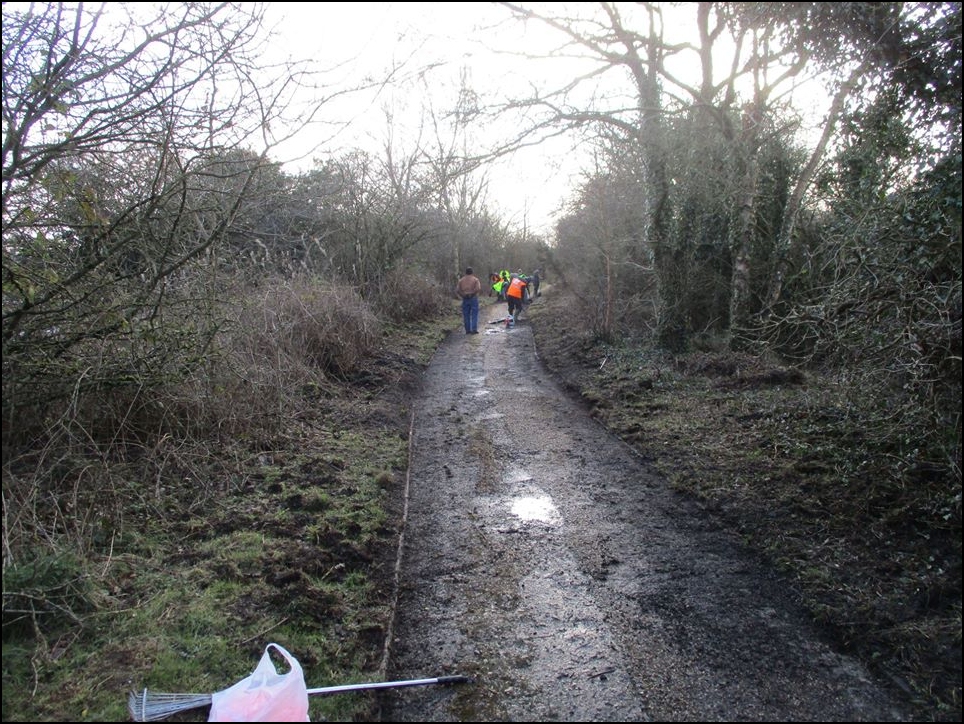 As well as keeping the McClean Way maintained BTT have been helping out SUSTRANS in clearing back part of NCN5 which had lost half of its width.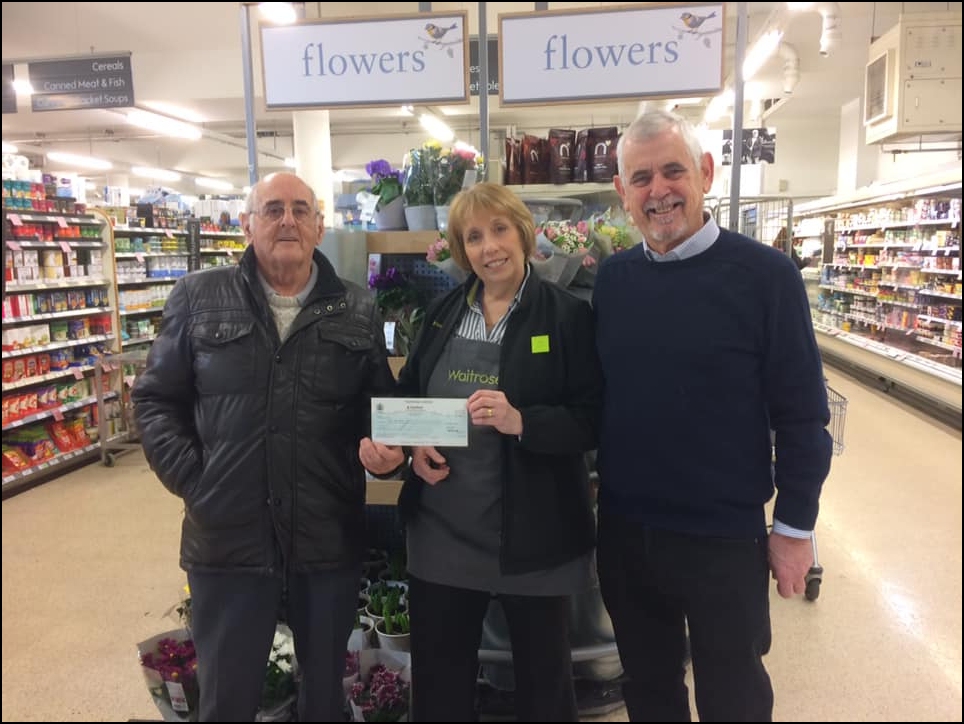 Thank you to Waitrose, Mere Green for including us in their green tokens scheme. Mick and Brian collecting the cheque from Sue.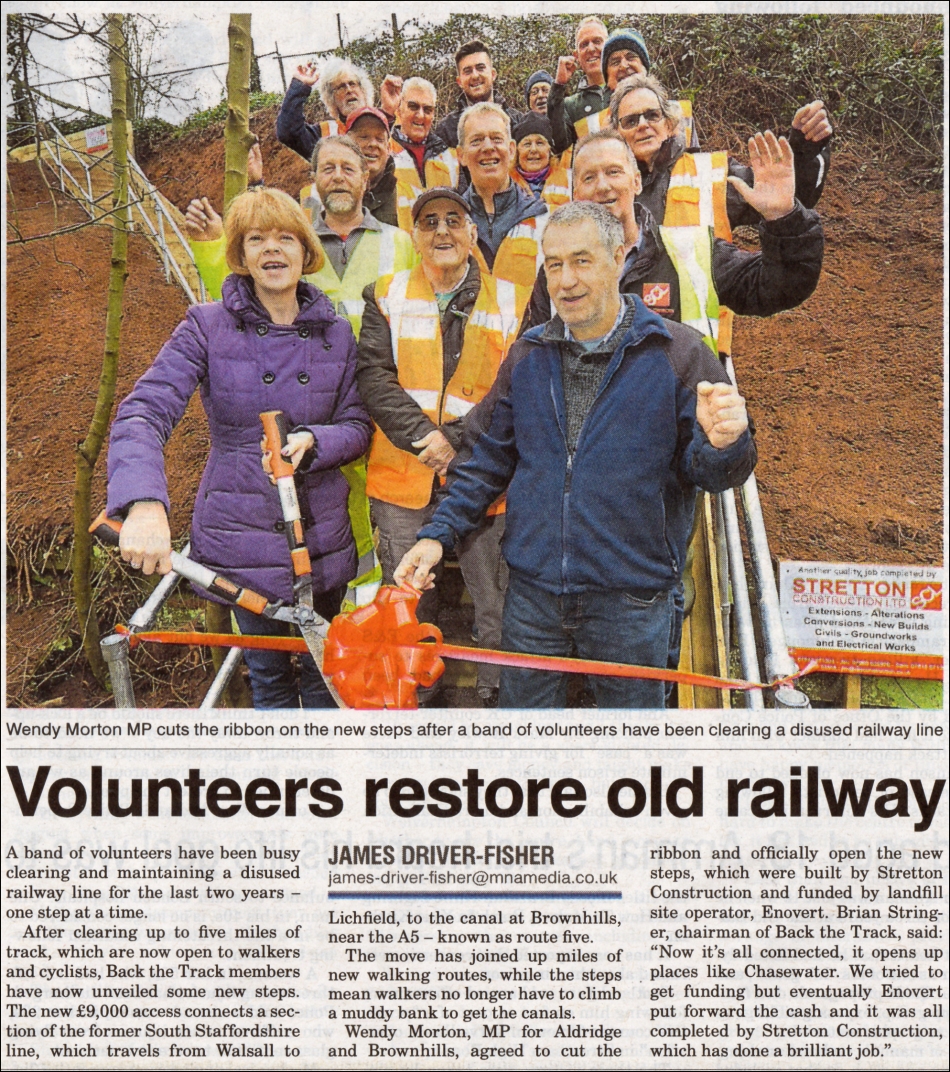 Express and Star report of the opening
JANUARY 2020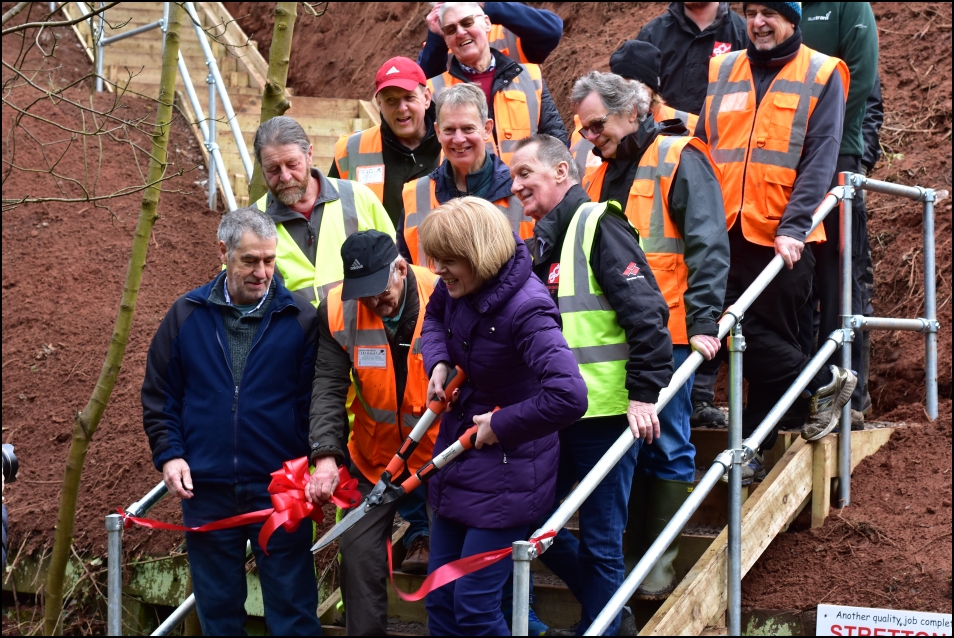 31/12/2020 The official opening by Wendy Morton MP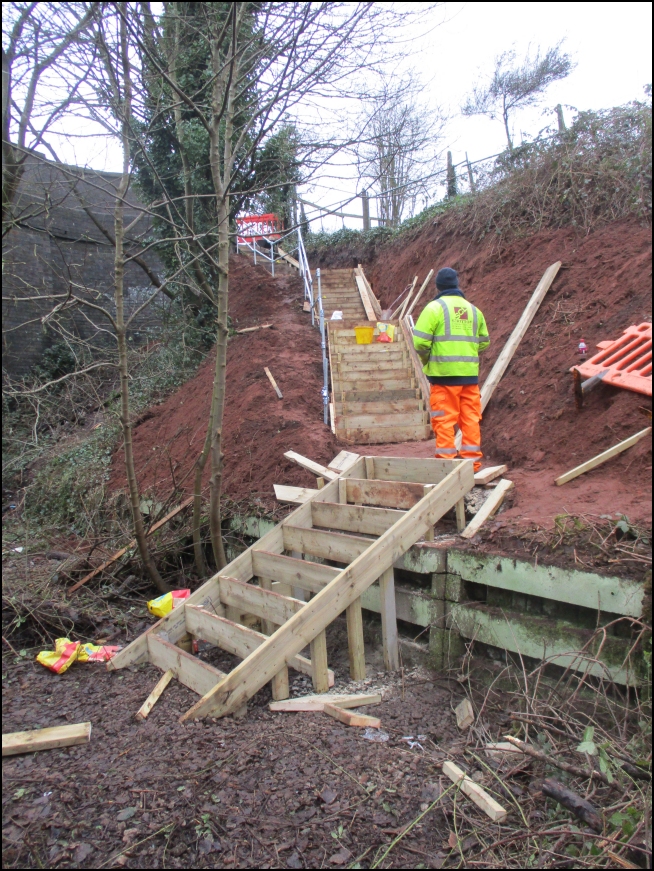 Andy posing in his Stretton Construction hi-vis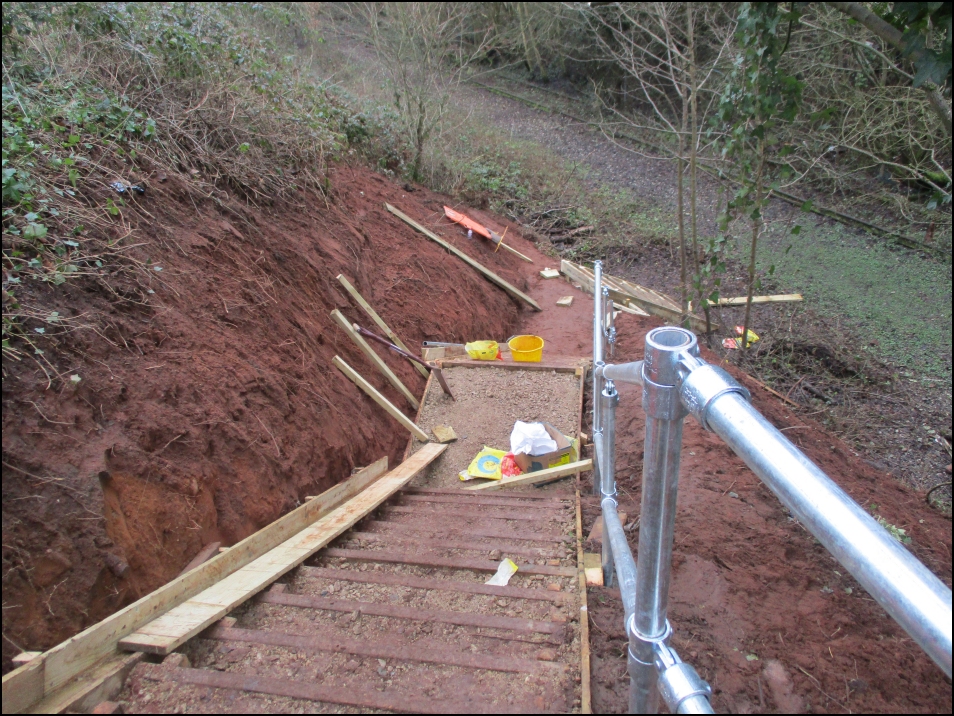 The steps from the towpath to the track bed have been started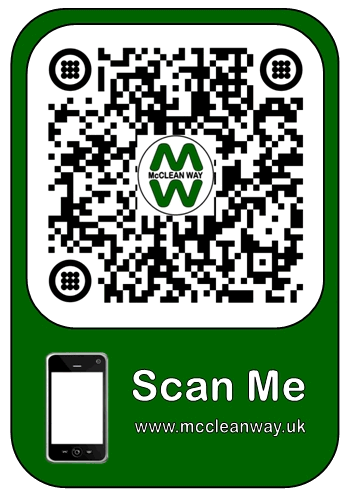 Look out for the QR Codes going up along the track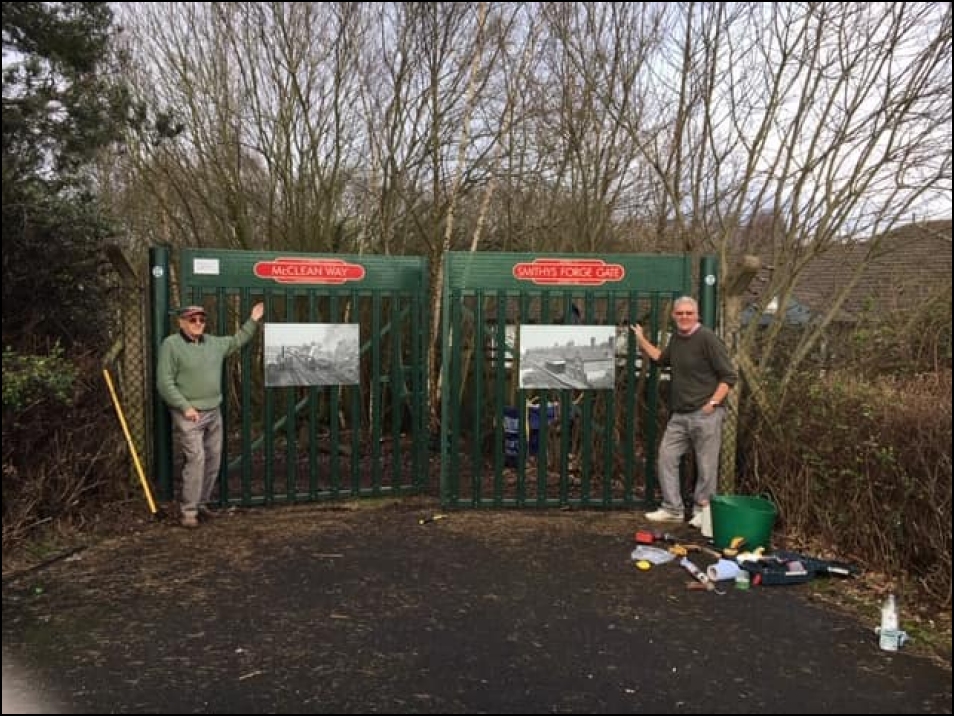 Barry and Brian with the artwork by Smithy's showing north and south railway views in it's heyday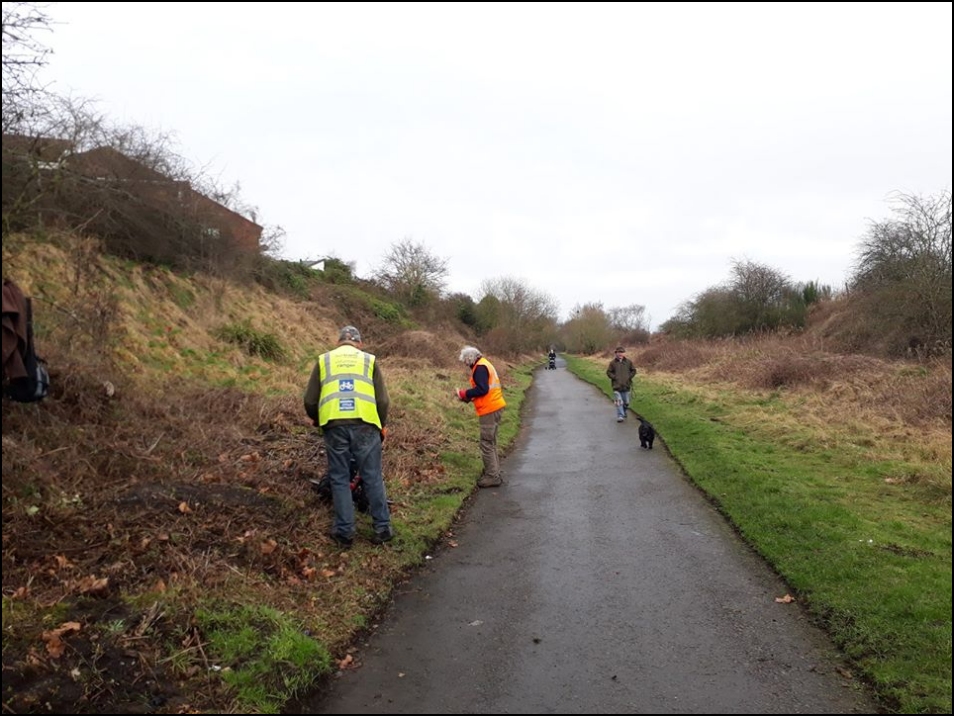 While work goes on at Brownhills the SUSTRAN section south of Pelsall has not been neglected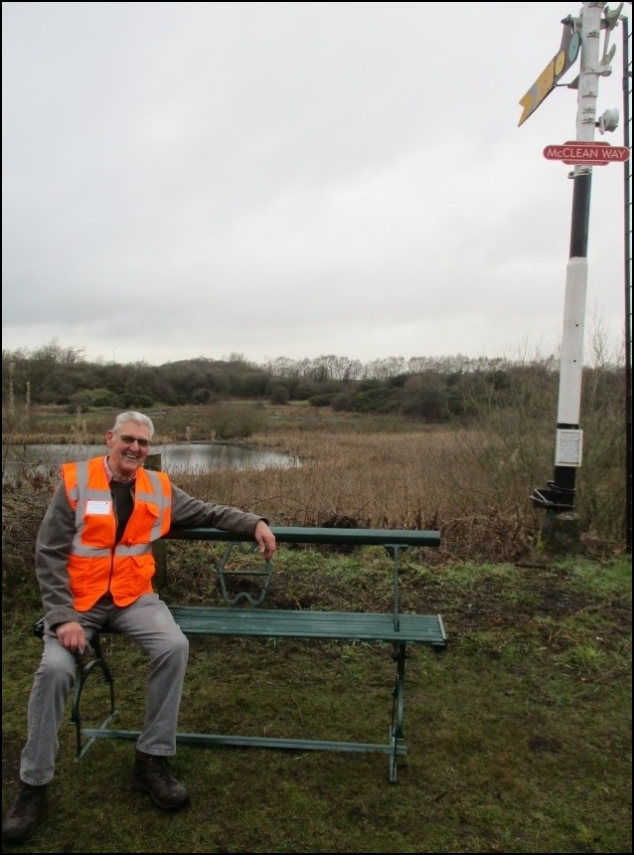 Barry had made this fantastic 'reversible' bench which is by the signal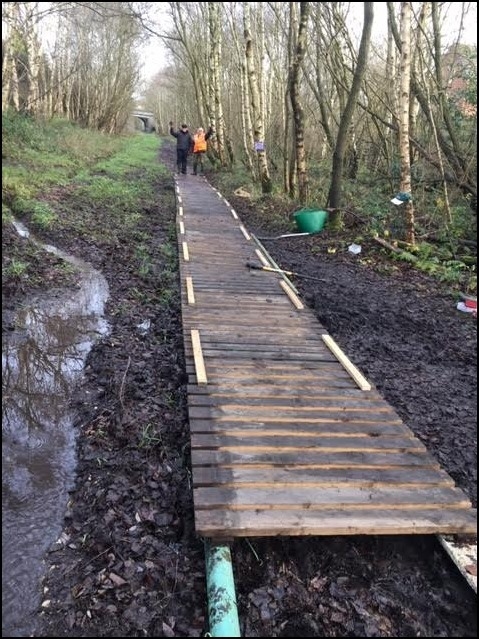 The temporary boardwalk is now in place between Smithy's and Curlew Drive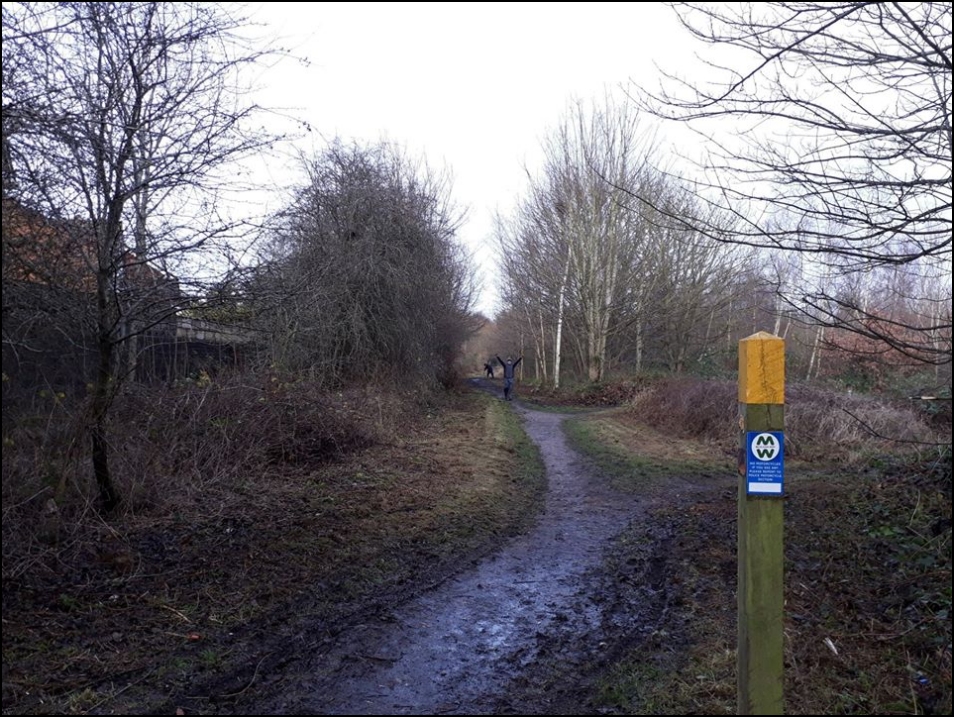 Clearing back from Station Road, Pelsall towards Ryders Hayes Lane

DECEMBER 2019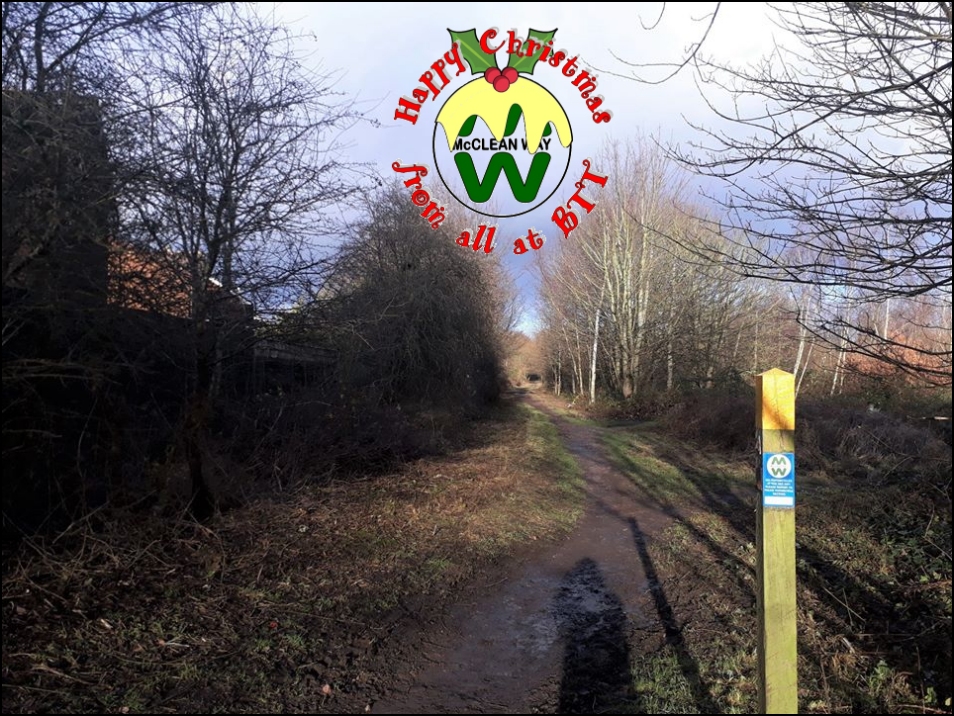 (23/12/19) The track after the team finished working towards Railswood Bridge, Pelsall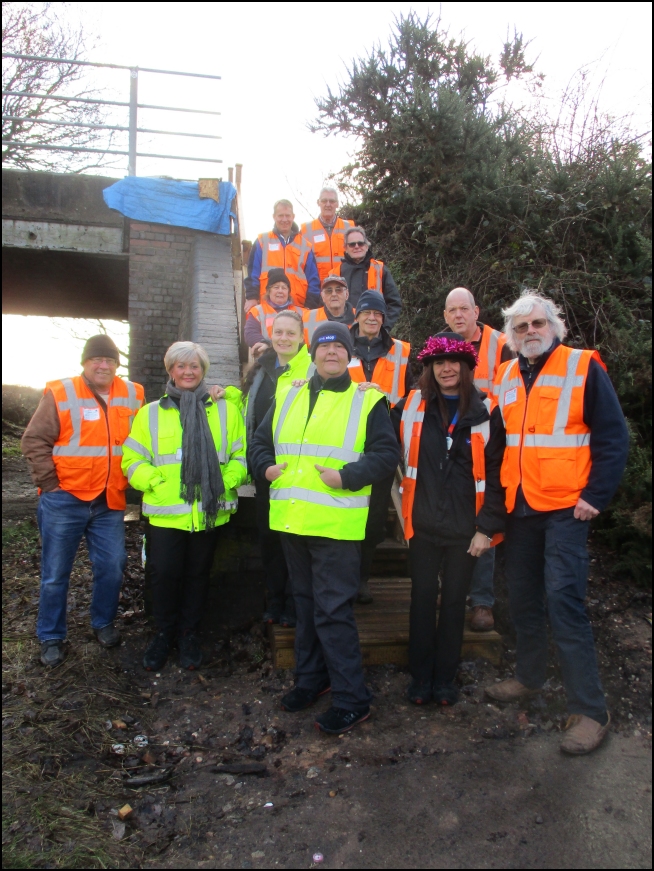 (23/12/19) Meeting with staff from One Stop' who kindly donated the proceeds of their raffle
.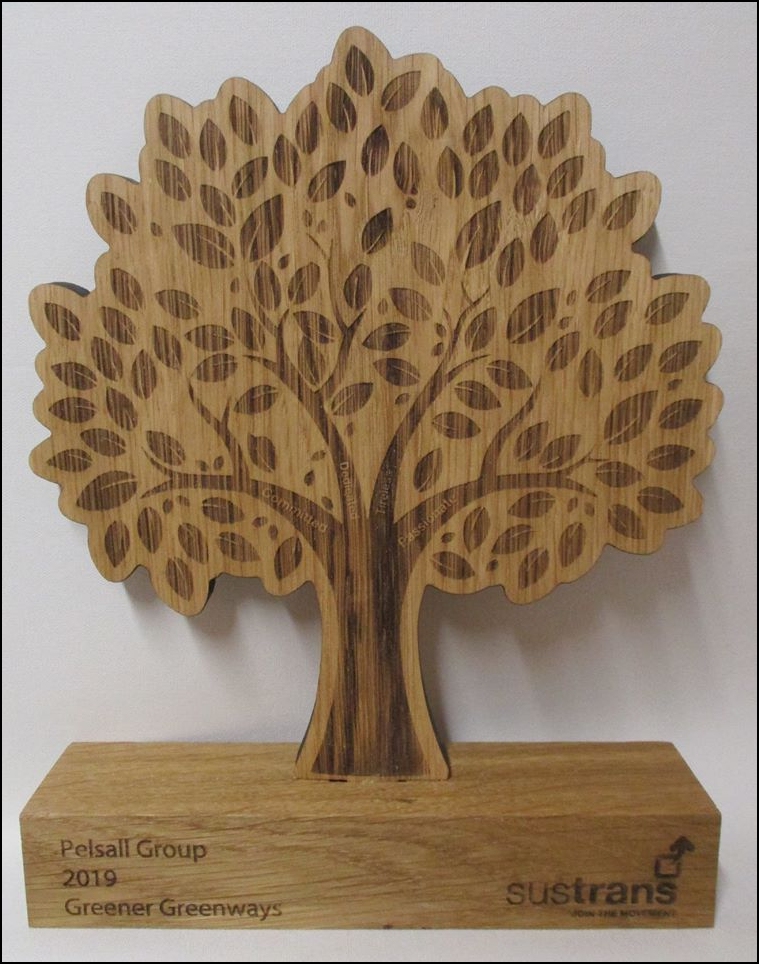 We were really sorry to say "Goodbye" to SUSTRANS ecologist Sim but before she went she gave us this award. Thanks Sim we'll certainly miss you and hope you can find time to call in if you are over this way.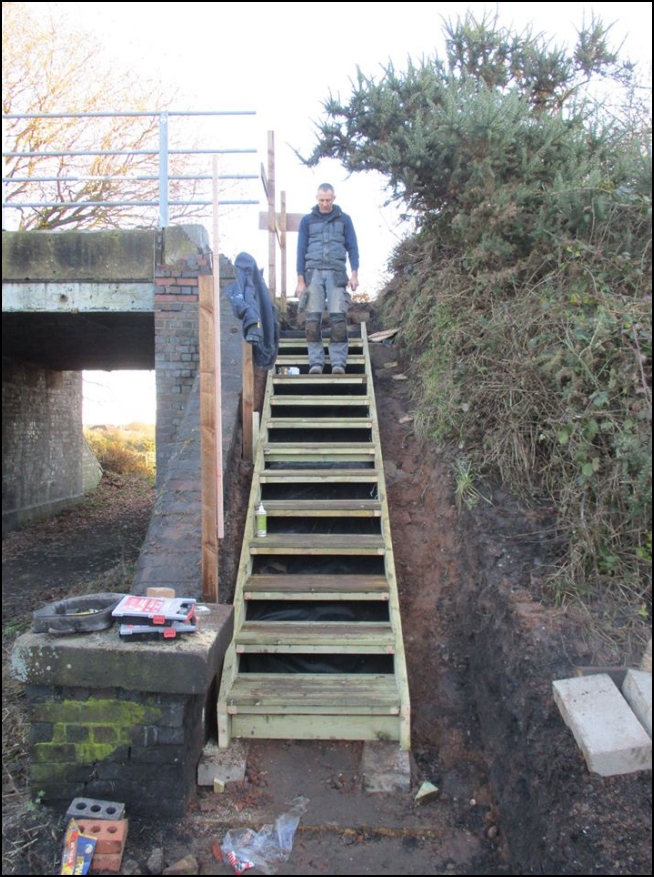 Dave Watson at work building the steps and repairing the bridge at Bullows Road.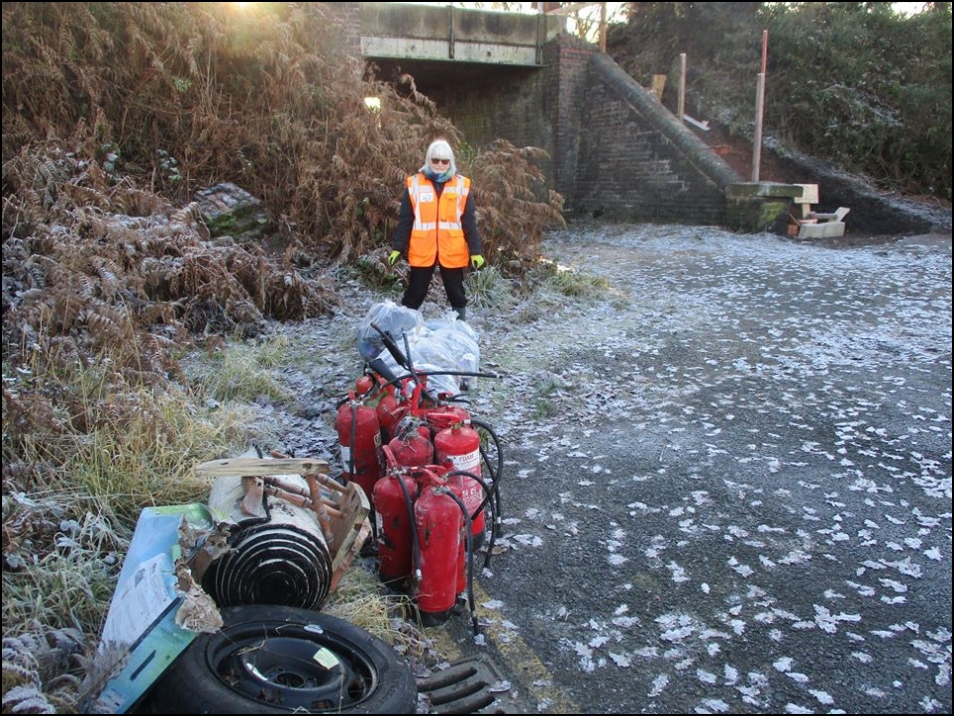 A nice haul from the undergrowth the other side of the Bullows Road bridge.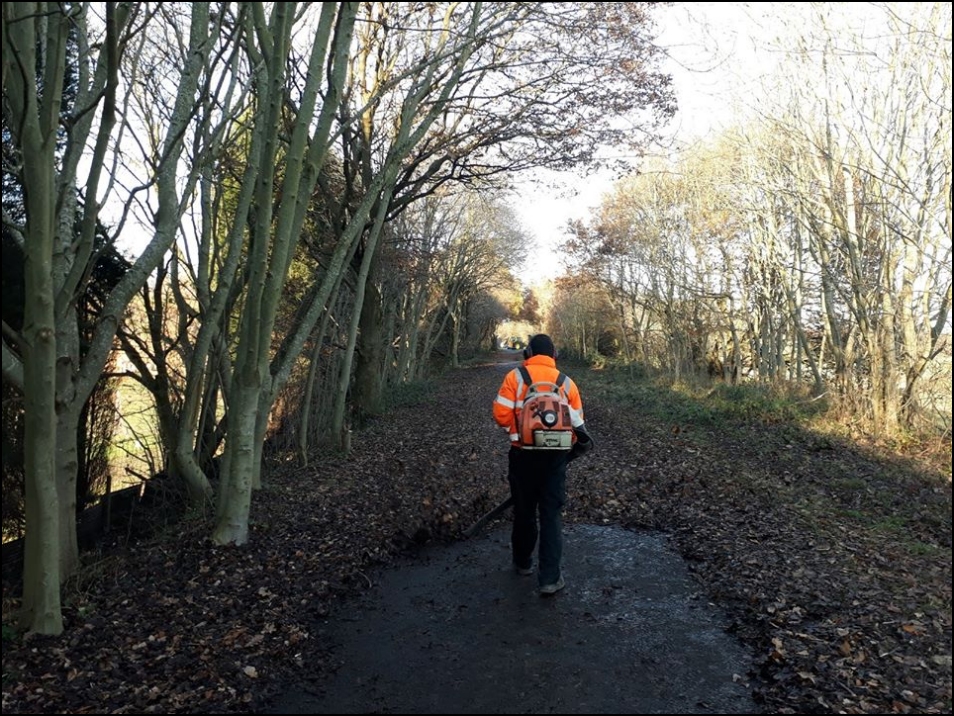 What a difference the leaf blowers made.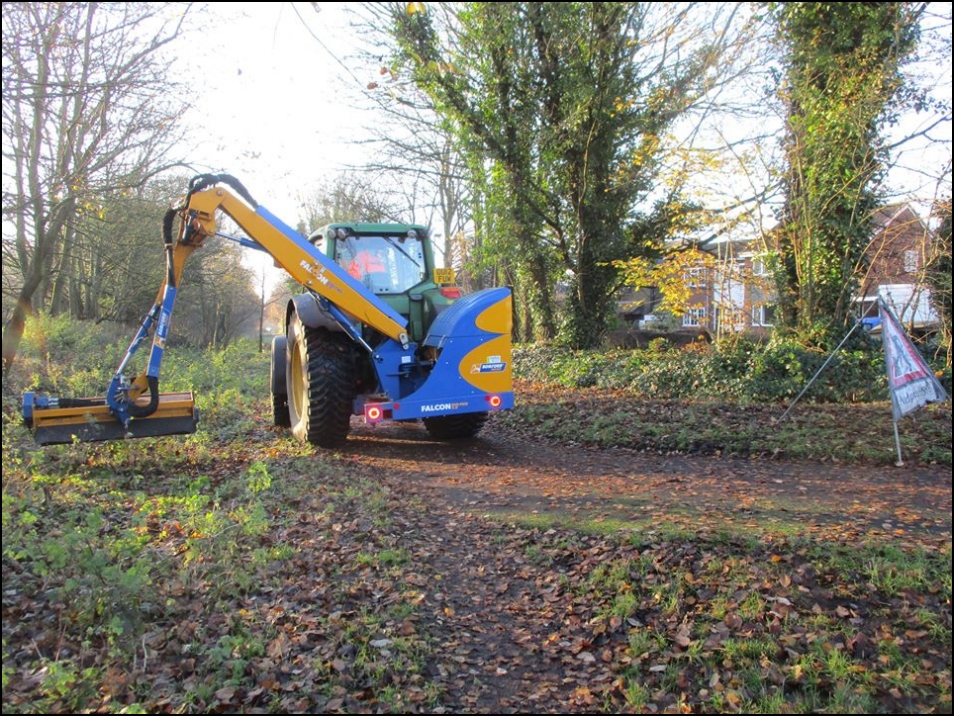 The tractor hard at work cutting back the brambles between Pelsall and Rushall.


NOVEMBER 2019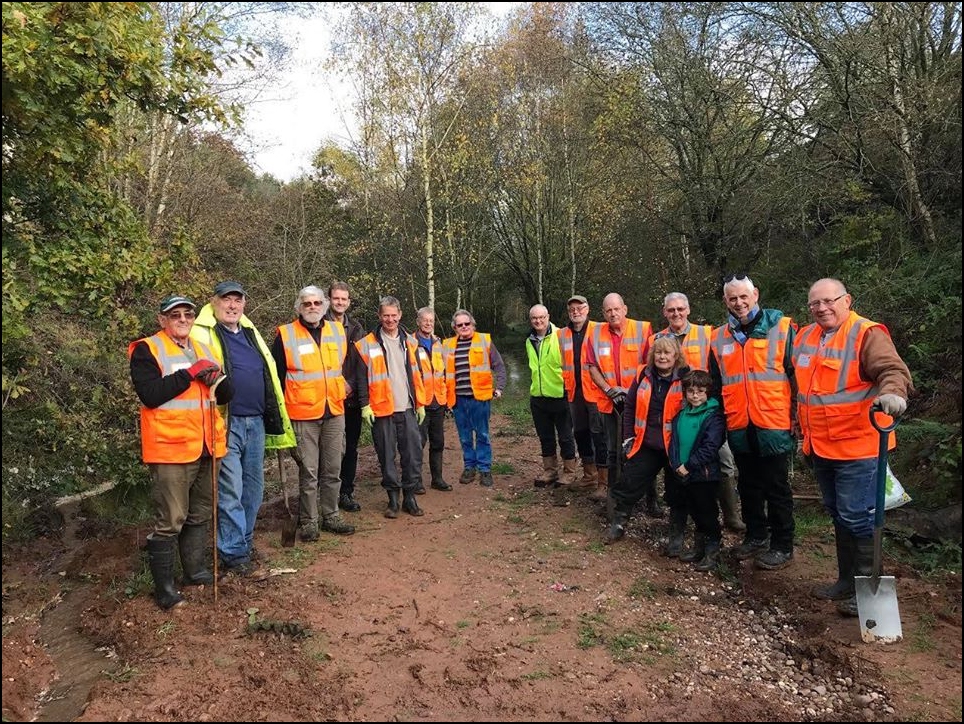 For the first time a photo of all the gang including Martin and James from SUSTRANS.
Thanks to Chloe for 'PhotoShopping' Denis in as he was off running our taxi service!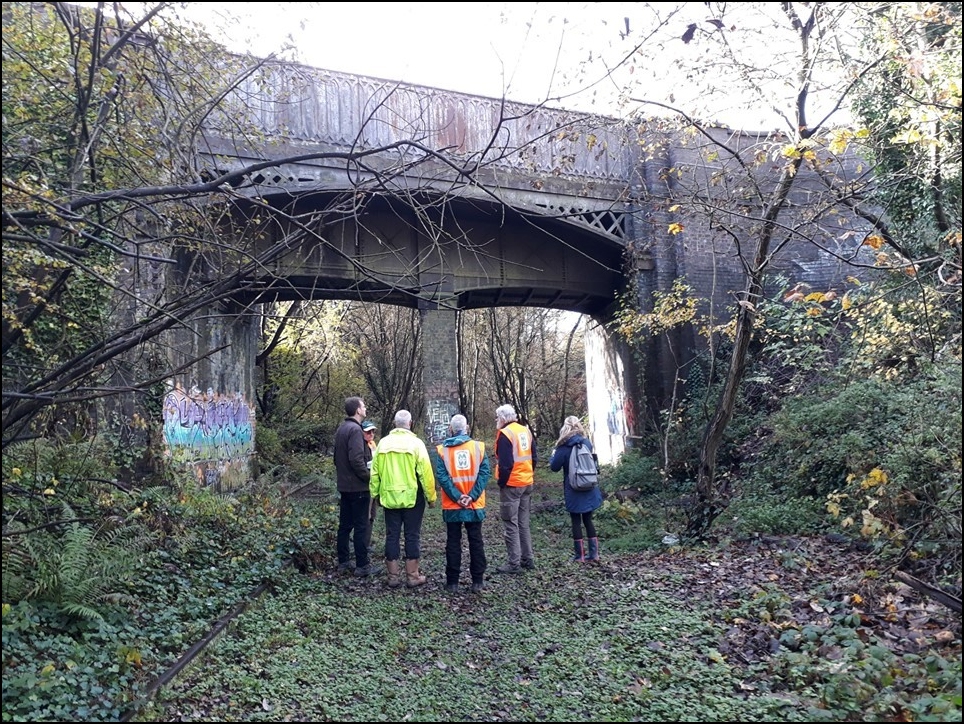 With Martin, James and Chloe from SUSTRANS looking at where we hope to start work on getting steps up to the canal towpath before Christmas. We also hope to paint this Grade 2 listed wrought iron aqueduct.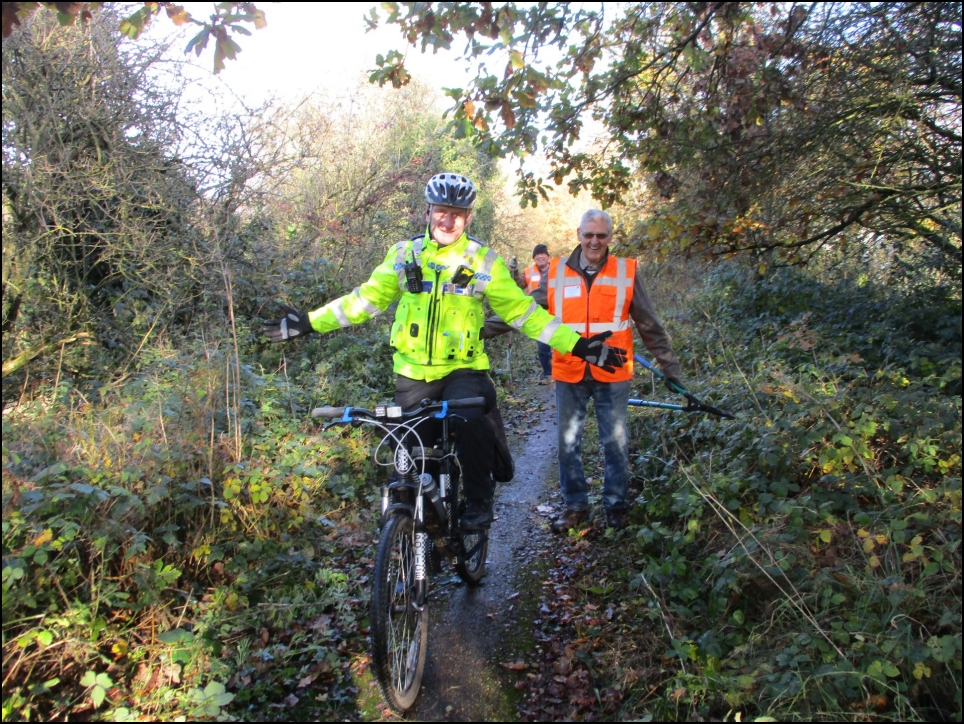 An unexpected sight while clearing a section of NCN5 on an old mineral line.

OCTOBER 2019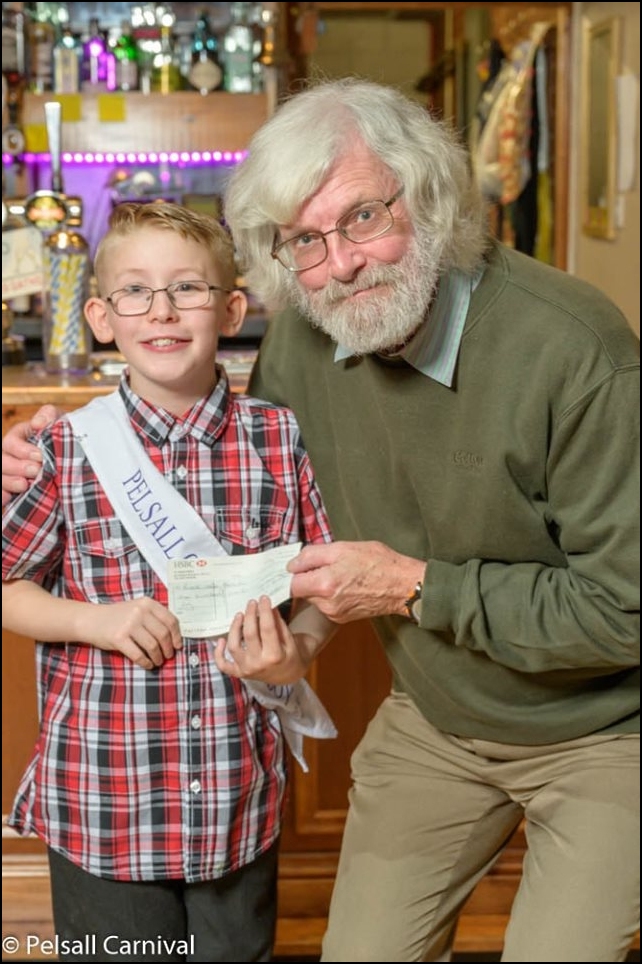 Thank you to Pelsall Carnival Committee for including us in this years share of the proceeds. We were presented with a cheque for £100 by Page Boy, Kenzie. We'll use it to buy more bird and bat boxes.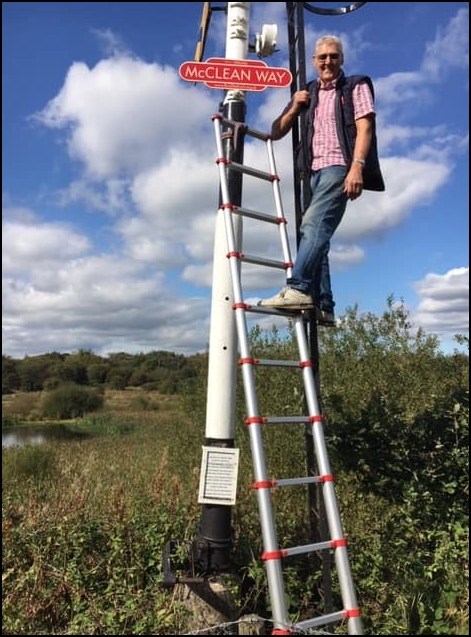 Barry braved Hurricane Lorenzo, strapped the ladder on tightly and installed out new sign.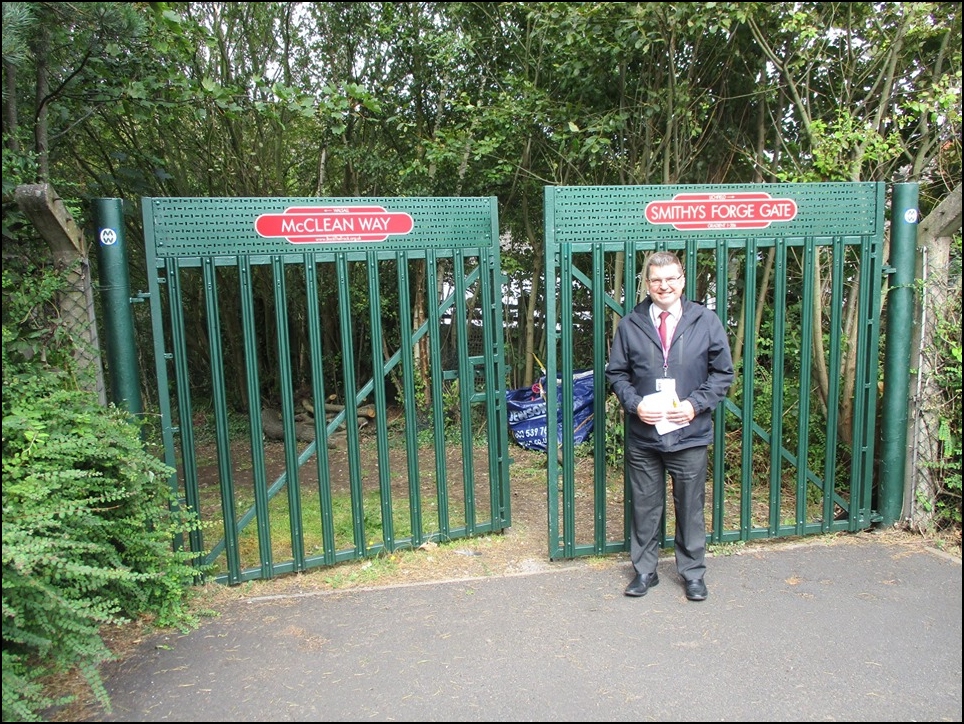 John Morris, Localities Manager (East) admiring our new gate signs.


SEPTEMBER 2019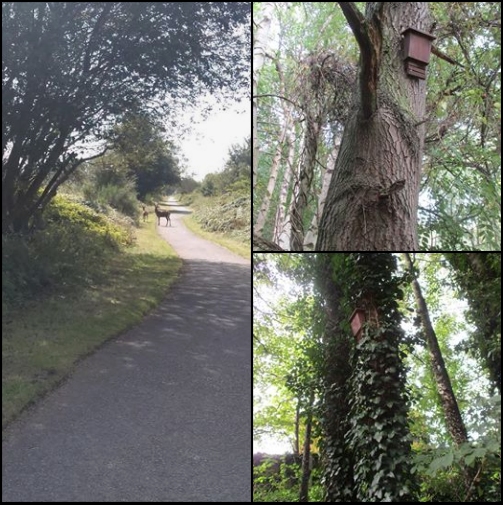 Sim, the SUSTRANS ecologist, joined us to help with our bat boxes and a few deer came for a look.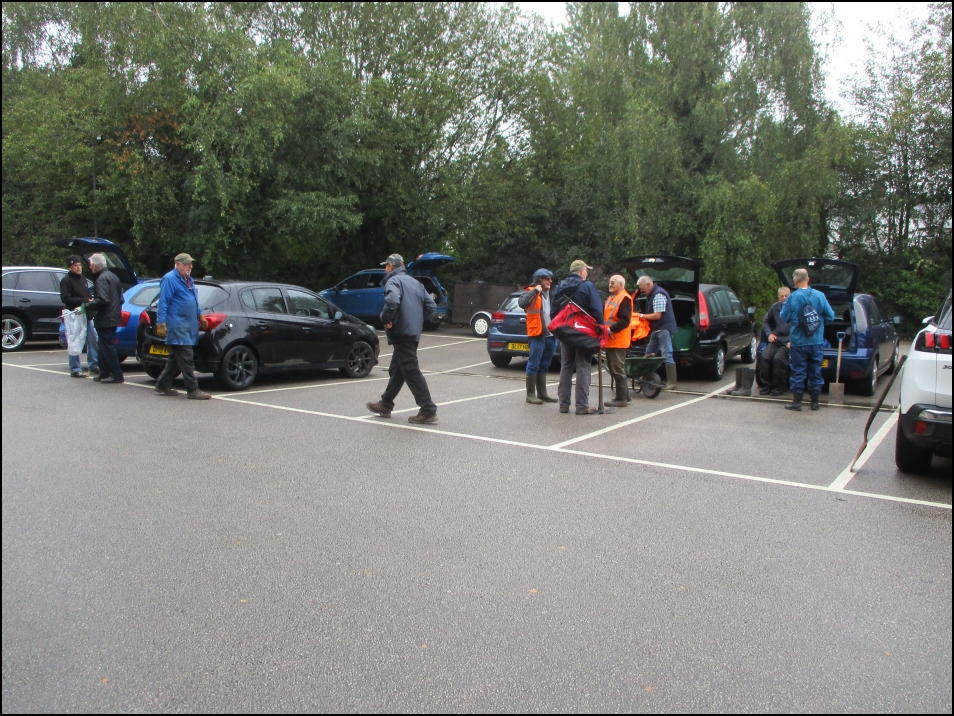 16/09/2019 A good turnout in spite of it being wet, lots of different jobs to do.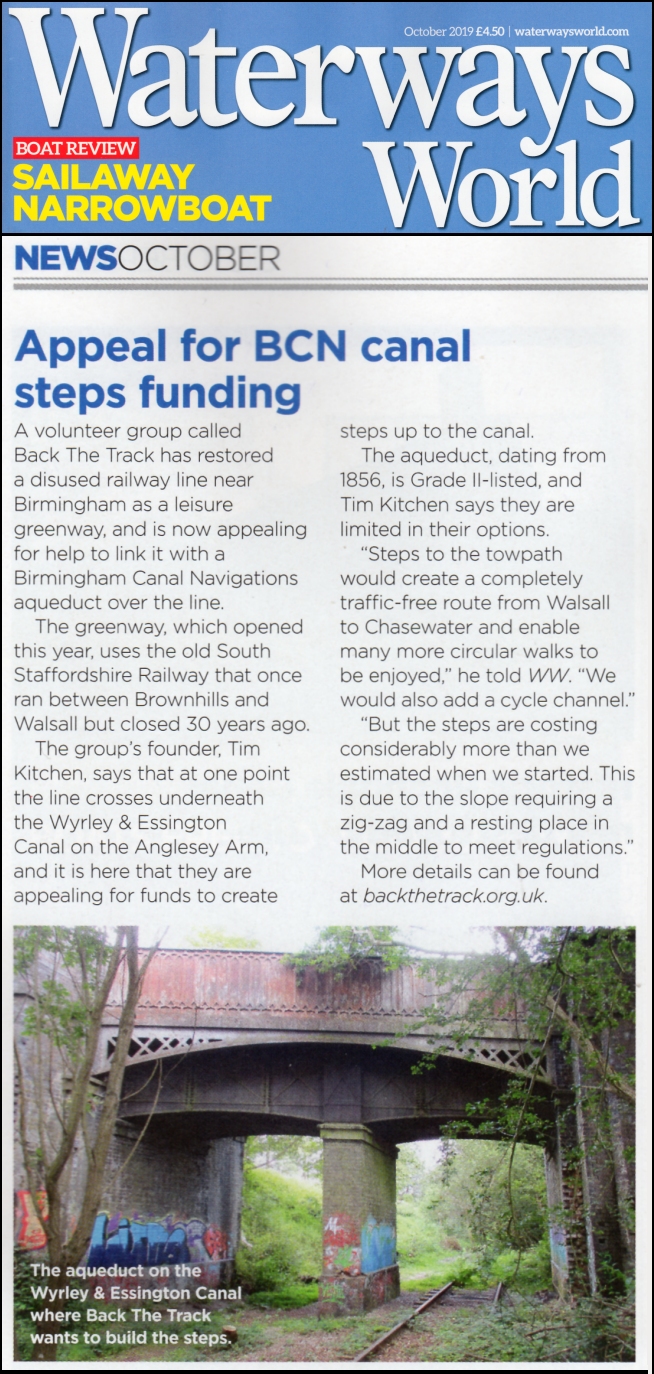 The second magazine we appeared in this month.
(In case you are looking for it our donate button is at the top of this page - thank you)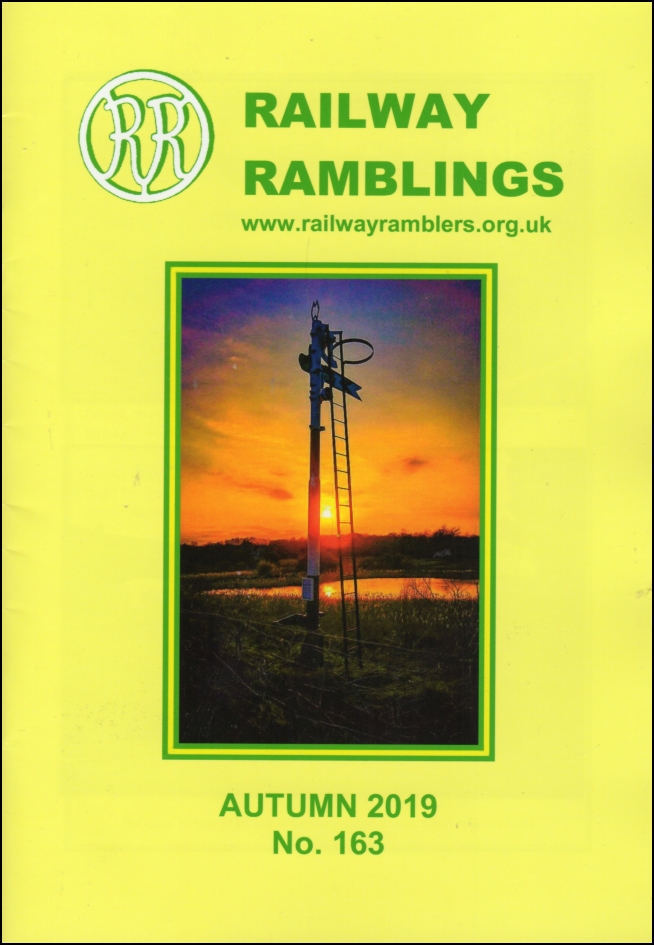 Martyn Arrowsmith's photo of our signal at sunset.

AUGUST 2019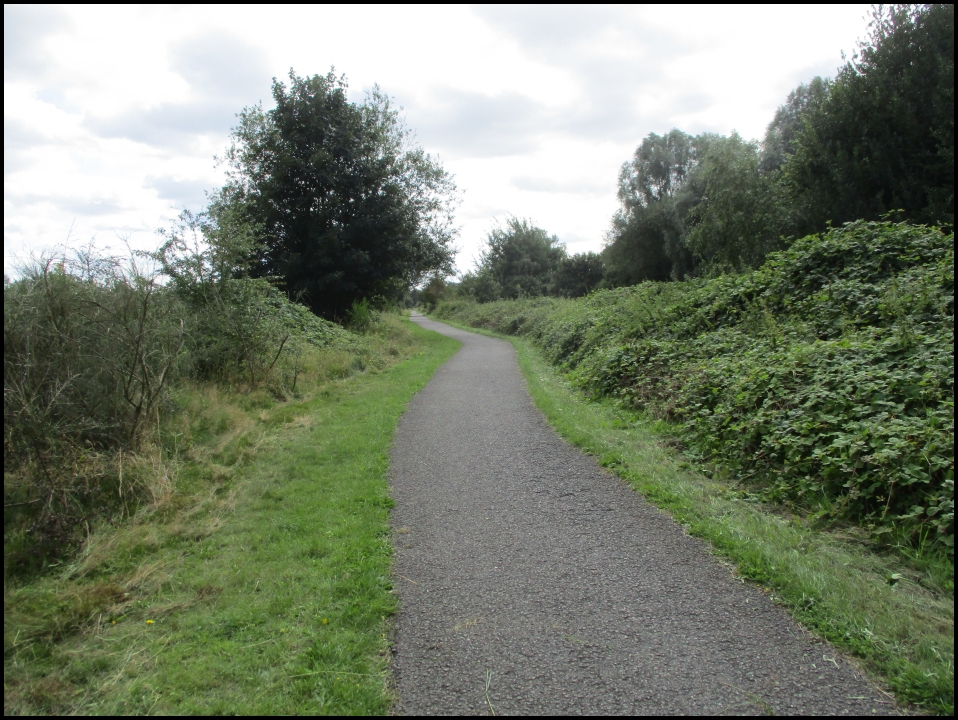 15/08/2019 The results of all the hard work with the scythe from Heath End to Rushall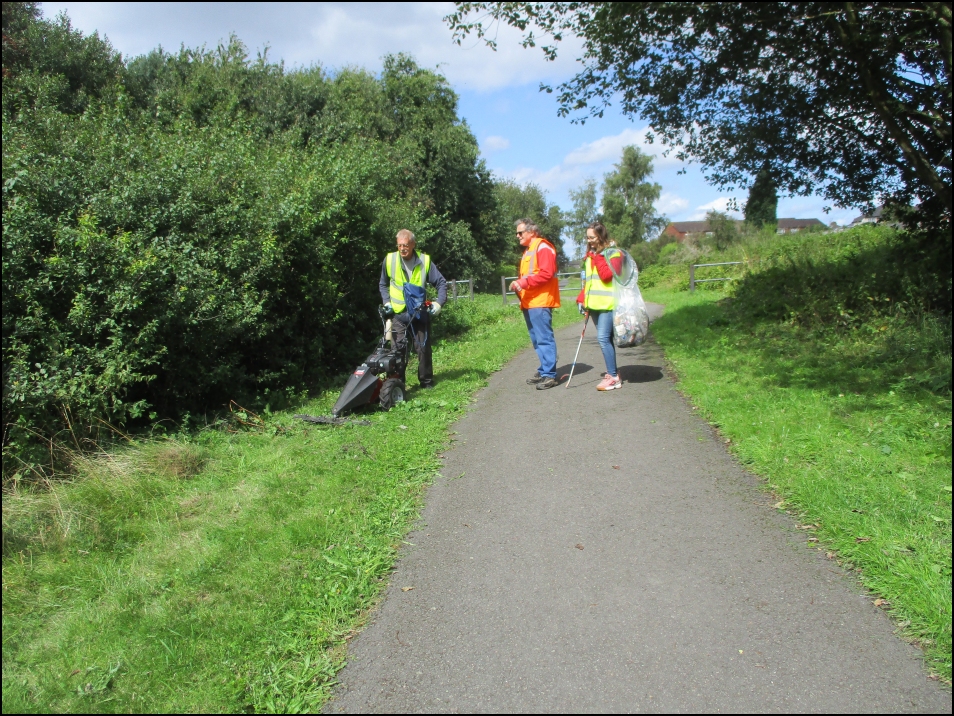 15/08/2019 Denis and Molly supervising Bob with the scythe.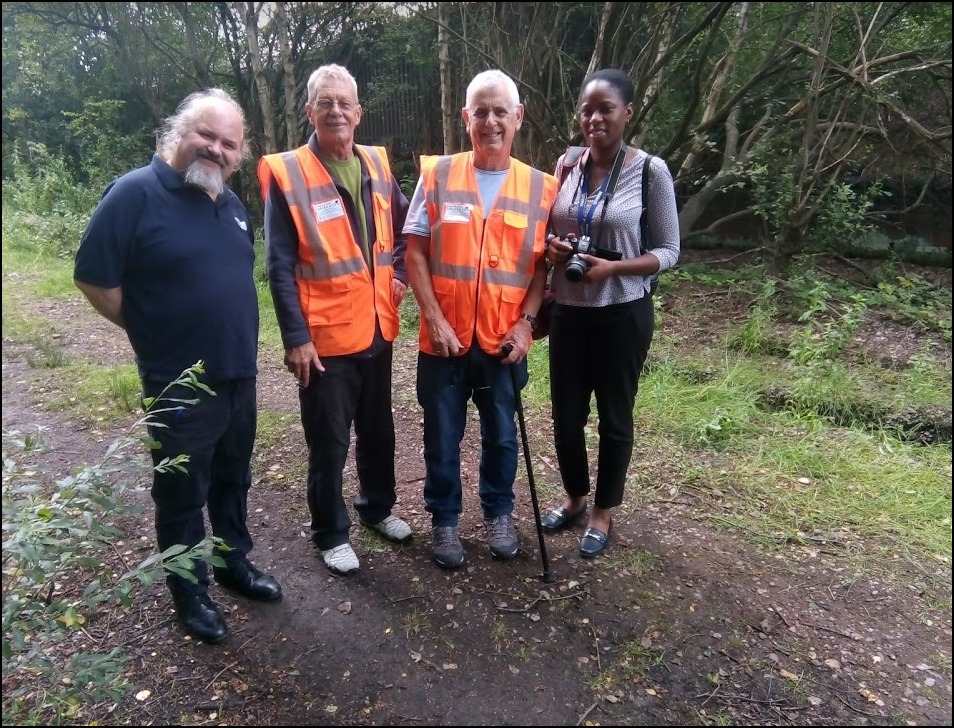 Showing Ian and Nisha the track as the M6Toll very generously gave us £1,500 towards a storage facility.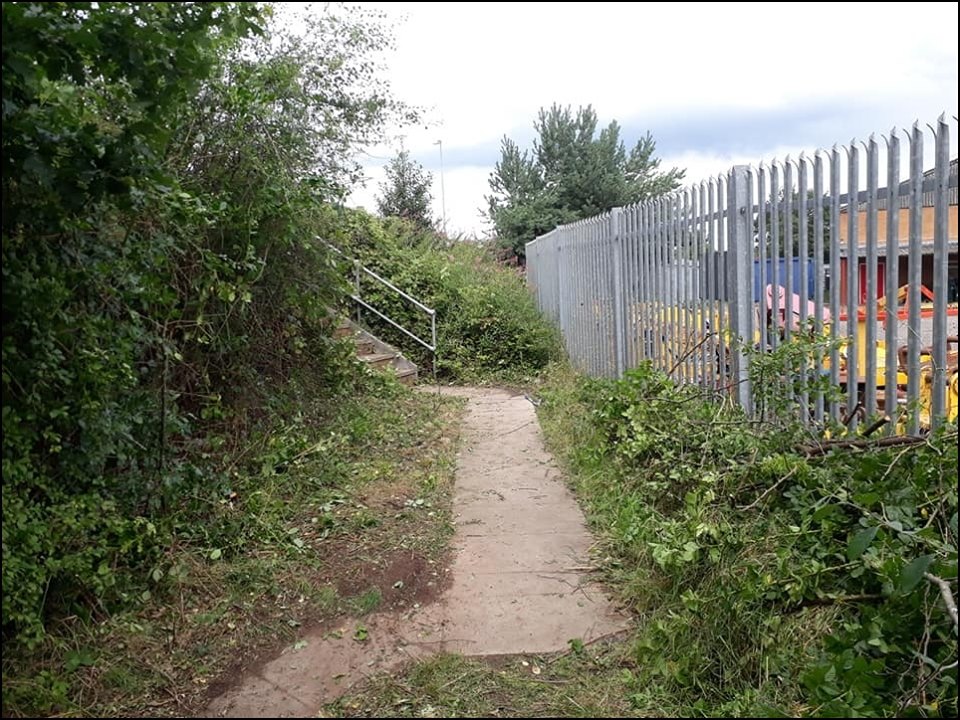 What a difference a few hours make clearing back by Quattro the path has reappeared.

JULY 2019

When Ian Henderson of 'Hendrone' asked if we would like video of the track we jumped at the chance to see it from a different angle. Click on the picture to go for a virtual flight along the McClean Way.



On Sunday 14th July we are hoping to have a community workday to trim back encroaching vegetation so if anyone would like to take part we are meeting up at Smithys Forge at 10.30. If you are interested please bring tools like loppers, litter pickers, secateurs, hedge clippers, gloves, rakes and sturdy boots.


JUNE 2019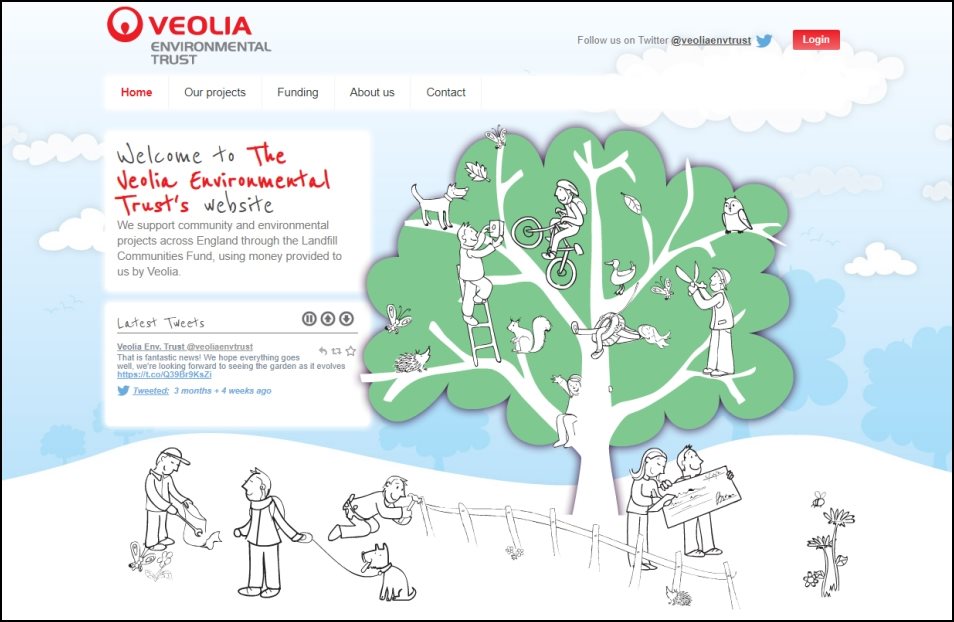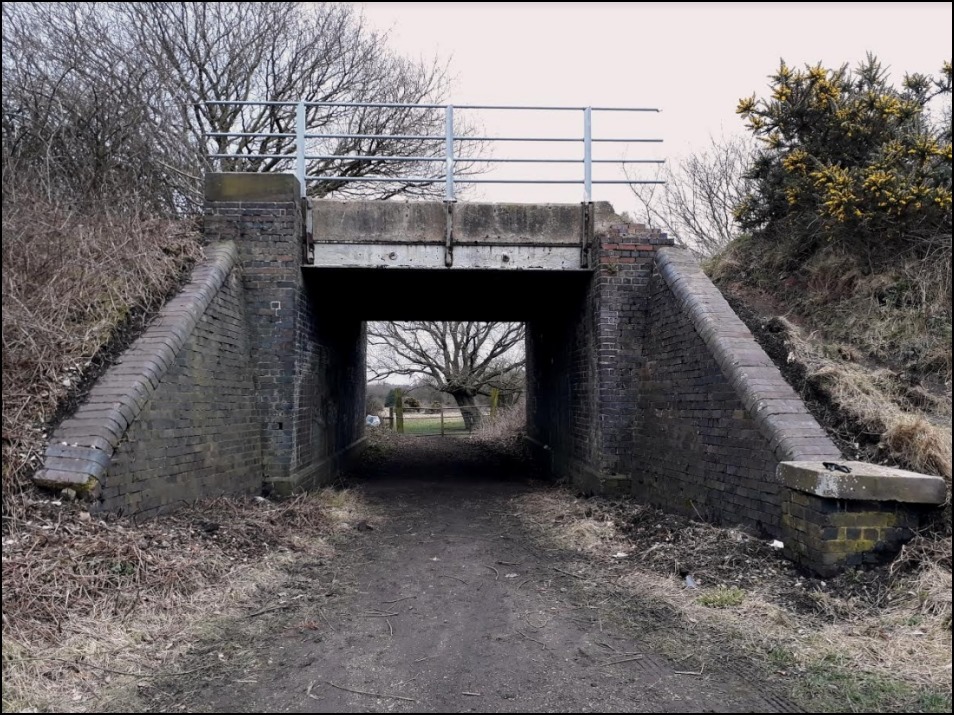 FANTASTIC NEWS. We've just been told we have the funds from Veolia to repair Bullows Road Bridge plus build steps/cycle ramp up the side and it's all down to you and your expressions of support from the local community which swung it. We were told it was by far the most publicly supported application they had received and so a very big 'Thank You' to you, Veolia and Railway Paths Ltd for backing us.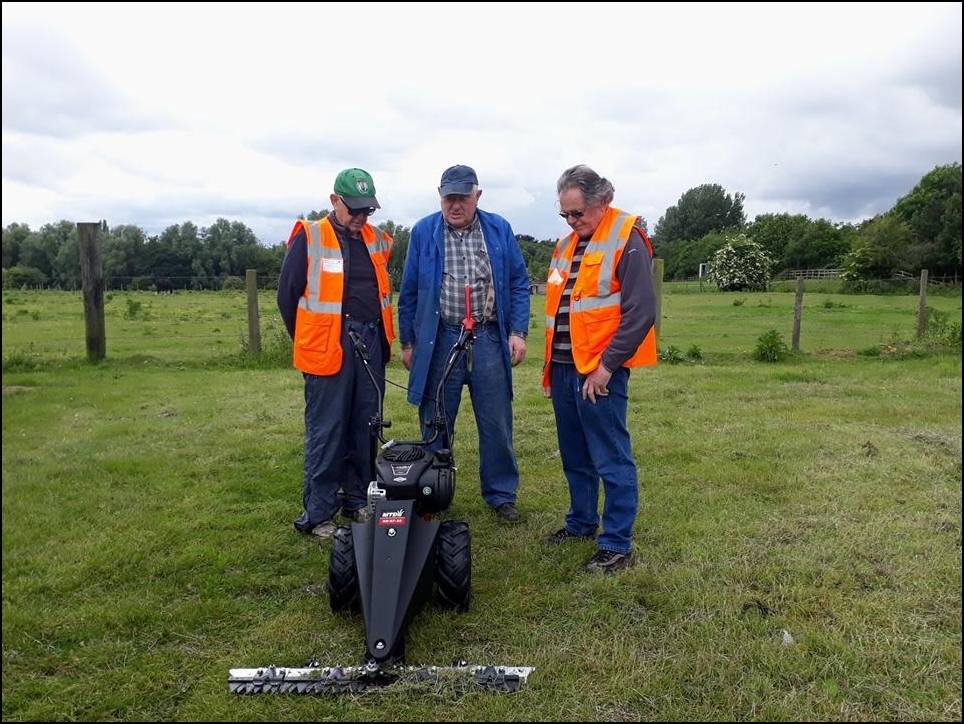 We now have our powered scythe donated by the Co-op Community Fund.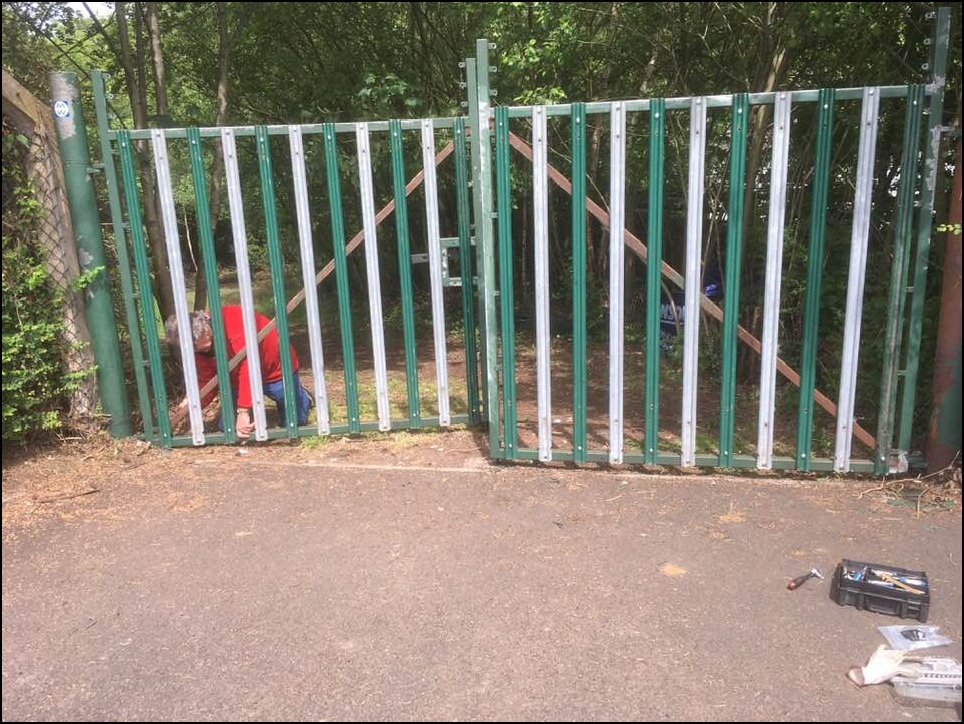 Working on the 'new' gates by Smithy's Forge
MAY 2019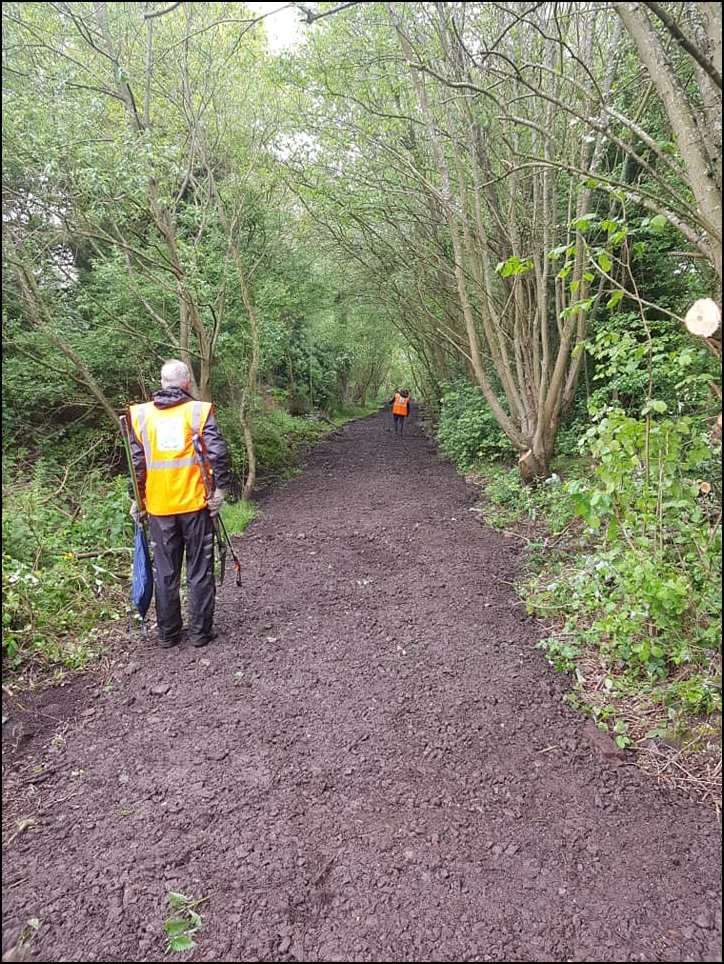 After the ballast was levelled, now to see where the water goes!

07/05/19 We starting work on the muddy section by the Swan entrance. As we are not allowed to bring anything on to the track we are having to move existing piles of ballast around. Please bear with us while this takes place.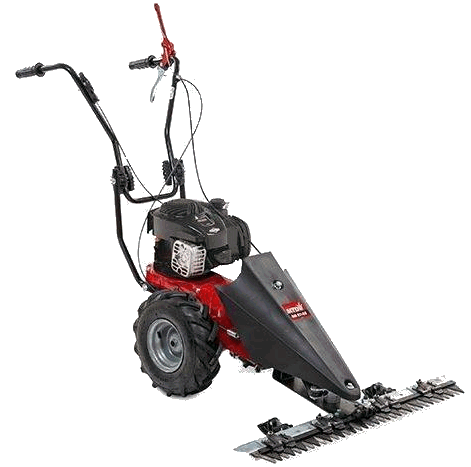 We would like to say a big 'Thank You' to the Midcounties Co-operative Community Fund who have awarded us £750 which will fully fund the cost of a self propelled powered scythe to help tackle the grass borders.

APRIL 2019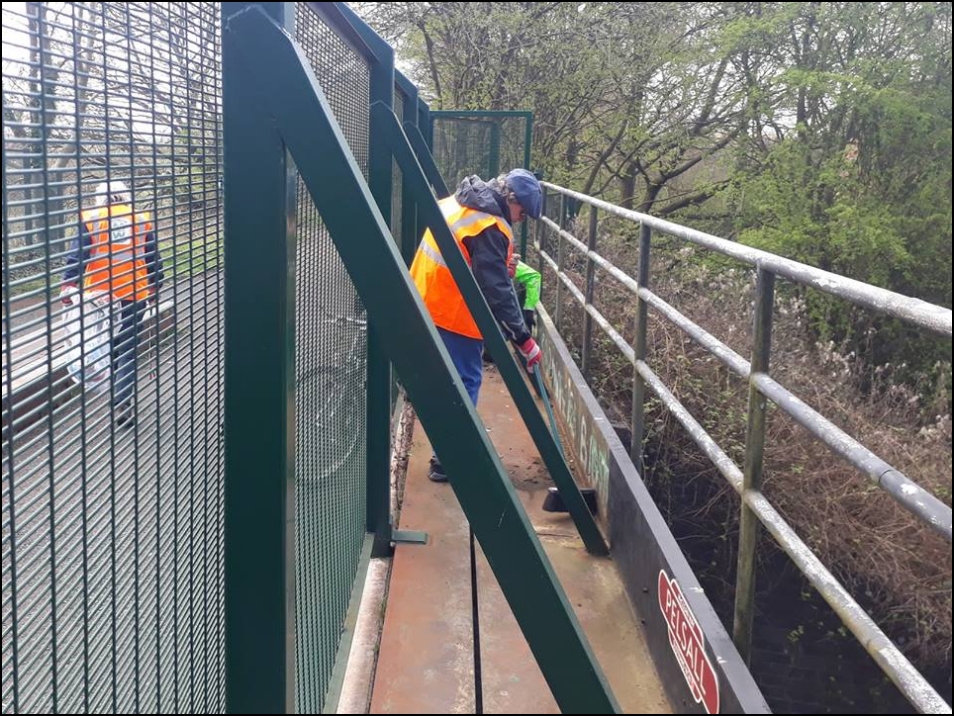 10/04/19 Tidy up the Vicarage Road Bridge before covering up the garffiti.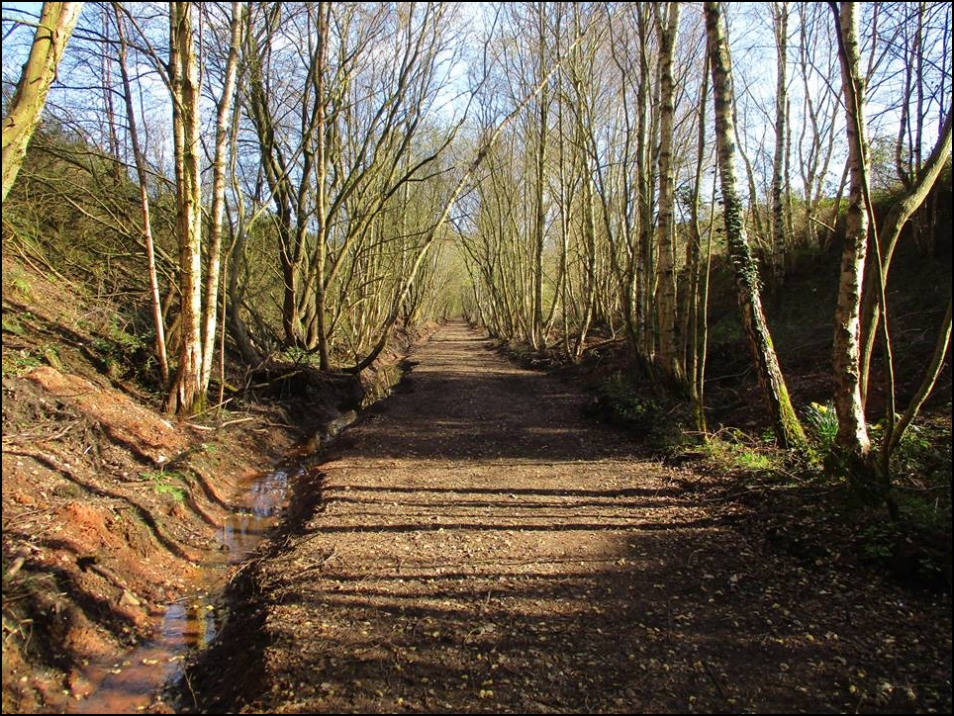 01/04/19 Looking towards the A5 with the track drying out, waiting for the leaves to appear.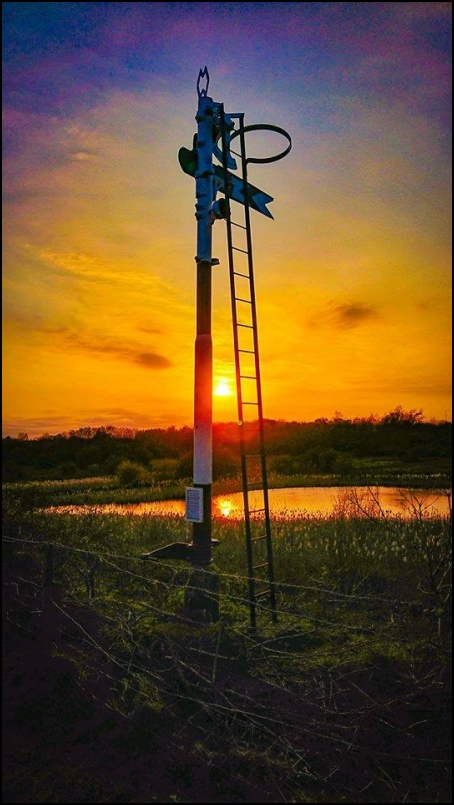 Thank you to Martyn Arrowsmith for this stunning photo of the signal at sunset.
MARCH 2019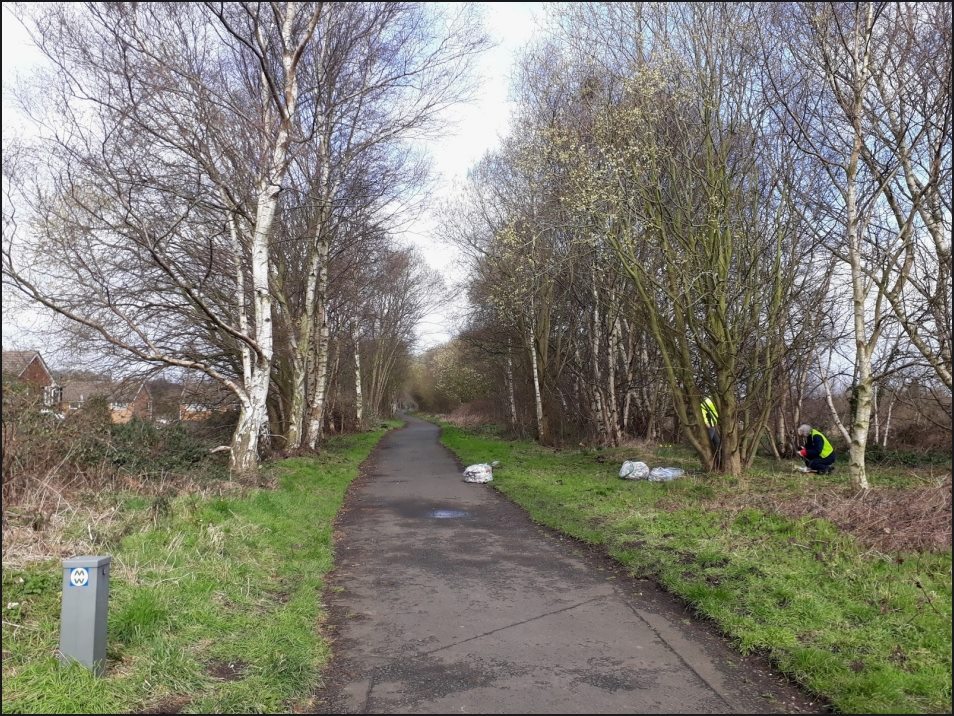 Not just extending but maintaining and enhancing with nearly 200 bulbs planted.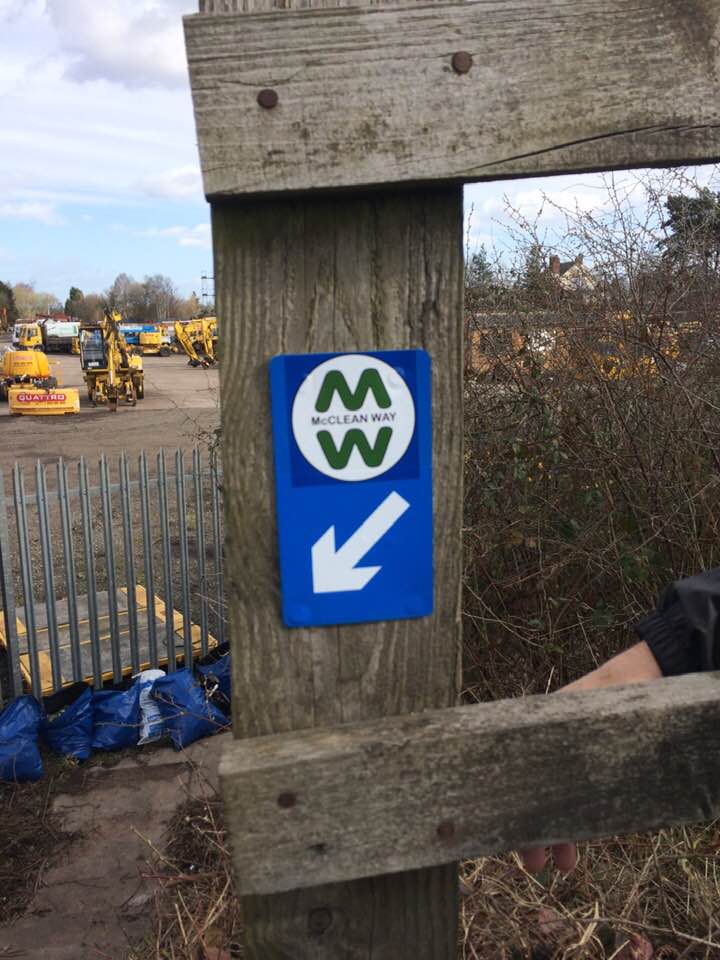 The 'McClean Way' signage going up along the track.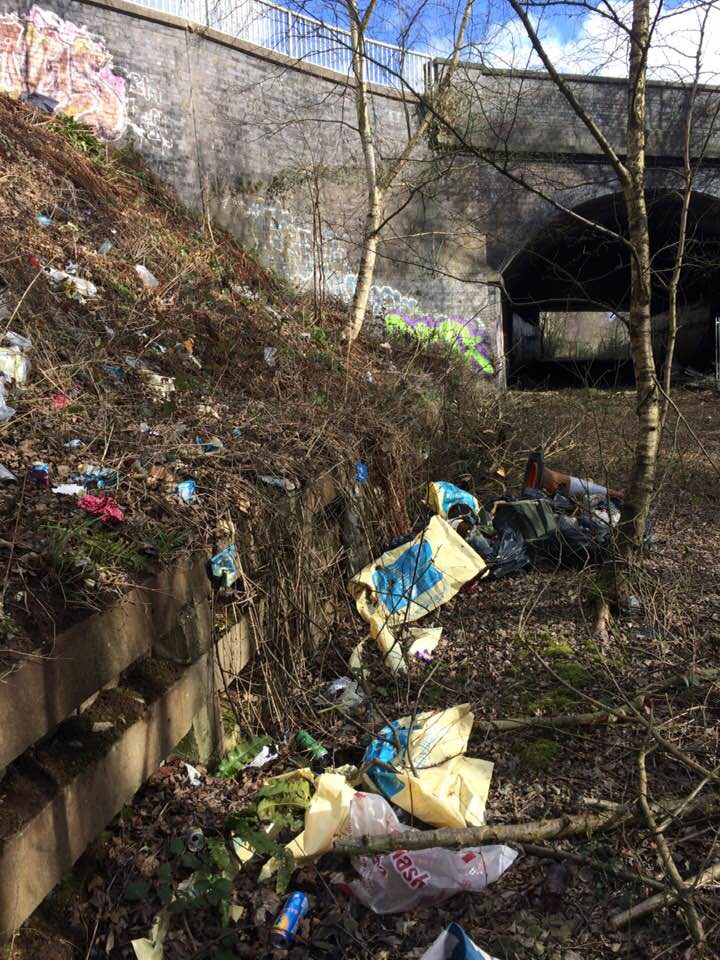 Rubbish to be collected between the canal aqueduct and the A5 Bridge.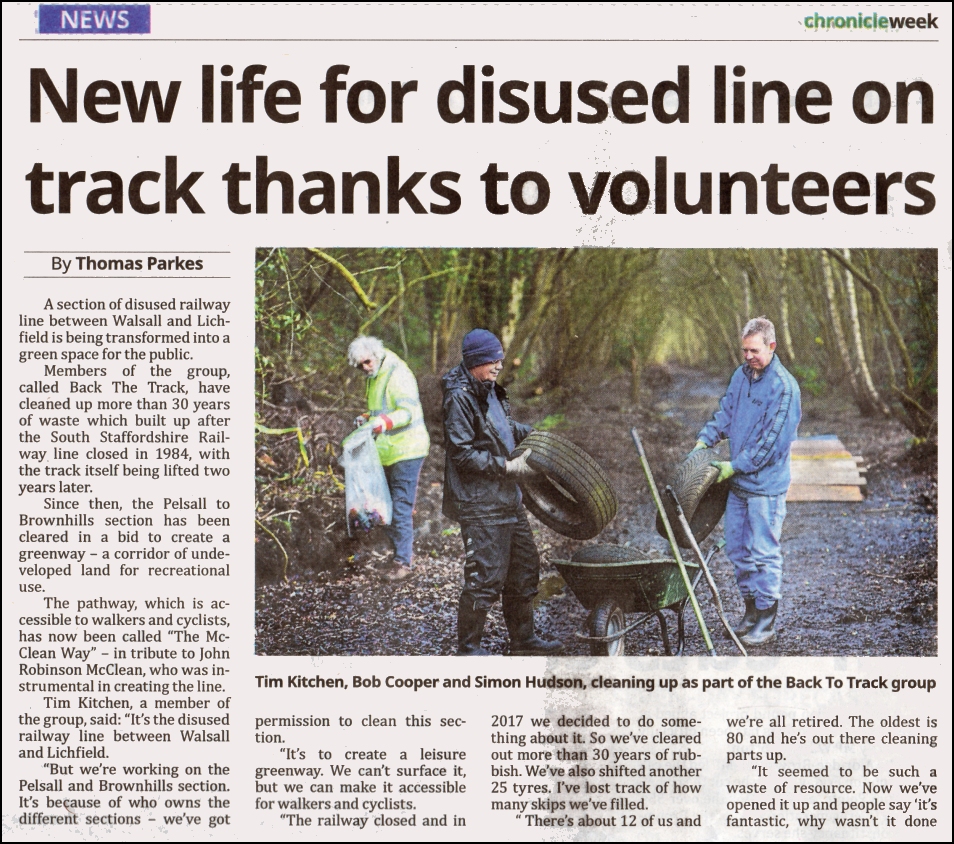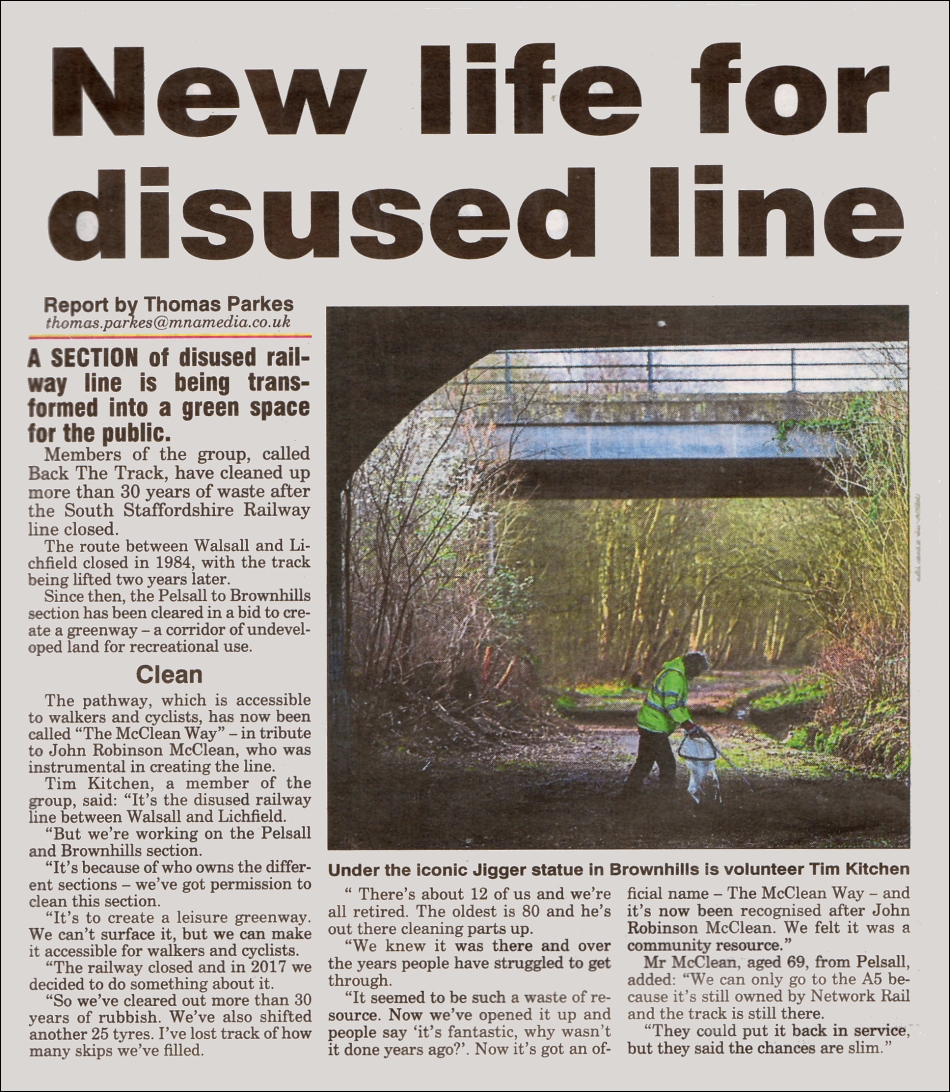 We made the local papers again.

FEBRUARY 2019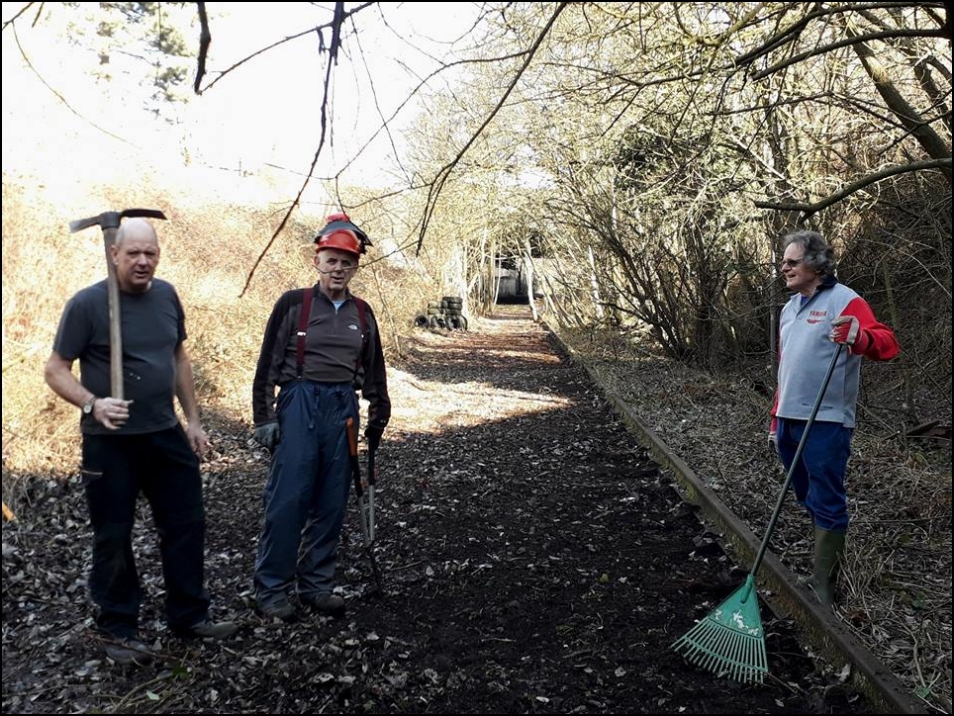 Paul, Mick and Denis and a fantastic example of their hard work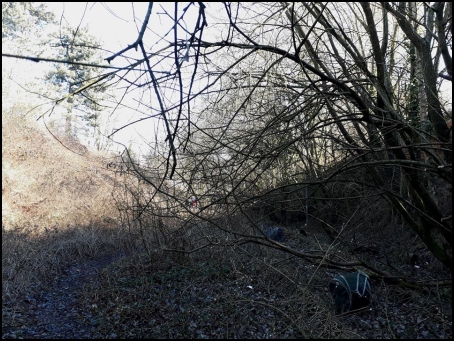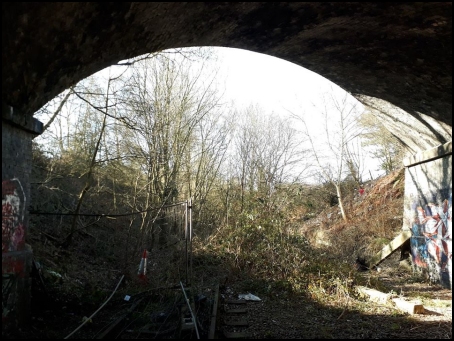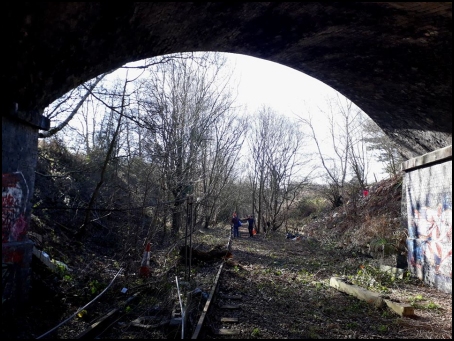 Some before and after photos taken by the canal bridge.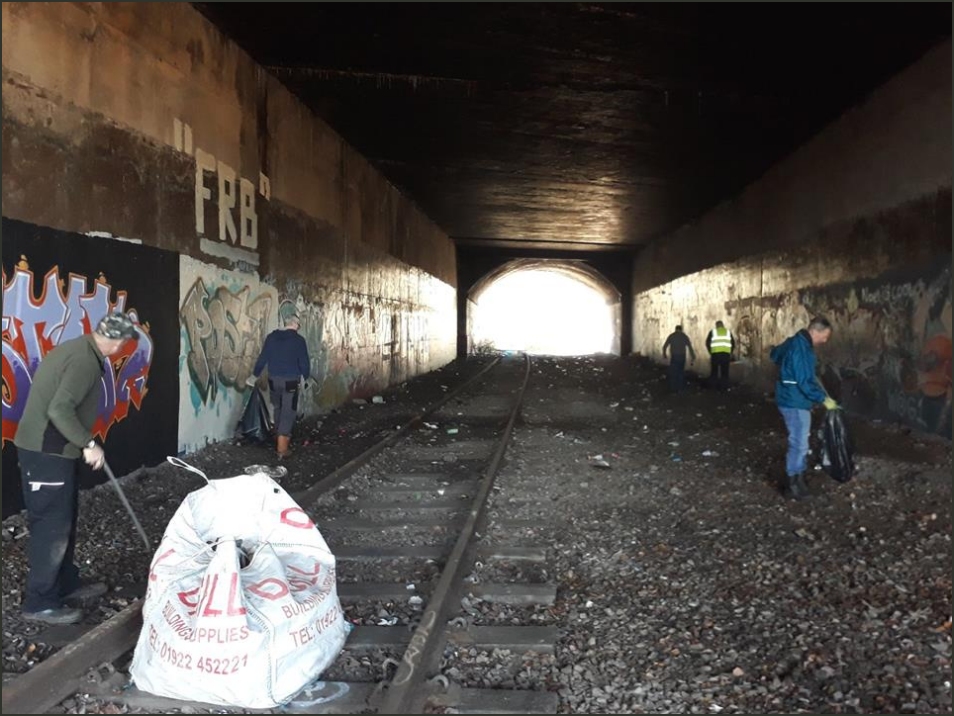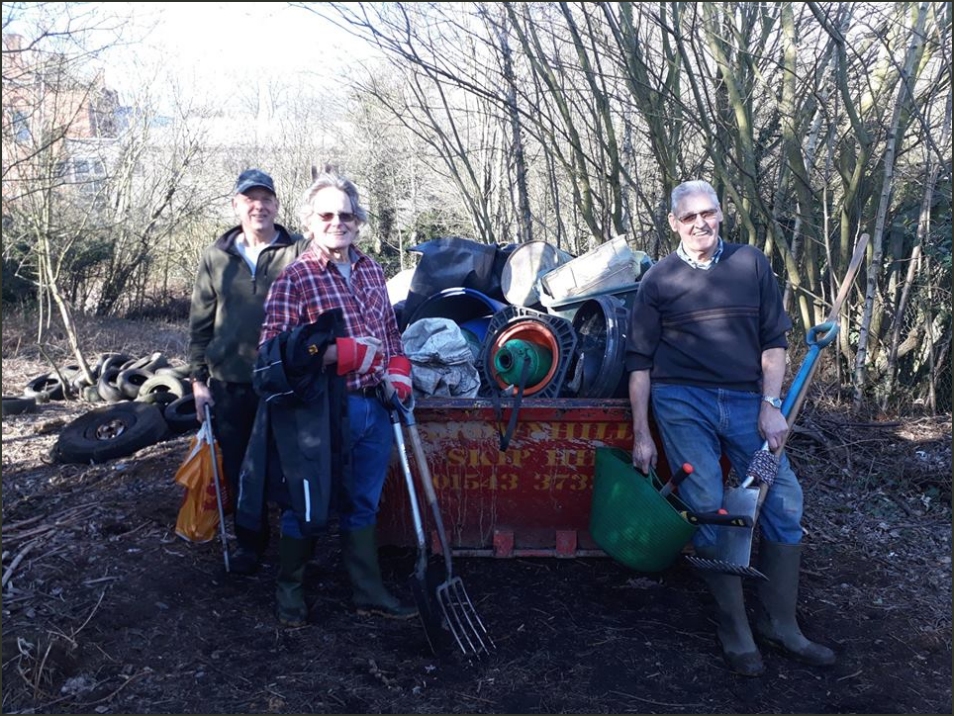 Now we have had it confirmed that the stretch we look after ends just north of the A5 bridge (and not the canal as we originally thought) the team were out clearing under it plus filling the skip by Smithy's.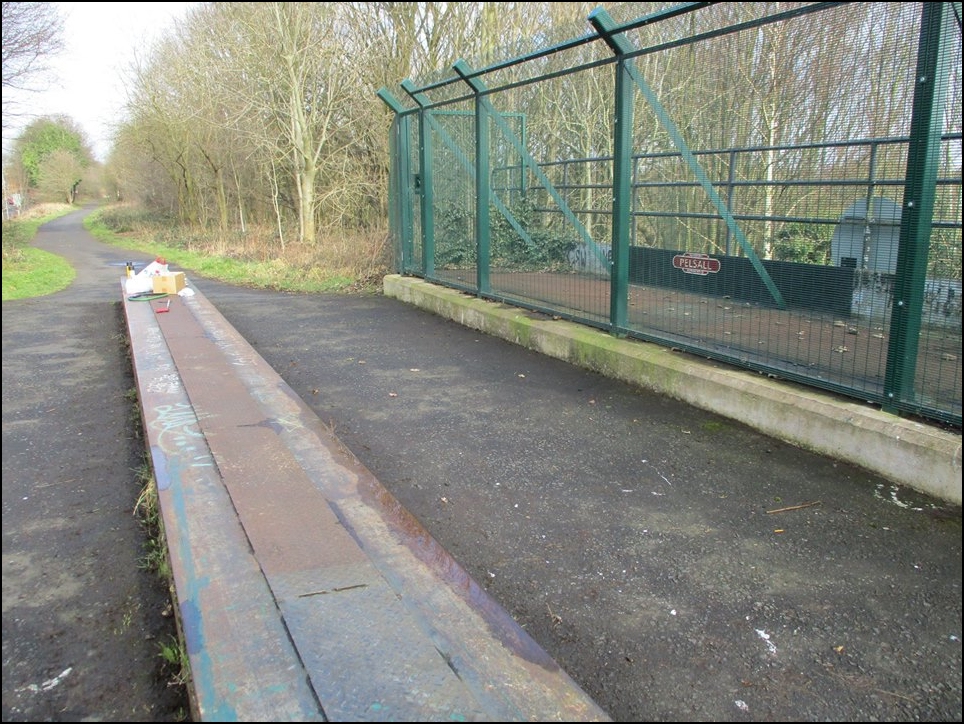 Thanks to a generous donation from Mike Rhodes we now have replica signs on the Vicarage Road bridge.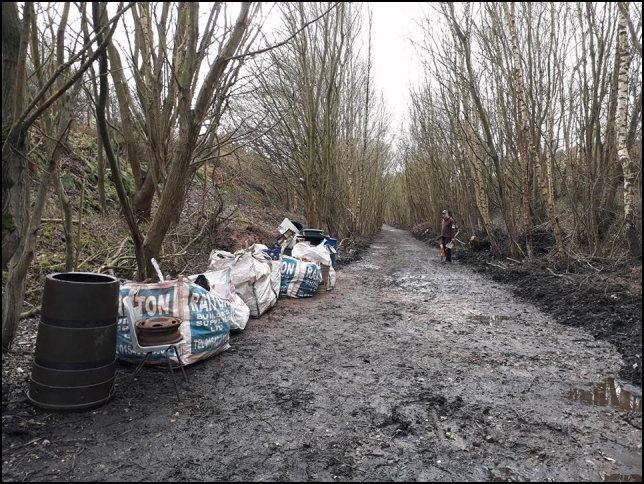 The team have been hard a work collecting rubbish and tyres towards the A5.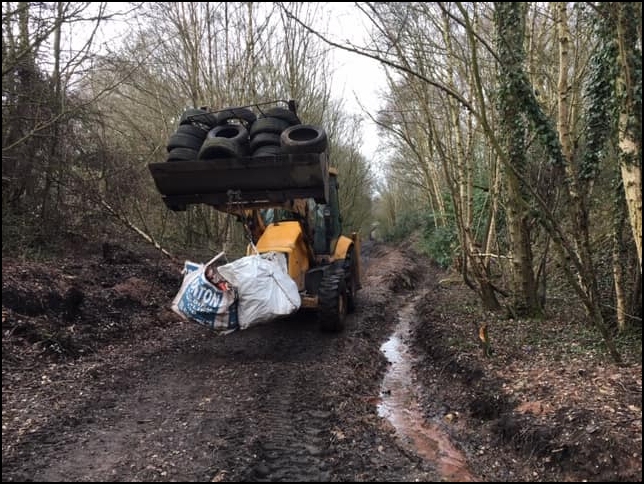 Carl saved us hours of back breaking work up to Smithy's ready for the skip.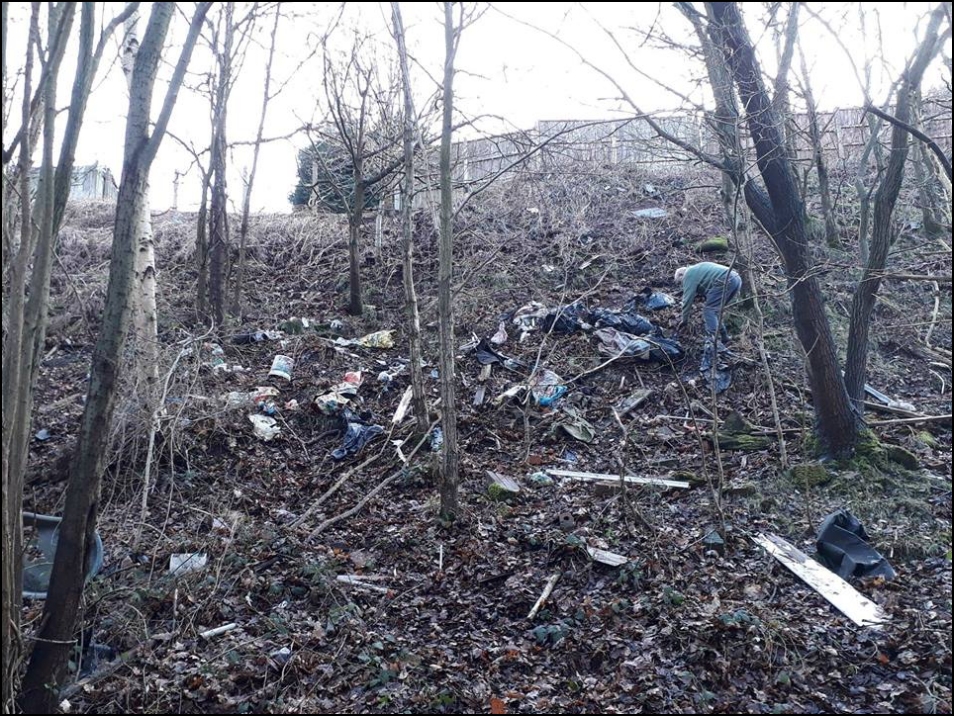 Now to start clearing the years of rubbish thrown onto the track to the north of Brownhills.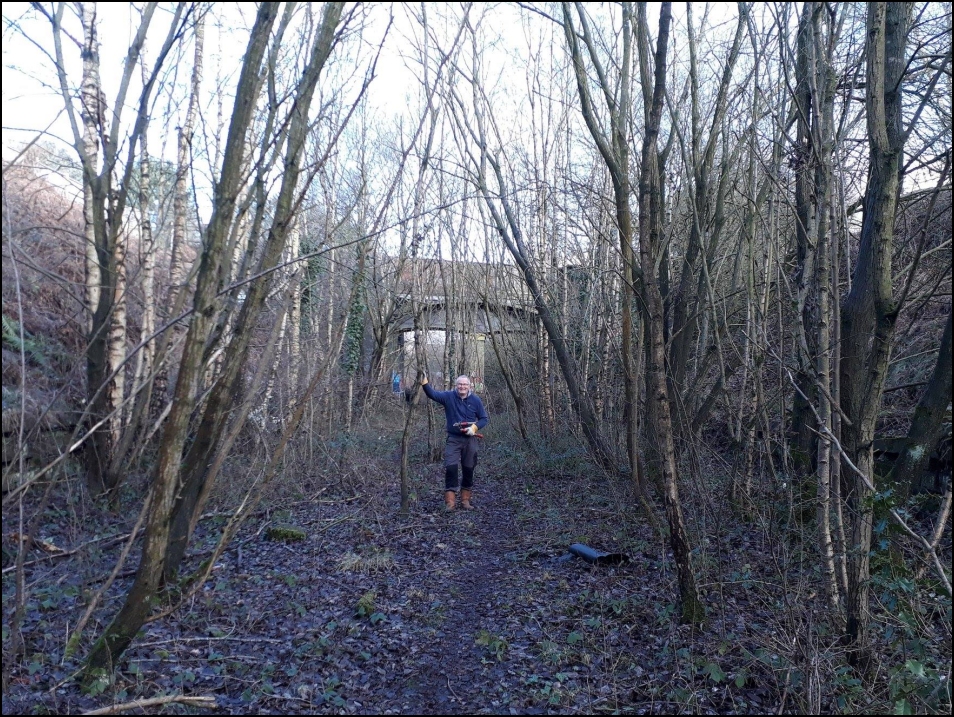 The canal bridge is in sight and easily accessible from Brownh
ills.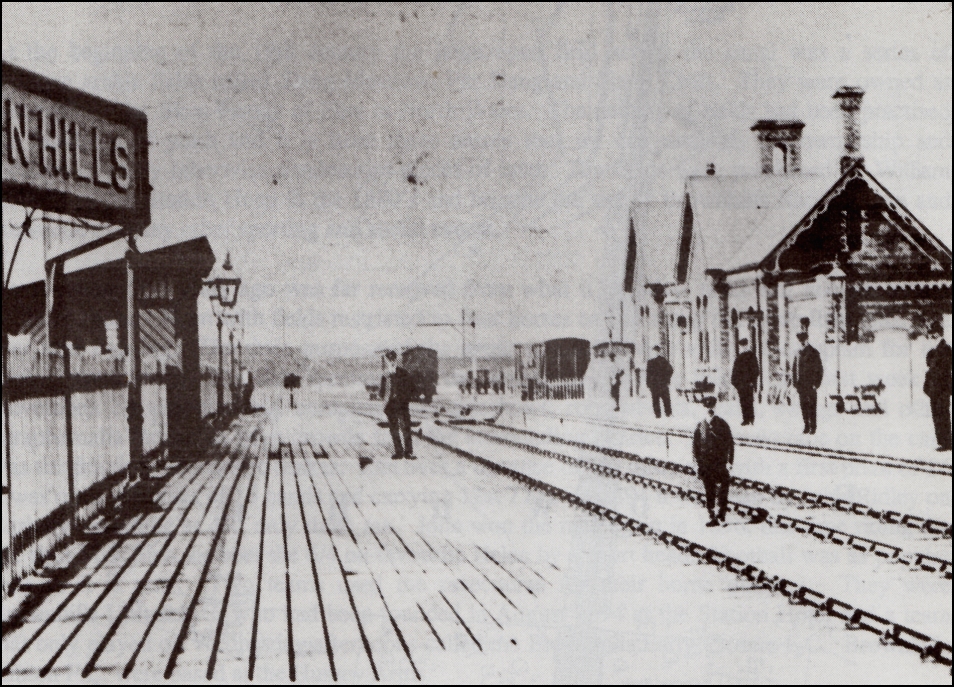 Brownhills Station as it appeared in .....?
JANUARY 2019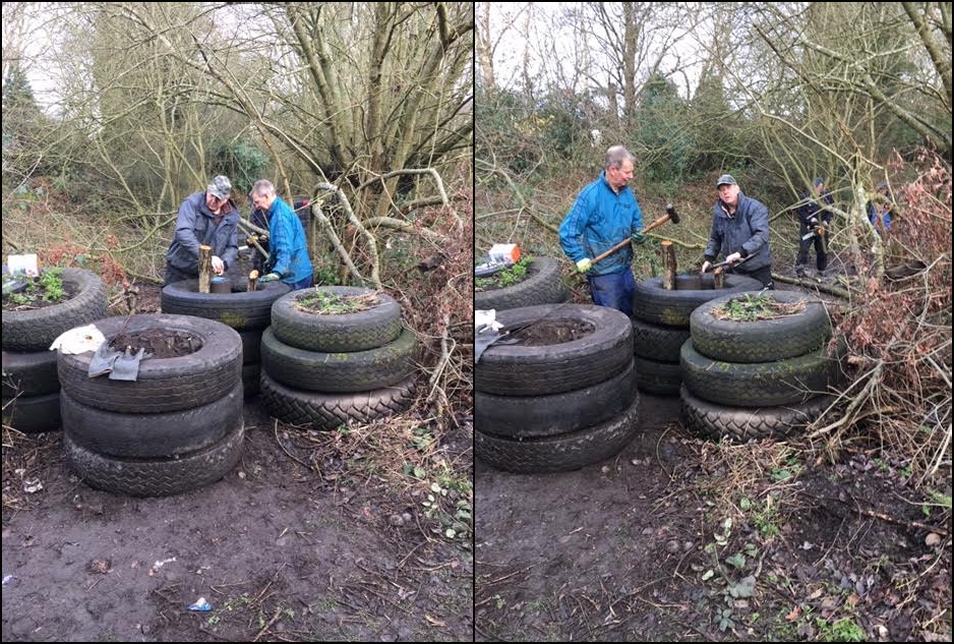 Due to the unauthorised removal of the posts at 'The Swan' end we have replaced them temporarily with something we hope will stop unwanted access but still allow walkers and cyclists to get through.