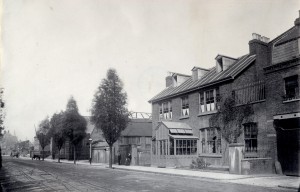 Very little is known about Carl Wilton apart from the fact he was a prolific cover artist painting numerous covers for PAN amongst others in the early 1950's. Searching on-line I found several references to a Carl Wilton living at 8a Wentworth Studios, Manresa Road, Chelsea in the mid 30's (where Dylan Thomas lived during the war) This Carl Wilton appears to have moved in the late 40's and early 50's to 5c Chenil Studios, Kings Road, Chelsea. Click HERE to see the original artwork for 23 Wilton PAN titles.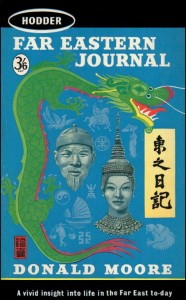 The reason I mention Carl was that I have just picked up some original artwork by him from 1960 though not for PAN but Hodder and Stoughton. There is a link between these two companies because as from the 3rd May 1947 PAN had the financial backing and titles it needed to expand thanks to help from these three major publishers, Collins, Macmillan and Hodder & Stoughton. Shortly afterwards a fourth, William Heinemann, joined them. Hodder had been reluctant until Alan Bott finally persuaded Hodder & Stoughton's Editorial Director Leonard Cutts to join and Ralph Hodder-Williams was nominated to the Pan Board.
If anyone can add any information about Carl Wilton a lot of people would be very pleased especially post 1957 when he seems to have disappeared, possibly died, but I can find no record of this event.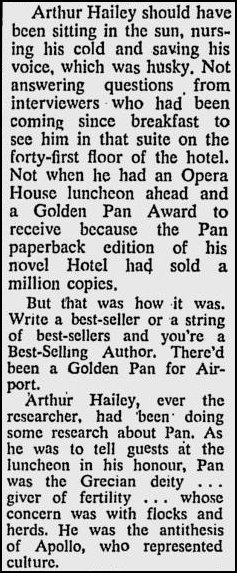 Just found the following cutting from the Sidney Morning Herald from July 21st 1976 mentioning the 'Golden PAN Award' set up in June 1964 by PAN Books for authors selling over a million copies of a title. I'm currently attempting to compile a list of all award winners with their book titles but I think I'm going to have to bite the bullet and consult PAN to see if they have a definitive list.
The main problem is that several other organisations also have awards with the same name for things like gold panning, food banks etc. plus there is also a Golden PEN Award for new writers but again used as a name by several organisations including the Nigerian Brewing Company.
I do have a standing invitation from The British Museum to let them know when I am next in London and able to visit as they will get the original Roman bronze, used by PAN as the basis for their award, out of storage in the Hamilton Collection.

Tailpiece – Just found that David Tayler has been deleted from Wikipedia. He was marked for this for some time and we tried to keep his page but it went yesterday. I'm left wondering why, when you see how many pages of dross are still on there! I'll make a page for him on this site ASAP.