Now I know I must miss lots of things PAN related but it's nice to find a couple when it's not too late thanks to a reader for one and a lucky Google search from me for the other but weirdly both sort of linked.

Just before Christmas I got a letter from fellow PAN fan, Jeremy Birch, asking if I had spotted the article in 'The Times' from 6th August 2015 regarding Denise Maxwell Woosnam who was the D M W referred to on Page 4 in the first two PAN editions of 'The Last Enemy' by Richard Hillary? My 'Times' spotter had let me down on this but luckily Jem sent me a copy of the article.


As you can see I have found five different editions published by PAN from 1956 to 1976 in the UK while in the States it was published by Dell as 'Falling Through Space' in 1958.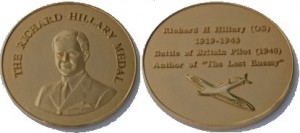 The second miss was on eBay where all my saved searches let me down and I missed a copy of the PAN catalogue from September 1969 which featured on the cover titles from the 'Battle of Britain' series of which 'The Last Enemy was' one.
'The Last Enemy' is the book in the middle bottom row of the display stand and if  d***o ever wants to sell, you know where to find me! It was a bargain as they were the only bidder so it went for £5
And just to show I wasn't immediately jumping on the Bowie bandwagon last week here is 'The Man Who Fell to Earth' by Walter Tevis from 1976. Actually it was because I haven't been able to find my copy so until I do here's one from the net.