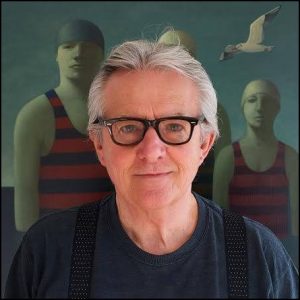 Artist George Underwood was born in 1947 and joined Beckenham Art School in 1963. At art school George became more and more interested in music. As a result he pursued a career in the music world. Along with life long friend David Bowie he made one record (The King Bees ) and also a solo record under the name Calvin James. After deciding that the music business was not for him, George returned to art studies and then worked in design studios as an illustrator. Initially he specialised in fantasy, horror and science fiction book covers. Several of these covers were for PAN. He also painted a cover for Piccolo called 'The Greatest Magicians on Earth' and I emailed him about this to which he replied "Dear Tim, Thanks for your message. It was indeed me who illustrated the cover you mentioned amongst quite a few others. Now, finding that original could be quite difficult, if I still have it. I will try and find it and let you know. Kind regards, George'  As I've not heard anything I'm presuming he wasn't successful but fingers crossed. Click HERE to see a selection.
---
I recently spotted a C S Lewis cover for one of the 'The Space Trilogy' titles I hadn't got and then decided to take all the covers for this series and rescan them. I don't think I realised how many editions and variants there were from PAN. A few things I did notice was there doesn't appear to be reprint of 'That Hideous Strength' from 1971 while 'Out of the Silent Planet' from 1971 is overprinted with the new PAN logo. Also on the back of the 1963 edition of 'That Hideous Strength' they still show the covers with the logo from the 1962 editions. The 1953 edition of 'Voyage to Venus' has 'Perelandra' in brackets under the title while the 1983 edition is the only one where it is the other way around.
Clive Staples Lewis (29/11/1899 to 22/11/1963) was born in Belfast, Northern Ireland. He went to school in Malvern and then to Oxford University before enlisting in the army in WWI. After he was discharged he was appointed English Fellow of Magdalen College, Oxford, where he tutored English Language and Literature. He published around 40 books including the 'The Space Trilogy' (1938 to 1945) and the 'Chronicles of Narnia' (1950 to1956) Lewis was a close friend of J R R Tolkien, author of 'The Lord of the Rings' as both men served on the English faculty at Oxford at the same time.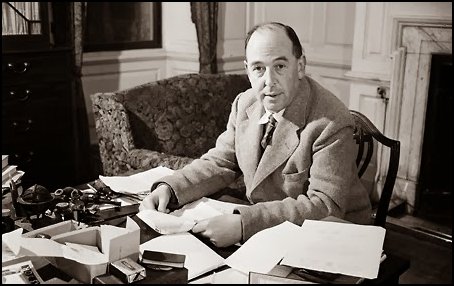 ---
A "Thank you" to James Bond aficionado Thomas Nixdorf who posted a couple of PAN counter advertising displays for 'Thunderball' on a Facebook group page. He very happy happy for me to show them here.
---
Having received an email from eBay to thank me for being a member for 22 years I now realise where all my money has gone. When I look at bank statements it feels as though I have personally be responsible for keeping them going for all that time!