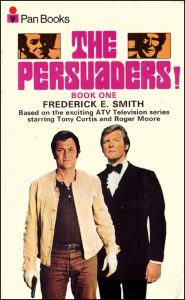 With the sad news of Roger Moore's death last week I started sorting out all the PAN titles he appeared on and after a very enthusiastic start was quite disappointed to only find seven! Click HERE to see them but if you can think of any more please let me know. I was sure there would be some 'The Saint' titles but haven't found any with the Moore TV tie-in.
UPDATE Just found he's on the cover of 'Gold' from 1974 so now there are eight.
I also heard from a friend who has numerous pieces of original PAN book cover artwork and is currently trying to get copies of the books to go with the artwork. There are not many to go and I thought it would be easy especially for 'The Slave Stealer' as it is often advertised. It was only while trying to find the 1974 version that I realised how many were actually  the 1971 edition. Quite a 'raunchy' cover for a PAN. I might have to read it to see if it mentions what colour the voyeurs shirt actually was.
Lastly I noticed there was a new magazine out called 'Infinity' which includes an article on pulp science fiction by Neil Pettigrew, a name very much associated with the 'Pulp and Paperback Fair' in London, the next being October 29th. I was pleased to see six PAN covers amongst the examples.