Last month, while looking for a book on line I found a sellers description for a PAN copy of OHMSS which left me a bit puzzled. I forwarded it to Bazeer Flumore to see what he made of it. It said;
Small 8vo. or.pict. wrap. depicting Ian Fleming on the rear cover and a painting in colour on the front. OCTAVO SIZE. WRAPPERED EDITION. PAGES: (240pages). James Bond / 007 thriller. The fourth James Bond film produced and starring Sean Connery. Pan X350. SPECIAL AUSTRALIAN EDITION as noted on the copyright page and first edition thus and one of the truly rare Pan editions to procure. Creasing to covers, spine rubbed, pages browned. #AAA1
Bazeer contacted the seller and got the following response with photos;
A wrappered edition is just a bookseller's term for a paperback…, and that's the only format that Pan ever published their books in.
The photos show it is the 1965 4th printing edition with the Hawkey style cover. This is wrong on so many levels. I tried to find a definition of 'wrappered' which I think was a term used in Victorian times but the closest was of the International league of Antiquarian Booksellers website which said;
Abbreviated as "wraps", wrappers are the paper covers of a pamphlet, often of a paper of heavier weight than the text paper; when you see "wrappers" you know the item is not a hard bound book, but is instead a pamphlet or magazine with paper covers; usually not used to refer to 20th century paperback books which are called "soft bound" (with paper covers).
It does not have a painting on the front, it is not a first and is not particularly rare but I agree it is an Australian edition. They have two copies with one at £198 and the other at £376!
The seller also states that PAN only published paperbacks which as any fan knows is just not true. They published hardbacks and even some with plastic covers. Here are a couple of links to show examples, 'Chances' by Jackie Collins (which I just happened to have to hand) in hardback and softback and three titles 'wrappered' in PVC.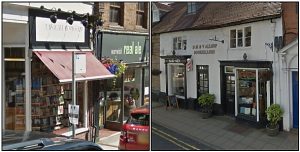 And talking of booksellers, why can't they stick to their opening hours? While in Warwick last week I had done my research on my favourite site HERE and found two bookshops in the same street, one open until 5:00 the other 5:30. As it was 3:30 I though we had plenty of time so called in to the first one we passed. Leaving there about 4:00 we went to the next to find the one supposedly open until 5:00 had closed at 4:00 according to the bit of card on the door. No explanation as to why.