This week I'm including a few covers I've meant to mention for a while.
The  first is the recycling of the Josh Kirby cover which originally appeared on the front cover of 'The 13th PAN Book of Horror Stories' and turned up again 7 years later on the from cover of 'Der Wolfsmensch' from Pable in Germany. Have any of the other PAN horror covers appeared on books by other publishers?
On a group on Facebook there was a mention of an auction including an odd variation on a PAN cover for 'Live and Let Die' A couple of us asked which auction as we couldn't find it but didn't get a response from the poster. Maybe they wanted to keep it to themselves? Anyway here it is below, possibly Taiwanese but it doesn't look like any I've seen before.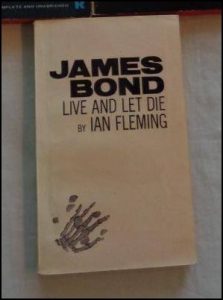 I was looking at James Herriot covers when I noticed on an Australian booksellers site a variation on a cover I'd not spotted before. As the postage asked was astronomical I looked for it on UK sites and managed to get a copy. I'm now left puzzling if there is a third variant in Australia or it was just a bad photo where there is not pink on the cover.
Talking of postage I always find this to be a mystery. I wanted a boxed set of six Herriot titles from Canada. Postage was quoted at $10 but when I ordered them I was asked for the same again to cover the 'extra' cost so how come I could get all 16 Jalna titles posted to me for $8.50 and I checked to confirm that would be the price?
Finally I'm used to Gmail offering me wonderful deals on items I've just searched for but for it now to get personal and decide after reading my emails they are Spam is a bit much. Someone I've emailed on and off for a long time apologised for not getting back to me recently as that's where he eventually found my last communication!