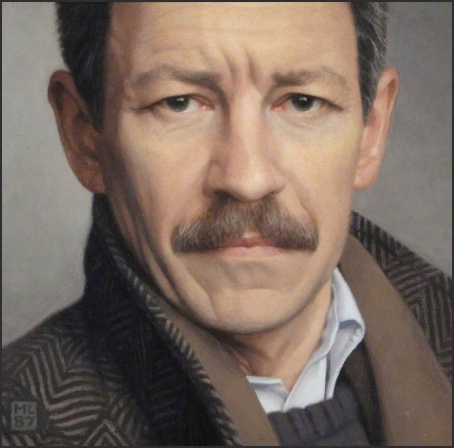 Last week I mentioned a strange coincidence which was that I was going to put up a page of the W B Yeats covers with portraits by Michael Leonard, an artist I've mentioned before. I was looking for an image of him and found a self portrait usually exhibited in the Ferens Gallery, Kingston Upon Hull. The strange part was that last week we were in Hull at the Ferens gallery to see the Turner prize nominees which unfortunately meant the portrait had been relegated to storage while the Turner exhibits were on. We were not too impressed with them apart from one where the artist had produced 'real' painting. He was a local lad, well local to us here in the Midlands, namely Hurvin Anderson and as we liked them this will probably mean he won't win, sorry Hurvin.
To see the Michael Leonard Shakespeare paintings I've shown before click HERE. To see the Yeats covers click HERE. Michael does have a lot of his book covers on his site HERE but only shows one of the PAN Yeats and doesn't include the 'Grendel' cover by John Gardner. Having been away I've not had time to include more but I am really pleased to say the builders have finished my 'library' and it's now up to me to finish it off!
Nothing to do with books but another strange coincidence in Hull was that on the Tuesday night we were just wandering around when a man came up to us and asked if he could help and then proceeded to give us maps. We had a long chat and then said goodbye. The next day we were following the 'fish trail' (different fish images on the ground all around Hull) when we got stuck trying to find a one by a pub. In the end we went into the pub and we were amazed to see the man we had been talking to the night before. When we eventually found the 'crab' we had actually walked passed in so if we had spotted it we wouldn't have walked in to the pub and we wouldn't have met up again – spooky or what – must be a precursor to Halloween!