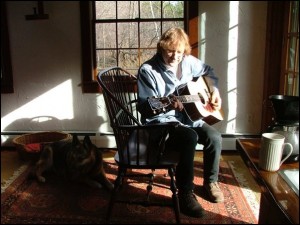 A  few weeks back it was my pleasure to visit Colin and his partner Jenny and to see for myself his fabulous collection of original artworks used for PAN covers. There are over 550 pieces and I was so mesmerised that after several hours I'd still only managed to look at a quarter of them. Another visit is required soon as Colin is hoping to sell the collection to someone in The States as they were always intended to be his pension pot. I was offered them but unfortunately their price is a little too high even if I was to half it when I'm telling my wife! Jackie came with me on this visit but found the pleasures of wandering around the local village more interesting than covers – can you believe that!
I'm sure Colin  won't mind me saying he is probably best known for all the music related books he has written over the years which total nearly 60 titles including works for 'Guinness' and 'Virgin' He is the brother of David Larkin who was Art Director at PAN in the 70's and 80's and so when PAN were having a clear out, having failed to reunite a lot of the works with their artists, he was lucky enough to be in the right place at the right time. When Ken Hatherley thought PAN could sell them to raise money for charity rather than put then in a skip Colin offered a sum of money which was accepted and given to the Great Ormond Street Children's Hospital.
It was in 1991 that Colin found he had a serious family problem and would need to sell the artworks to raise money. As was widely reported at the time the Bonham's auction was boycotted by disgruntled artists and so not as many works were sold as was anticipated.
I have a personal interest in the collection in that in 2004 fifty six works went missing and Colin asked me to keep a look out for them coming up for sale. I was able to tell him I had already been approach and had, not knowing they were stolen, expressed an interest in purchasing them if the price was right. After numerous emails the transaction just went dead at the sellers end so I was not left with the dilemma of whether or not I kept stolen goods! With my information Colin was able to identify the thief and a prosecution was due to take place in court. I had been interviewed by the police and was on standby to be a witness but it never got that far. Here are some more details still available on the BBC News website, I was apparently the 'art dealer' as mentioned in the penultimate paragraph. It never got as far as court as most of the works were recovered.
I was so overwhelmed by the collection I failed to take as many photos as I intended but HERE is a page with a selection.
There are still one or two 'unknowns' in the collection, not only for artist but also book title, so I'll include one a week for the next few week.