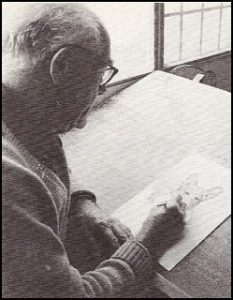 As promised here are 17 PAN book covers by James (or Jas. as he signed) E. McConnell plus scans of the original artwork for 10 of them. If you know of anymore PAN titles please let me know as I'm sure there must be others I've missed. One day I'll get around to updating my database with all the covers to which I can identify an artist. I know James also painted for many other publishers and also 'Philmar' the jigsaw puzzle makers. I am very grateful to his daughter, Ann, for the photograph of her father sketching a dog, a sketch she still has.
Ann says in her email "Lovely to find another fan of my Dad's work! He did a huge amount of covers for Corgi, which when they sold out, put on an exhibition of his Western Art in London, I have the cutting from The Times somewhere! I have written a 'foreword' for a hopefully future book on his artwork. He had an article about his work in Illustrators Magazine 18 months ago. Most of his work was commercial so was lost to us. He did over 1,000 covers for Look and Learn. I remember him doing many of those when I was a child and he stopped working in his London studio and worked from home. I am still discovering stuff he did which I had no idea about! He spoke little of his work and I was too young to appreciate it! I have a million and ten questions now, too late of course"
If you haven't seen the article in 'Illustrators Number 11' it's well worth hunting down a copy and the Book Palace are also selling some of his artwork originals including Corgi western covers.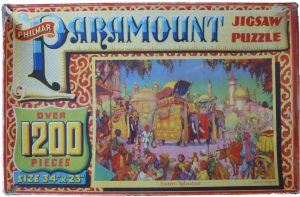 I love the original artwork for 'The Travels of Jaimie McPheeters' which is really spoilt by having title stuck on cutting off the top of the hills. If I find anymore I'll add them and include them in next weeks blog.
Update – while just checking my spelling etc. this morning I found several auction sites selling or had sold works by McConnell. I've made a page to show at few of them HERE