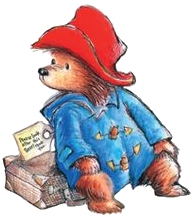 Last week saw yet another children's favourite depart, namely Michael Bond of Paddington Bear fame. He was born in 1926 and for a time worked at the BBC as a cameraman on 'Blue Peter' He left in 1965 to become a full time writer after his first Paddington book was a success. PAN published 7 Paddington titles but unfortunately at the moment I can only find 4 of them. Click HERE to see them and I'll add the others when they turn up. He also wrote the Olga da Polga stories which although not PAN have been mentioned before.
I've managed to track down my two 'Playschool' covers I referred to last week and they are shown HERE
I've also realised I didn't have a couple of Hitchcock covers from 1968 so I've added them to my Hitchcock page 'My Favourites in Suspense' parts one and two. It's made me realise I need to tidy up the Hitchcock's as they are all over the place.