I've talked about fellow PAN Books fan Gavin Scott before and I recently contacted him again in the US to say how much I had enjoyed his "Age of….." series and asked if there was a possibility of having some sort of signed label to put in them? (It's well worth visiting his BLOG to see what he is up to) Well, Gavin rose to the occasion and not only sent me three labels but also a card (as above) from a talk he gave in 2017 at the Lois Lambert Gallery about another of his many and varied interests. Modesty prevents me quoting from the labels but I'll put them here so you can read them.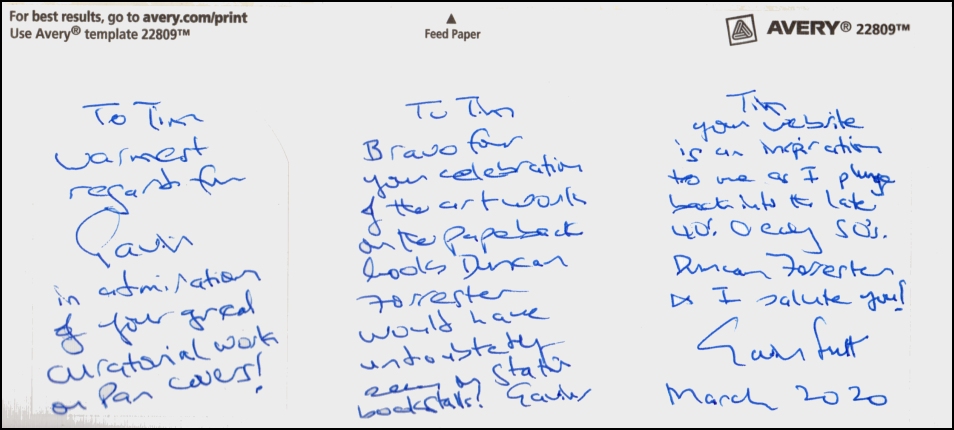 As Gavin mentioned Duncan Forrester, his hero of the three books (with three more to come when Gavin has found a new publisher) possibly seeing them on a station book stall I've suggested Duncan could muse of how attractive the PAN covers are next to their rather bland rivals? I would love there to be a mention of PAN as my 'PAN as mentioned in Books' is decidedly thin at the moment!
---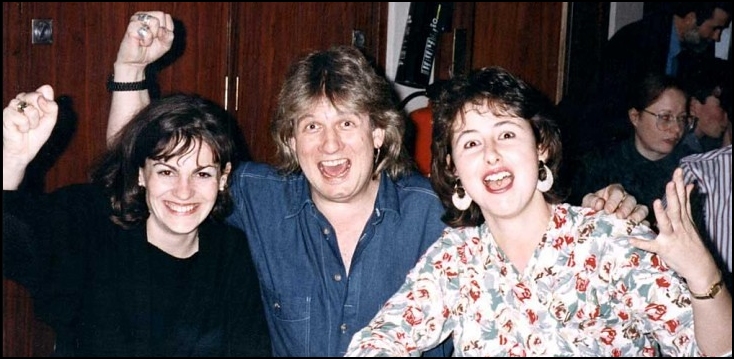 As I  said last week I bought four books signed by Julian May to Celeste Parsons and Peter Tjienten above but didn't know who the lady on the right was. I have heard back from Peter who says;
"That delightful lady is Emma Espley who was our secretary. Emma's Mum was very friendly with her neighbour Mrs Thrift who we discovered was Douglas Adams' Mum which gave us the idea of using her on the display material because Douglas hadn't written the latest book as usual and Sonny Mehta was holding him captive somewhere or other until the book was writ. The flower on the badge is a THRIFT plant (hence T-Day) and the bin header was Mum at full size holding a tray of badges. Mum was trying to make some money because Douglas was suffering from writer's block and was therefore short of dosh!!! The only pictures I have of what remains of this promotion are crap (attached) which is a shame 'cos the finished thing looked great"

The challenge now of course is to find a badge as I know I might have more of a chance with that than a cut out of Mrs. T!
Footnote; Janet Thrift, died on the 24th February 2016. Douglas was 5 years old when his mother and his father (Christopher Adams) divorced. Douglas stayed with his mother and his younger sister, Sue. Janet worked as a nurse in the local hospital. She then remarried in 1964 with a local vet, Ron Thrift. Together they had two kids, Jane and James. The picture above of Janet was used as an ad for the promotion of the second book of Dirk Gently "The Long Dark Tea-Time of the Soul" (1988).
Footnote T(ea)-Day is March 11th, DA's birthday while T(owel)-Day is May 25th two weeks after DA's death.
---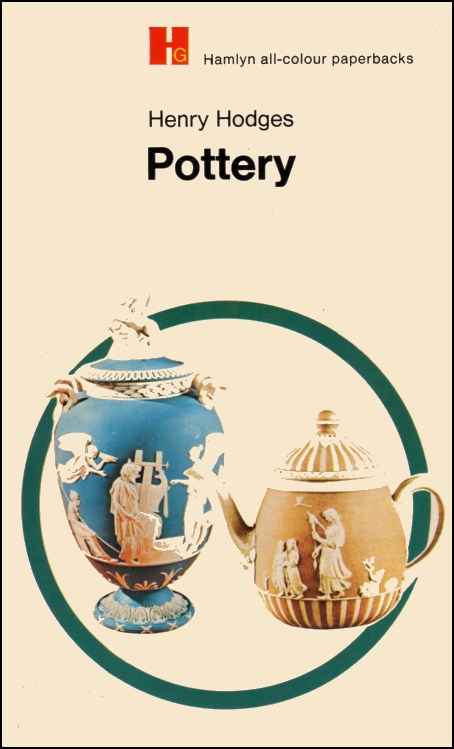 I mentioned buying an original artwork by Eric Tenney of a bush baby a couple of years ago. Having picked up the Hamlyn book of 'Pottery' and noticing the illustrations were by Eric I thought I'd update the bush baby painting story. I think it was only a few pounds on eBay and when it arrived the glass was smashed but luckily the painting was undamaged. The seller was most apologetic and refunded a third which allowed me to buy new glass and a new frame which I was going to do anyway as it was not to my taste! I had an email from Susan, Eric's daughter who said;
"The bush baby was called Charlie and he lived in Dad's studio. DD rescued him from a pet shop – he was very sick and we nursed him to better health but sadly he died – not sure how long we had him?"