This weeks Hans Helweg artwork is for one of the many covers for the Monsarrat title 'The Tribe That Lost Its Head' I was interested to see there was a Monsarrat collection at The Athenaeum, Church Alley, Liverpool. On the site it shows a bookcase and within are some PAN editions. On close scrutinisation I think that 'TTTLIH' is there and if you want some help click on the photo.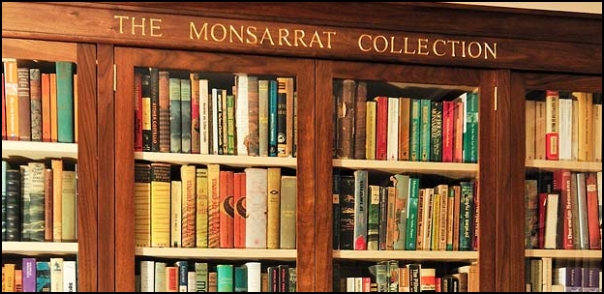 ---
Maybe I should have saved this one for Christmas but I was pleased to get a vintage Advent Calendar designed by Alan Cracknell from the States.
---
The weekend before last we had our first coach trip since lock down. I know a coach trip is not everyones idea of 'fun' but as my wife doesn't drive I am happy for someone else to take on the responsibility. I can just switch off safe in the knowledge if something goes wrong I don't have to sort it out. You also get good value for money as we had a comfy COVID aware coach with seats at the front, a excellent hotel with spa bath in our room, visits to several places and an included trip on the 'Keighley and Worth Valley Railway'. Now you may be wondering what has this to do with PAN Books? Although they didn't actually publish the book by Edith Nesbit at the time of the film. that was Penguin, they did publish two film tie-ins. One was a papersculpture 'make two engines from the film' book and the other 'The Story of the Railway Children' was the book of the film, which was largely shot on this heritage railway.