This weeks artwork and sketches from Hans Helweg are for another Pearl Buck title, namely 'Dragon Seed' I photographed the original artwork in Hans studio and was really pleased to find a preliminary painting for it in the folders I was given.
---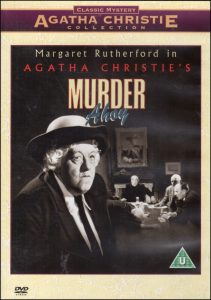 I was also pleased to hear from 'James Bond' aficionado Robin Harbour about another PAN book he spotted that once appeared on the silver screen. This time the film was 'Murder Ahoy' by Agatha Christie starring Margaret Rutherford but it wasn't just one but several shelves full but the book Miss Marple takes off the shelf isn't a PAN or even a real title!
---
PAN have never been into collecting postage stamps 'big time' but HERE are a couple of books that might be useful to those who do as a hobby. Looking through the catalogue it almost, but not quite, makes me think of taking up collecting again. One day I might get around to listing all the PAN cover artists who also did stamps like Brian Sanders and Yvonne Gilbert. As for a contived link to PAN and stamps will this UK 2002 issue surfice?