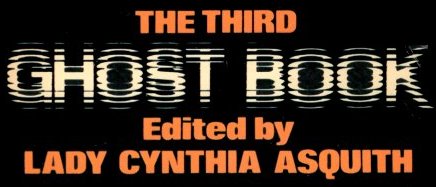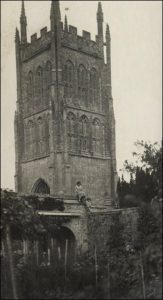 I couldn't resist buying another copy of 'The Third Ghost Book' as it included a letter from Elizabeth Jenkins who wrote one of the stories and also signed the page featuring it. What caught my attention was that it was addressed to Lady Mexborough of whom I can find little apart from she is Catherine Joyce Savile (née Hope) but the first sentence mentions Lady Hylton. Now Lady Hilton was Perdita Rose Mary Joliffe (née Asquith) whose mother was Katherine Frances Asquith (née Horner of the nursery rhyme 'Little Jack Horner' fame) I can't find if Lady Hylton. as an Asquith. was related to Lady Cynthia Asquith but Cynthia does get mentioned in the letter so they may have known each other. In the photo left are Perdita and her sister Helen in the grounds of Mells Manor with St. Andrews Church behind where Frances and Helen are buried in the churchyard along with several of my ancestors on my Mother's side! I don't move in the exalted circles of the nobility so if any of this is wrong please let me know so I can correct it. The PAN edition is based on the 1955 hardback published by James Barrie, London.
---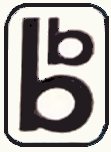 In the above blog I have included a photo of a Beagle Books cover that has yet to arrive form the States. This made me look at other Beagle editions and I found a couple of Monsarrat titles where Beagle used the same photo as PAN had four years earlier. I've tried to search about Beagle Books but all I keep getting are books about beagles so if anyone has any information please leave a comment or email.
---
Also while looking at other Beagle covers I noticed they reused/recycled covers not just from PAN but from Corgi and Fontana as well. Click HERE to see a few examples of the titles I found on the web. This publisher reminds me of TOTEM Books I've featured before.