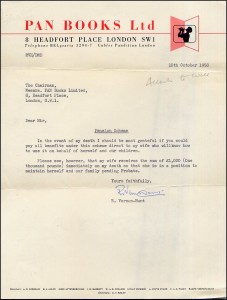 While sorting through some PAN related bits and pieces I came across the last will and testament of Ralph Holmes Vernon-Hunt (as you do) in which he leaves all to his wife or in the event of his wife predeceasing him, his children. Included with this was the letter to the right on PAN Books headed notepaper because at the time he was Sales Director who later became the Managing Director but he is more famous for another reason.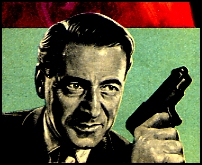 He was the model for the James Bond found on the covers of several titles from the early 1960's. He even appears on one cover when he shouldn't! Click here to find out which one has the mistake.
Ralph Holmes Vernon-Hunt May 23rd 1923 > Nov 10th 1987
Sales Director PAN Books 1947 > 1962 & 1969 > 1982
Nephew of Alan John Bott > Founder of PAN Books
Finally I was out walking a long distance footpath over the last couple of days some of which included the towpath of the Staffs and Worcs Canal. One of the moored narrow boats had a couple of boxes of paperbacks  by it. They were 10p each and in one was, at a quick look, a complete set of James Bond PANs from the 60's. I was very tempted but as I was only 15 miles into the 41 I had to cover I regrettably decided not to this time which was probably a sensible decision.