Just looking at a few booksellers online listings for PAN 335 "Casino Royale" and several include statements like "Front inner hinge professionally strengthened","Jacket discreetly and expertly reinforced at spine" and "Spine split fixed with tape" What they seemed to have missed is this opposite the first page.
   


There were many titles published by PAN between 1955 and 1957 with this reinforcement which could be mistaken for a repair.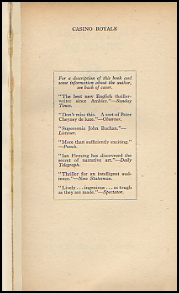 The Book Machinery Co. Ltd. had many patents including ones for roughening the spine before applying the glue which included a suction device to stop the small particles clogging the machine. The final stage was applying the calico tape.
 This is a translation from the German to explain the process.
"In England in those years of the Book Machinery Company Ltd.  London a High-performance system under the name "Flexiback Thermoplastic Binder" especially for large binderies and business books factories and was built in two models. Model for E for Verlagseinbände which were then rounded and pressed or for brochures and Phone books. The hourly capacity was two thousand and more. It was with or without semi-automatic feeder equipped. S was the model for the production of business books, copying blocks, etc. up to a length of two feet have been developed. This model when processing either loose leaves or sheets an output of six hundred copies per hour can be achieve. The machine worked continuously with cold glue in a polyvinyl execution. Was glued on and between the sheets fanned. After operation of this machine, the spine of rotating Fräsmessern cut, then fanned out and glued under pressure through nozzles. in the next step covered by the brush back that was just addressed, the excess glue off. Then the back was cut a second time. With a third nozzle glue was sprayed onto the paper, then on the back, then fabric strip. After briefly pressing the books were then in the drying station. Only after the books have been rounded and pressed"
So now you know how it all works!