I was in communication with Derek Stowe recently as I had picked up a copy of Peter Benchley's "The Island" from 1980 which has a cover credited to a Ron Kirby but is there more than one?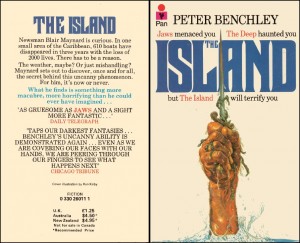 Now I know Josh Kirby's name was really Ronald and Derek mentioned working with him in the mid 50's on "Authentic Science Fiction Monthly" Derek said
"Yes, my friend Ron Kirby was known by many as 'Josh'. He was an incredible intelligent guy – always interested in the 'The other World' the world of the fantastic. Among other things he was always wary of cats as he believed that they made you stroke them to gather electricity for the Moon! He acquired the nickname 'Josh' while studying at the Liverpool City School of Art. He said " Some wag thought I painted like Sir Joshua Reynolds" He thought that his first paperback was a PAN in 1956 of Ian Fleming's MOONRAKER, and first magazine cover was for the Authentic Science Fiction Monthly ( March 1957) illustrating a book by Douglas West – Dead Weight. His official list of covers runs to more than 400. For all his vauge and dreamy personality, he was a great influence on me – he seemed to always know the answer to life"

I have all of the 6 covers Ron/Josh did for "Authentic Science" and they can be seen if you click HERE while the 2/3(?) painted by Derek can be seen HERE.