In 1989 Piccolo published four titles edited by Mary Danby entitled 'Fun For 5 Year Olds', 'Fun For 6 Year Olds', 'Fun For 7 Year Olds' and you've guessed it 'Fun For 8 Year Olds' They were a compilation of games and puzzles from various publications by a variety of publishers. I am still trying to ascertain if the Mary Danby who wrote over 65 horror stories is the same as the Mary Danby responsible for a wide variety of Piccolo titles.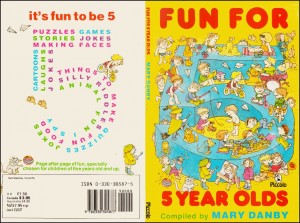 Unusually the four covers are by four different artists including Kim Blundell and Ed McHenry (cartoonist) both of whom I trying to find a way to contact, Bryan Reading (cartoonist) who I think has just died and finally Toni Goffe, fellow cat lover, to whom I've just sent an email.
…………. and again another 7 Cartland titles added making it 116 out of 133.