This weeks original artwork is by Peter Charles It is the cover for 'The House At World's End' by Monica Dickens. There were three other titles in the 'World's End' series published by Piccolo in the 70's all with cover artwork by the same artist. Any information on Peter Charles would be gratefully received.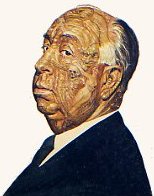 I've also been checking up on other pages that have been on the site for a while and realied I've been a title short on one of the Alfred Hitchcock pages namely 'Stories Not For The Nervous Book 2' which I've now rectified.
Another page I've now updated was showing the four titles in the 'Rogue Herries' series by Hugh Walpole with covers by John Raynes. I've added later editions with photo covers but not really too sure if I like them.
…. and finally is this a record for a first edition of 'Casino Royale' on eBay?