As I've told my wife so many times I just can't help buying books and now I've discovered why. It's in the genes as both my Great Great Great Grandfather and Great Great Uncle (both named Charles Lowe) ran 'The Great Book Mart' in New Street Birmingham from around 1855 to 1903.

I'm putting together pages with some of their bits and pieces like fliers and signed books they published plus miscellaneous newspaper cuttings. Unfortunately the firm came to a sudden end as shown below.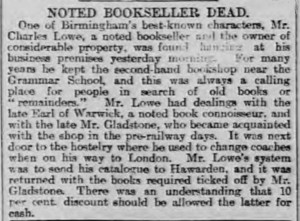 Trying to scan documents for the above has been proving difficult as I've only had an A4 scanner up to now. I set out this week just to buy an A3 scanner and ended up with an all singing, all dancing wireless scanner/printer/fax/phone with 3 media drawers etc. but it still won't let me stack up a pile of books to automatically feed through and scan. Am I asking too much? I'm sure it must be possible which reminds me of my Sony C7 Betamax Recorder which had a Betastack. This allowed you to stack four tapes with either a different recording on each or twelve hours continuous recording apart from the two minute tape changeover when the most important bit of the film usually happened! This was almost completely mechanical and I was really pleased to find this site about it. I still have it all in the loft somewhere.

More original artwork scans next week when I have mastered the new scanning beast but in tribute to Violette Szabo G. C. whose medals were sold at auction this week I've rescanned G105 'Carve Her Name With Pride' signed by the author R. J. Minney.