Isn't it always the way, no local book fairs for months then two come along in the same week. On Friday we went to the annual fair at the Methodist Church in Lichfield, one of my favourites as I don't think they let dealers in before hand, but not as successful as visits in the past. The pile of the left is mine, the ones of the right are those of my wife, probably a draw this time!
There were a lot of old friends in the boxes, I think some of the Penguins from the 30's and 40's were nearly new when they first went out! I ended up buying five paperbacks and one I was really pleased to find was a Jean Plaidy with a signed cover. Usually they are unsigned and attributed to Renato Fratini but this one was signed 'Raynes' so another to add to John's page and I now need to look at the Plaidy titles more carefully.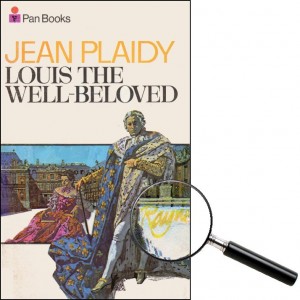 No original PAN artwork this week as I'm still waiting to hear back from the artist himself to see if he has any memories of producing the covers. To compensate I'm showing some artwork by Michael Johnson including one I have for a Coronet title.  Johnson painted five covers for PAN in the 'Angelique' series plus a sixth title for Putnam in the States. Why PAN didn't use the sixth or Putnam the other five I don't know.
Just added a couple of Piccolo covers by Gavin Rowe whom I mentioned in the last blog. I'm sure he must have done more than two so I'll keep looking.