Up to now I've not really mention much about PAN's imprint Picador which  came into being in 1971, the same time as Piccolo. Ralph Vernon-Hunt, Clarence Paget, Simon Master and Caroline Lassalle (the firm's chief in-house reader) tried to find a name and eventually Caroline came up with the name Picador (Paget wanted Primrose!) and she became its first editor of what was intended to be a showcase for international writers
On the 6 October 1972 Picador launched with eight paperbacks: 'Rosshalde' by Hermann Hesse, 'A Personal Anthology' by Jorge Luis Borges, 'Trout Fishing in America' by Richard Brautigan, 'The Naked I' edited by Frederick R. Karl and Leo Hamalian, 'The Bodyguard' by Adrian Mitchell, 'Heroes and Villains' by Angela Carter, 'Les Guérillères' by Monique Wittig, and 'The Lorry' by Peter Wahloo.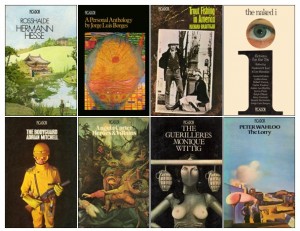 Sonny Mehta became Editorial Director for Pan and Picador in 1974. He is shown below at PAN's 50th birthday party along with Simon Master, one time MD of PAN, who died last year.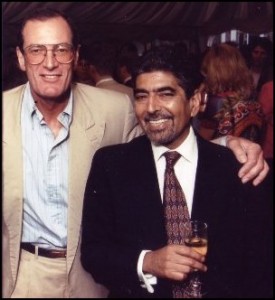 Alysoun at PAN got back to me regarding the 'Golden PAN Award' and gave me several more names and details so I've added them to the list, thanks Alysoun and I've altered the Herriot dates. At least three Picador titles have won the award namely 'Unreliable Memoirs' by Clive James, 'One Flew Over The Cuckoos Nest' by Ken Kersey and 'The Lovely Bones' by Alice Sebold. The latter was republished along with 11 other titles in 2012 to celebrate the 40th anniversary of Picador. For more information go HERE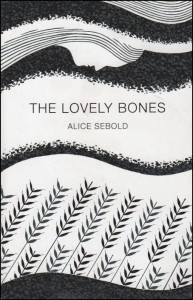 I shall be adding random Picador titles over the next few blogs so keep looking.