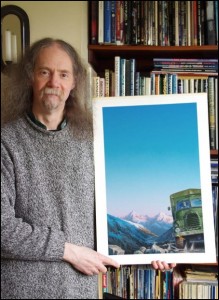 As I mentioned a few weeks back Keith Scaife was kindly looking out some of his original artwork for Jack Higgins covers and here is the first one. Keith writes;
"I was born in Hampshire in 1960 before moving up to Staffordshire where from quite an early age it was evident I would follow art as a career in some shape or form. I spent six years at college, first at Leek School of Art and Crafts getting a superb grounding in all aspects of art and design, then to Sunderland to study model making. In the mid 1980's I produced a number of pre-production paintings for a proposed T.V. series ( which sadly never came to be ), but this then led me directly into book jacket illustration, working freelance for many of the major UK publishers"
I hope to include several more of Keith's covers over the next few weeks.

I had a surprising email this week from Penguin asking for MY help! They had some original artwork by Neville Dear and wanted to return it. As I was the only useful link they could find they asked if I had contact details? I last met Neville in London in 2013 when I took down an email address but must have got it wrong as all emails bounced back but I did remember them saying something about the M4 and how long a journey it had been. After a quick search or two I located a Neville Dear in South Wales and rang. As luck would have it I got Neville's wife first try but it wasn't good news as Neville can no longer draw and paint as he is not at all well. I gave Penguin his number so hopefully they will get things sorted. 
Here are a few of my latest additions. I had 4 of the 5 Piccolo 'Picture Puzzle Books' and have now managed to get a copy of the elusive number 5. I also mentioned in a past blog 'Falling Through Space' the US edition (with dedication to D M W) of 'The Last Enemy' and have added it at the bottom of that page. Just when I though there couldn't be that many more Daphne du Maurier covers I've found another, the TV Tie-in for 'Jamaica Inn' where you can hear the words being spoken.
…. and finally what will probably be a weekly item, a few bits and pieces added to the Golden Pan Awards page which eventually will have scans of all the covers of the featured titles.