Very recently I managed to pick up some original artwork by Terry Oakes and I am putting together a page of some of his paintings for PAN/Piccolo. Terry now likes to stay out of the limelight and declined my request for a photo of him with the artwork but he did mention the photo below was on a website where it also had a brief biography.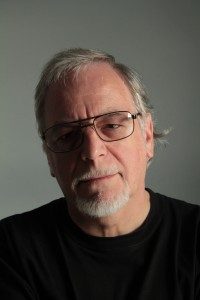 Terry was born – and still lives – in Merthyr Tydfil, a relatively small post- industrial town in South Wales. Naively deciding that his love of drawing could help him escape from a factory job, and driven by a love of Horror and Fantasy, he executed a series of sketches and paintings and sent photographs of them to various publishers.
A kind art editor at Sphere Books got him in touch with the late John Spencer, who had just founded an artists' agency called 'Young Artists'
He saw potential in Terry's work, and eventually got him commissions – which in time were sufficient in number for Terry to become a full time freelance illustrator. "From then on it was like a dream come true: to step inside bookshops and see my stuff on the shelves alongside the likes of Jim (Burns), Les (Edwards), and the inimitable Frank Frazetta – and to get paid, too! was as satisfying and self-affirming as anything that had happened in my life."
Well-known in the 1980s for his SF/F, and "grand guignol" gothic horror illustrations and covers for Steve Jackson & Ian Livingstone "Fighting Fantasy" gamebooks, "classic" British horror covers for books by Guy N. Smith, Richard Laymon, and many others, plus SF for major authors. Others from the 'Young Artist's' agency, in the late 1970s,  were Jim Burns, Chris Foss, Bob Fowke, Angus McKie, and many others.
If all had gone according to plan I am currently in Berlin and hopefully this blog had launched itself. I'll add the artwork next time.

In the meantime here are two books with the same Terry Oakes cover, I don't have the artwork for this but it's interesting that they are different titles but Terry is only credited on the French one (see above)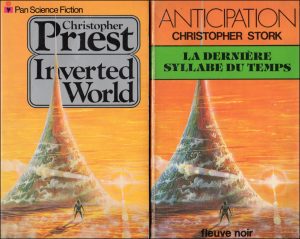 With two of the book covers I managed to get two back covers with vignettes but only one set is a matching pair. If anyone wants to guess the book titles they are very welcome but I show them all next week.