Just checking and it was two years ago last Wednesday that June added a comment to the blog. We made contact and she gave me the following information:
I joined Pan books around 1971 when the offices were on Tothill Street. I was hired as the secretary to Tony Bowen-Davis (art director) and when he left, then David Larkin.
Ralph had a series of secretaries ( he was a tough guy to please) so when he invited me to become his executive Secretary I was frank in telling him that I loved the company and if we did not get along, I asked him to promise me he would find me another opportunity in the company. I never went back to the art department. Ralph was one of the best, funniest, most irreverent people I ever worked with. A tough guy exterior but with marshmallow feelings.
When my husband and I moved back to Canada (3 years later) Ralph and the Pan crew held me a going away party and presented me with a jade ring, beautiful watch and an original caricature card (of Ralph) illustrated by one of the chaps in the art department.
The people at Pan were wonderful and the experience of working with Ralph still rates as fun and memorable.
We then lost contact as June went off travelling around the world so I was pleasantly surprised to hear from her again last month. She had returned and on sorting out found some great PAN related souvenirs of her leaving PAN which she is happy for me to share so click HERE to see them. June has also promised me some photos of the occasion which I hope to include in a later blog.

With the 70th Anniversary coming up I've found a page HERE showing all the 20 titles that will be available early in September. As part of further planned celebrations, Pan Macmillan is also re-introducing its Golden Pan statuette. On Tuesday 5th September at Foyles, it will be awarding five "Golden Pans" to authors on its list who have sold 1m copies over the lifetime of a book. It will also be celebrating its 70th anniversary with a party at Frankfurt.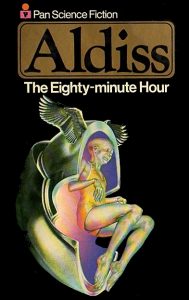 STOP PRESS I've just heard that science fiction writer Brian Wilson Aldiss O.B.E died last Saturday (19th) the day after his 92nd birthday. PAN published several of his books and he jointly edited the 3 'Decade' titles with Harry Harrison. Unfortunately all my books are currently packed away await moving but I'll see if I can find any to scan and add to a later blog.