After mentioning the logos that PAN introduced in the 1990's I came across an advertisement in the 'Interzone' magazine which showed three of them. All the books listed below them have the sci-fi logo apart from 'Heorot' when I couldn't find a PAN edition. Click HERE to see them. The advertisement for the magazine was from the back of 'Grounded'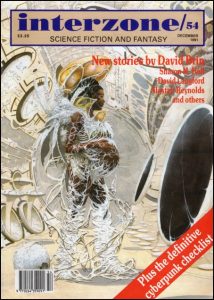 I always look through books before I pass them on and was pleased to find this newspaper clipping from 1997. I don't know where I got the book but it is from our local paper, the Express and Star.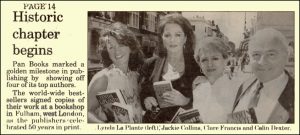 I'm a great fan of the work of Tom Adams especially the dozens of Agatha Christie covers he painted for Fontana and the Raymond Chandler covers for Ballantine (I have over a hundred examples of these titles which may one day be scanned) He also did a few for PAN including the three John Fowles titles 'The Magus', 'The Collector' and 'The French Lieutenant's Woman' and Siverburg's 'The Capricorn Games' After his success with the Christie titles PAN commissioned Tom to paint the covers for the 'Kinsey Millhome Mysteries' series by Sue Grafton. He got as far as 'J' before he lost rapport with PAN according to the book 'Tom Adams Uncovered' I'm trying to complete the A to J set and HERE are the results so far.