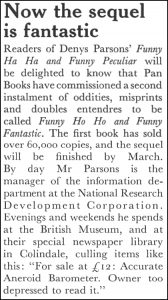 Denys Parsons collected together items from papers of mistakes, misquotes and double entendres. He was the grandson of actor-manager Sir Herbert Beerbohm Tree. and originally worked in the field of scientific research and invention. He then became a film-maker and finally ended up as the Press Officer for the British Library. Click HERE to see the his PAN/Piccolo titles.
---
PAN published four of the thirty two 'Miss Silver' titles by Patricia Wentworth including 'Pilgrim's Rest' from 1953 with artwork by Sax (Rudolph Michael Sachs) Hodder reused it for their 2007 edition of the same title but did not really do it justice. The other titles are 'Miss Silver Comes to Stay', 'The Clock Strikes Twelve' and 'Grey Mask'
---
This week is the last of the Hans Helweg artworks I got back in October but I do have a lot more of his sketches for covers that I will add if I can identify them. The artwork is for 'Belle Catherine' by Juliette Benzoni from 1968 for which Hans got paid £58.16. He is also painted the cover for 'Catherine and Arnaud' as in this photo I took in his studio. I'm not sure who painted the later edition of 'Belle Catherine' but it looks like it could be John Raynes?