Just to show these pages are not just thrown together(!) this weeks cover by Hans Helweg is one I bought last week plus I also have some of his sketches to go with it, namely 'The Exile' by Pearl Sydenstricker Buck. Hans painted many covers for Pearl Buck titles and I now have the artwork for 'Death in the Castle' plus several others I'll include in the next few blogs. I also now have the artwork for 'I Leap Over The Wall' and 'The Tribe That lost Its Head' which I've featured before and I have now added it to their pages. I have only just noticed that the same elements were used in the 1966 edition M4 of 'The Tribe That lost Its Head'  so presumably also by Hans Helweg?
---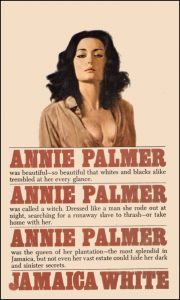 I am often surprised by the similarity of covers but then again I suppose if they are to truly representative of the narrative they could be 'look a likes' It was while scanning 'Jamaica White' I looked at other editions and saw the Batam cover from 1968 and wondered if Hans Helweg based his on it? The others were for 'Alathea' and 'Mythago Woods' where the trees in the middle are so similar even down to the kink in the one trunk! What do you think? Click HERE to see them. The scan left is of the back cover of the Bantam edition of 'Jamaica White', definitely an attention grabbing blurb.
---
This weeks Jean Plaidy series is 'The Tudors' series and for once one of the covers gives an artist credt, namely Stuart Bodek, who has been mentioned several times before. It appears PAN published seven of the eleven titles so if any one knows if they also did 'Katharine, the Virgin', 'The Shadow of the Pomegranate', 'The King's Secret Matter' and 'Mary, Queen of France' I'd love to know but if not 'Why not?'
---
Had a most enjoyable visit last week to the family in Kent but disappointing in I found nothing that I could in anyway relate to PAN Books no matter how hard I tried to contrive something!