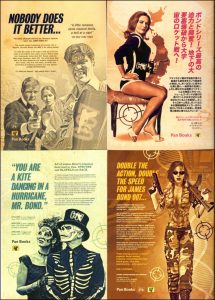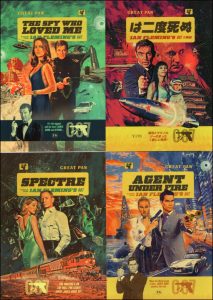 There are many sites with pastiche covers of PAN books which are usually Bond related although not always. I couldn't resist buying some from Sean Longmore as they are real cards. Click on the images to see them enlarged.
---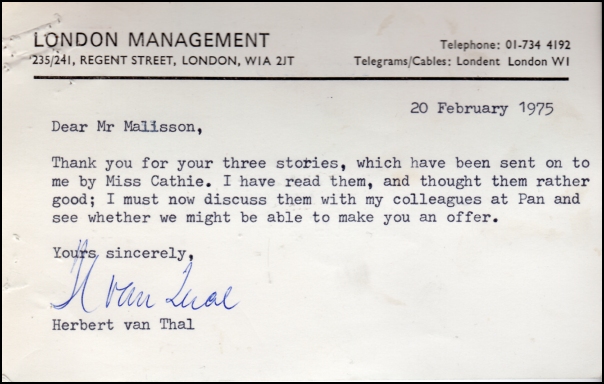 I came across this postcard which was sent to an address in Manchester and was wondering if PAN actually published any of Roger Malisson's three stories mentioned? On looking through the lists of authors featured in the 'PAN Horror Stories' series I couldn't find any. While looking a little deeper I came across a reference on ISFDB giving more details;
"Catherine Gleason said that she wrote the Roger Malisson stories with a lady called Rita Morris, and the name is an anagram from both of their names. Catherine and Rita were both twenty when they started writing, fresh out of college. They tried to write Mills and Boon books, but got so far, and found that the stuff they were putting in was rather naughty. Then they tried ghost stories and they sent off the first story Lady Celia's Mirror was sent off to four or five publishers, with R. Chetwynd Hayes taking it first. Herbert van Thal also said he would take it, and Catherine phoned him up, very innocent about it all, saying that that would be great as it was already going to be in Ghost 11 – and Bertie roasted her over the phone for quite a while! Roger Mallison would only be published by Bertie the once, in the 2nd Bedside Book of Strange Stories."
This story was 'Regression' in which Clare Marshall suffers nightmares where she is confronted by a tramp-like maniac with a knife. These are so horrifically realistic that she's taken to attacking husband Jim in her sleep. When she claws at his eyes, he realises it's time to get her some psychiatric help ……….
---

Talking of Herbert van Thal I have just added to a couple of existing pages one of which was is for the later 'Horror Stories' where I have added the original artwork for four of the titles. I was particularly pleased to track down Rob in the States who owns the Josh Kirby cover for book number 13. He won it on November 9th 2014 for $448.13 from Hertage Auctions. The second page is for the PAN window display competition usually featuring James Bnd titles. I've added the entry form for 'Goldfinger' after Robin Harbour pointed it out to me on a Facebook page. It is now there with the others from Robin's scrapbook.