In spite of the threat of disruption to the trains the day turned out fine and I got to the Paperback and Pulp Book Fair in London in good time last Sunday. I'd like to say I took hundreds of photos but unfortunately my camera had decided to play up a couple of days before. I bought another but didn't really have time to test it out so most of the ones I did take I have rejected. Instead, for a full report click on the photo above for another of Jules Burt's excellent videos covering the show.
---
It was good to meet up again with so many fellow enthusiasts including Steve Chibnall who had sorted out some PAN bits and pieces for me. Steve is on the left in the photo above, with Steve Walker of Telos Books next to him and Jules Burt on the right. Below is a photo taken by Jules of me holding my' goodies' which I'll show over the next few weeks. I had believed the forecast of rain all day so arrived over dressed and very hot but felt smug in the afternoon when it poured down.
---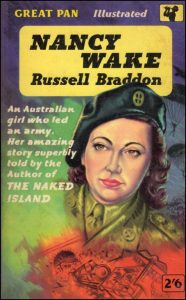 Nancy Grace Augusta Wake, AC, GM was born 30th August 1912 and died on this day, the 7th August 2011. She was a nurse and journalist who joined the French Resistance and later the Special Operations Executive (SOE) during World War II, and briefly pursued a post-war career as an intelligence officer in the Air Ministry. Her story was written by Russell Braddon as 'Nancy Wake' while she wrote her version as 'The White Mouse' PAN published the Braddon edition at least five times including a film tie-in.
---
And finally a very big "Well Done" to Jules for achieving a colossal 5,000,000 views on his YouTube channels, I don't know how he keeps them coming but please don't stop!