Fellow Panfan Jules Burt sent me a scan of the back cover of the PAN Record Magazine number 20 from 1956 (I'm still after a copy if anyone has one to spare or any other PAN Records for that matter)
The scan shows the new despatch centre for PAN Books situated in West Molesey which set me wondering if it still existed? I used Google to 'walk' the streets but no luck so I decided to write to local organisations. After sending the 9th email and getting no response to any of them (I tried residents associations, history clubs, old folks homes, estate agents, schools and even the vicar) I tried 'walking ' again and I don't know how I missed it before but found it the second time. It is now a printers and I have an invite from the director to pop in for a look around if I'm in the area. This will probably be in the summer and I'll add another post if I get there.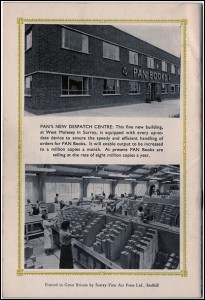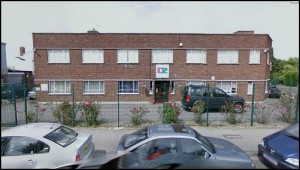 Now all I've got to do is identify all the books the ladies are packing in the lower photograph on the Record, I've managed three so far, answers to follow in a later posting.