Just returned from a couple of weeks in Croatia, Bosnia, Slovenia and Montenegro and while I was there I was looking for PAN connections and offer these three very tenuous ones on this page.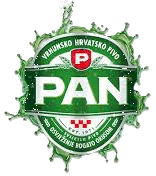 The first is just because of the name while the other two have character links. I shall be sampling the beer very soon in my PAN glass given to me by the café owner in Lovran.
Croatia and especially Dubrovnik are really fantastic places to visit. We had an interesting day in Dubrovnik as they were filming "Game of Thrones" series 5. Everyone was trying to get a good look and being shouted at by security guards saying 'No photos, no photos'  (Apparently we didn't see the best bit as it was the day before when they filmed Cersei Lannister made to walked naked through the streets – ooops sorry – plot spoiler) The following day we went to Montenegro and so missed the four huge cruise ships disgorging their 10, 000 or so passengers for a couple of hours in the medieval streets of the walled old town!

……. and finally I couldn't leave the Novetel Brussels without letting them enjoy  'probably the best PAN paperbacks website in the world!"