Having found all the pictorial Cartland titles I had on my list I looked at other related bits and pieces I had including several autographed cards and letters. There was also a couple of photos and I decided to see which original book covers were shown.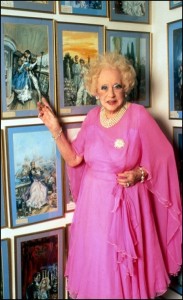 On one of the blogs on 'Today's Inspiration' I found the following;
"Earlier this week we learned from commentor Chad Sterling that Barbara Cartland refused to return any of the original paintings to Francis Marshall, instead framing them and hanging them on the walls of her mansion, which left Marshall feeling quite bitter. Ximena provides an eye witness confirmation of that sorry situation: "I once had tea with Barbara Cartland (possible title for an autobiography) and she had a whole wall with originals. They were a bit bigger than an A4, and so cool, all together like that, it made me really jealous."
As Tom Watson pointed out in a follow-up comment, the practice of keeping illustrators' originals under the assumption that the physical art was part of the purchase price of the reproduction rights was all too common for many decades – and rarely challenged by artists who feared rocking the boat and risking the loss of future assignments. From personal experience, (having had the experience many times in the early years of my career of not getting my original art back) I learned to always clarify the purchase terms of an assignment in writing up front"
I've put together a page HERE showing the covers including the one on the right behind her head which was not published by PAN. I've only gone for the obvious ones although I may try find some of the others from parts shown at a later time but I've not managed to identify the one at the bottom – any one know? Cartland was a staunched supporter of the St John Ambulance and a couple of the covers have links to that. I've also put on the truly awful PAN pink covers I threatened to do a couple of weeks ago!
I have been in contact with a cover artist who lives on a small island off the Scottish coast who wants to down size and travel so we have come to an amicable settlement regarding buying some PAN related original cover artwork she has. As it is quite a jaunt up there I've been lucky in that she had a visitor from Cambridge visiting who has kindly picked them up and I am collecting them from him this week. They will appear on the next few blogs.