Still doing random searches for the Golden PAN Award while adding covers to go with the titles and came across this snippet from 'The Bookseller' from the 20th August 1960.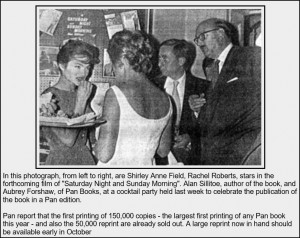 Aubrey Forshaw. on the right above, took over at the helm of PAN Books in 1952 on the death of Alan Bott. In one newspaper article I found a passage which stated "The name PAN was picked by Forshaw out of the Dent's Junior Everyman" Can anyone confirm that?
I thought I had found all the Frank Yerby editions from the late 70's as I had scanned the 15 listed in the latest title but just found another 'Speak Now' This has a cover in a style unlike any of the others but I'm sure I've seen it on other author's books. I'll have to investigate.
I was also very pleased to find another title which has the yellow PAN block on the front and spine namely 'Invitation to Live' by Lloyd C Douglas
Sorry to hear Umberto Uno died last Friday. I think three of his titles were published by PAN under the Picador imprint.