I hope this blog launches today as scheduled as I am currently enjoying the hospitality of the Dutch travelling on vintage steam ships and trains if all goes according to plan.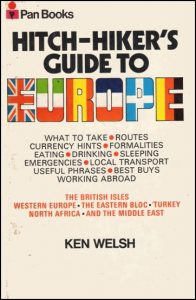 I may need to take my 'Hitch-Hiker's Guide to Europe' and so I've just added a scan of the first edition to the Travellers page. I spent a lot of time in the 60's hitch-hiking around Ireland and when I looked at this book this week I though you couldn't actually live on some of the prices quoted in the 1971 edition but on doing a few sums I think you could. It was written for the US traveller so prices tend to be in cents so 70 cents for a bed and 50 cents for a meal with an exchange rate of two and a half dollars to the pound.

I mentioned the Piccolo Craft series of books and have now found a third title for knitters, the search goes on.

I picked up a copy of the tie-in to the appalling children's television series 'The Double Deckers' saying it was in the Piccolo Colour series of books but it just doesn't seem to fit in with the ones I already have on the site, anyone any ideas apart from it does have colour photos in it?