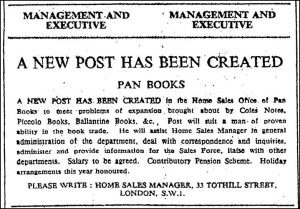 In 1971 PAN placed the above advert in the papers. I don't think they would be allowed to say it "… will suit a man…" these days. I wonder who got the job?

PAN had connections with Ballantine Books in the States and published many titles jointly such as these Shute titles with Coleman covers and I'll put up some more in a couple of weeks. There was also a connection in that Richard Ballantine, the son of Ian and Betty Ballantine, had his best selling 'Richard's Bicycle Book' published in the UK in both PAN and Piccolo editions plus by Ballantine in the States. Richard was born in New York in 1940 and moved to the UK in the 70's. He died in London in 2013. PAN also published 'Richard's Mountain Bike Book', 'Richards 21st Century Bicycle Book' and 'Richard's Cycling for Fitness'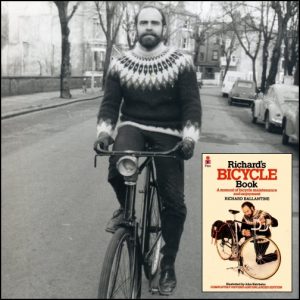 I was intrigued to see he is wearing the same jumper in the photo as on the book cover but then again I had a very similar favourite jumper back in the 70's
Finally thanks to Peter who pointed out that I had a duplicate scan in the Craft Books series I mentioned last week. I have now added 'Knitting Things' which, although listed as one of the series, does not actually say craft on it!