Looking at websites, mainly for big companies and supermarkets, I noticed that the address bar changed from white to their corporate colour. Out of curiosity I searched to see how hard this was and I was surprised to find it was just one very short line of script BUT it is only visible on Android devices using Chrome so for those that are missing it in its full glory here it is!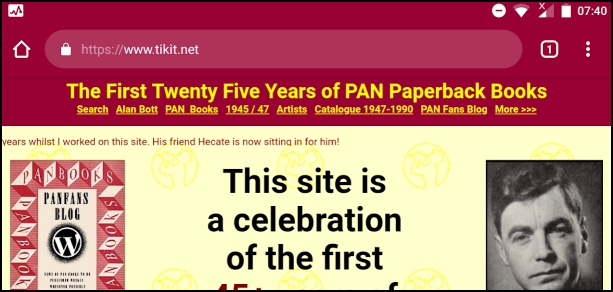 ---
This week is the birthday of a writer who is still with us for a change. Peter Duff Hart-Davis was born this day in 1936 in Finsbury, London and now lives in Owlpen, Gloucestershire. He is the eldest son of the publisher Rupert Hart-Davis and the brother of television broadcaster and author Adam Hart-Davis and Bridget, the dowager Lady Silsoe. His biography of his godfather, the adventurer and writer Peter Fleming (brother of Ian) "Peter Fleming: A Biography" was published in 1974.
PAN published three of his titles which I've added to a page along with the same titles in German. This allows me to show examples from one of my two favourite European publisher, Ullstein Bucher, the other being Fleuve Noir from France. They were not adverse to recycling PAN artwork on books with different titles to the original.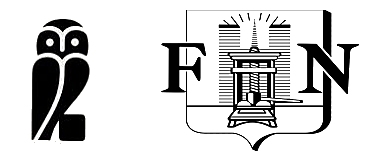 Click HERE to see the three covers in English and the three in German plus the hardback edition with artwork used by PAN for the paperback.
---
While I was in the PAN Archives, Alysoun kindly gave me some duplicate copies of "The PAN Galactic Gargle Blaster" which contained the following snippet for PAN Horror Book fans telling of what was to come but unfortunately didn't!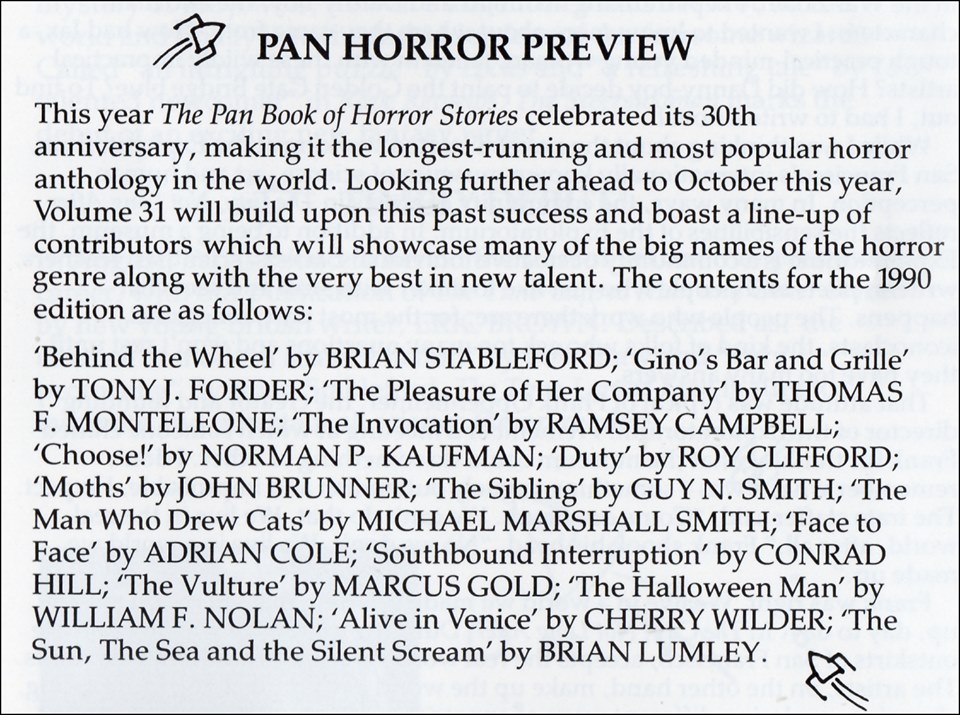 I put this on a Facebook page and got several replies as follows;
Paul Fraser Looks like this collection of stories appeared as Dark Voices 2, Ed. By Stephen Jones-Editor and David Sutton.
Stephen Jones-Editor Yeah. After the huge success of the hardcover tribute DARK VOICES: THE BEST OF THE PAN BOOK OF HORROR, we were ready to continue the series with a much more contemporary line-up of authors. However, the idiots at Pan (but not my editor, I hasten to add) decided to change the title and start again — despite all the hard work I had done to re-establish the series after years of plunging sales. We fought — and won — for the subtitle THE PAN BOOK OF HORROR, but it was another example of a publisher shooting themselves in the foot. Glad you kept the GALACTIC GARGLE BLASTER, that was also one of mine!
I asked if there was artwork for number 31?
Stephen Jones-Editor Tim, the cover art was always the same as the one that appeared on DARK VOICES #1. They just added a new logo. There was never a PBH version to my knowledge.
Paul Fraser Stephen Jones-Editor Thanks for the background details. Have you written about the series at greater length elsewhere (I assume there is probably an essay about the series in the first volume)?
Stephen Jones-Editor Paul, we've never done an essay about DT. The series eventually moved over to Gollancz, where it became DARK TERRORS: THE GOLLANCZ BOOK OF HORROR. That became another publishing cock-up, which David Sutton and I have talked about in the 2015 "best of" compilation DARKER TERRORS.