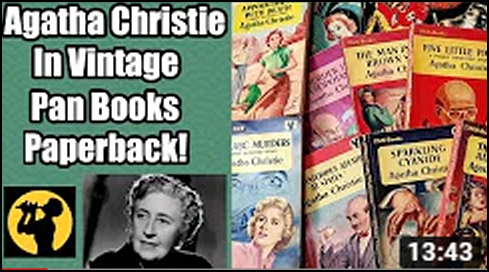 If you've not discovered them yet, it's worth hunting out Jules Burt's videos on 'YouTube' He is a fellow PAN collector whom I've know for a long time and who also collects many other publishers especially Penguin.
Here are links to some that have a PAN element including ones on The Beatles, Agatha Christie, James Bond and James Bond related titles. There are more, just go to YouTube and subscribe to make sure you don't miss them.
---
Jules also has a video on 'Star Wars' pop-up books from Random House which made me look out any pop-ups from PAN and I found I have six under the Piccolo imprint. Two are in the larger format from 1981 and four small ones from 1983. They were made in Colombia like nearly all the pop-up books at the time, wondering if they still make as many today? Click HERE to see them.
---
Last week and this week is that time again when the National Trust holds its annual book fair at Baddesley Clinton. We try and get there on the first day, the Saturday, but due to commitments we didn't make it until Monday but still managed to spend some money. Mostly duplicates but in better condition with the originals probably going back to a NT property with a book shop later in the year. Surprisingly my wife spent exactly three times as much as me which went someway to boosting the takings which were up to £3,5000 after only two days.