After trying to contact artist Kevin Tweddell on and off for a while I gave it another go recently and this time I got a very nice but rather sad reply from Kevin's daughter Thea but unfortunately it was to say Kevin sadly passed away earlier in the year.
Thea wrote "Kevin's father was very artistic and although a northern work man he encouraged his son in his ability to draw from a young age. At the age of 16 he left home and went to art college where he met many wonderful people and a lot of the famous names to come in life. He then moved to London where he worked for Hallmark. Many jobs succeeded this but he fell into illustration and loved his time spent in Convent Garden working with and socialising with so many artistic people. He spent many years bringing up his daughter living in Twickenham and continued to illustrate book covers and alike. Then in 2007 we ventured to Devon to buy a pub restaurant which had always been a dream of ours. ( The Tower Inn ) We have spent the last 12 years working hard but loving being part of the community and our little business.He was diagnosed with terminal cancer in November last year and told he had only weeks.But in his true form, he embraced life, said all his goodbyes and had some brilliant parties to see him off.He is terribly missed but he rests now just across the road in the village graveyard, to keep an eye on us all.
So if you find yourself down by St James Church, Slapton why not pop in and say "Hello" I've rounded up a few of Kevin's covers which can be seen HERE. I'm sure there are more to be added.
---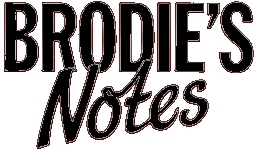 PAN produced many different study aids using the 'Brodie's Notes' imprint (Later changed to PAN Study Aids) but they also produce revision cards ring bound in a sort of folder. HERE are a few I found
---
After over bingeing on Sam Peffer's negatives I took a break but I've now gone back to looking for more cover photos. I've added one to G380 'The Lost Days of My Life' plus Kathy sent me the photo below she had found showing a better shot for 436 'Sinners and Shrouds', this one doesn't have Kitty modelling as the maid. It looks like the finished cover was an amalgam of several different shots.