A few people round our way need to test their colour vision after the traffic lights sequence on the local common was changed resulting in several accidents. Red means 'STOP' and green means you can 'GO'! When I saw 'The Luscher Colour Test' I thought great but it turns out not to be about colour blindness but is more trying to analyse you from your colour choices. Most of the suggestions tend to be on the depressing side!
---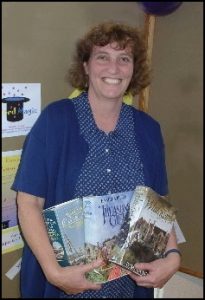 Having recently acquired the original artwork by Kevin Tweddell for Pamela Belle's 'Heron' series trilogy I couldn't resist buying a bundle of her titles including a couple of signed copies. The PAN title is 'Moon in the Water' while the other is a hardback edition of 'Survival of the Free' signed by all the 'Belles' I contacted Pamela to check this and she kindly replied;
"Hi, Tim, sorry for the delay in replying, I've been busy writing! I didn't know there was a Pan Paperback Collectors group – do you aim to collect every variation of every book? Quite a task, I think! With regard to the identity of 'Diana', I suspect that was my mother's great friend who lived in Edinburgh (I can't remember her surname, I only met her once, when I was 10). She died quite a long time ago, well before my mother (who died in 2005) and she and her husband had no children, so I'm not sure who had the books after they passed on. I think I must have changed the note about the poems, and then my mother sent the books to Diana as a gift. Sylvia and Brian Belle were my parents, and Penelope is my sister. I hope this helps, if you would like to know anything else then let me know"
In the photo Pamela is holding the hardback edition of 'The Chains of Fate' which was published by PAN and later Severn House Publishing with the same Kevin Tweddell cover artwork as the paperbacks
---
For some reason or other, while watching a recent episode of 'Bargain Hunt' (weird watching it with COVID social distancing in place) I was reminded of Jules Burt and his videos, now why could that have been? I have studied it intensely and still cannot see a PAN.
If you have not yet found Jules videos then you certainly should have a look as they cover so many different topics and several are PAN books related. Here are direct links to a few of them;

1) PAN Numbers 1 to 100
2) PAN Numbers 101 to 200
3) PAN Numbers 201 to 300
4) PAN Numbers 301 to 439
5) PAN Numbers G1 to G125
6) PAN Numbers G126 to G250
7) PAN Numbers G251 to G400

There are many more PAN related topics and new videos are appearing three times a week so make sure you visit often.