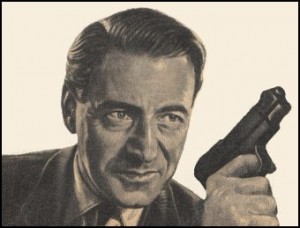 Ralph Holmes Vernon-Hunt was the nephew of Alan Bott, founder of PAN Books. Born on the 23rd May 1923 he was educated at Malvern College and later served in the RAF where he was awarded a DFC. As mentioned in the last blog he worked at Hudson's bookshop in Birmingham immediately after the war where he learnt all about the book trade (Coincidently I'll be passing where it was this morning returning hire suits – see tailpiece!) On the 27th April 1946 Vernon-Hunt married Elizabeth Mary Harris at Northwich.
It was in 1947 that he became Sales Director at PAN where he remained until 1962. Whilst at PAN he was responsible for bestsellers like 'The Dambusters', 'Enemy Coast Ahead' and 'Peyton Place' The most successful titles were Fleming's James Bond novels. In 'The Times' obituary it states;
"Vernon-Hunt himself (at his own instigation, it is believed) was the first visual interpretation of Mr Bond, when his face appeared on the front cover of the first of the Fleming yarns"
This is patently wrong as the 'Casino Royale' JB from 1955 was supposed to be based on Richard Conte, ditto Dick Orme from 1959 and Sam Peffer modelled Bond on himself for the 1957 'Live And Let Die' so Vernon-Hunt was certainly not the first.
In 1962 he left PAN to join the newly established publisher Paul Hamlyn as Sales Director but returned to PAN in 1969 as Managing Director. In 1980 he became Deputy Chairman of PAN but retired two years later due to ill health. He died on 10th November 1987 and was survived by his wife and six children.
"He was a charming man with a driving personality which together with a charismatic and buccaneering style of salesmanship made the name of Pan books famous all over the world"
To see a copy of Ralph Venn-Hunt's will click HERE
The film 'Goldfinger' premiered in London 50 years ago on September 17th 1964 so I'm using that as an excuse to include the cover featuring Vernon-Hunt as JB. Coincidently Vernon-Hunt's uncle, Alan Bott, founder of PAN Books died suddenly on the 17th September 1952 aged 58.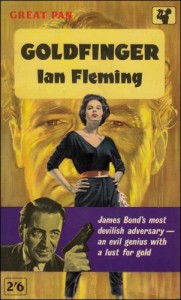 Not PAN but can't pass without saying congratulations to our daughter Katherine and partner Stuart. It was a really lovely wedding last Saturday. All the best for a very long and happy future together.