Since I first made contact with Paul Davies back in the Spring to ask about the 12 covers he produced for Leslie Thomas titles we've emailed on and off about various things. Just before Christmas Paul was generous enough to give me one of his cartoons he drew for the book 'Some Missing Persons'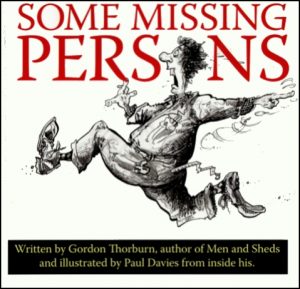 I was so pleased it was the one depicting 'The Bookshop Owner', unfortunately a fast disappearing breed. Paul has a website showing many examples of his work and also a very amusing blog, I think we have a similar sense of humour and I'm looking forward to meeting him in the New Year, either up here or down in Cheltenham where he is having an exhibition in August. This makes a change as it seemed all the people connected with PAN in some way live in London or down south on the coast.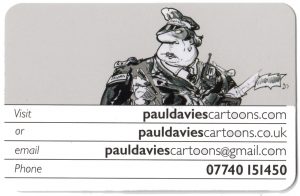 On a different note while trying to find something to watch on TV on Boxing Day I came across a BBC 'Countryfile' compilation on James Herriot where you had to look carefully, blink and you missed it, to see a clip showing a pile of Herriot PAN editions plus a couple of mugs. I've added a screenshot of it to my 'As Seen on TV' page.
We are now into 2017 and so I'll wish you all the best with many happy hours finding and sorting those PANs, maybe this will be the year I get that elusive last title!