I recently mentioning the artwork for 'Trouble In July' that was up for sale and after some haggling where I think I probably spent a bit more than I wanted but the seller definitely got less than he wanted I now have it. I've still not found out if it was actually used for the 1964 edition but I've put it on a a page with other Caldwell titles from the same time and in the same style.
---
Having picked up a duplicate copy of 'Death To The French' trying to decide which was the copy to keep and which to donate to the National Trust I'm glad I had a good look. What I hadn't noticed was that they have different price code letters on the spine with one being 'X' and one being 'A' The 'X' means it was priced at 3/6 while the 'A' was for 4/0 or 20p as it was on the cusp of decimalization. Now wondering how many more there may be like this and how many I may have given away!
---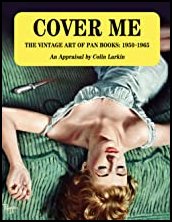 Pleased to hear from Colin Larkin that his book "Cover Me: The Vintage Art of Pan Books: 1950-1965″ is now available in paperback with a few minor corrections made including a sex change for 'Bip' Pares who was actually a woman namely Ethel Pares, She was born on 27th February 1904 in the Thames-side village of Clewer, just beyond Windsor. She was the second child of the marriage of Basil Pares (1869-1943) and his wife Caroline Evelyn Whistler (1874-1959), who had married in Norfolk in 1902. Her father was a younger son of the well-to-do family of John and Katharine Pares.
This photo is of Kitty Peffer posing for the cover of 'The D. A. Takes a Chance' which Colin tells me in now included in the second printing.
---
Jules Burt continues to upload his excellent videos and here are the links to a couple of recent ones. The first is all about 'Vintage Book Resources' and the second is showing dozens of Books Jules Has for Sale. Most are PANs with prices from £5 right down to £1 with quantity discounts and postage worldwide at cost.
The first link has nothing to do with the great plug Jules gives my website!
Thanks Jules.