It's always nice to have an unexpected find in a book and in this case it was a letter in a copy of 'We, the Accused' by Ernest Raymond. It was from his wife Diana Raymond, author of 'Between the Stirrup and the Ground' She was writing to producer Peter Cotes and mentions PAN stalwart John Creasey and the programme Cotes produced for BBC2 in the 'One Pair of Eyes' series. It was Episode 39 entitled 'Down With All Parties' featuring Creasey standing for election and broadcast on the 2nd May 1970. Raymond wrote 46 novels plus plays etc. but PAN only published one while his wide Diana wrote 24 novels and again PAN only published one. Ernest Raymond was born on the 31st December 1888 in Montreux, Vaud, Switzerland and died the 14th May 1974 in Hampstead, London. Diana Ida Joan Thornton Raymond née Young  was born on the 25th April 1916 in Milford on Sea, Hampshire and died on the 16th February 2009 in London. I've included the below as I've never come across something like it before.

---
I've been playing around with some of the software where you can make 'books' online for the stock lists I picked up at the Paperback and Pulp Fair in London recently. I have now decided the easiest, simplest and most reliable way is just to scan them in and make a webpage for them. I've randomly picked one off the pile which just happens to be for July 1967 and I'll try and do the same for the next few weeks until I run out. Click on the image below to se it.
For those that do want to see my effort using 'Visme' click HERE but as it makes a 20mb file and as I can only get 100mb without paying I'll stick to just putting them on a page at 3mb. As I have to scan them in, however I do it, putting them on a page is easier and quicker plus I can't work out why the 'book' annoyingly jumps at the start.
---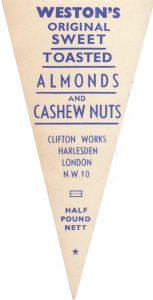 When it comes to the books themselves I am happy to settle for a reasonable copy at a reasonable price if it is a title I haven't got. My intention is to replace some with a better copy if one comes along but one glaring title has annoyed me for a long time and that is 'You Can't Hit A Woman' by Peter Cheyney from 1961. All of its spine was Sellotaped and stood out as, literally, glaringly obvious. Prices being asked were often around £40 with postage whereas the earlier 1953 edition was £5. So when I saw a copy for a couple of pounds and similar for postage in very good condition I bought it. What was surprising was that it was from Germany and came as fast as if it was from here in the UK. Card on left found in the 1953 edition. Signature and photo are from my Collins 1948 edition of 'Try Anything Twice'
---
A while ago I mentioned we were going on a trip to Portmeirion where 'The Prisoner' was filmed. This starred Patrick McGoohan as John Drake and ran for 17 episodes between September 1966 and January 1968 on ITV. The exterior shots were filmed there but the interiors were filmed at Borehamwood. Last Saturday was the day and sorry to say we were not that impressed. On the plus side, although the car and coach parks were full, it didn't seem that crowded but on the down side everywhere seem to have private or residents only notices plus parts reserved for a wedding that was being held there which included the town hall. I did get a badge and a walk around the headland made up for some of the disappointment and luckily it was very warm but not sure where you could go if it was pouring with rain. PAN published a few series tie-ins which can be seen by clicking HERE