This weeks original cover art work is by Gavin Rowe who trained at the Croydon School of Art and then at The Royal College of Art in Kensington. Since 1970 he has worked with many publishers including Faber, Hodder, Penguin, Pan, and Magi as well as being commissioned for BBC's Jackanory series. He is well known for his 'painterly' jacket covers for paperback novels. Gavin lives in Sussex, and continues to work as a full time illustrator. I spoke to him on the phone last Thursday and hope to have more about his work in a later blog.

The annual Baddesley Clinton Book Fair to raise funds for the National Trust  is on now, it started on Saturday and runs to next Saturday. As usual we were there as soon as it opens in case we miss 'all the bargains!
It is not everyday that I get to buy books in the grounds of an 16th moated manor house but then again as a life member of the NT I am supposed to actually part own it – I think I'll have the room over the entrance! There were tables everywhere, several I've not photographed including the storeroom where John,  retired bookseller who runs the fair, let me mooch.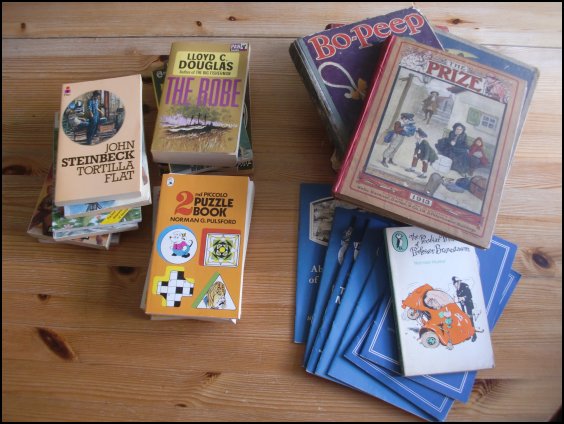 Here are our purchases and for once my wife has a bigger pile than me but that is down to buying larger books. The top three paperbacks shown are all in unread condition, the Steinbeck being by Brian Sanders with Alan Lee modelling on the cover and T12 'The Robe' having a cover by Pat Owen. I have the original artwork for this but unfortunately not signed. T13 'The Fisherman' is in the same style and that appeared in the Bonham's auction catalogue of 1991 credited to Pat Owen so I'm 99% sure mine is as well. I think Pat is still with us living down on the South Coast but I have not managed to contact up to now. Amongst my others are several Piccolo titles plus some newer PAN's with covers I liked.