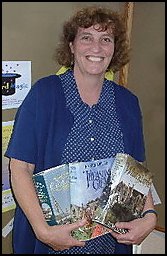 Pamela Belle was born in Ipswich on June 16th 1952. From the  Goodreads website;
"Belle always wanted to be an author and wrote her first book at the age of twelve after visited the site of a lovely Elizabethan manor house called Rushbrooke and observing the bare, moated island which was all that was left. She wanted to bring Rushbrooke back and chose to do so in print. Over the next few years 'The Epic', as it became known, grew and grew. Belle drew up a huge family tree and a plan of the house very like Rushbrooke.
Married and a teacher of a class of six-year-olds, she wrote in longhand and, while publishers made encouraging noises, no one was prepared to risk publishing a large book by an unknown author. Eventually the agent Vivienne Schuster was wonderfully enthusiastic about it and found a publisher.
"The Moon in the Water" and its two sequels were published in the UK and the USA with considerable success. Belle gave up teaching in 1985 to spend more time researching and writing. She plans to write a book about Alfred the Great if she can fit it in between looking after the children, dogs, cats and husband"
I've put together a page of covers showing the 11 titles published by PAN with a couple of variants. Interestingly the first two have covers by Stephen Bradbury so I've added them to his page plus 'The Wind from the Sun' by Arthur C. Clarke as this is also one of his.
I've attempted to contact Kevin Tweddle who painted some of the Belle covers plus many more for PAN. He retired to run a pub so if I don't get a reply I think a visit is called for. I have also emailed Mark Viney without success so far but I do occasionally strike lucky and I am now in communication with an artist who painted Jack Higgin's covers. More in a later blog.
Just as a tail note we recently stayed at the hotel built on the site of my Great Great Great Grandfather's second hand bookshop where his son hung himself in 1903. I was chatting to one of the staff and casually asked if she had seen any ghosts to which she replied "No but I sometimes feel as if someone is standing behind me when I'm was in the basement" It was in the basement that Charles hung himself!